On April 26, 2023, Mr. Arthur, CEO of AYANEO, brought a sharing session with global gamers via online live show, not only announcing the launch of several customer care programs and product upgrade programs, but also bringing the demonstration and progress sharing of AYANEO 2S & GEEK 1S and more new products that will be available to gamers soon.
AYANEO Founder Care Program Review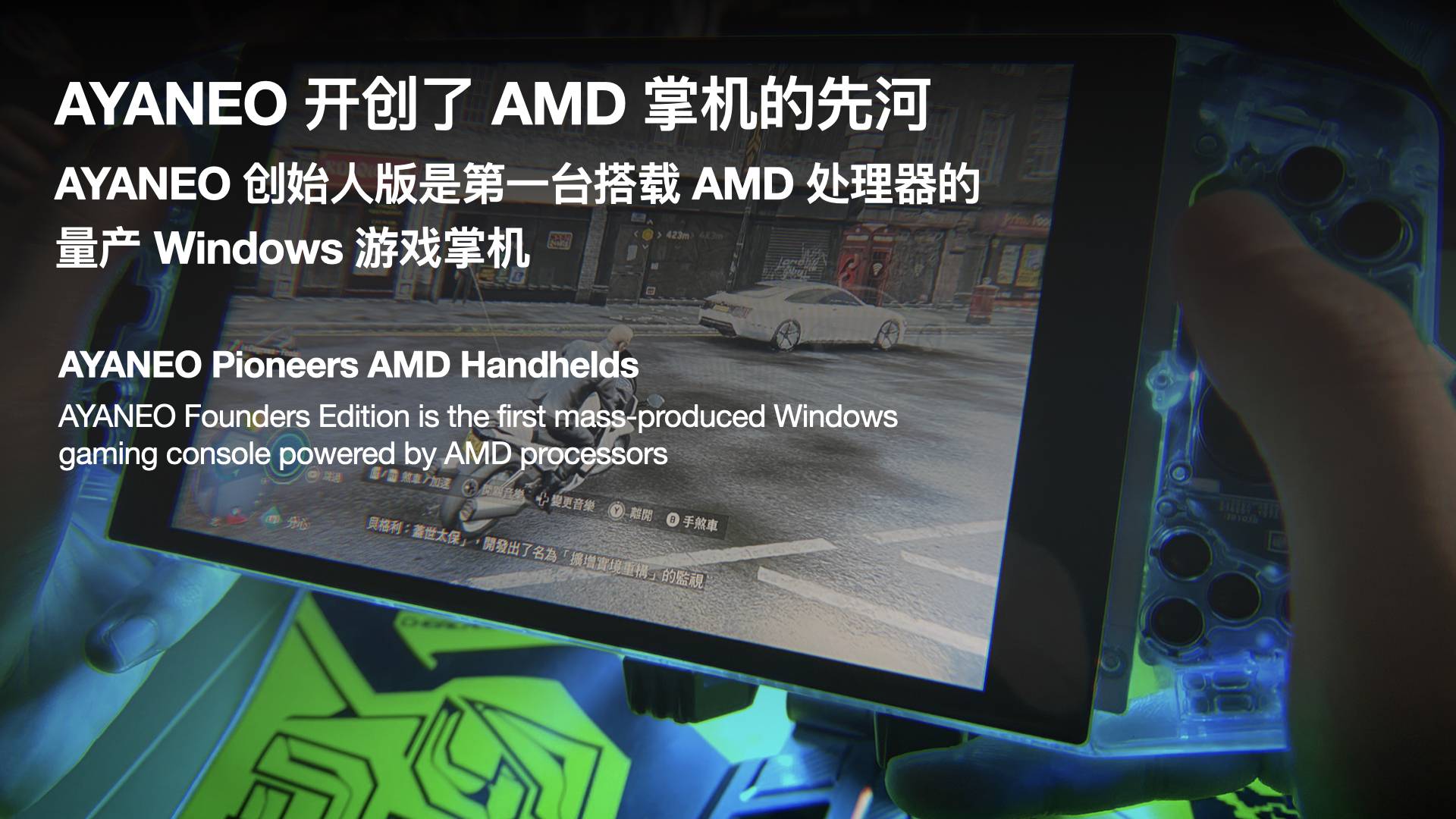 Mr. Arthur started the live show with a review of AYANEO's past customer care programs. AYANEO Founders Edition is the first mass-produced Windows gaming console powered by AMD processors, making it the first AMD handheld. To appreciate the support of Founder Edition gamers, AYANEO launched the "Founder Care Program", in which Founder Edition gamers can enjoy several exclusive benefits.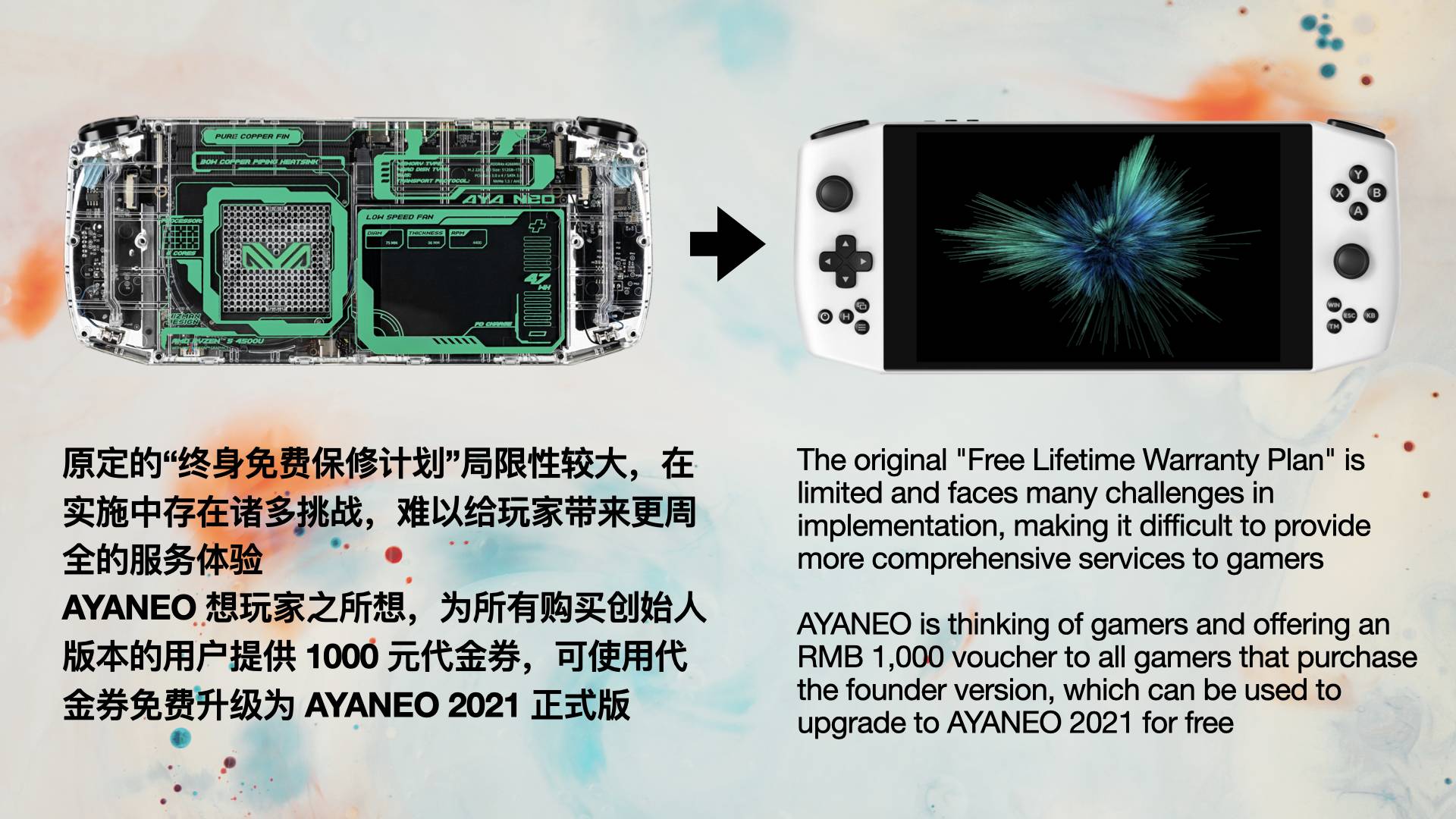 After that, AYANEO realized the limitations of the original "Free Lifetime Warranty Plan", and faces many challenges in implementation, making it difficult to provide more comprehensive services to gamers. AYANEO is thinking of gamers and offering an RMB 1,000 voucher to all gamers that purchase the founder version, which can be used to upgrade to AYANEO 2021 for free.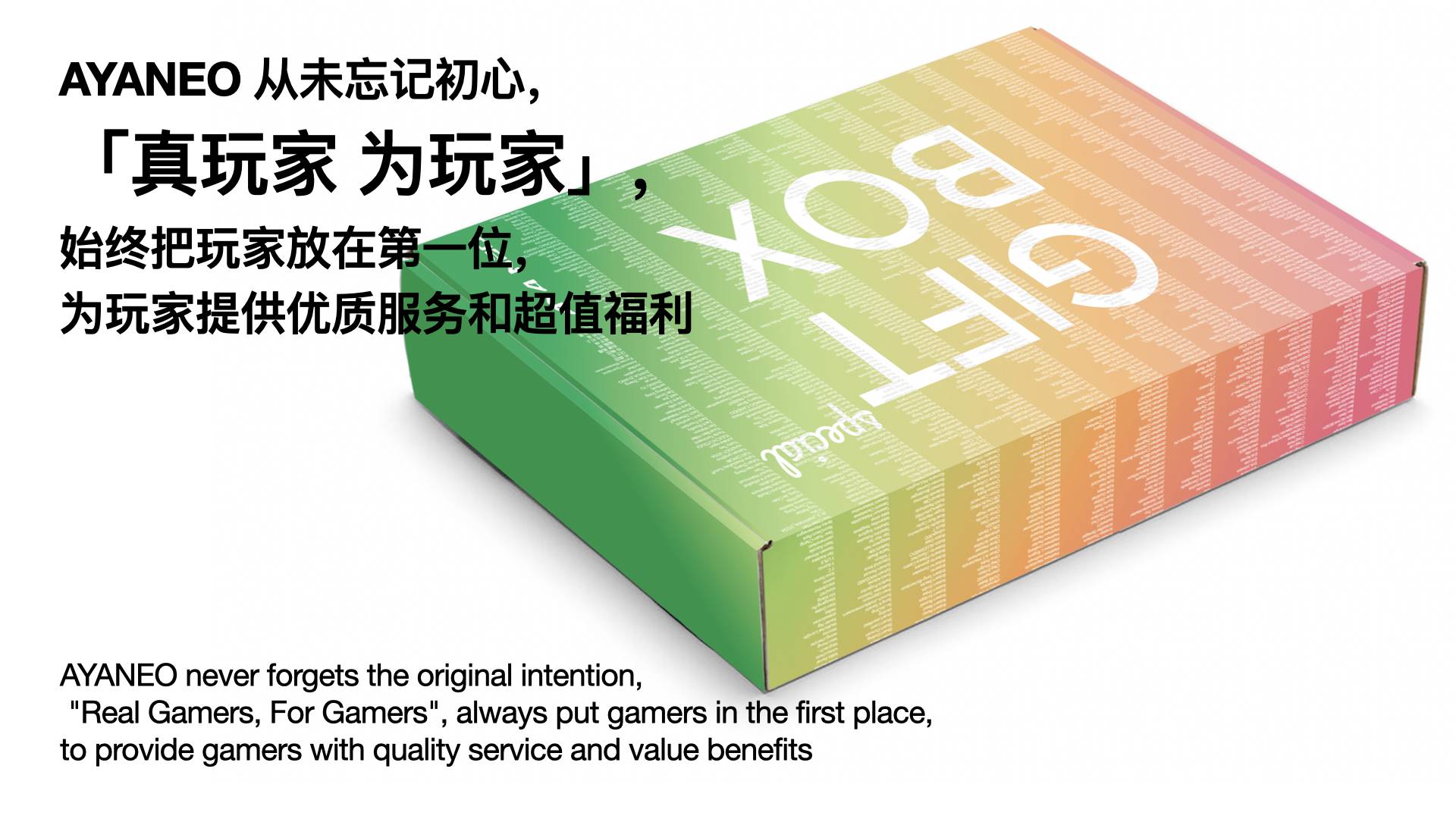 AYANEO never forgets the original intention, "Real Gamers, For Gamers", always put gamers in the first place, to provide gamers with quality service and value benefits. With this brand concept in mind, AYANEO will launch customer care programs for several products.
AYANEO AIR Speaker Exchange Program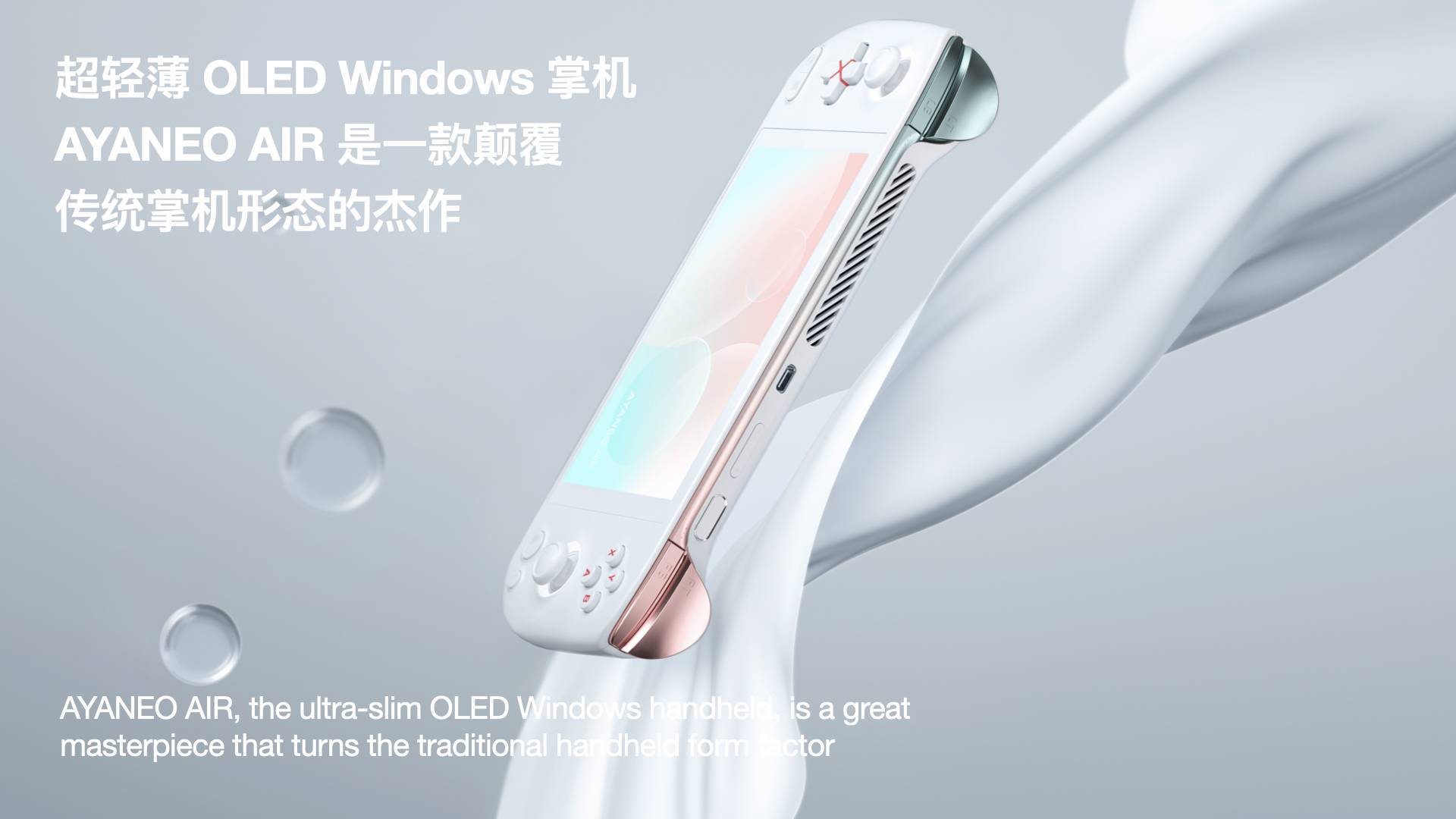 AYANEO AIR, the ultra-slim OLED Windows handheld, is a great masterpiece that turns the traditional handheld form factor, lots of gamers are deeply impressed by its super high value and advanced product concept. At the same time, we have received feedback from gamers about the sound quality of its speakers.
In pursuit of a more fantastic gaming sound experience, AYANEO will provide all AIR gamers with a free speaker upgrade, after which gamers can enjoy a more immersive gaming experience.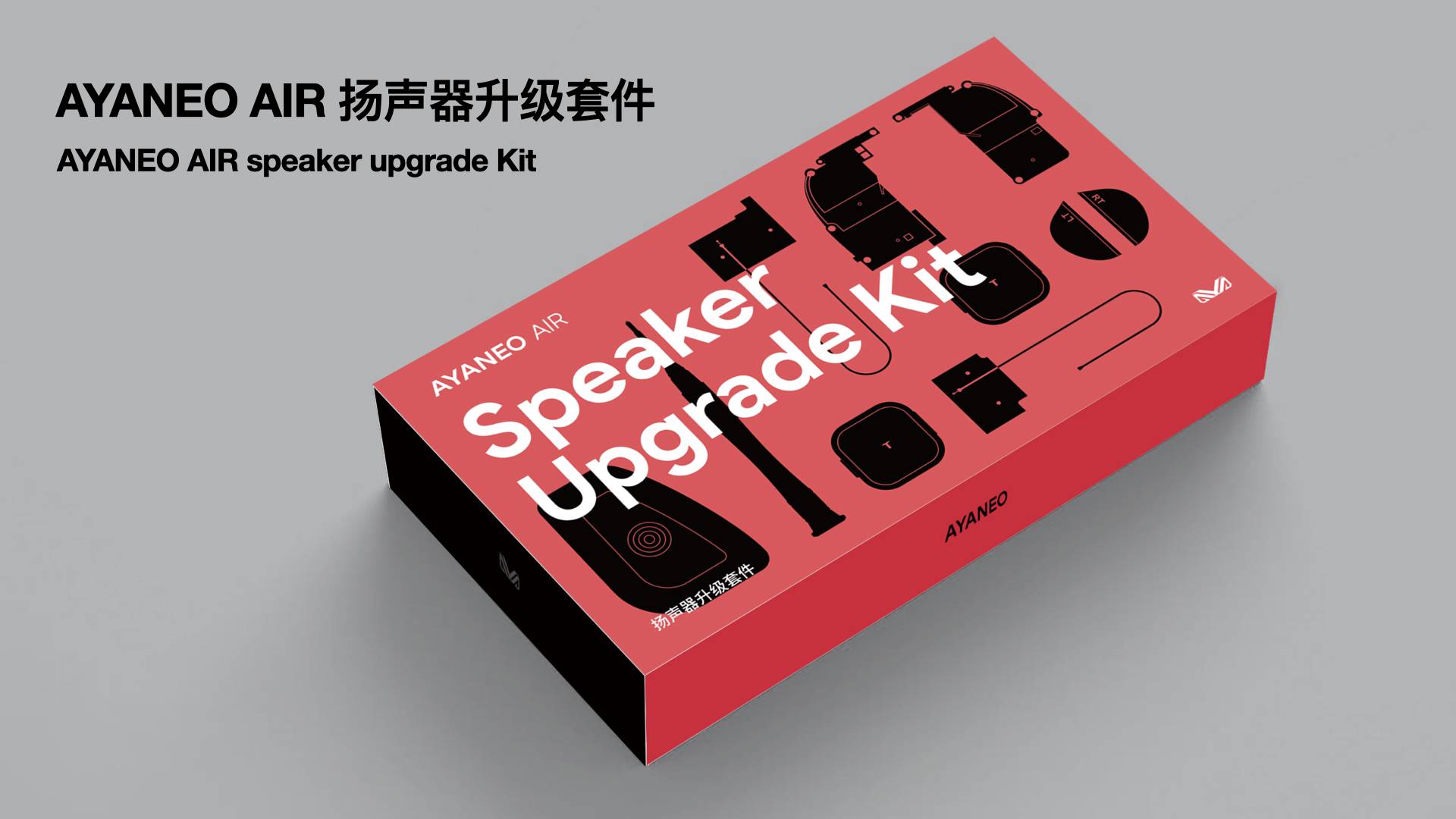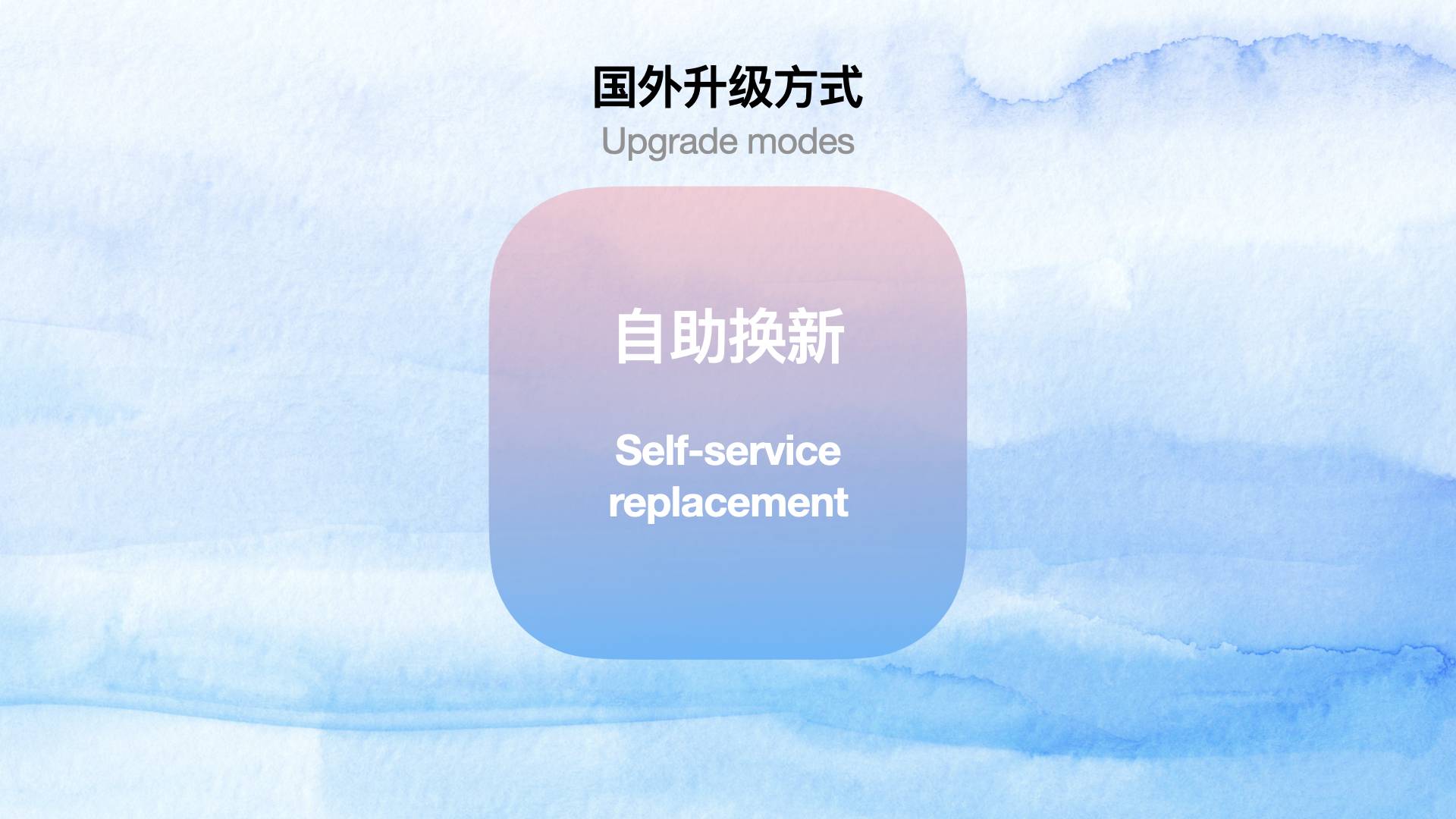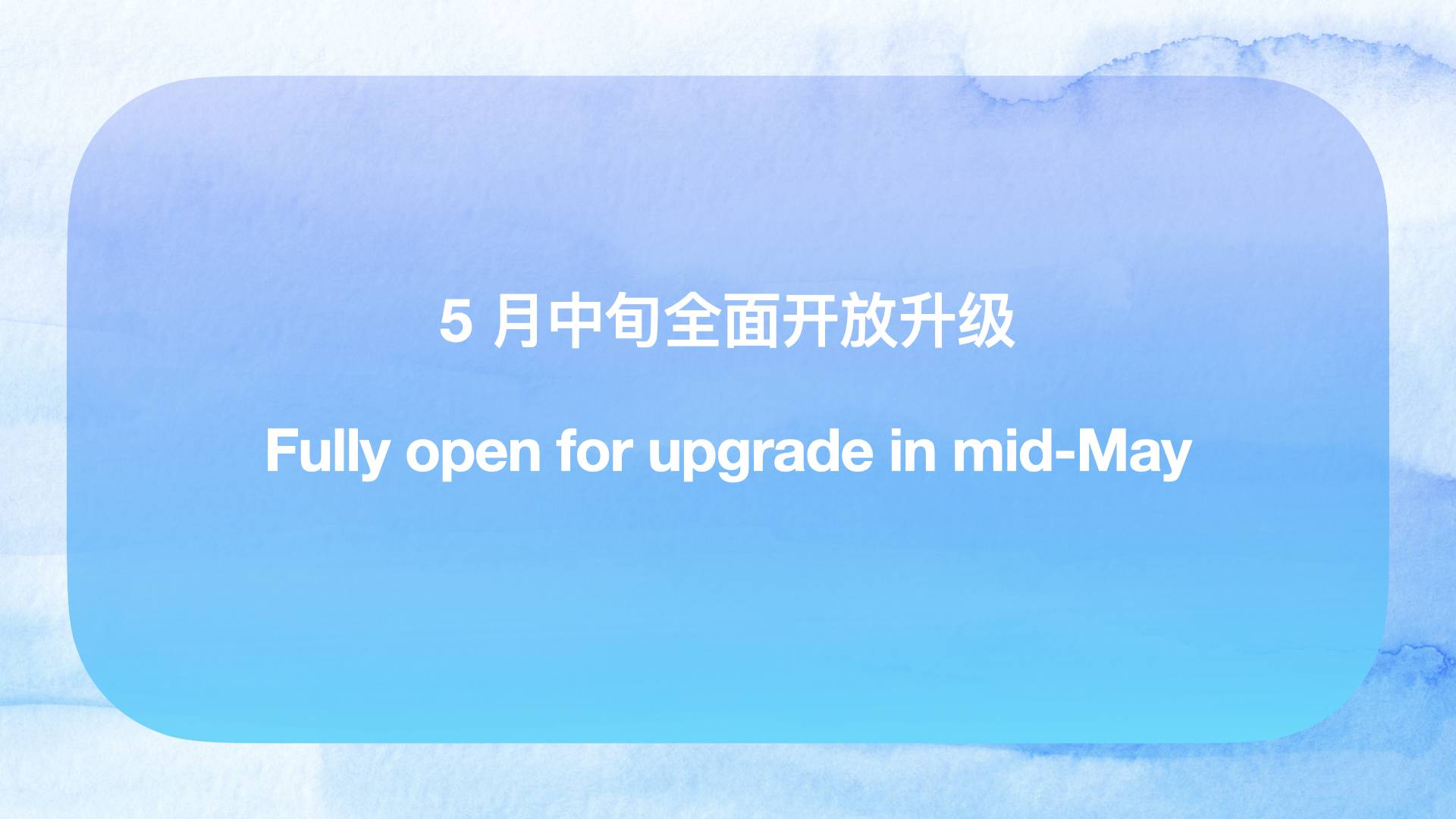 AYANEO AIR Speaker Exchange Program will provide the following two ways for gamers to choose: "send back official replacement" or "self-service replacement". We are currently preparing the materials needed for the upgrade kit, which is expected to hit the official store and open for purchase in mid-May.
AYANEO 2 Customer Care Program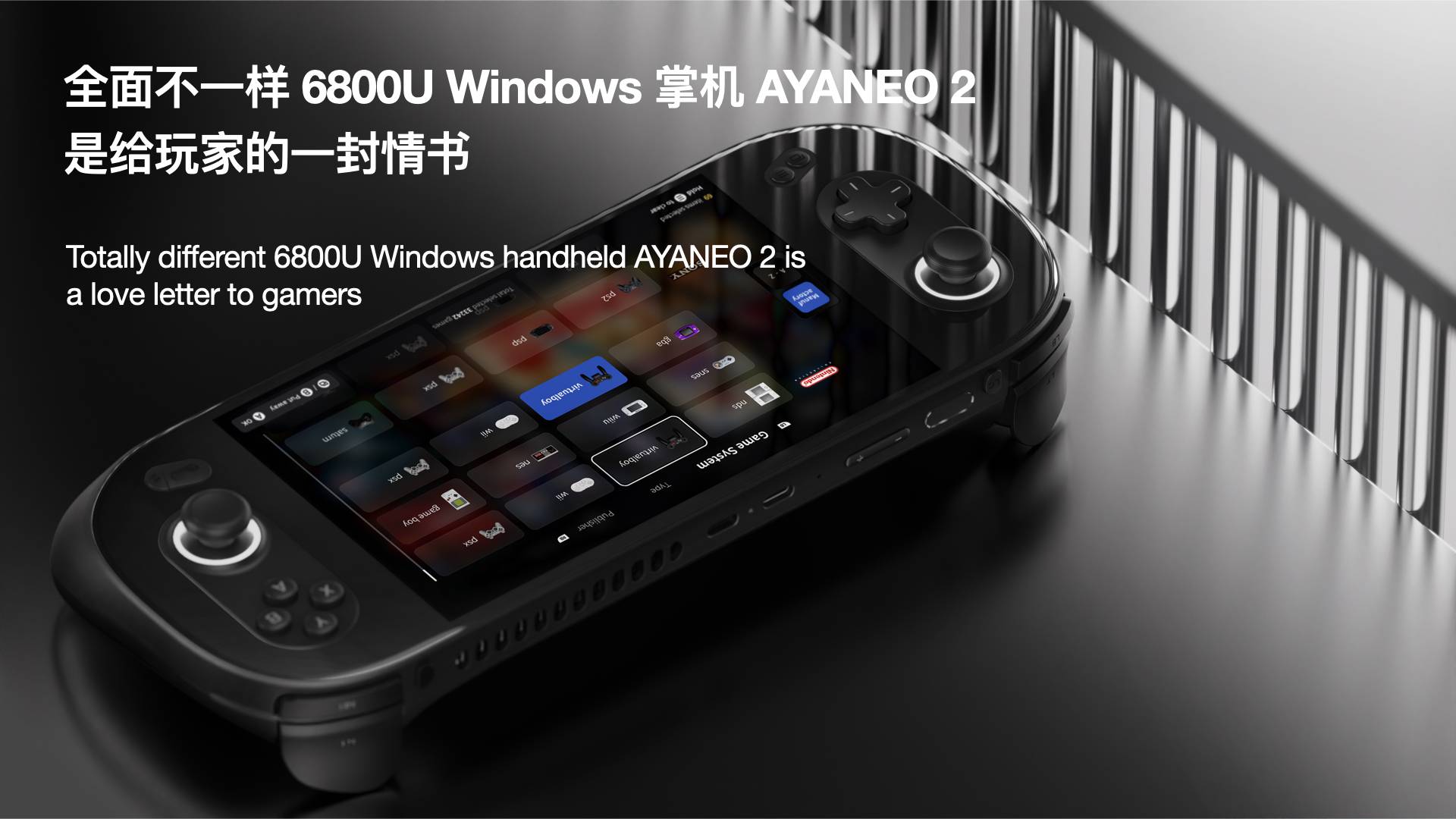 The total different 6800U Windows handheld AYANEO 2 and the valuable & powerful AYANEO GEEK have won the hearts of many gamers with their artistic industrial design and superb 6800U performance.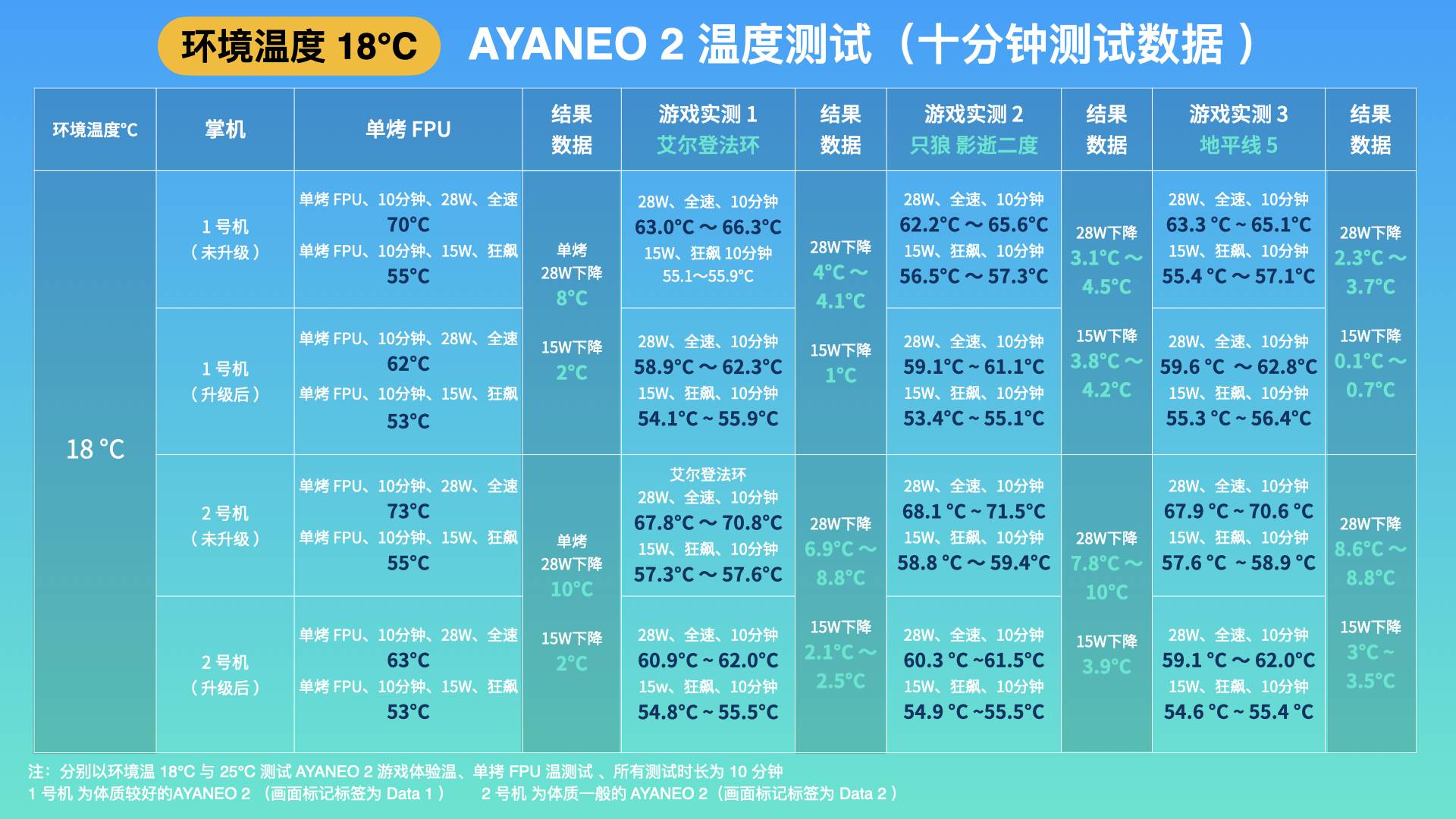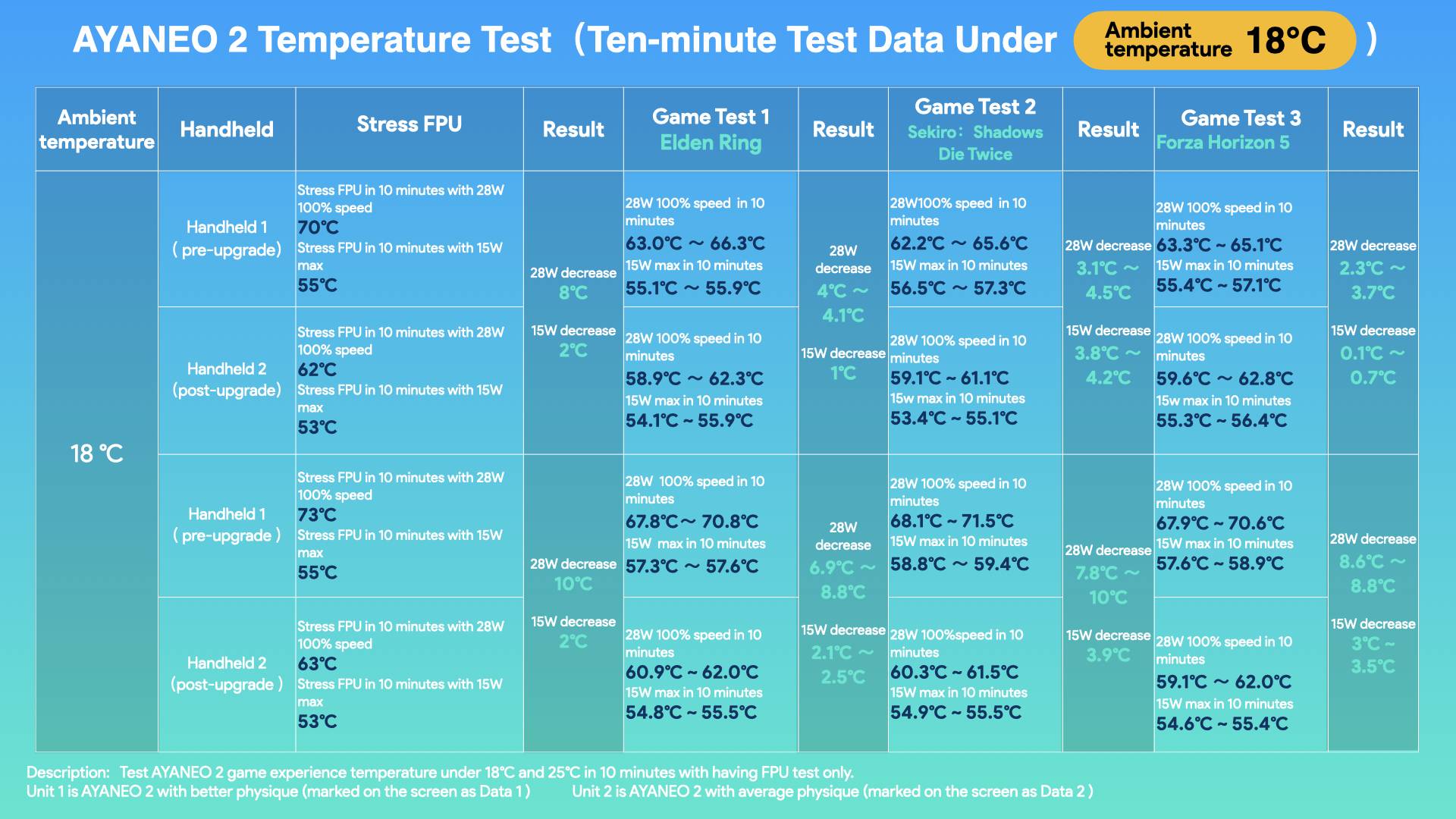 In response to some doubts about AYANEO 2's thermal performance, AYANEO team conducted extensive testing under different ambient temperature conditions. Even with the original heat dissipation solution, AYANEO 2's temperature performance did not affect the normal gaming experience.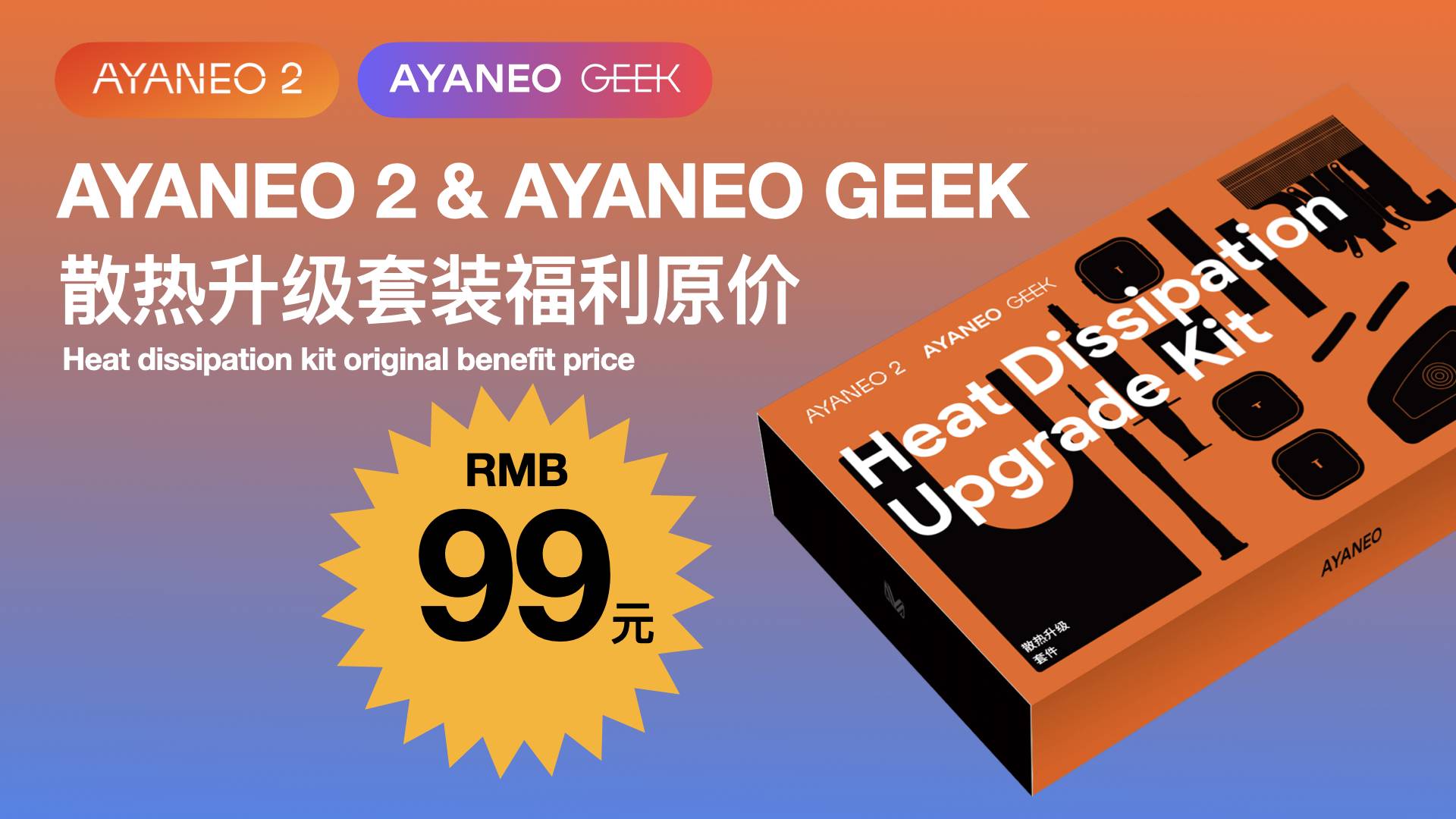 Of course, AYANEO realizes that lots of gamers want AYANEO 2 with better heat dissipation performance, so we listened to gamers' feedback and launched "AYANEO 2 & GEEK Heat Dissipation Upgrade Solution" for better heat dissipation effect and further enhance gamers' gaming experience.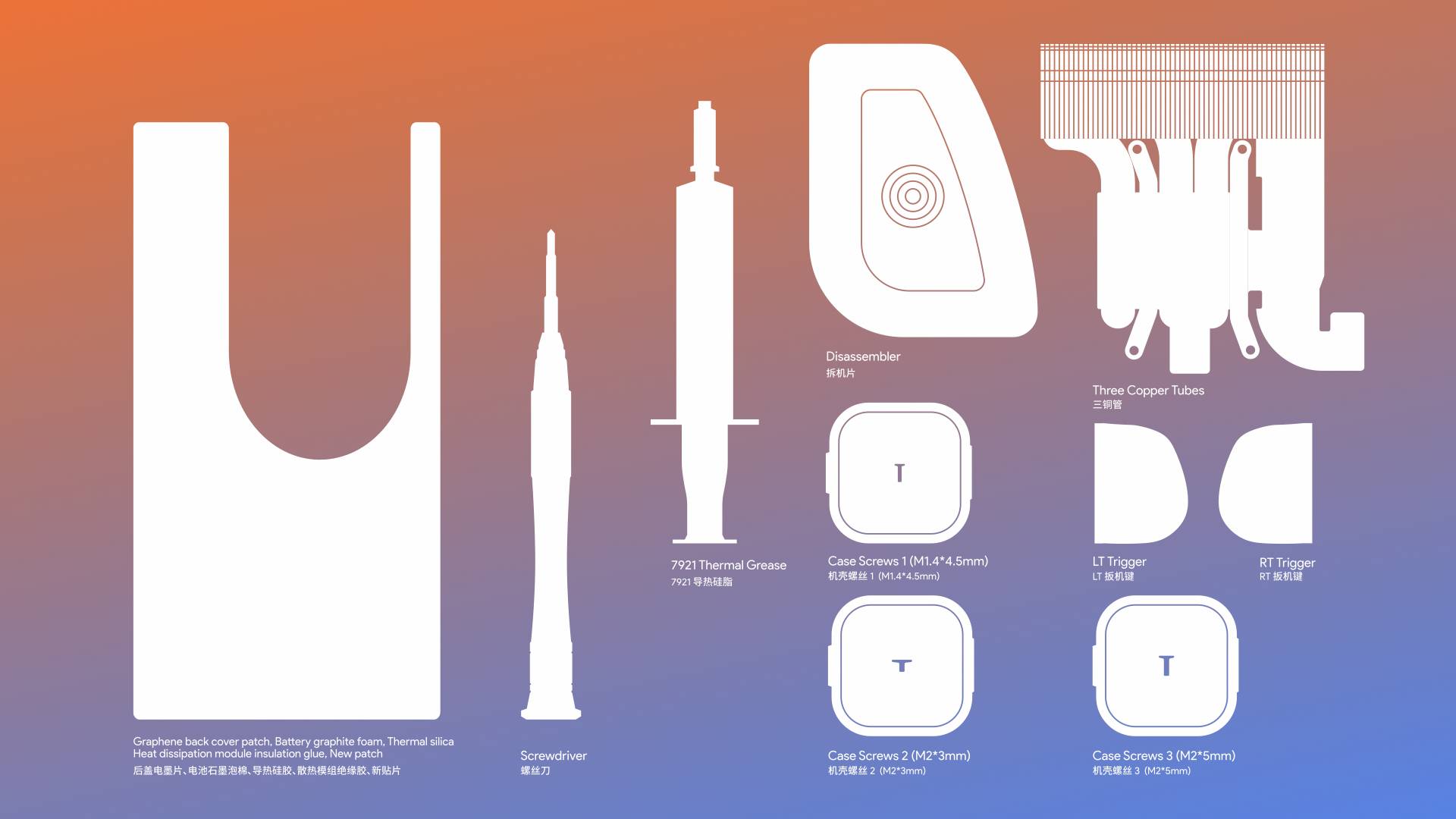 "AYANEO 2 & GEEK Heat Dissipation Upgrade Solution" mainly includes the newly upgraded "3+1" three copper tube heat dissipation module and graphene patch.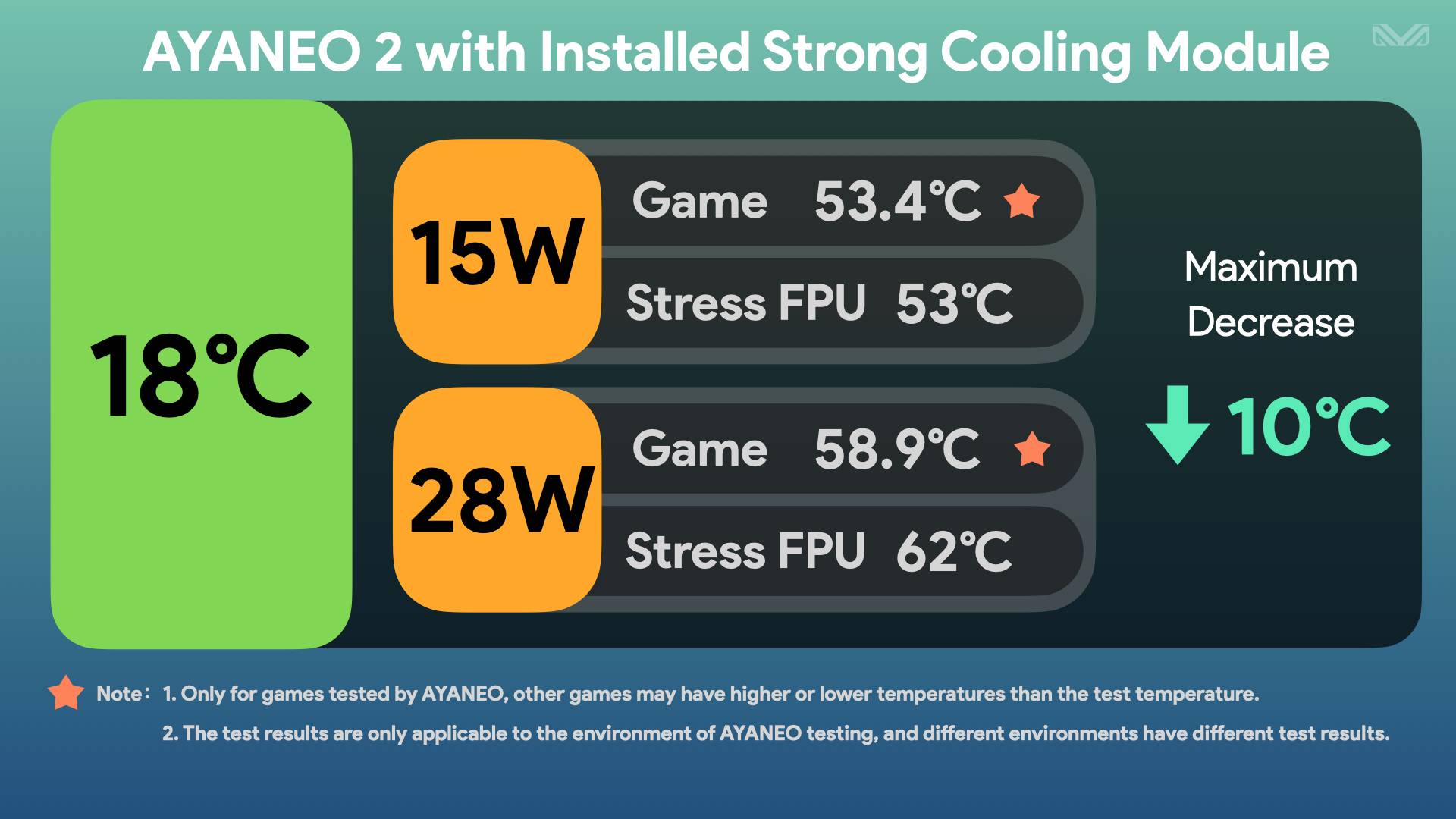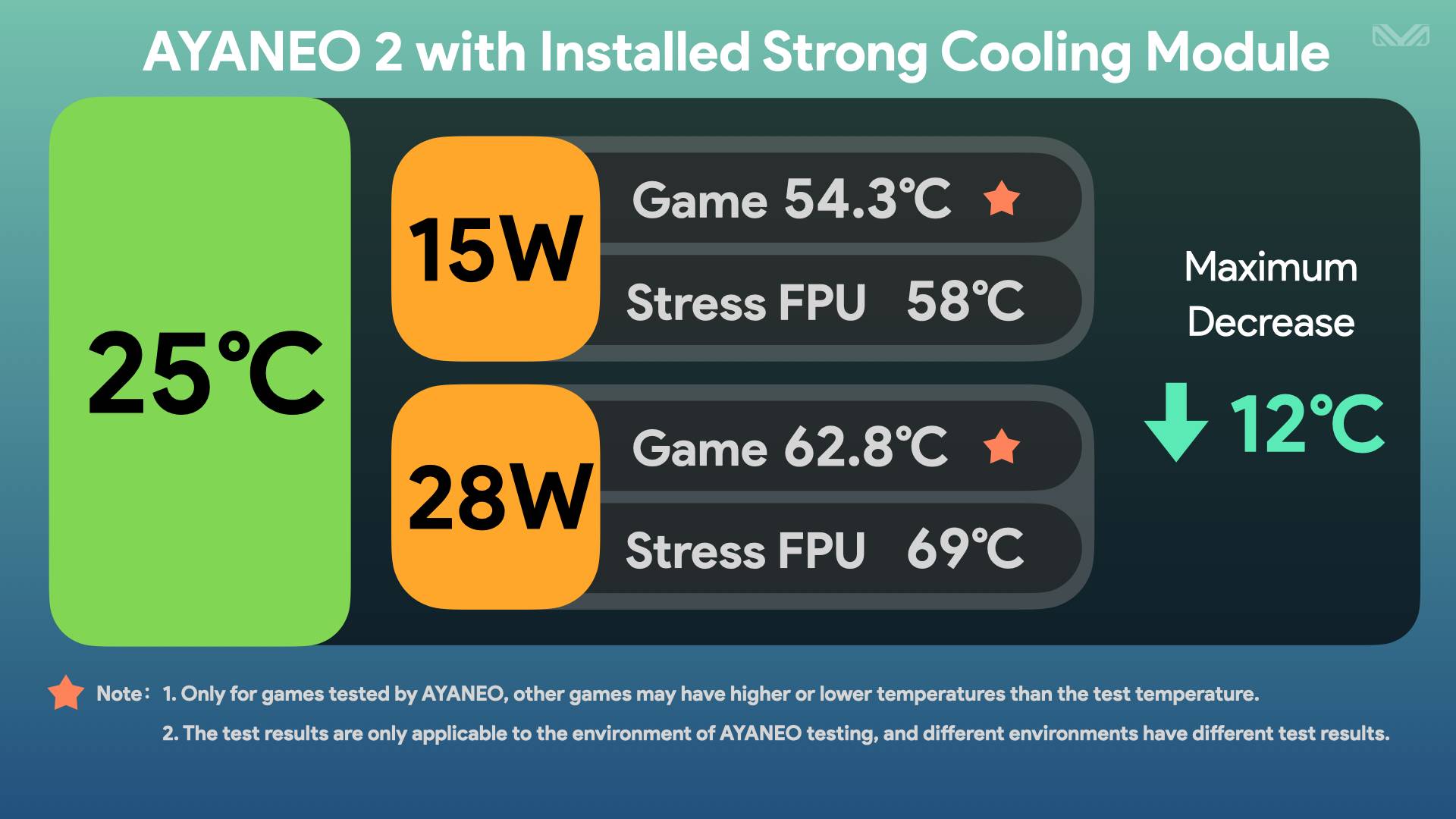 After the heat dissipation upgrade, the AYANEO 2's temperature dropped by up to 10°C at 18°C ambient temperature and 12°C at 25°C ambient temperature in the test, providing gamers with a superior gaming experience.
AYANEO 2 & GEEK Thermal Upgrade Kit includes the above mentioned "3+1" three copper tube heat dissipation module, thermal Silica, battery graphite foam and graphene back cover patch. Also included 7921 thermal grease, case screws, screwdriver and other tools needed for disassembly and upgrade.
The original price of the AYANEO 2 & GEEK Thermal Upgrade Kit was RMB 99, providing gamers with self-service replacement method. It has gained the praise of many gamers after release, while some gamers have concerns about the price and the upgrade method.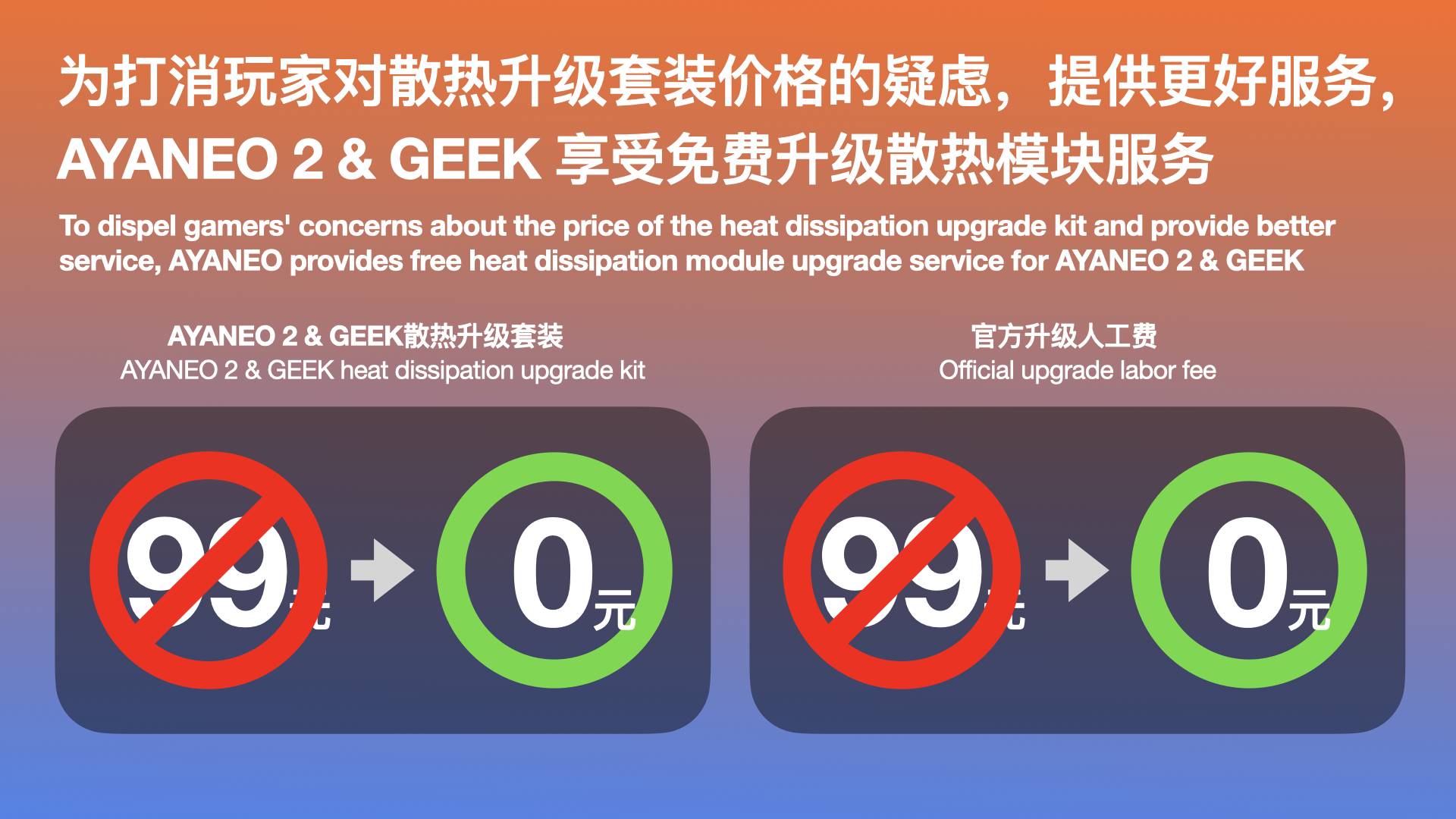 To dispel gamers' doubts about the price of AYANEO 2 & GEEK heat dissipation upgrade kit, we decided after comprehensive consideration that the replacement cost will be borne by AYANEO official, and all AYANEO 2 & GEEK gamers can enjoy free upgrade service for $0, just to bring the best service to gamers.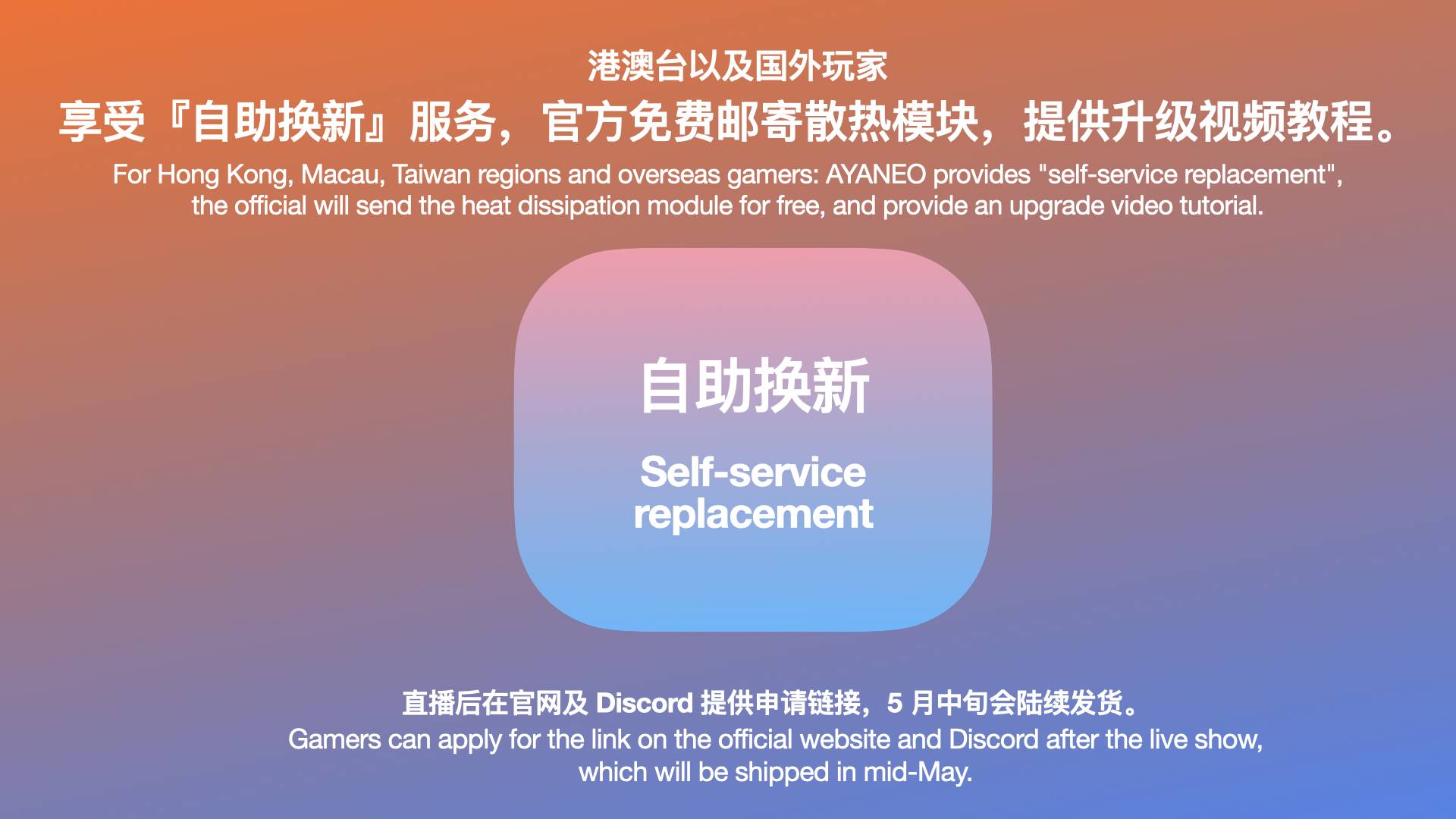 For global gamers: AYANEO provides "self-service replacement", the official will send the heat dissipation module for free, and provide an upgrade video tutorial. And please note that self-disassembly will lose warranty service. Gamers can apply for the link on the official website and Discord after the live show, which will be shipped in mid-May.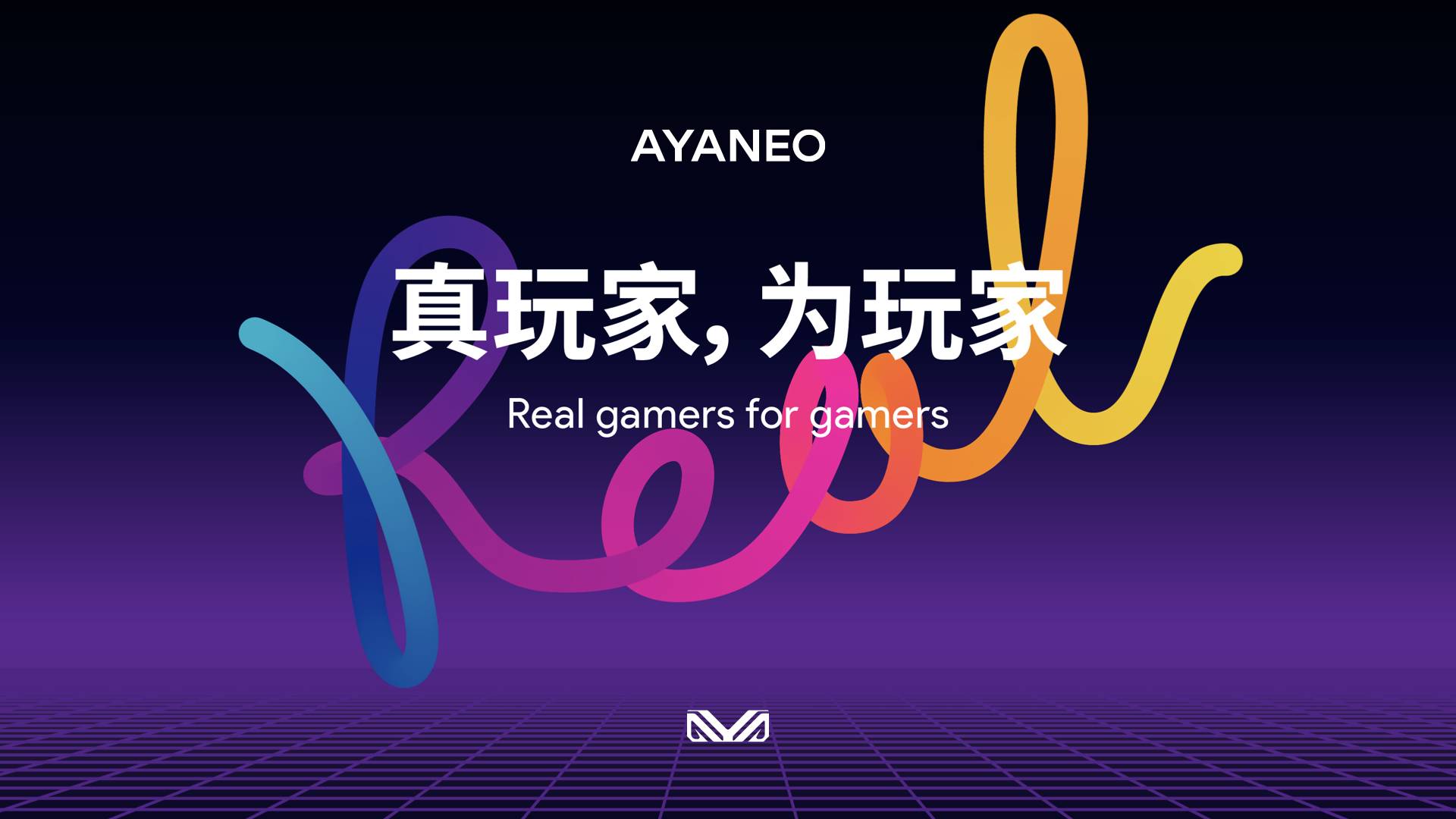 AYANEO AIR Speaker Exchange Program and AYANEO 2 & GEEK Customer Care Program are great benefits for gamers from AYANEO, as well as the embodiment of the "true gamer for gamers". Of course, more surprises are yet to come.
AMD 7840U Series New Flagship AYANEO 2S
Let's get to the more exciting part of the new product sharing! Yes, Mr. Arthur is here with a series of new products with the new AMD 7840U series processors. This time, AYANEO is ready for the AMD 7840U series!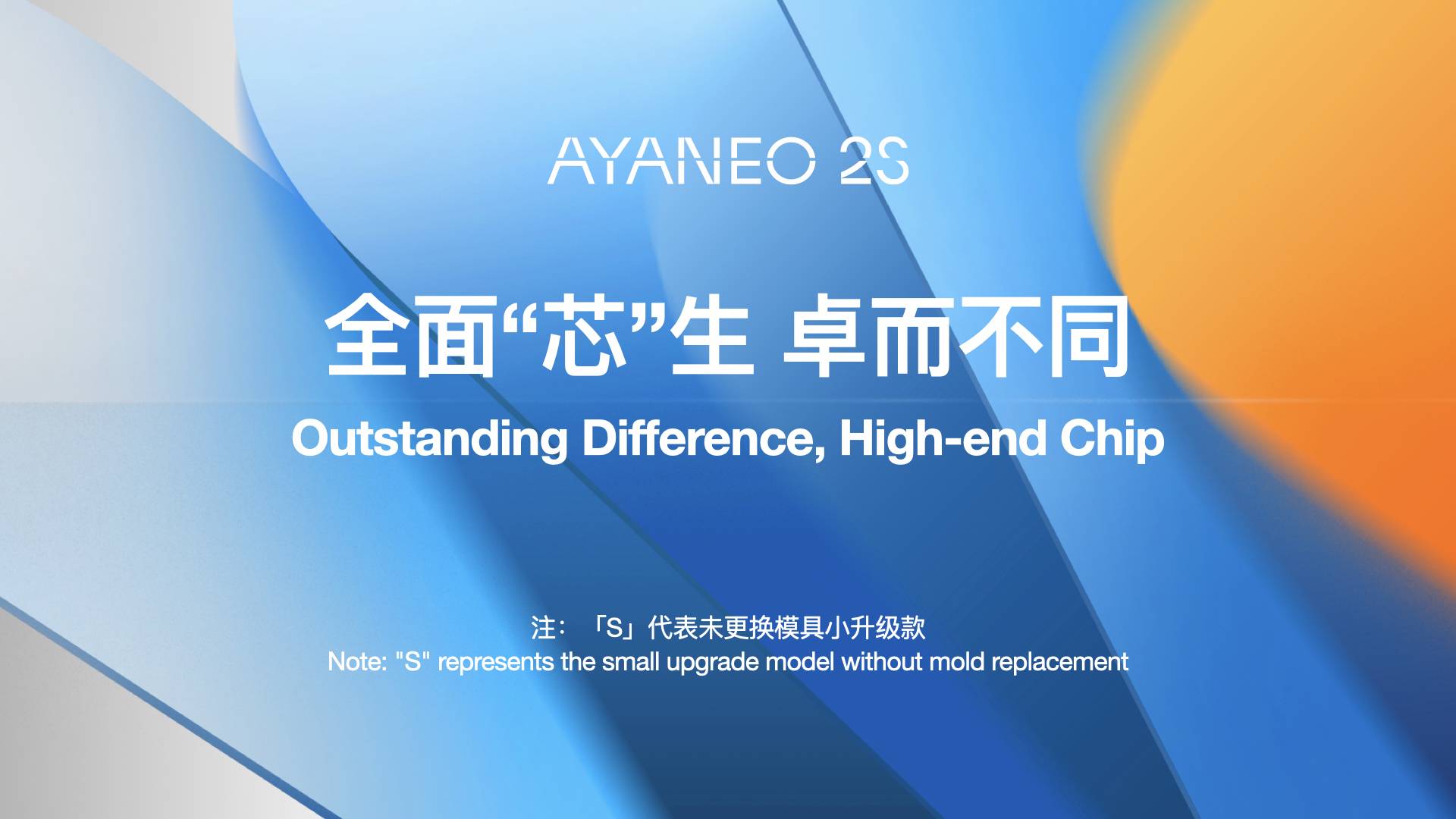 The first handheld Mr. Arthur shares is the previously revealed AYANEO 2S. And "S" represents the small upgrade model without mold replacement.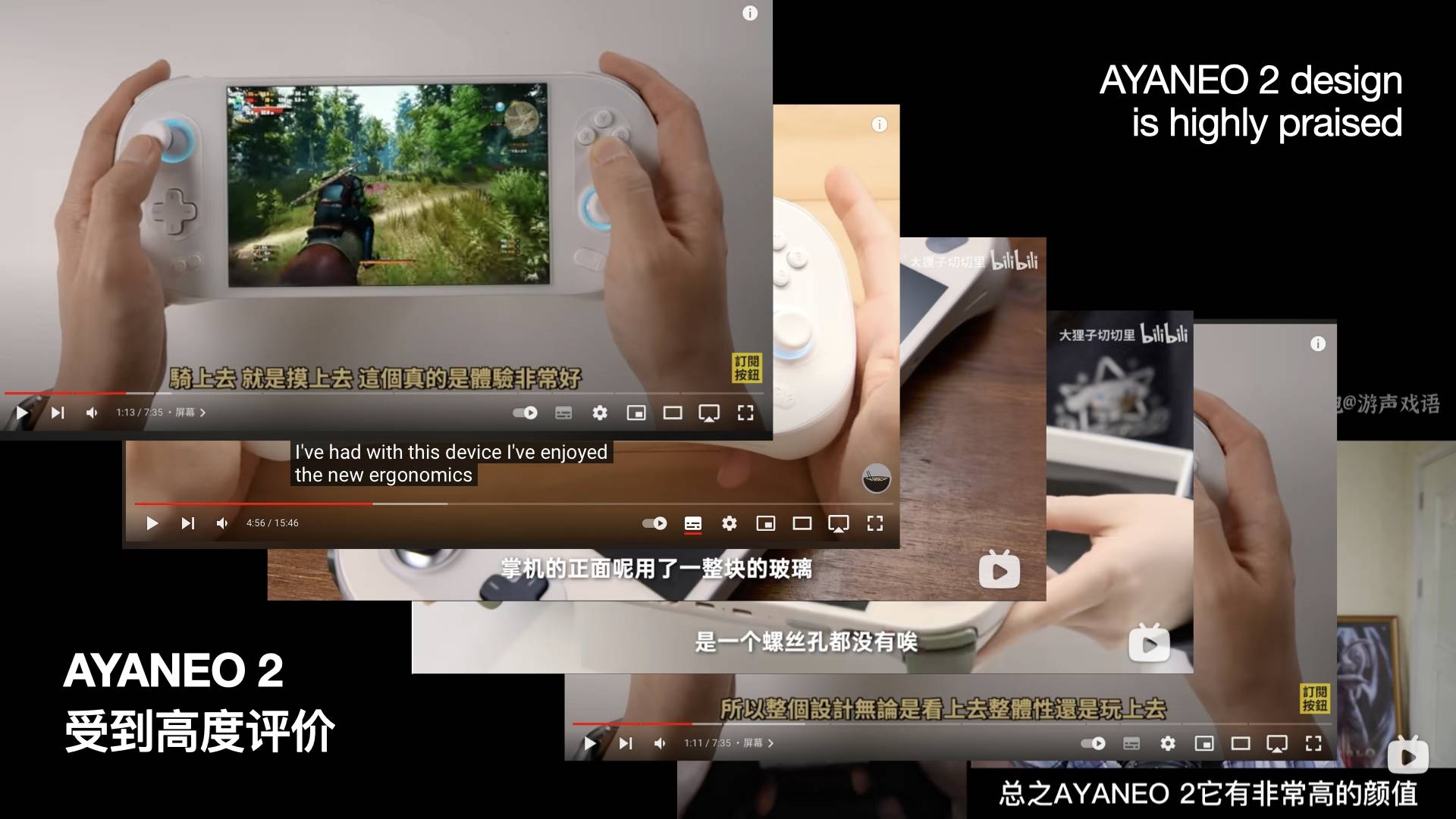 After the launch of AYANEO 2, its artistic design has been highly praised by many professional media and gamers, so as an upgrade, AYANEO 2S continues the superb industrial design of AYANEO 2.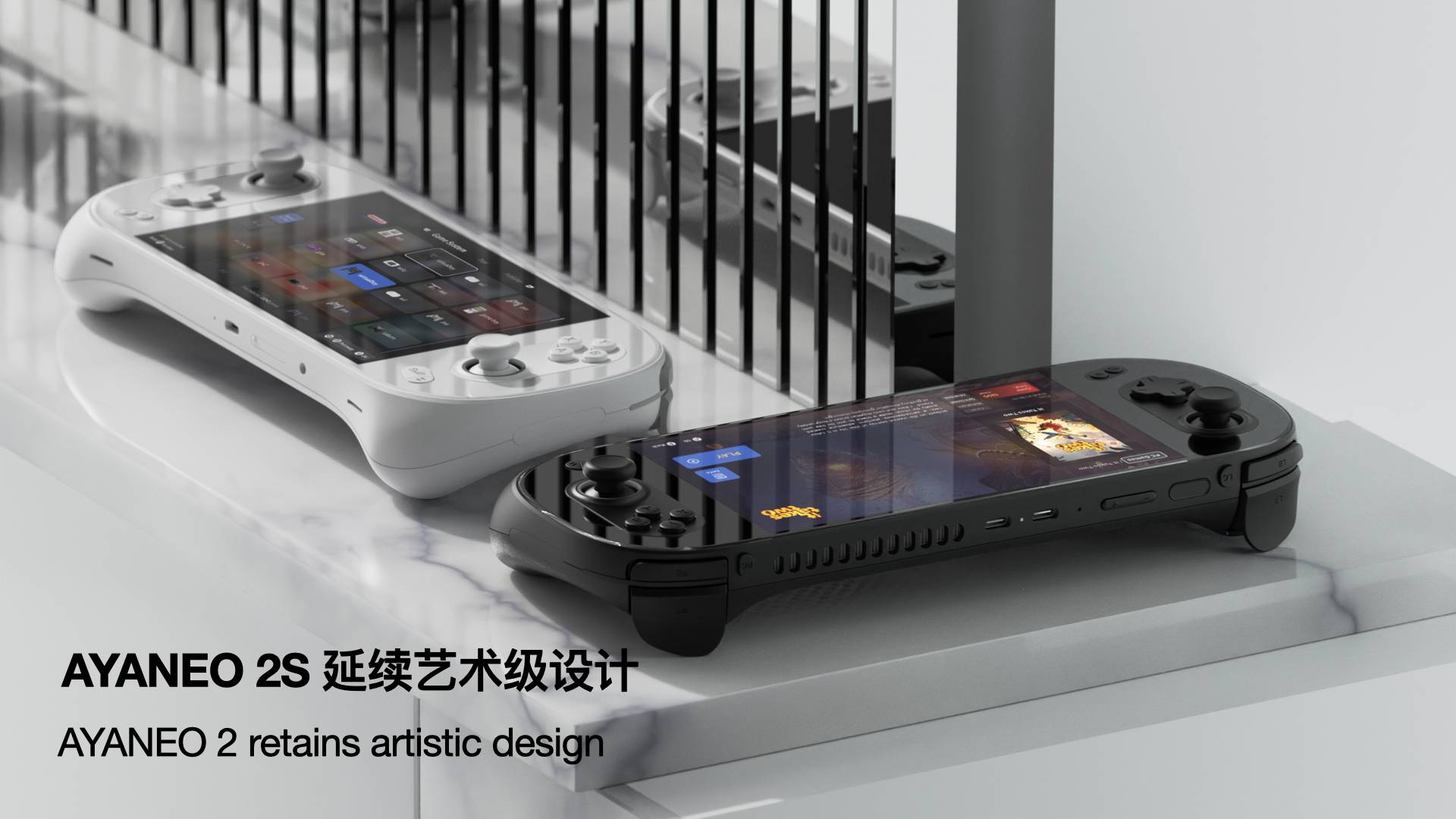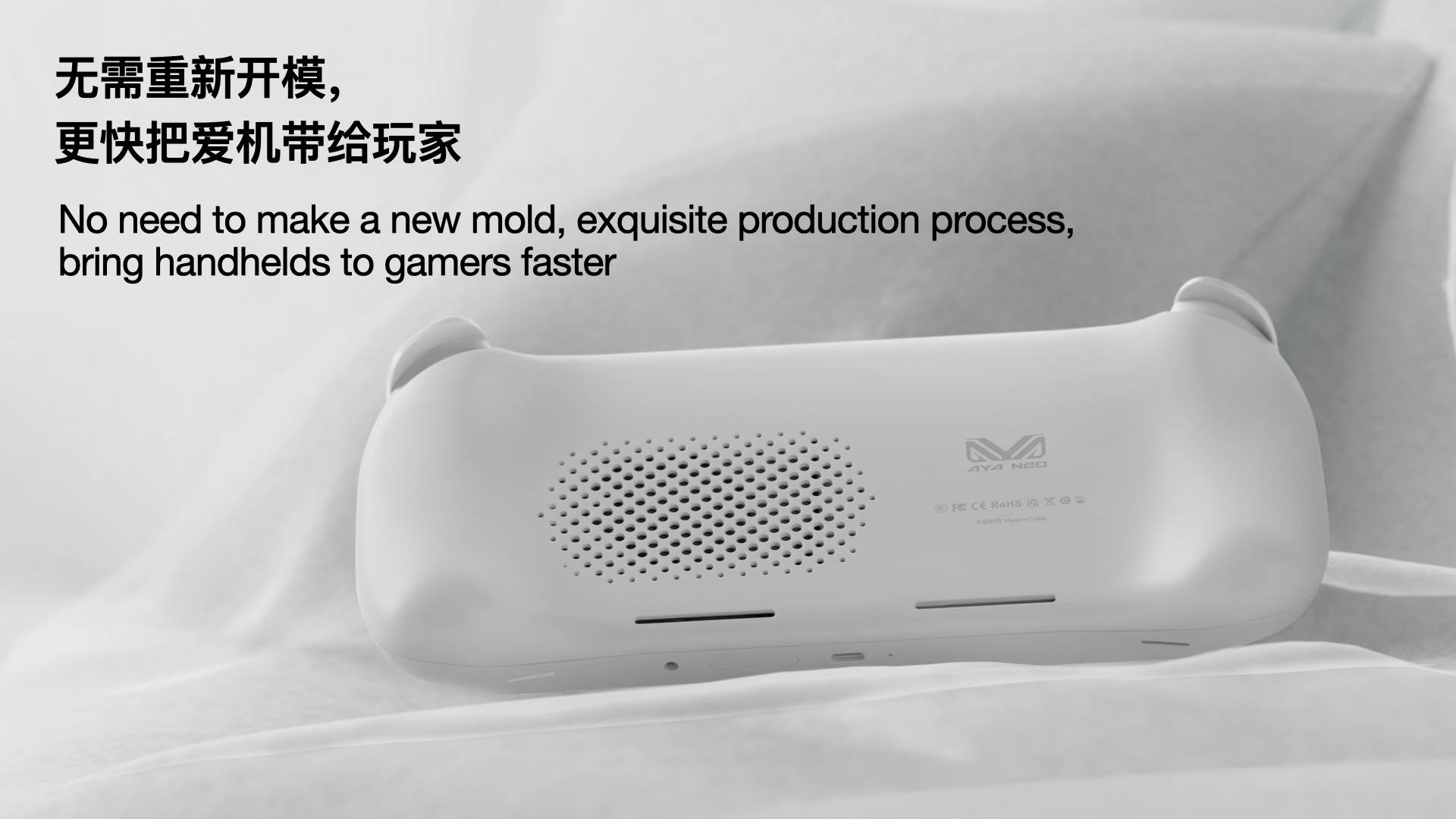 In addition, keeping the same design means that there is no need to make a new mold, and the production process is constantly improving, which can significantly improve the efficiency of mass production and delivery time, so that gamers can enjoy a smooth gaming experience by AYANEO 2S as soon as possible.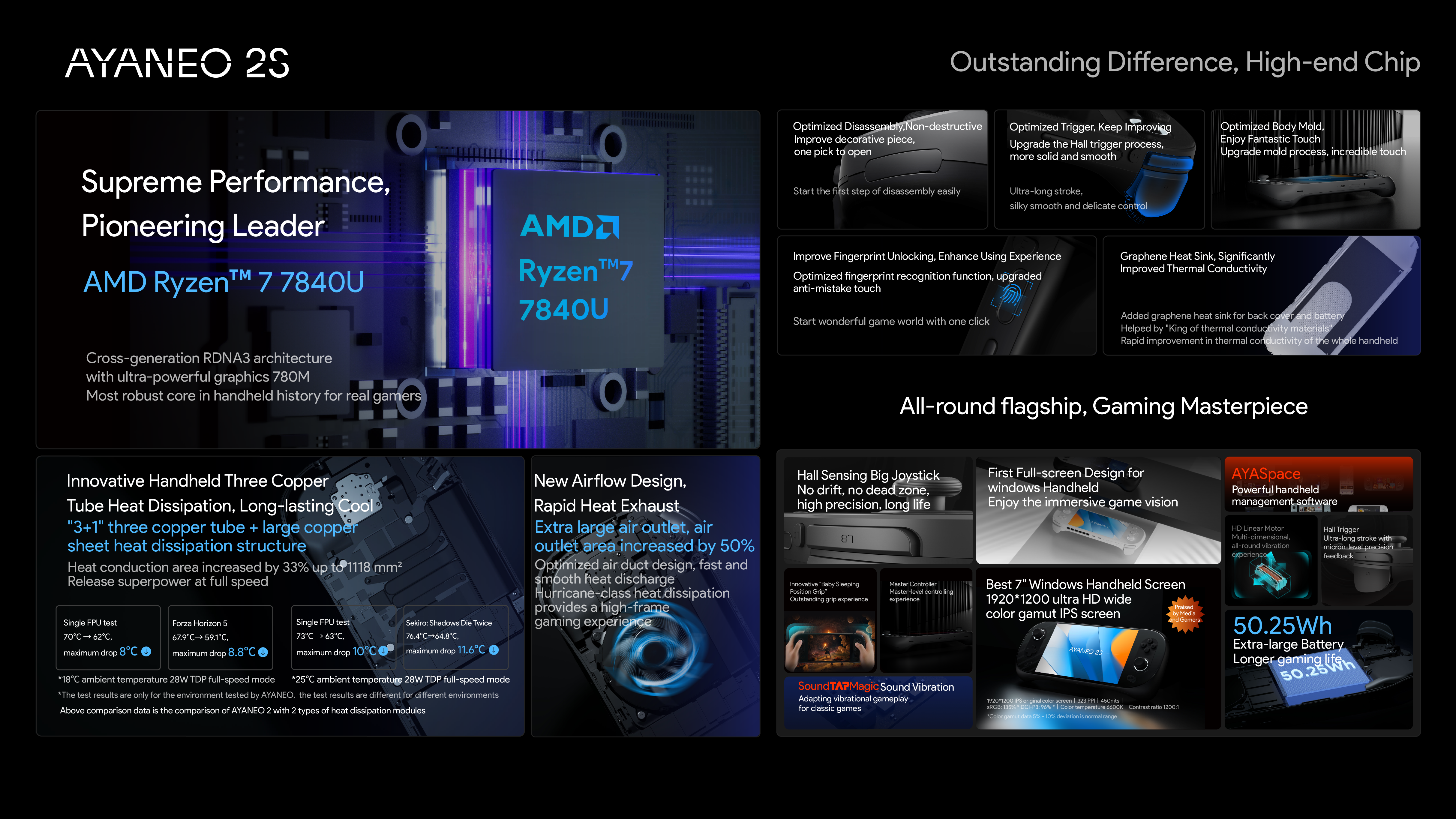 As AYANEO's upcoming flagship Windows handheld, AYANEO 2S brings eight upgrades and inherits lots of future technologies from AYANEO 2. Extreme product power will elevate the gaming experience to a higher level, allowing gamers to enjoy gaming to the fullest.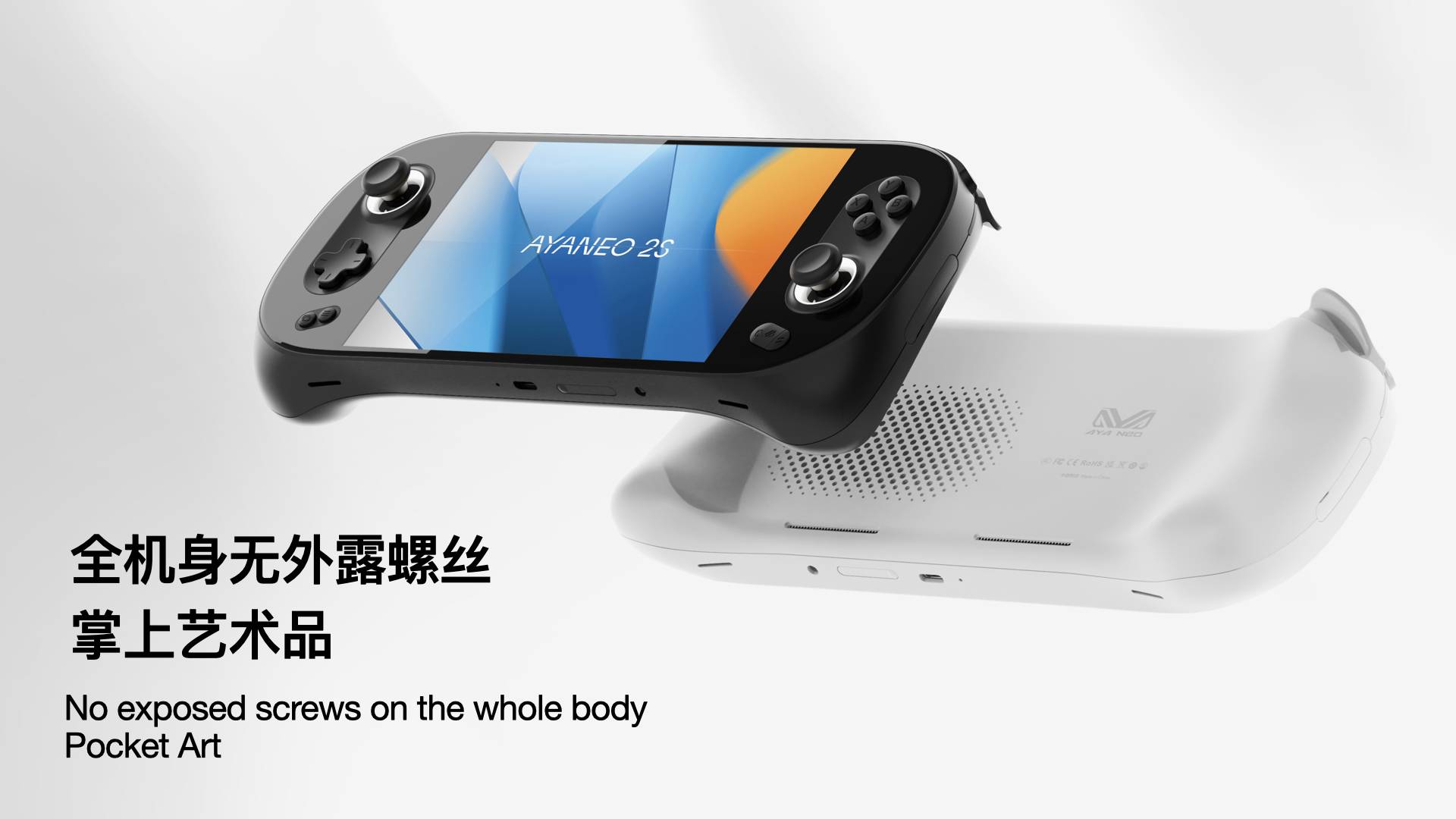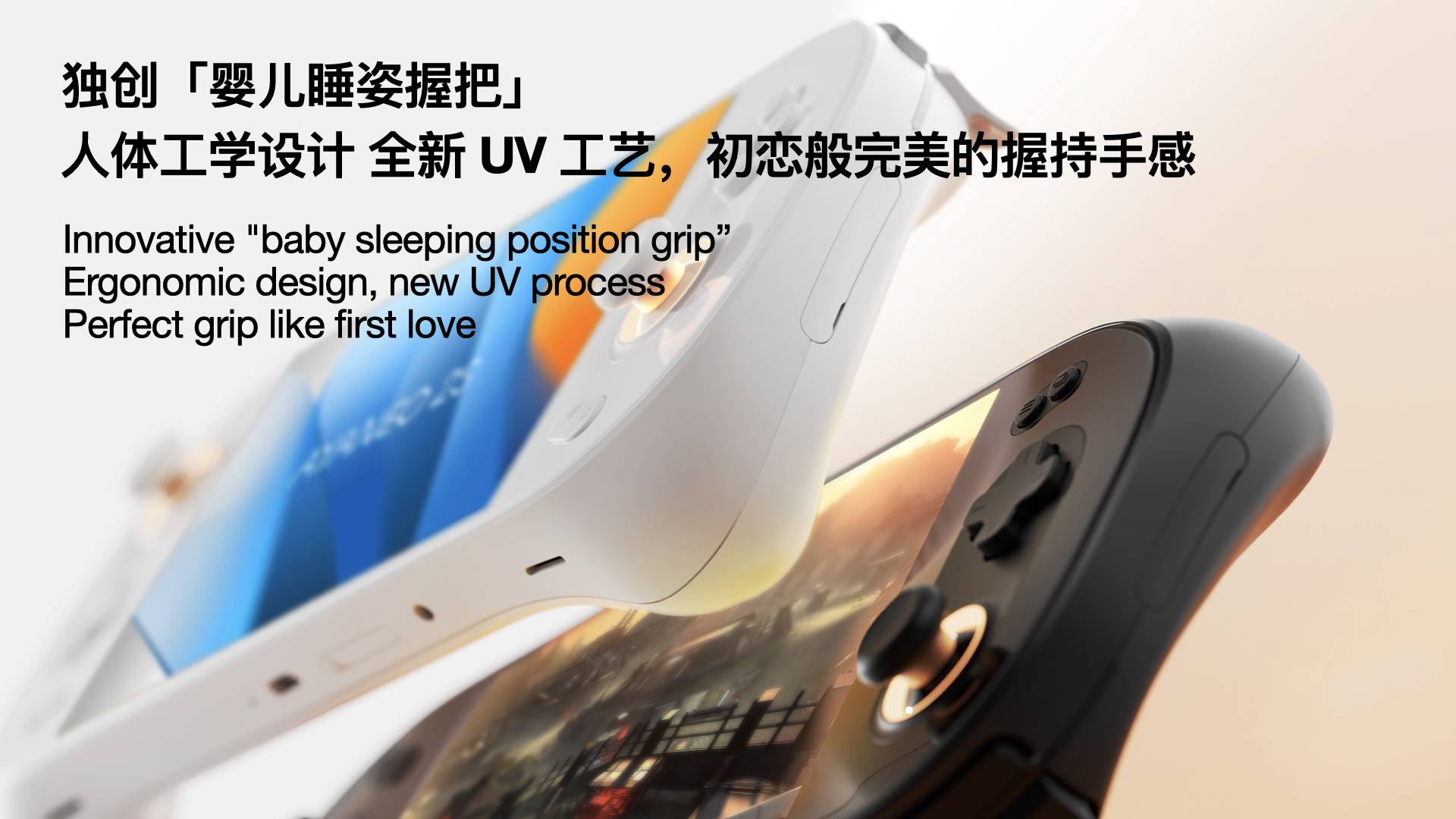 AYANEO 2S will be equipped with the new AMD 7840U series processor, equipped with the first"3+1" three copper tube heat dissipation module for Windows handhelds, as well as a large air outlet design and a new graphene heat sink to unleash superb battle power.
Disassembly optimization, no more damage to the handheld. Optimized Hall trigger structure for better and quieter feel. The handheld mold has also been optimized for a better look and feel and a more comfortable holding experience. Upgrade the anti-mistake fingerprint unlock to enhance the player's unlocking experience.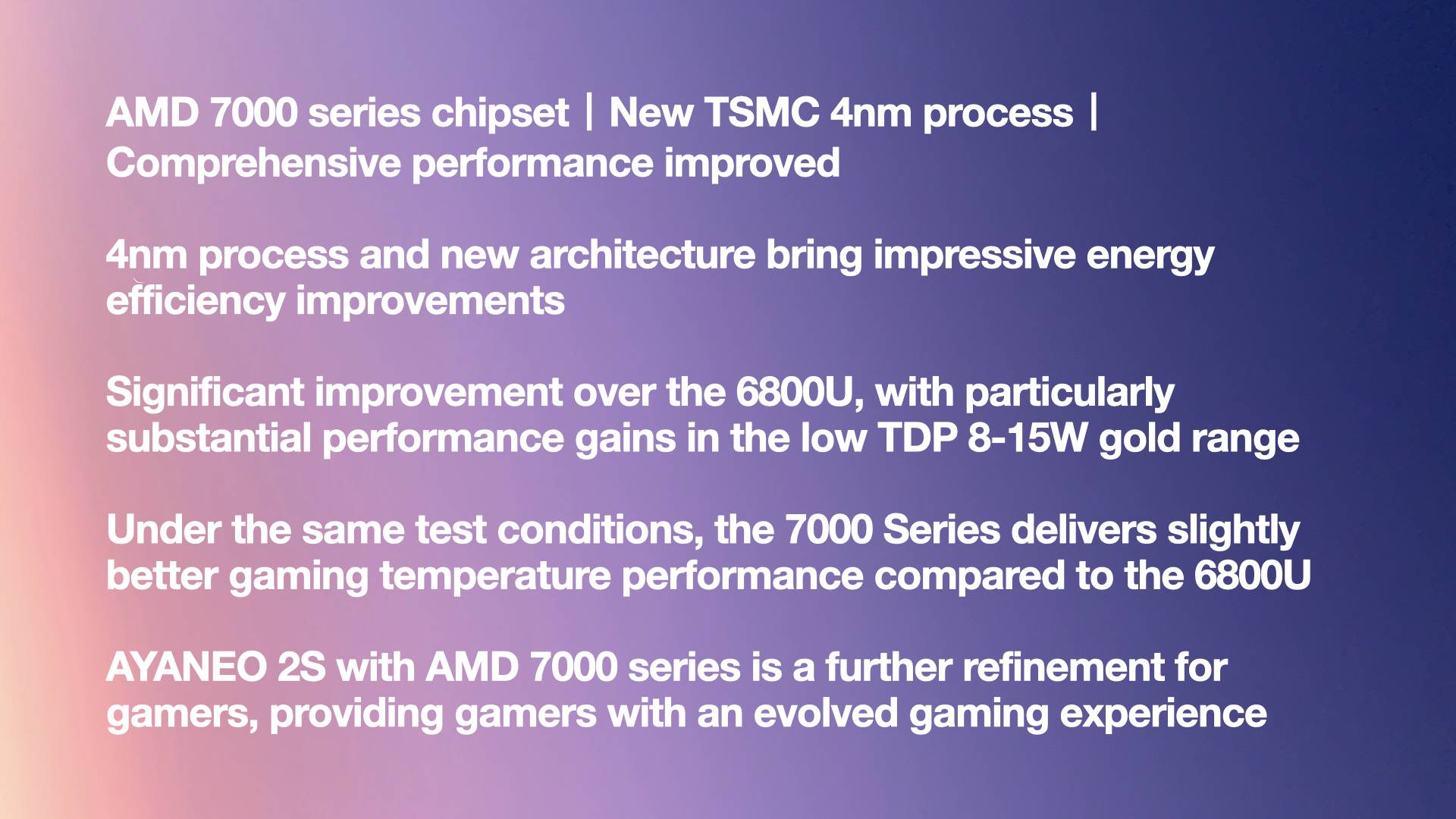 What's worth mentioning is that AYANEO 2S is powered by the flagship AMD 7840U series processor, which features a more advanced TSMC 4nm process and a significant increase in CPU and GPU performance.
More importantly, with the 4nm process and new architecture, AMD's 7840U series processors have achieved amazing overall energy efficiency improvements, even when compared to the previous generation flagship processor, the 6800U, with significant improvements in performance in the low TDP 8-15W gold range. The better energy efficiency is very significant for the handheld, which means that the same gaming performance can be achieved with lower power consumption, allowing gamers to enjoy longer battery life while playing games.
Under the same test conditions, with the new 4nm process, AMD 7840U series processors also bring more outstanding gaming temperature performance compared to 6800U, with "3+1" three copper tube heat dissipation module and perfect heat dissipation structure of the handheld, which will bring cool gaming and grip experience to gamers.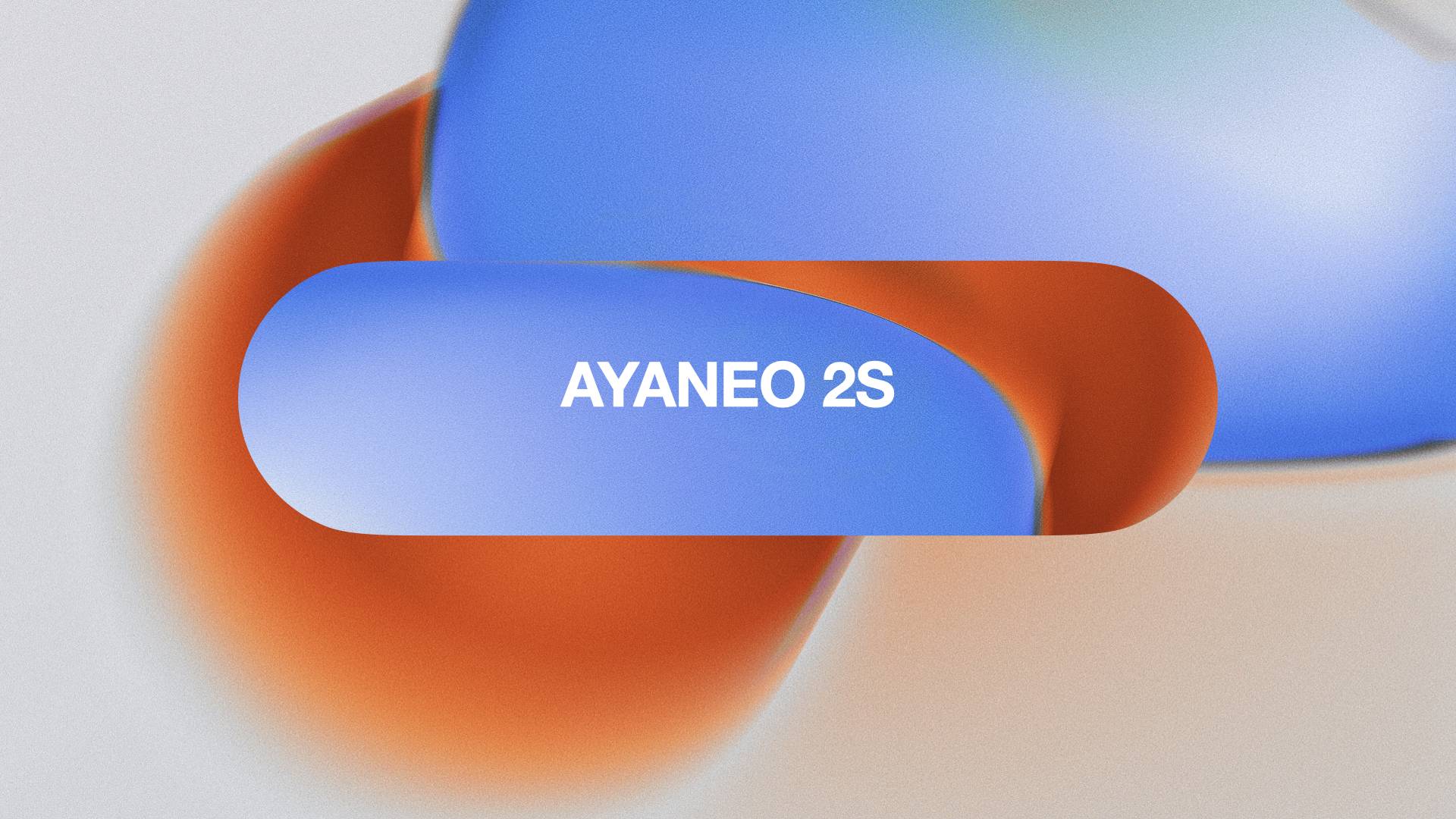 AYANEO 2S with AMD 7840U series is a groundbreaking Windows handheld, where gamers will enjoy an unprecedented jump in gaming experience and full freedom of AAA gaming is no longer just a dream.
Geek Heart, Never Compromise, AYANEO GEEK 1S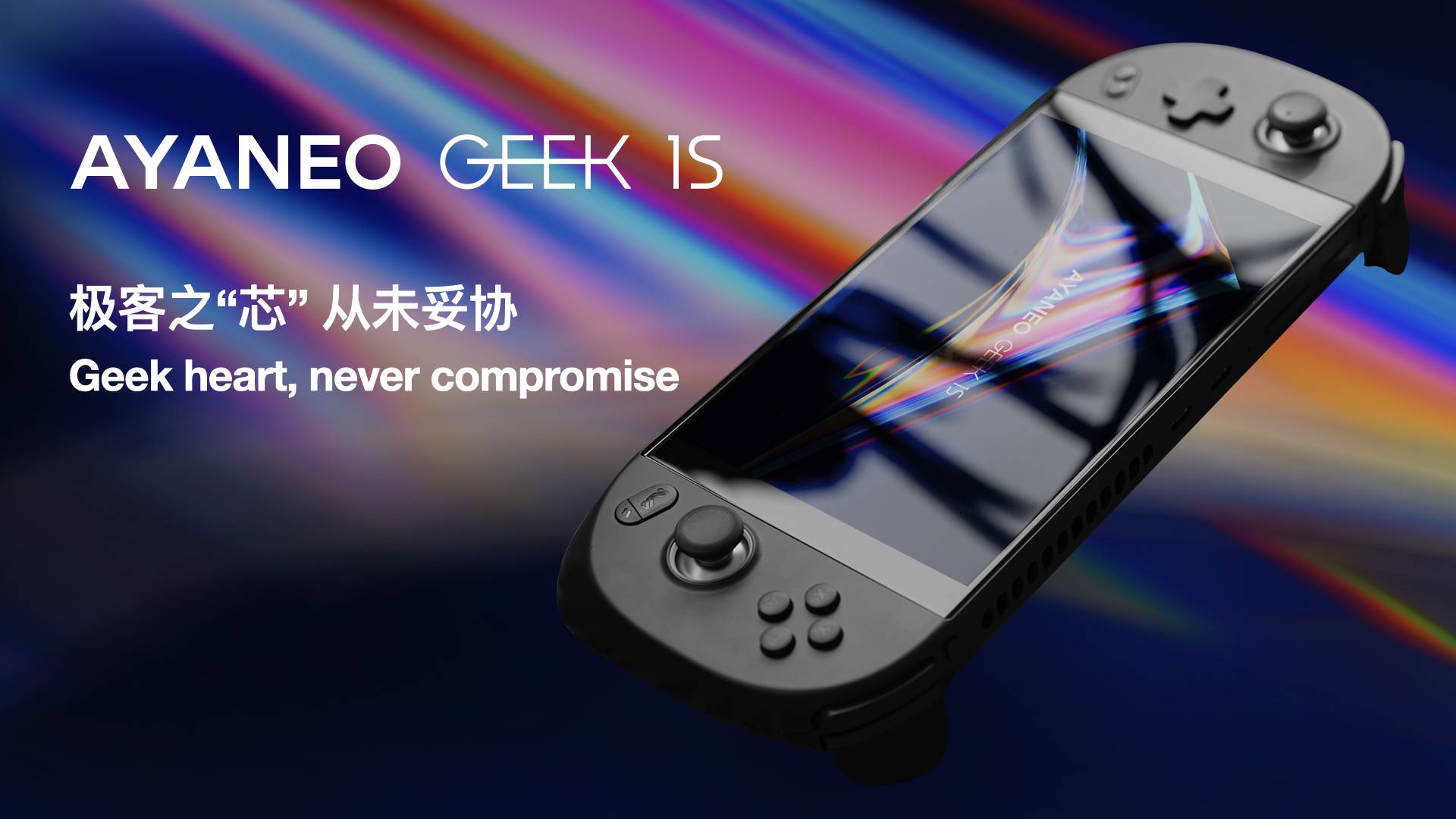 After showing the flagship AYANEO 2S, Mr. Arthur moved on to introduce the GEEK 1S, an upgrade to the GEEK.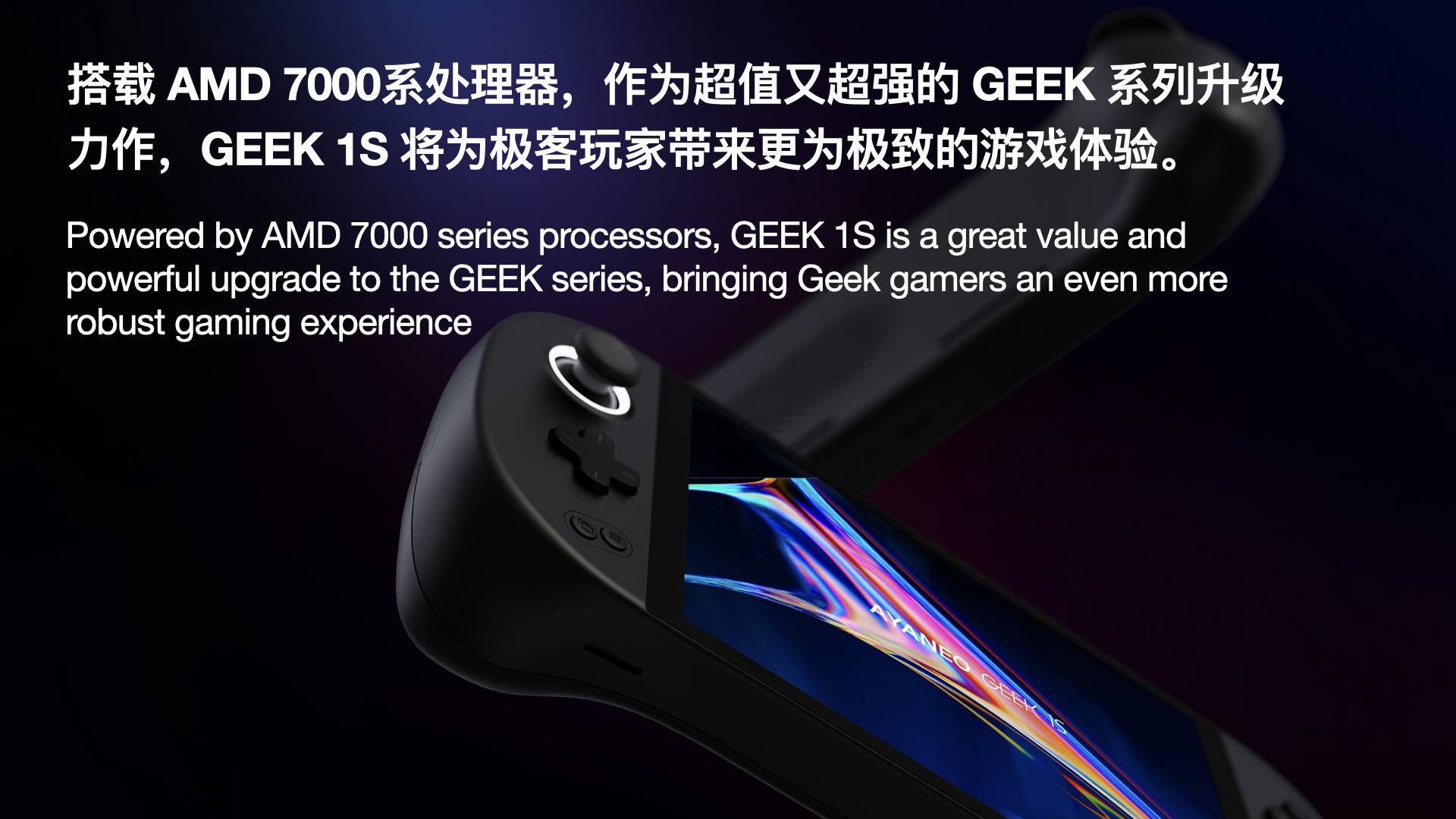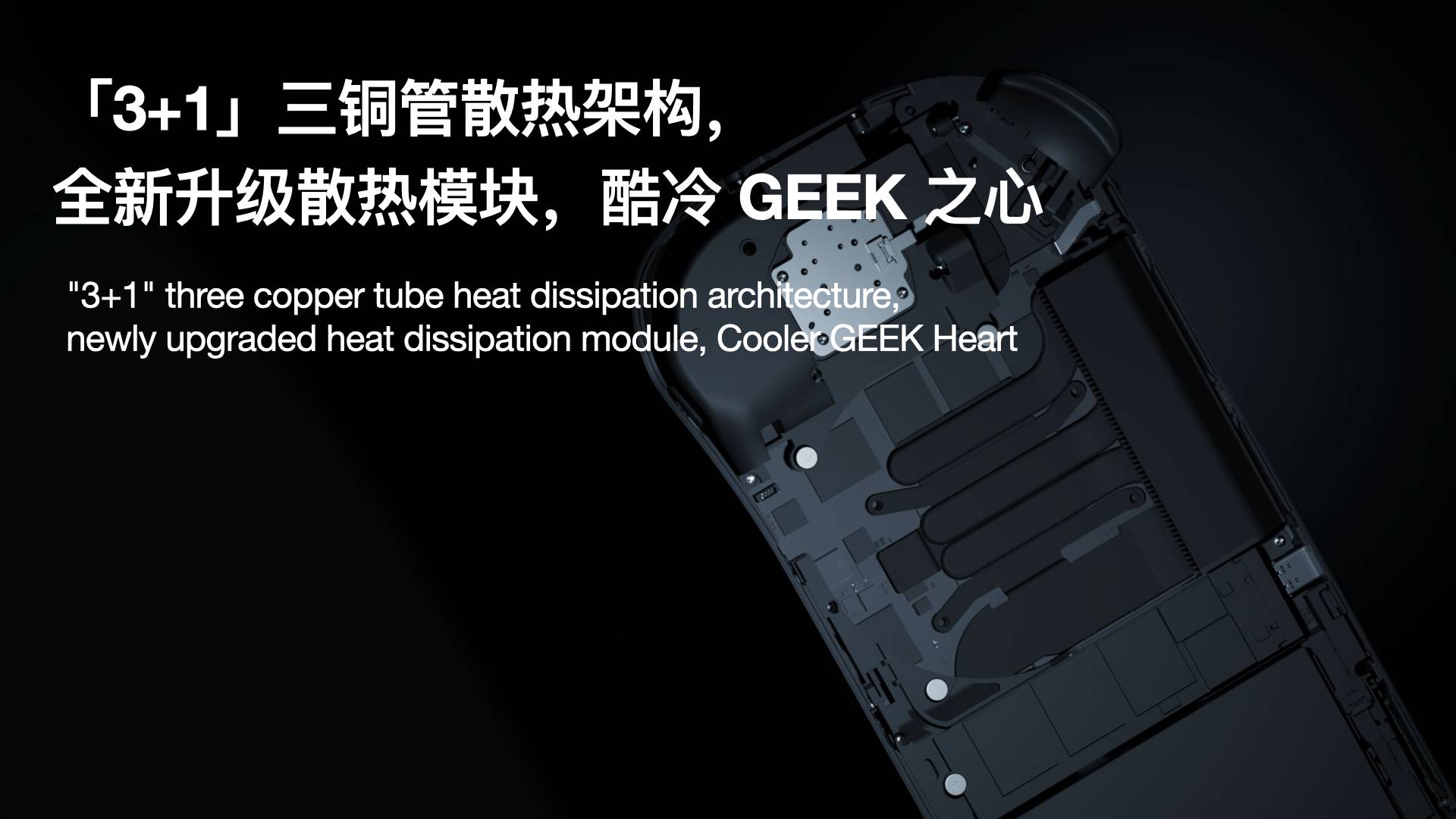 As a valuable and powerful upgrade to the GEEK series, GEEK 1S is equipped with the same AMD 7840U series processor as the flagship AYANEO 2S, bringing geeky gamers an even more extreme gaming experience. In addition, GEEK 1S is also equipped with "3+1" three copper tube powerful heat dissipation module, cool geek heart, unleashing the strong performance of AMD 7840U series.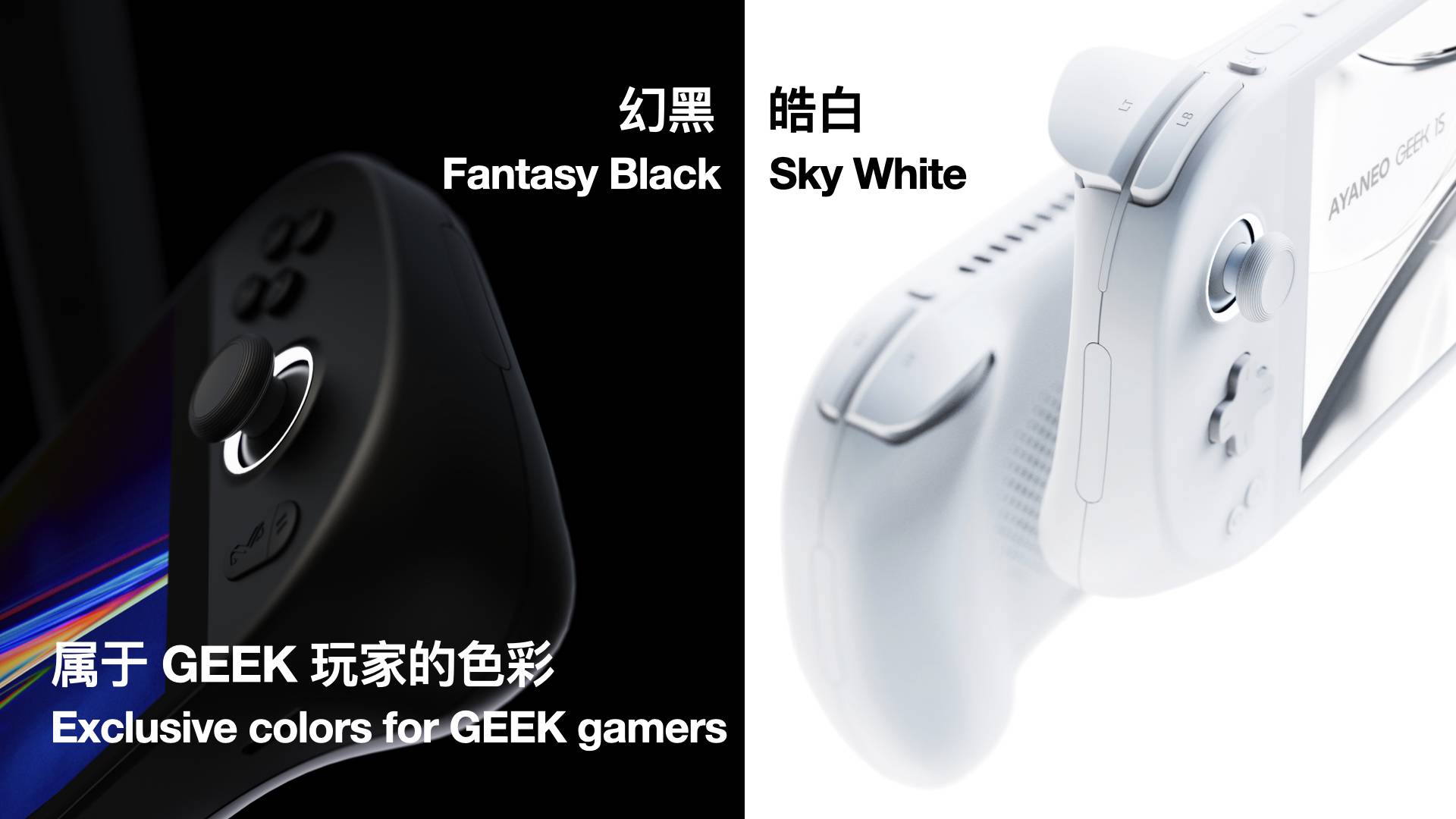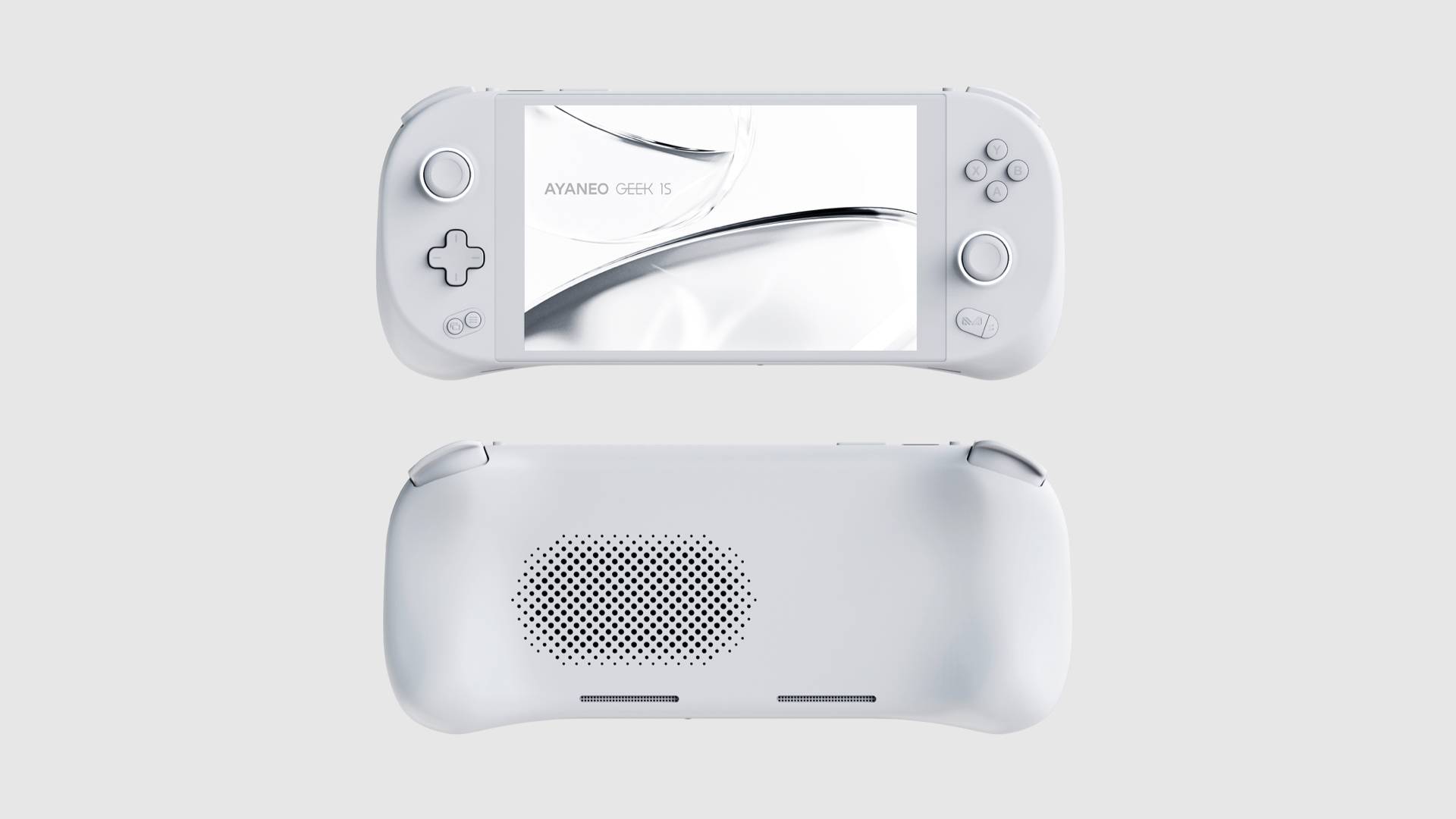 AYANEO GEEK 1S continues the "Fantasy Black" color scheme of GEEK 1, while adding "Sky White" color scheme, which injects a minimalist and dynamic fashion element into the geek's heart.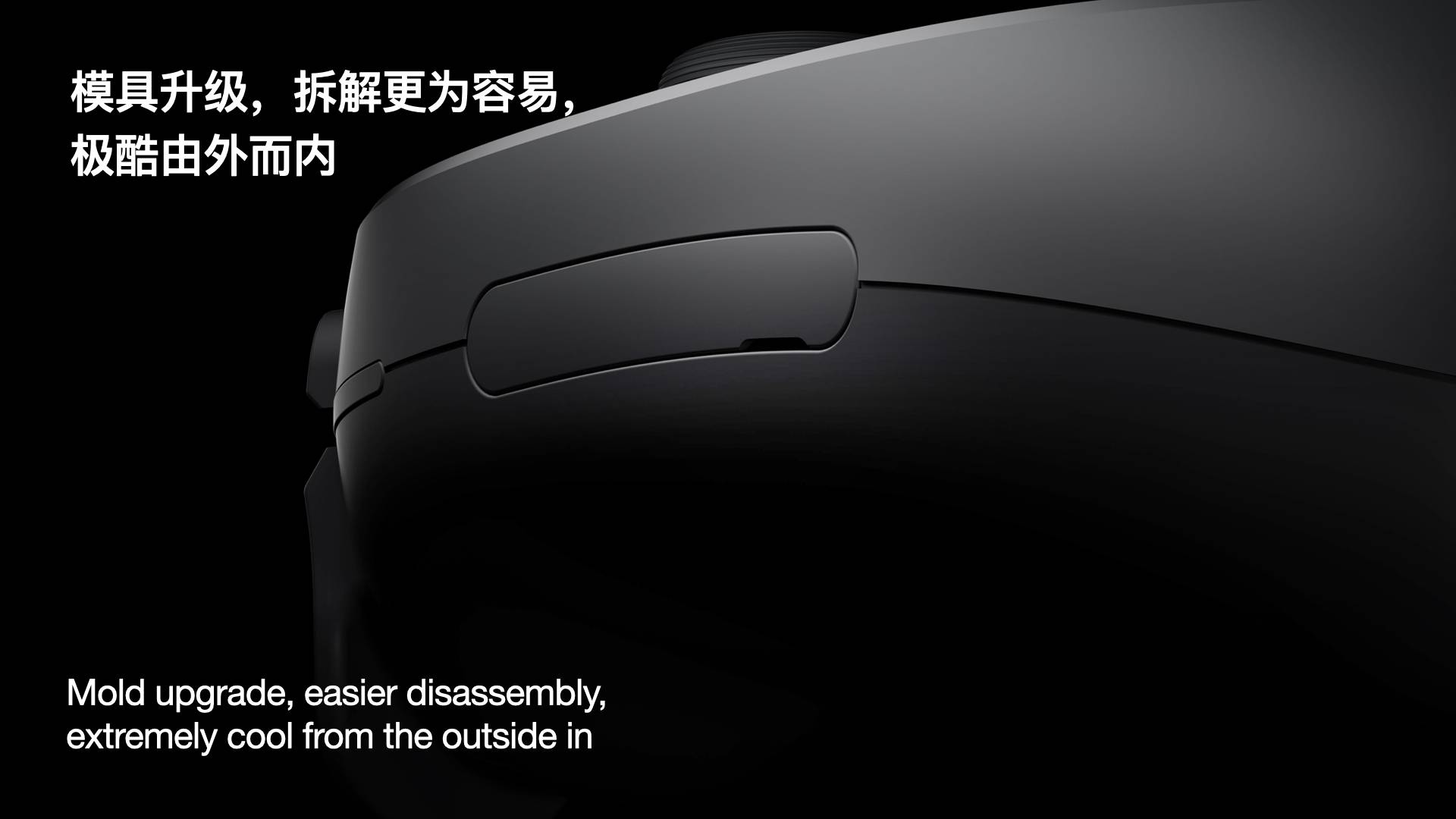 GEEK 1S mold has also been slightly upgraded for a better grip and easier disassembly, bringing gamers a cool experience from the outside in.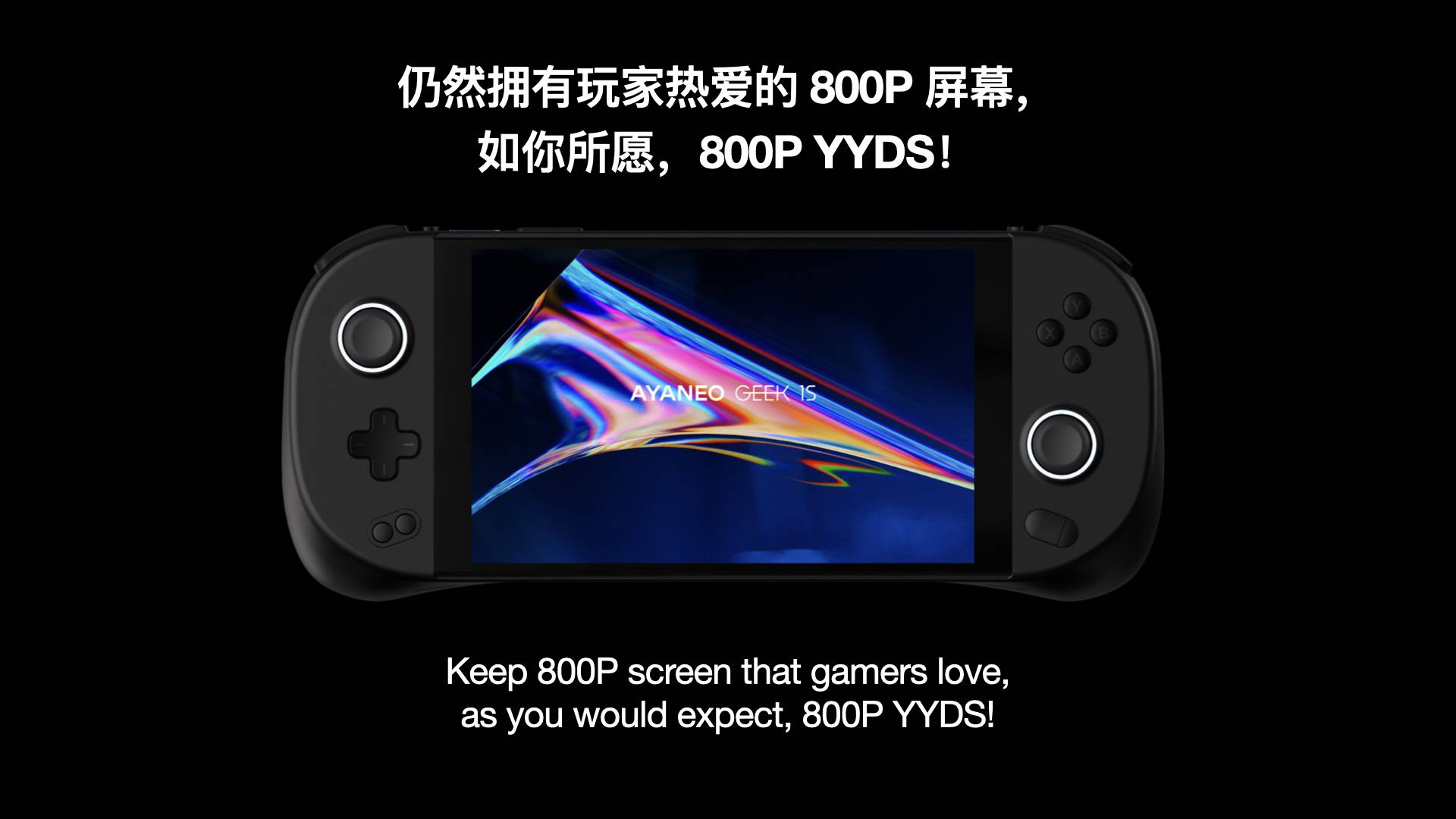 Of course, GEEK 1S is still equipped with the 800P screen that most gamers call "YYDS", allowing gamers to enjoy the ultimate performance output and gaming experience.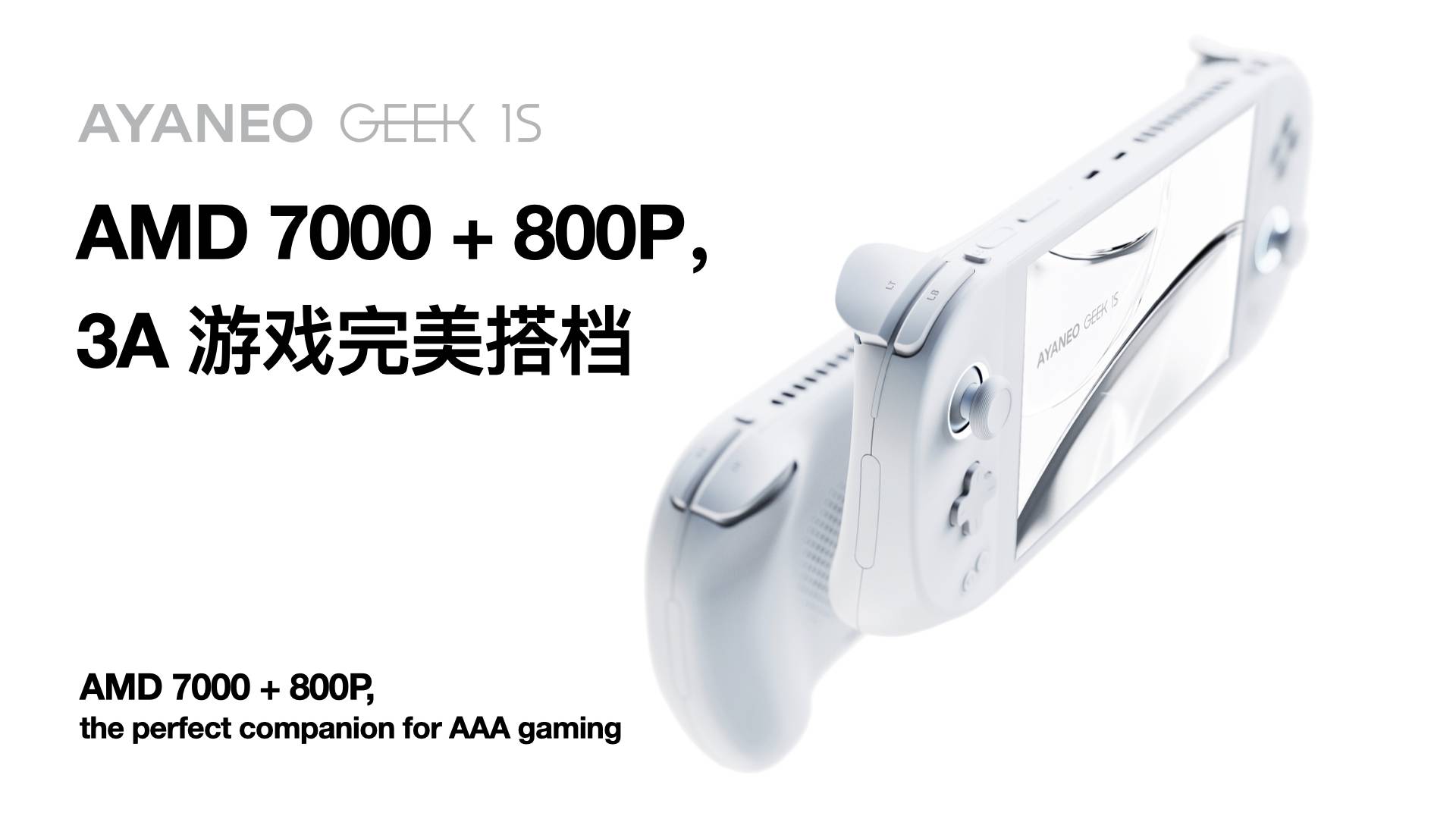 Just like the original intent of the GEEK product line, the GEEK 1S still offers most of the core features of AYANEO's mainline flagship products, paying tribute to the uncompromising geek spirit again!
Surprise Booking: AYANEO 2S & GEEK 1S
Later, Mr. Arthur announced that AYANEO 2S & GEEK 1S will be available for surprise booking soon.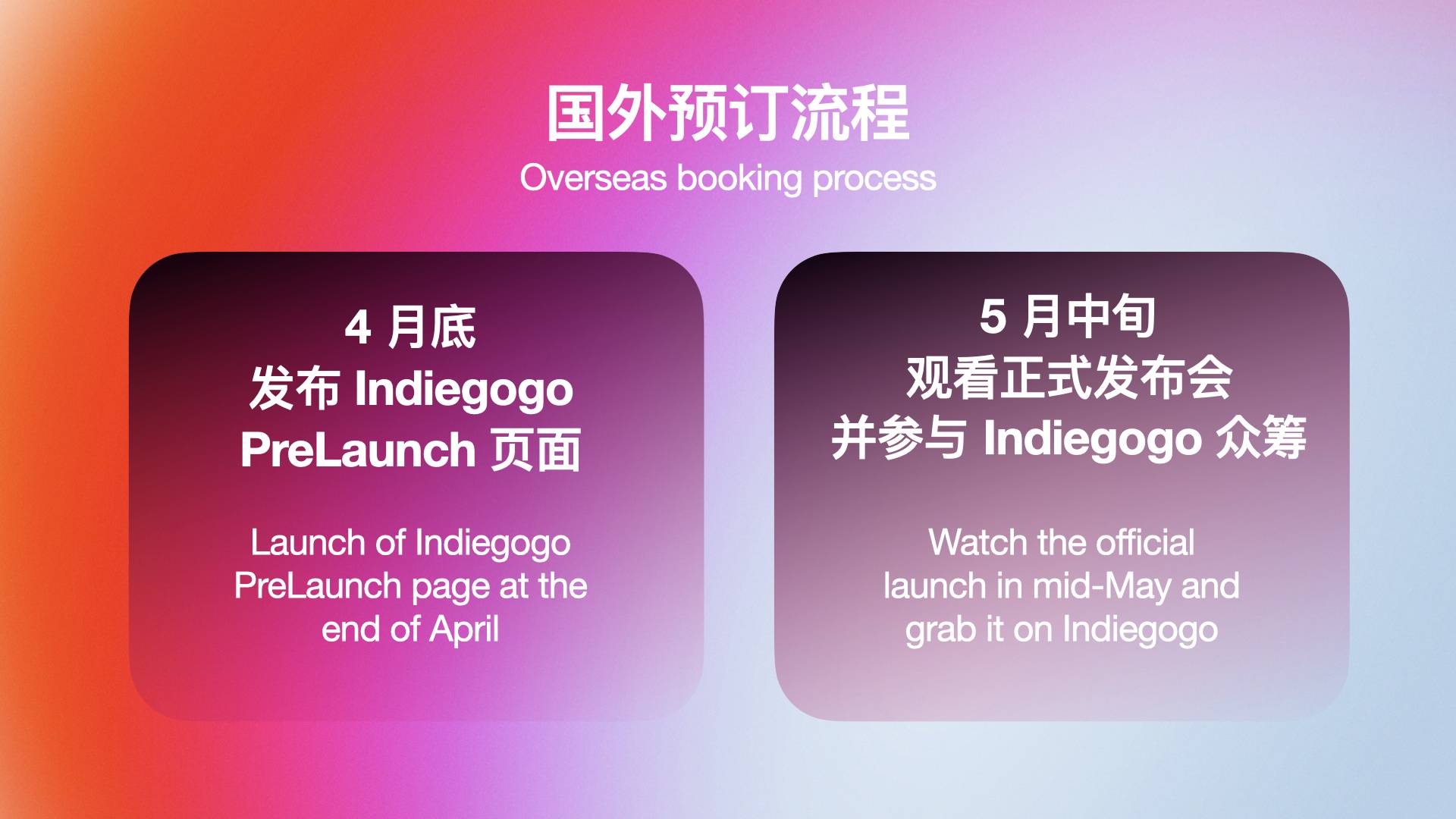 Gamers can get vouchers on official discord and participate in a surprise pre-order in early May.
Watch the official launch within May and grab AYANEO 2S & GEEK 1S at a discounted price.
AYANEO 2S will be shipped from mid-June for China orders and from the end of June for overseas orders.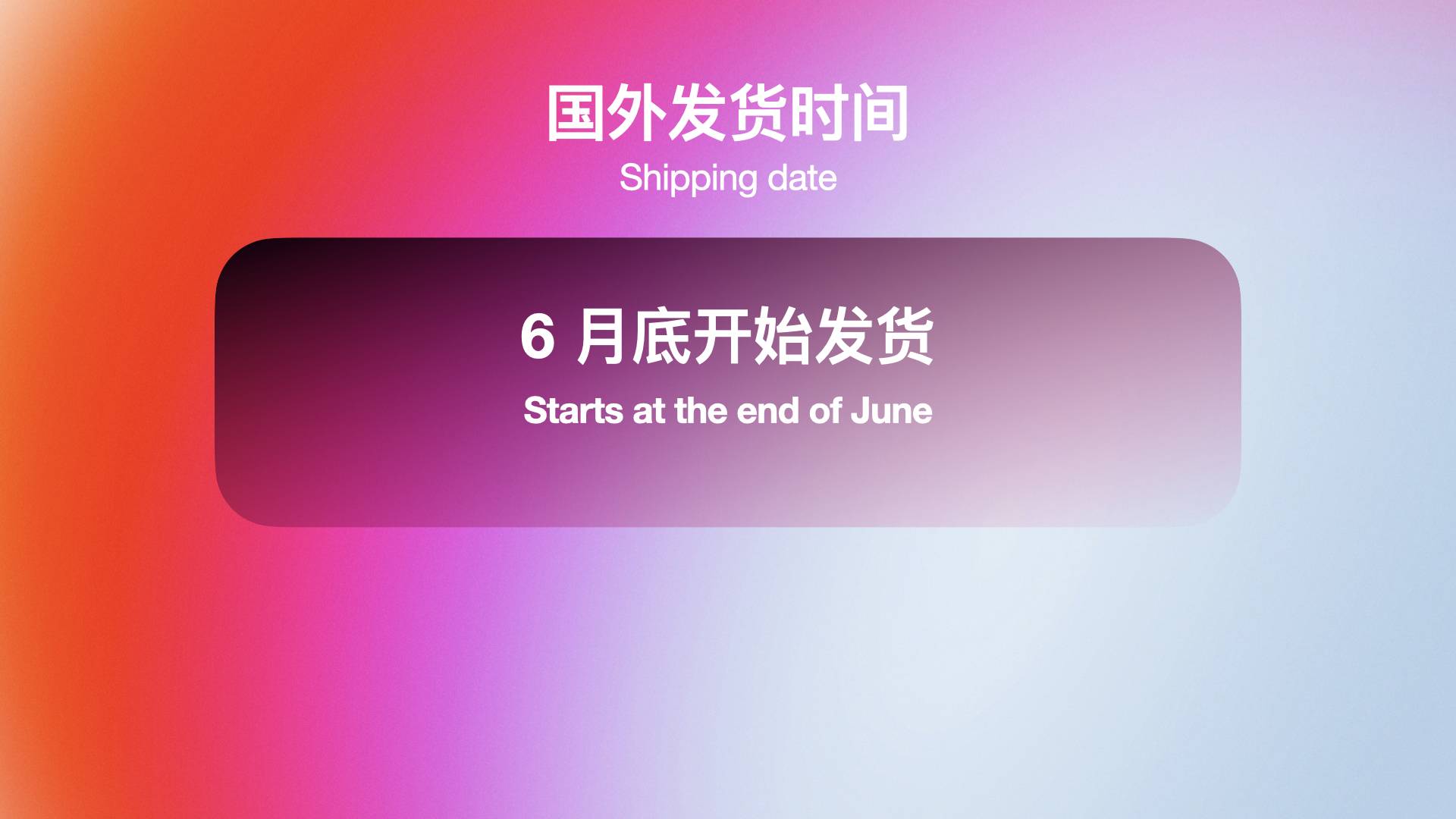 AYANEO 2 Upgrade Program
Next surprise, Mr. Arthur announced the AYANEO 2 Upgrade Program.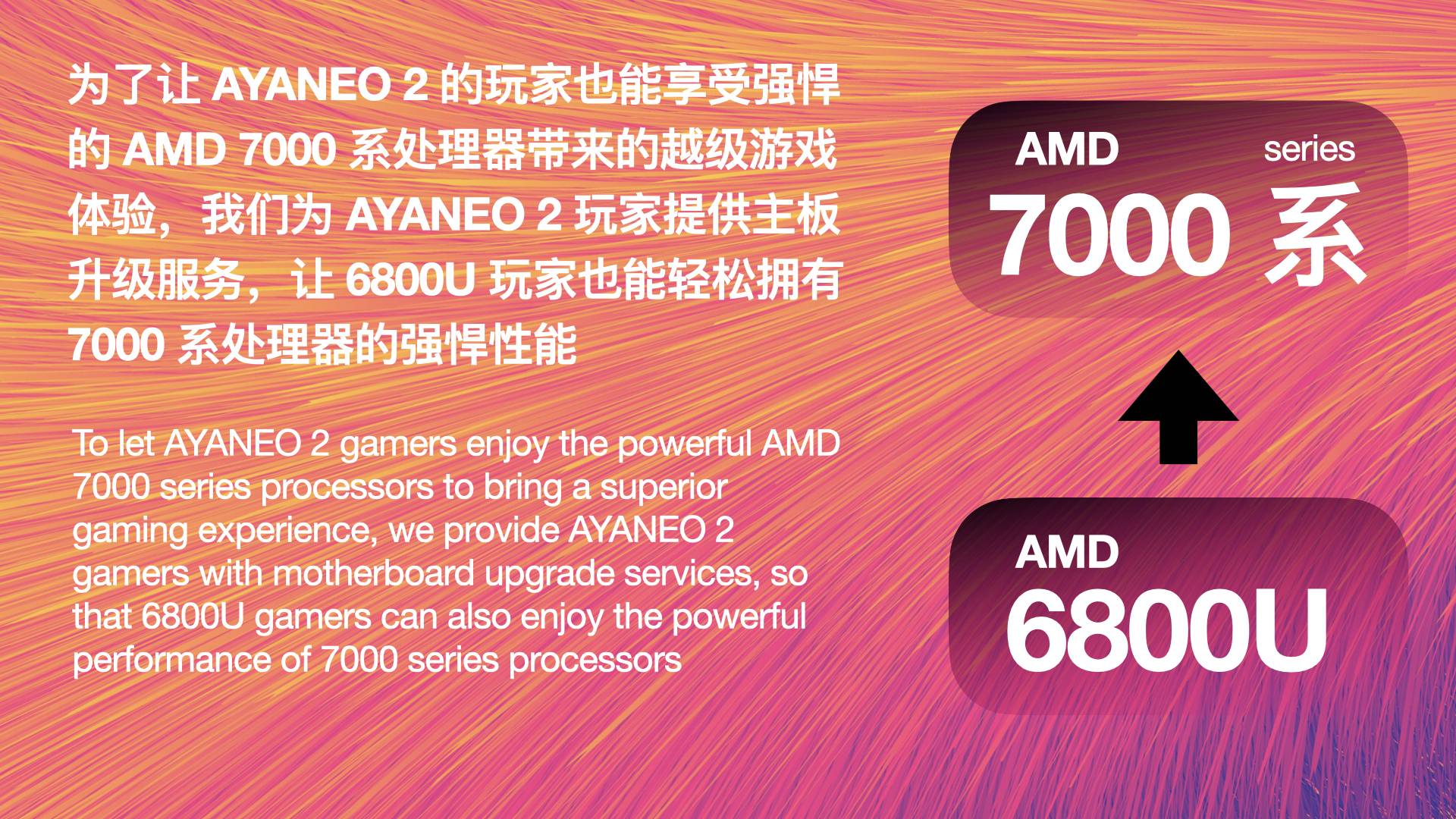 In order to provide AYANEO 2 gamers with the best gaming experience with AMD 7840U series processors, we plan to provide AYANEO 2 gamers with a motherboard upgrade that allows 6800U gamers to upgrade to the 7840U series processors with superior performance.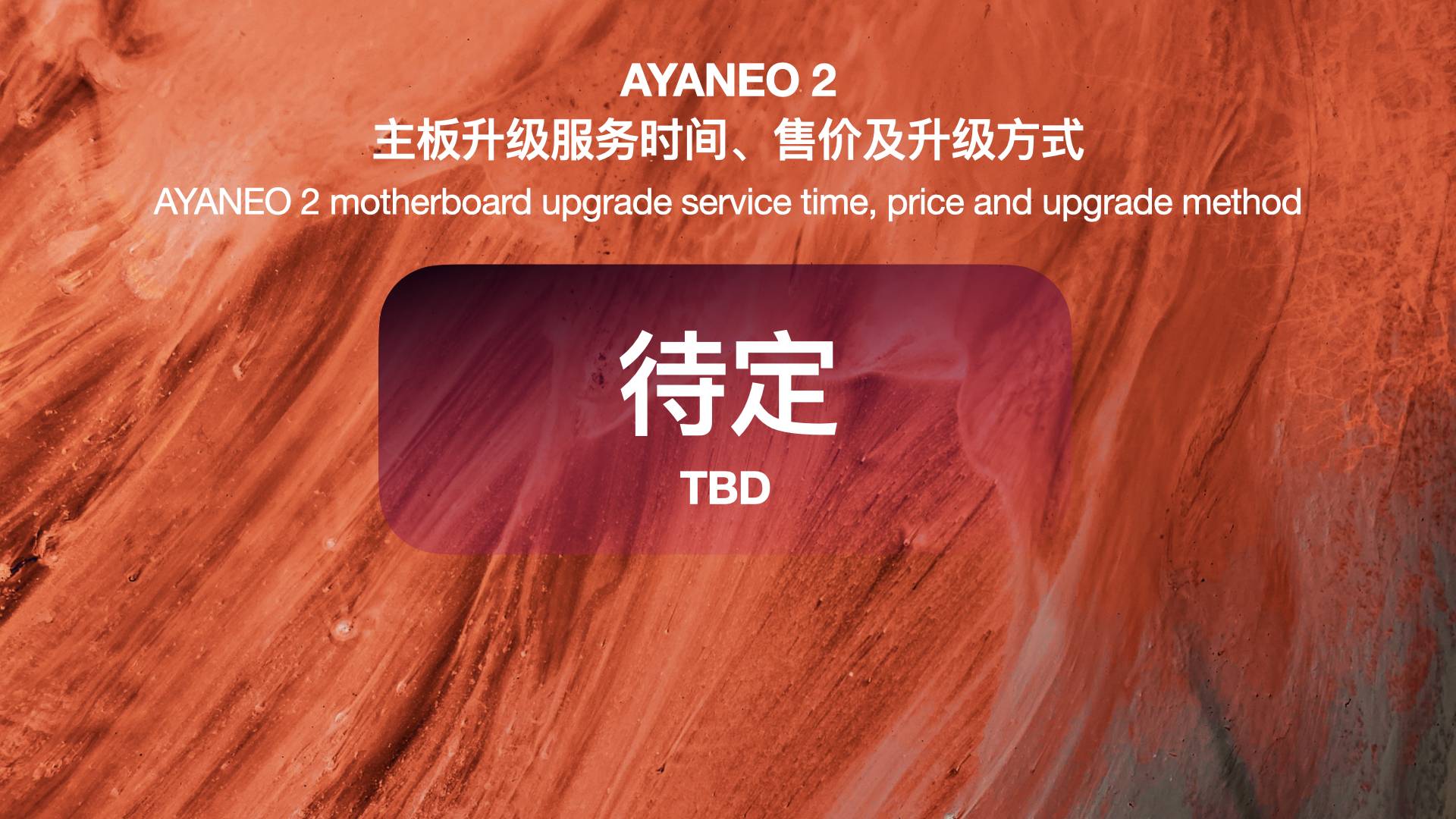 About the AYANEO 2 motherboard upgrade service activities start time, price and upgrade method, a specific upgrade program will be subsequently announced. Please pay attention to the official information.
AYANEO AIR Plus Upgrade Program
We have also arranged an upgrade program for AYANEO AIR Plus players.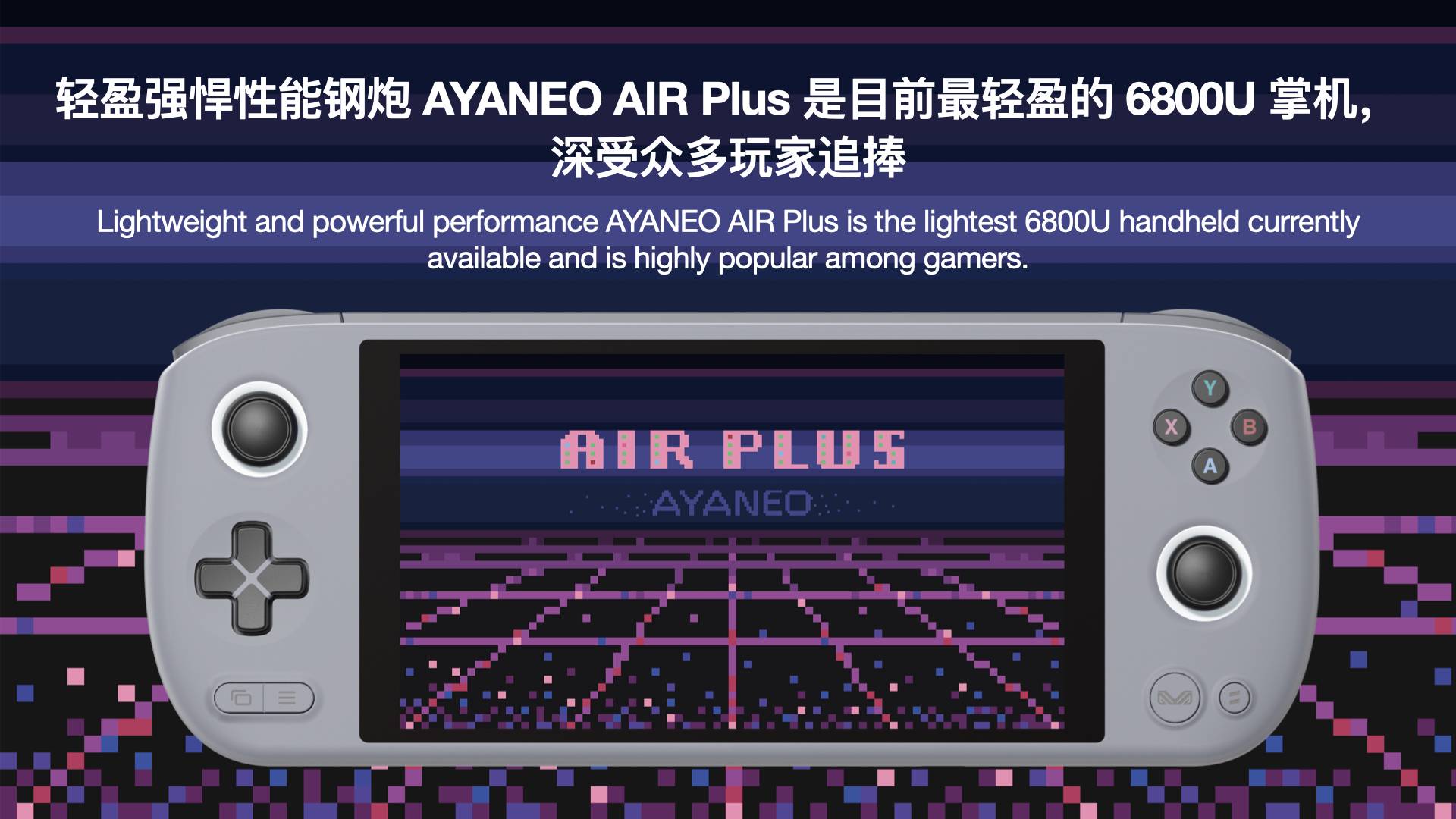 The lightweight and powerful performance AYANEO AIR Plus is the lightest 6800U handheld currently available and is highly popular among gamers. To provide gamers with the crossover leap of the flagship AMD 7840U series processor, we will be releasing an upgraded version of AYANEO AIR Plus based on the AMD 7840U series processor in the coming months.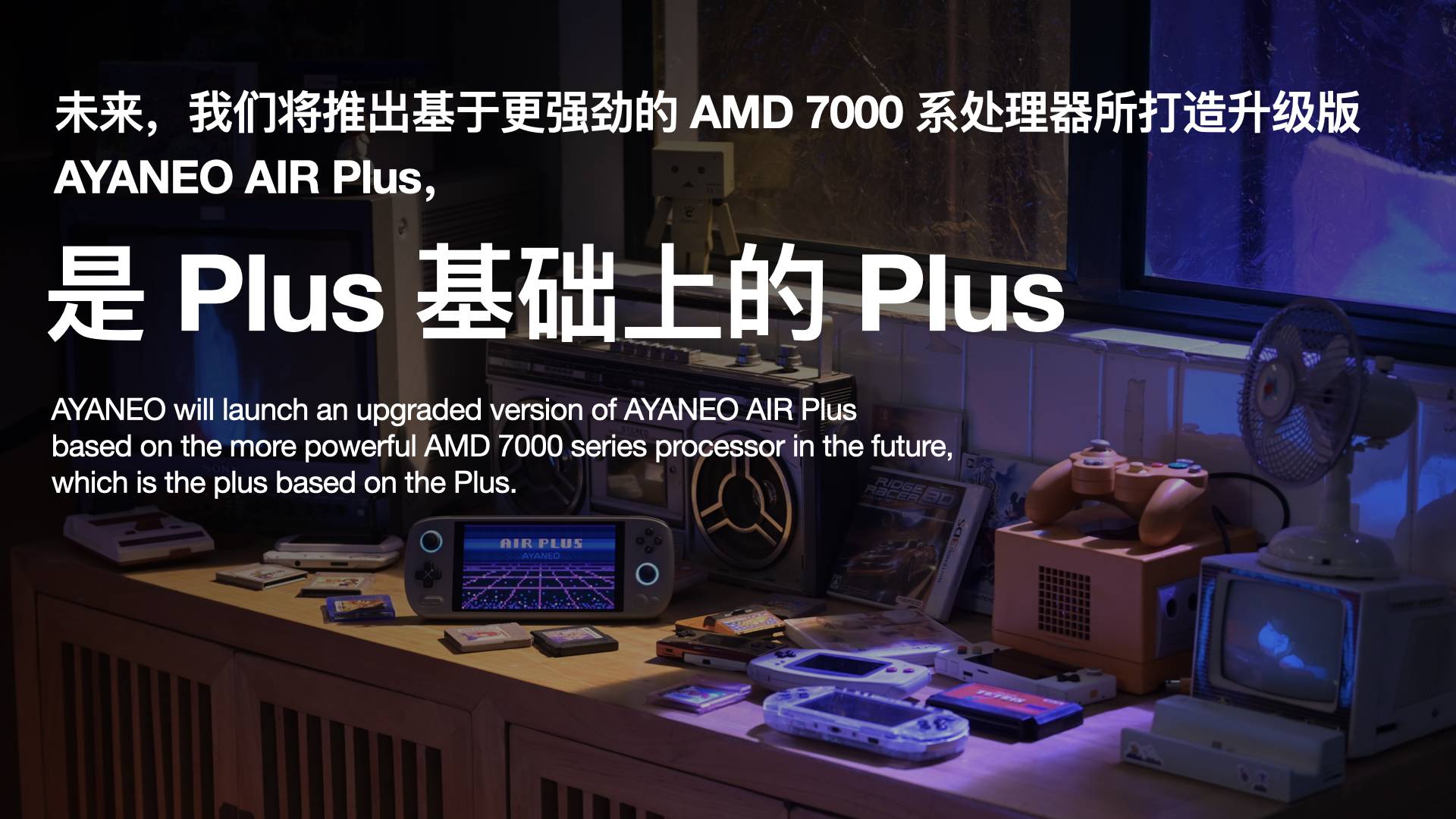 Considering that some gamers have not yet received the AYANEO AIR Plus, and that the 7840U series handhelds will soon be available, we offer the following upgrade options.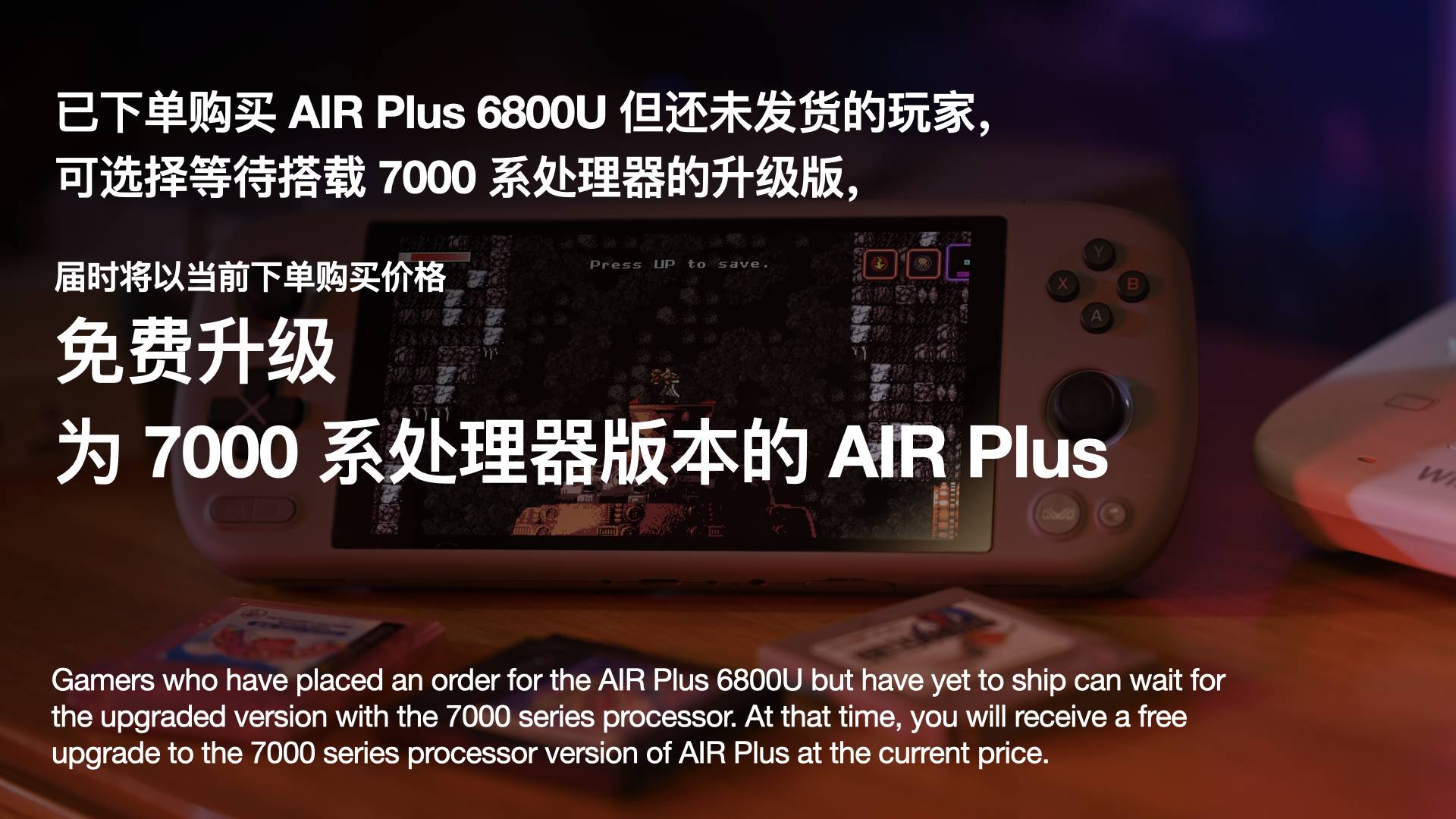 Gamers who have placed an order for the AIR Plus 6800U but have yet to ship can wait for the upgraded version with the 7840U series processor. At that time, you will receive a free upgrade to the 7840U series processor version of AIR Plus at the current price.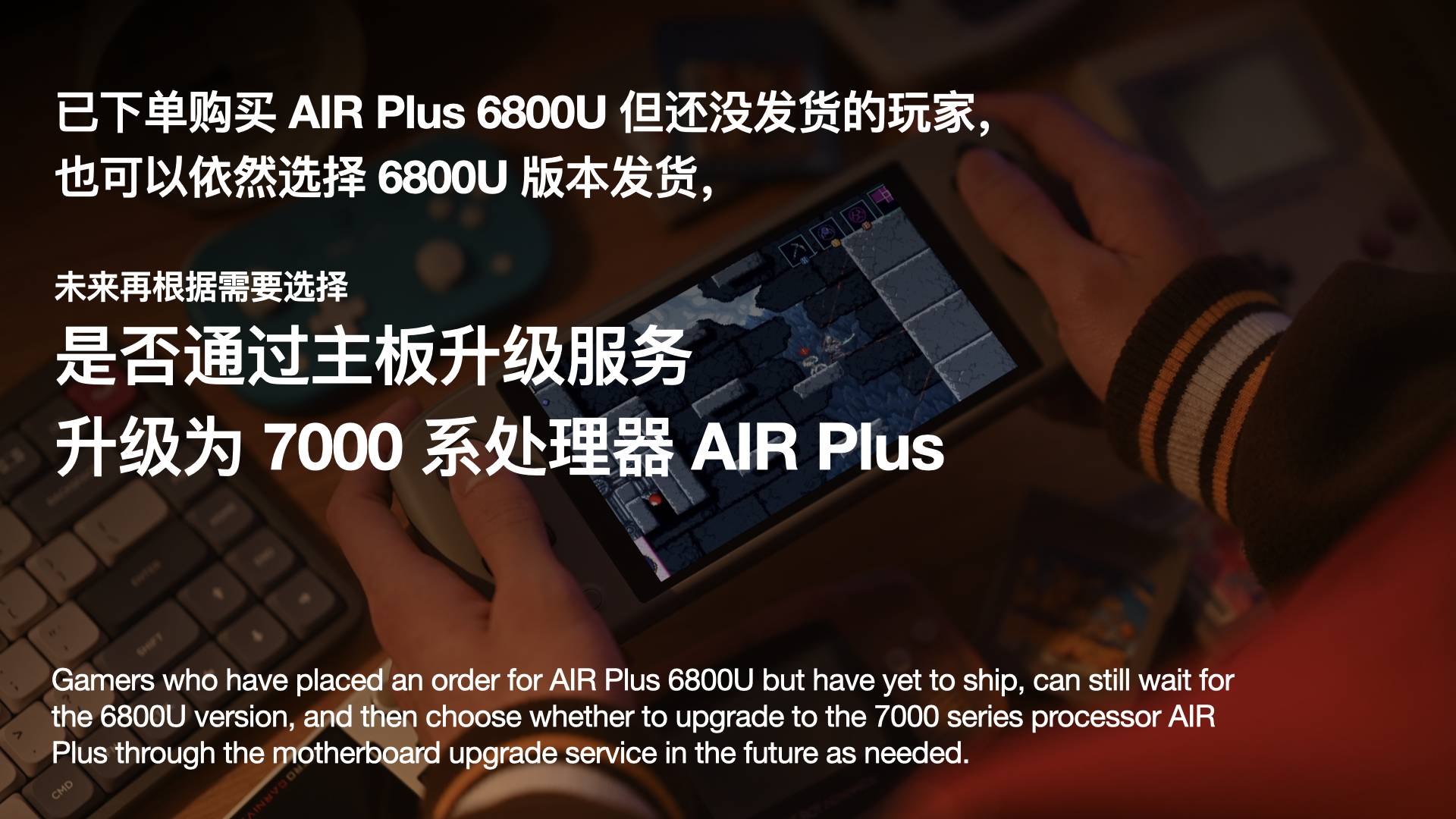 Gamers who have placed an order for AIR Plus 6800U but have yet to ship, can still wait for the 6800U version, and then choose whether to upgrade to the 7840U series processor AIR Plus through the motherboard upgrade service in the future as needed.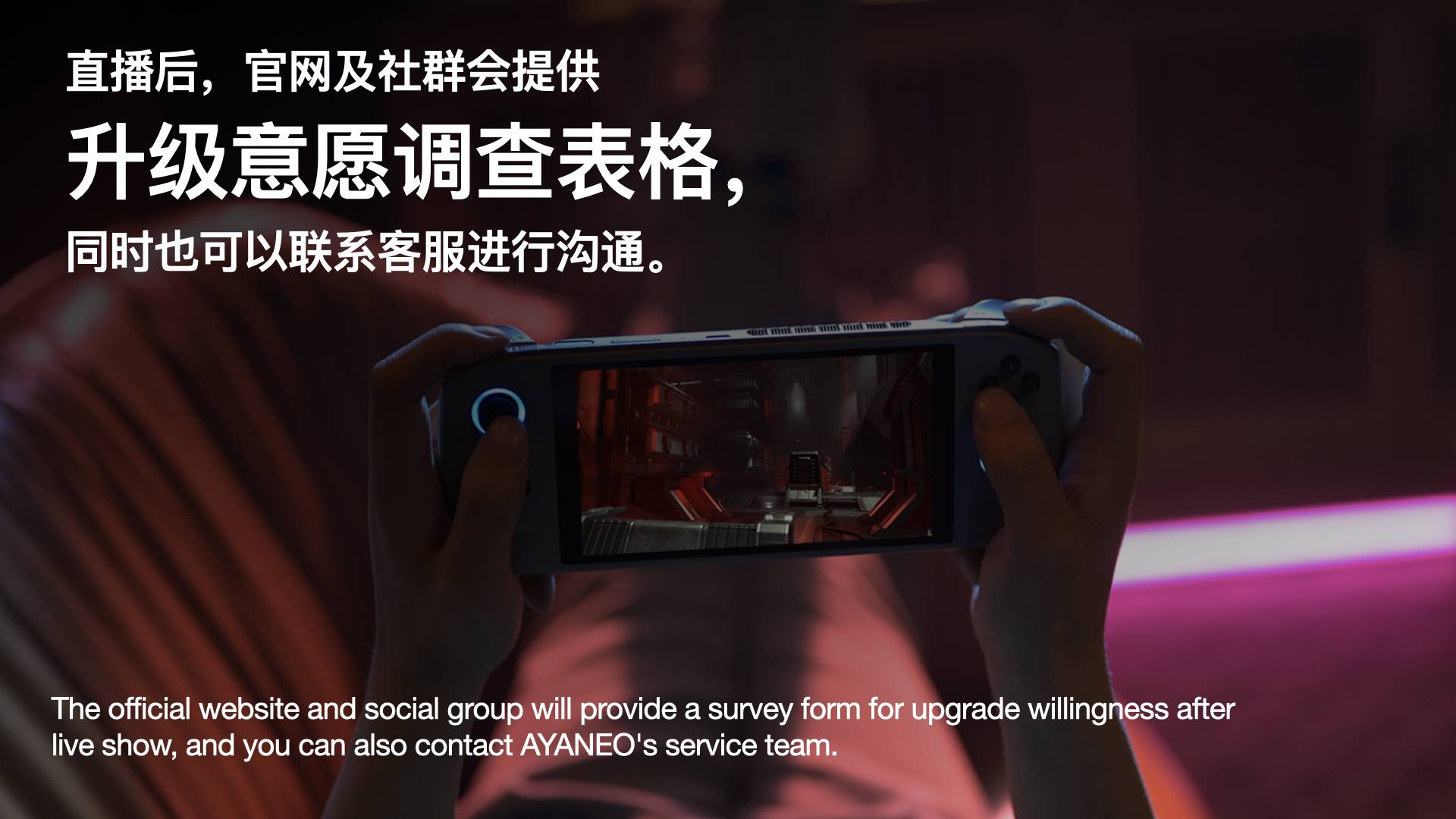 At present, AYANEO's official website and social group have already provided a survey form for upgrading willingness, while gamers can also contact customer service.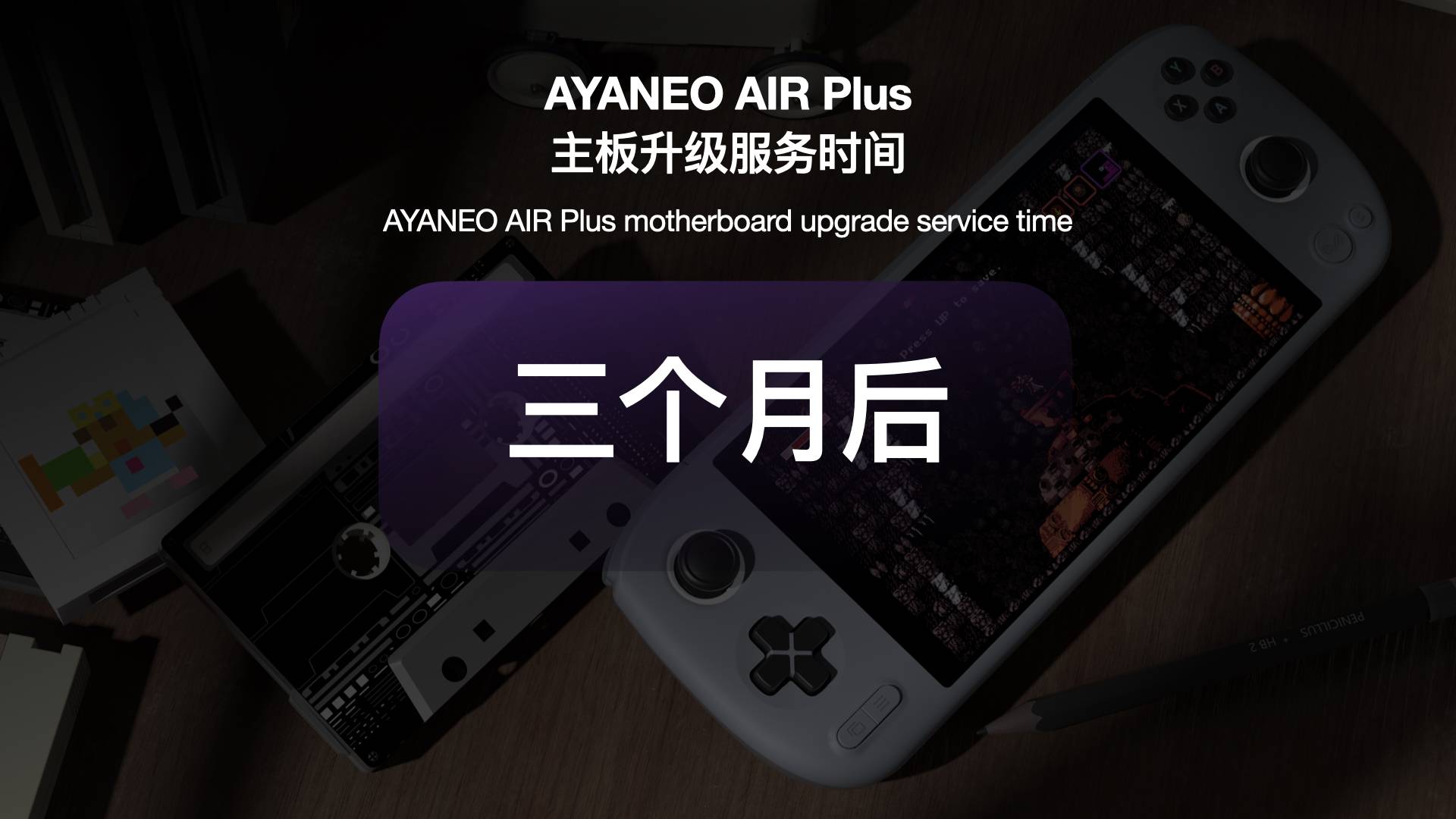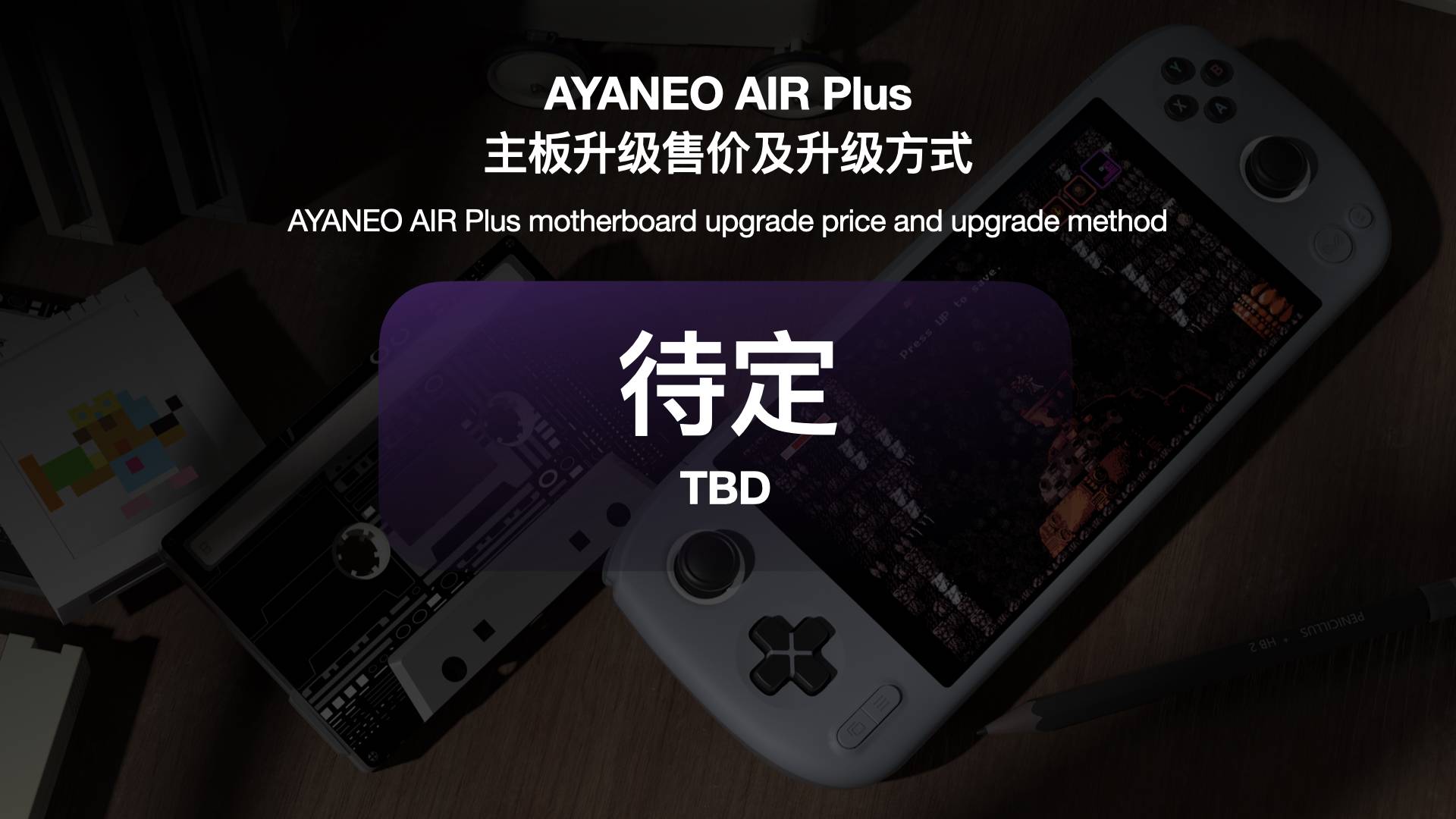 We also provide motherboard upgrade services for AYANEO AIR Plus gamers, the campaign is expected to start in 3 months. Please pay attention to the follow-up official announcement notice for the price, upgrade method and other detailed upgrade programs.
AYANEO's First Slide-out Full Keyboard Handheld AYANEO Slide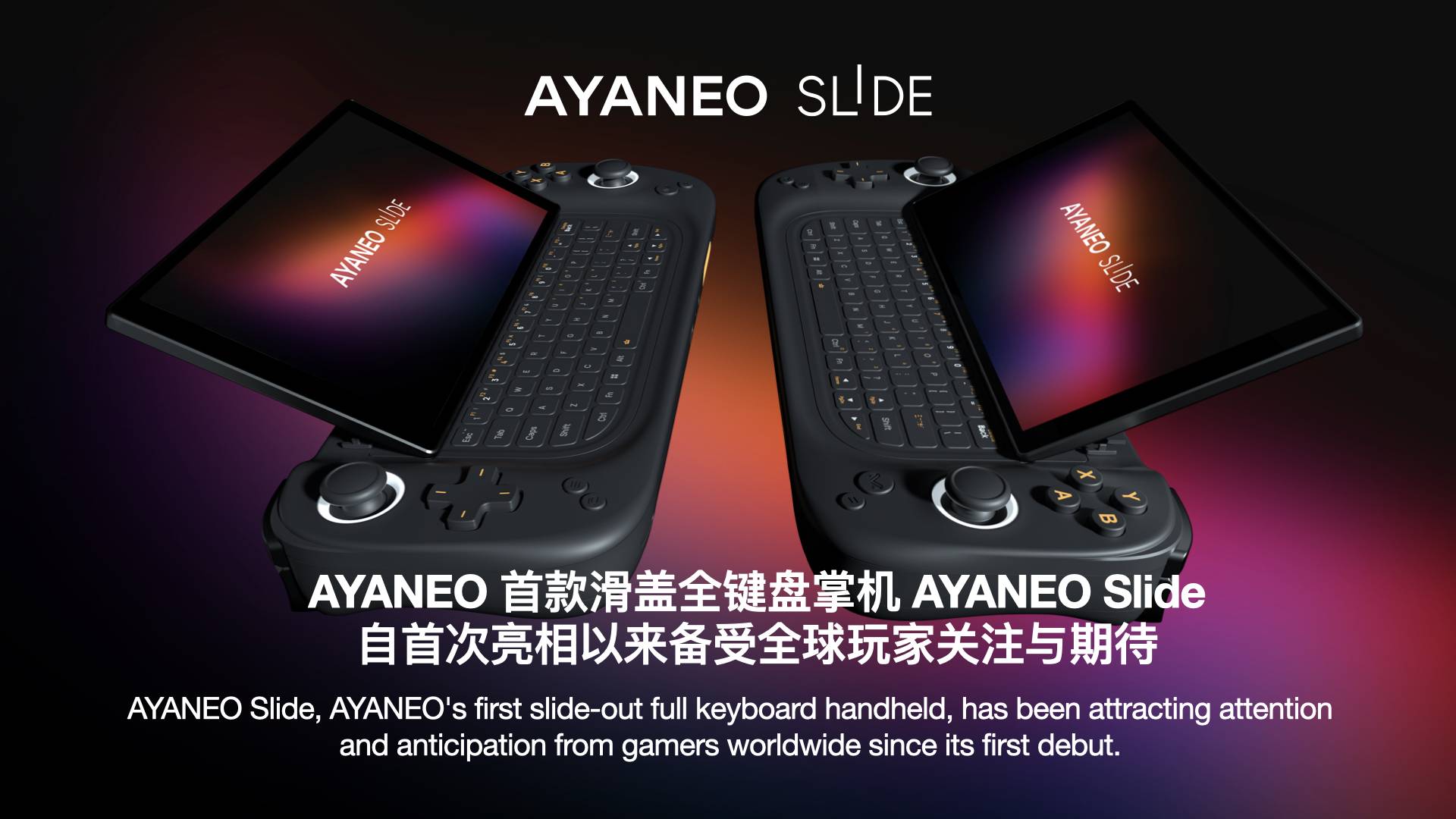 In the last live sharing session, Mr. Arthur showed the AYANEO Slide, the first slide-out full-keyboard Windows handheld of AYANEO, which has been attracting attention and anticipation from gamers worldwide since its first debut.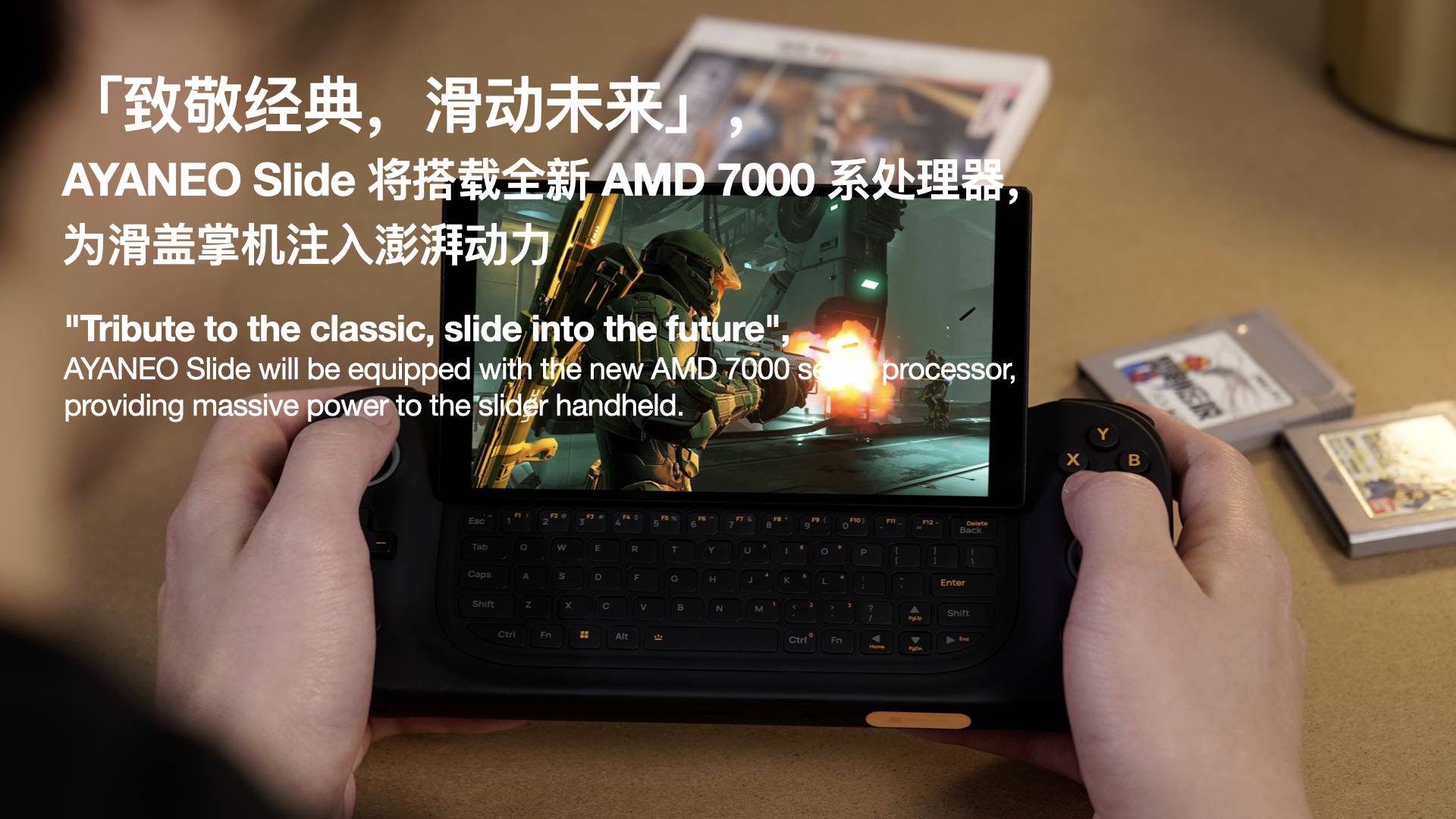 "Tribute to the classic, slide into the future", AYANEO Slide will be equipped with the new AMD 7840U series processor, providing massive power to the slider handheld.
AYANEO Slide features the first angle-adjustable sliding screen and a full keyboard experience comparable to regular keyboards. It still has the best screen of 6" Windows handheld and features an ergonomic grip with advanced UV technology and streamlined design. AYANEO's signature features such as Hall Sensing Joystick, Hall Trigger and the Master Controller, so gamers will enjoy a slide-out handheld experience full of AYANEO features.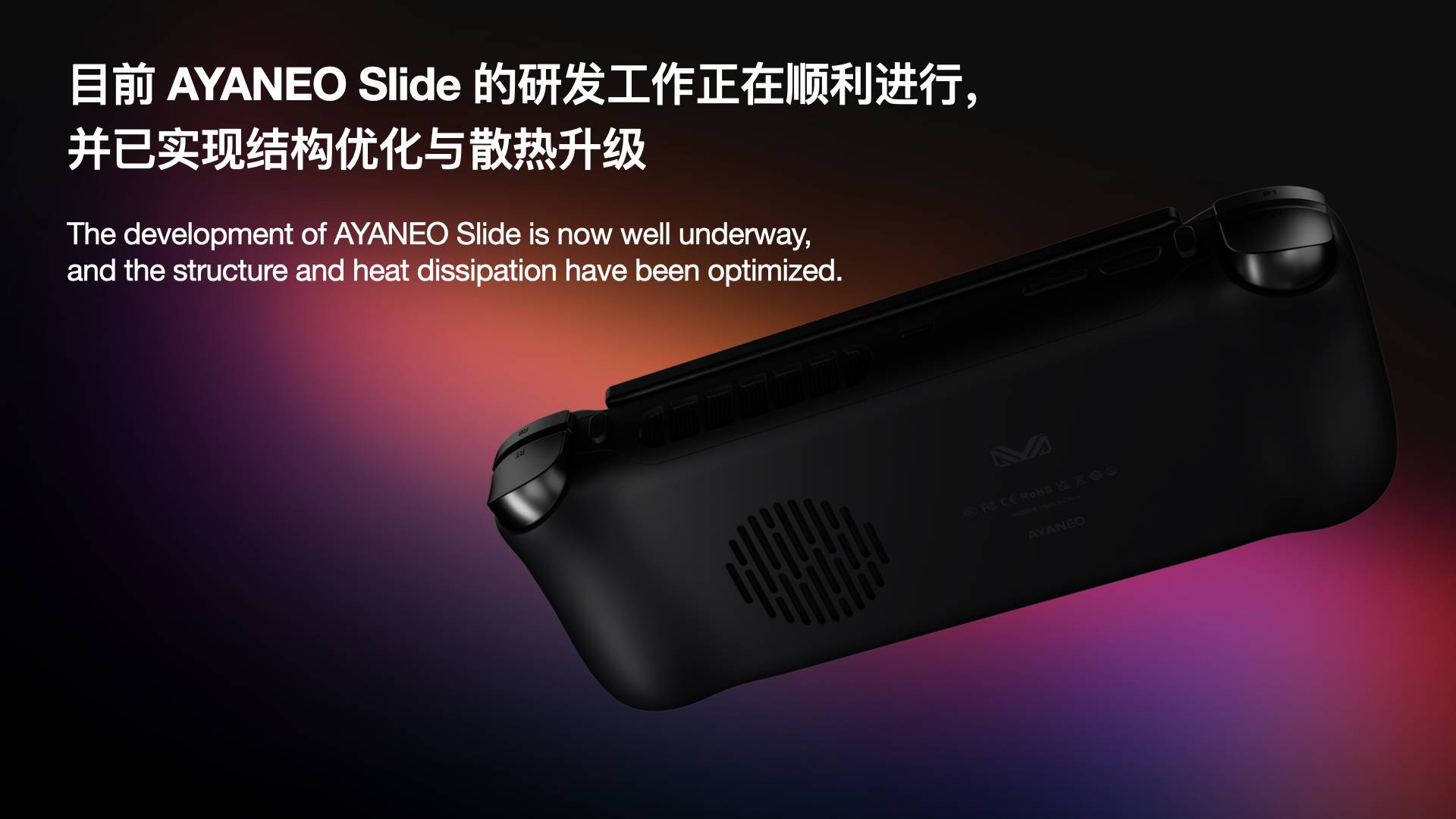 The development of AYANEO Slide is now well underway, and the structural design of the handheld has been optimized to achieve the upgrade of heat dissipation structure, next will be more in-depth testing and tuning, and will soon meet with gamers.
AYANEO KUN, the Masterpiece of Large-screen Handheld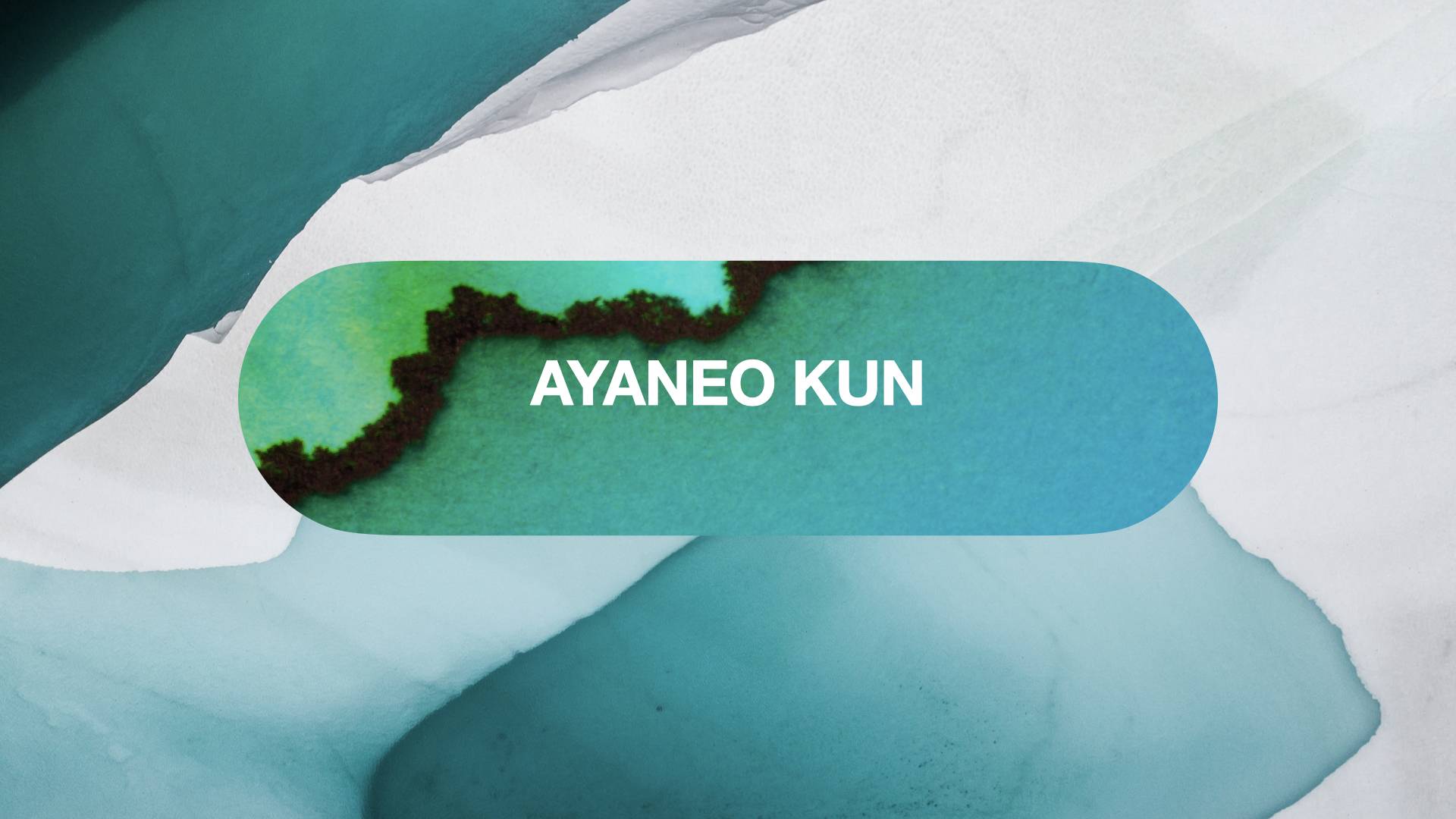 Mr. Arthur shared with gamers about the AYANEO KUN and his thoughts on large-screen handhelds earlier this year, which sparked a lot of interest in the AYANEO KUN from gamers who love large-screen handhelds. In this live show, Mr. Arthur shared the latest information about KUN.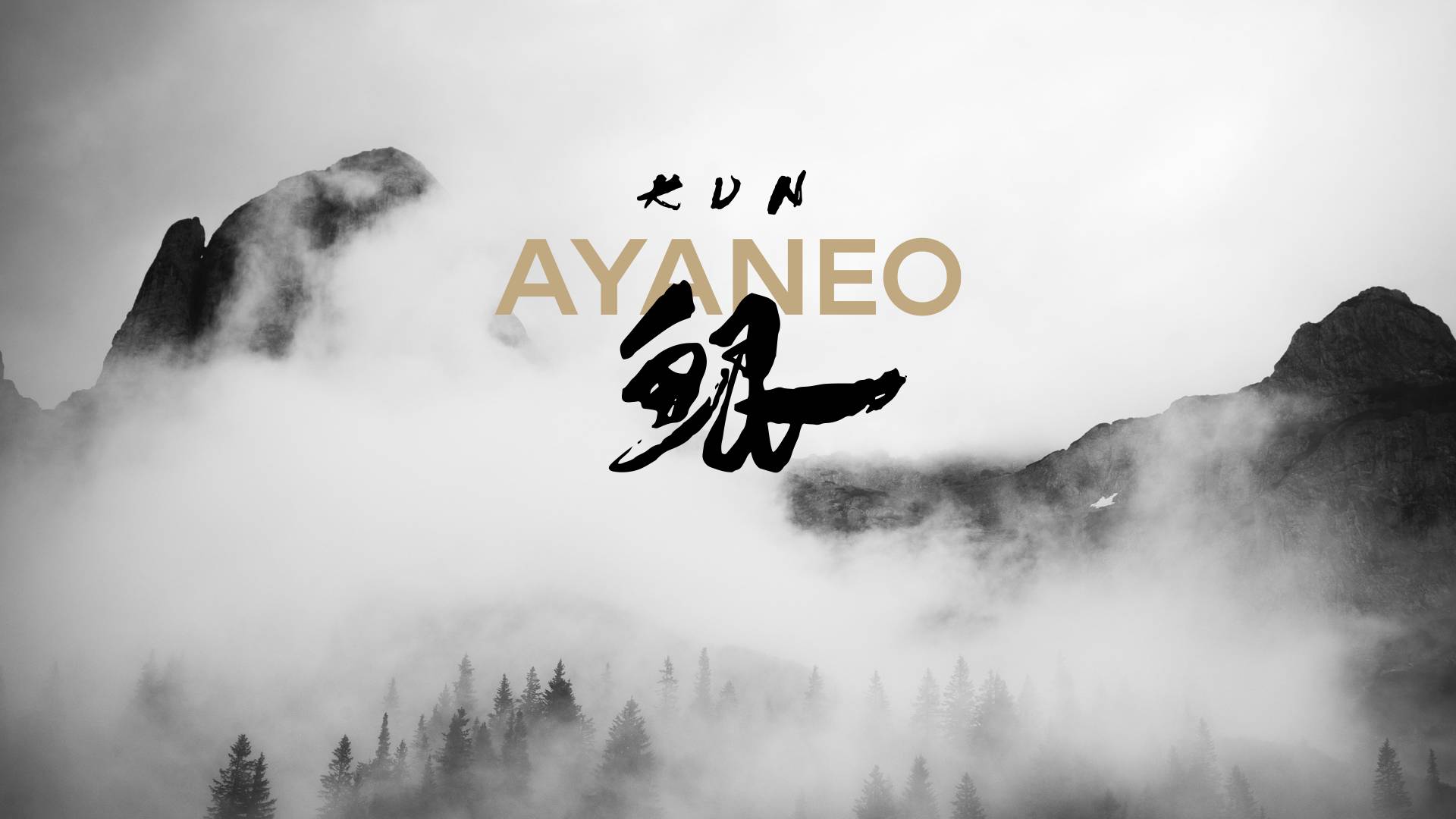 AYANEO KUN is a large-screen handheld, but it's not just "big". In the name of ancient Chinese mythology, AYANEO has created "Eight of the World's Best" for KUN.
AYANEO's most giant screen and largest handheld so far.
AYANEO's most expensive and high-end handheld so far.
AYANEO's most expensive handheld in terms of packaging cost so far.
AYANEO's closest button size to a traditional joystick so far.
AYANEO's handheld with the highest button count so far.
AYANEO's most functional handheld so far.
Largest battery capacity in a Windows handheld.
Top material and the most advanced technology among Windows handhelds.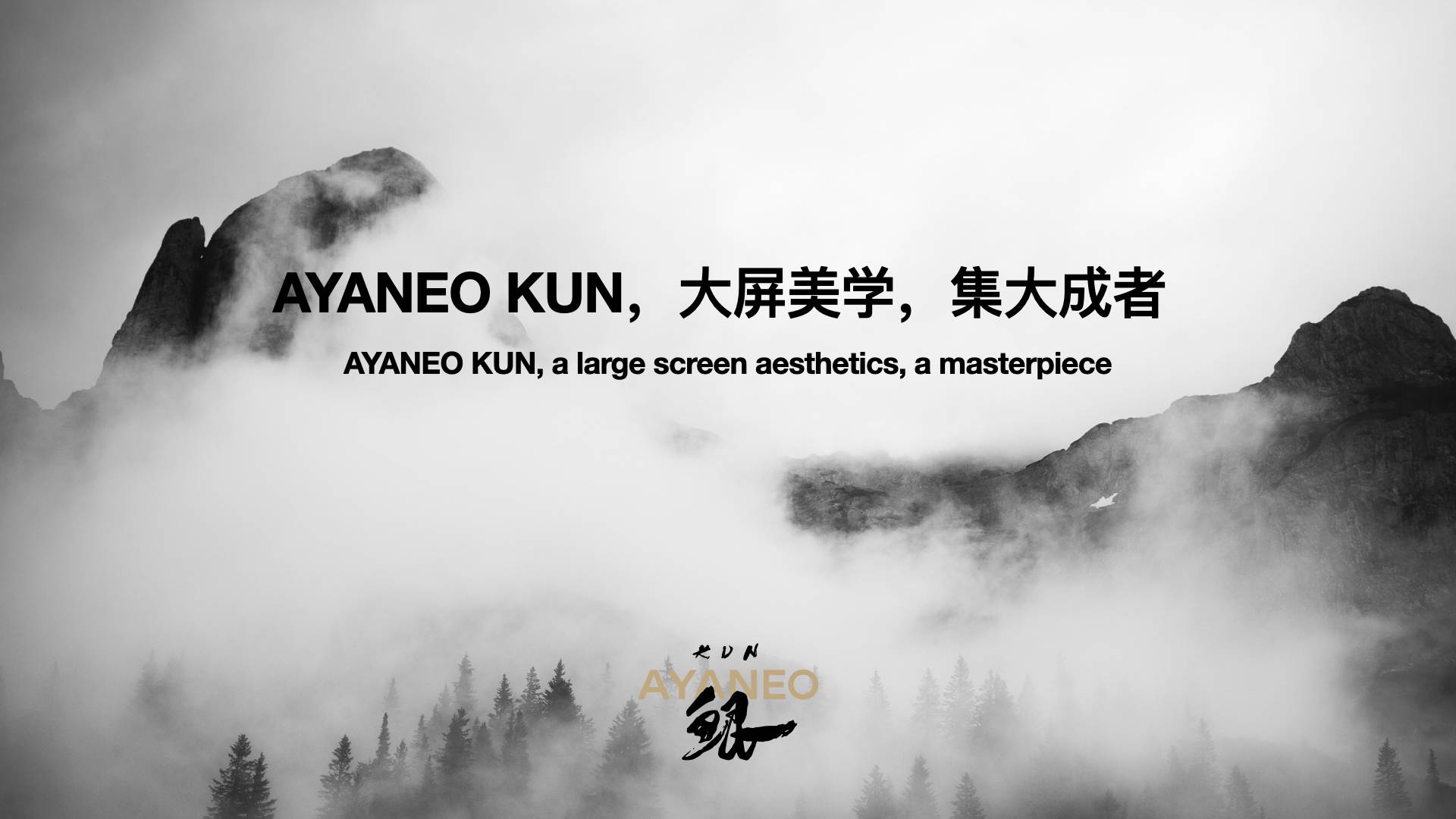 AYANEO KUN is a masterpiece of large-screen aesthetics that is more than just big. We will be announcing more exciting information about KUN to gamers in the future.
Best Retro Android Handheld AYANEO Pocket AIR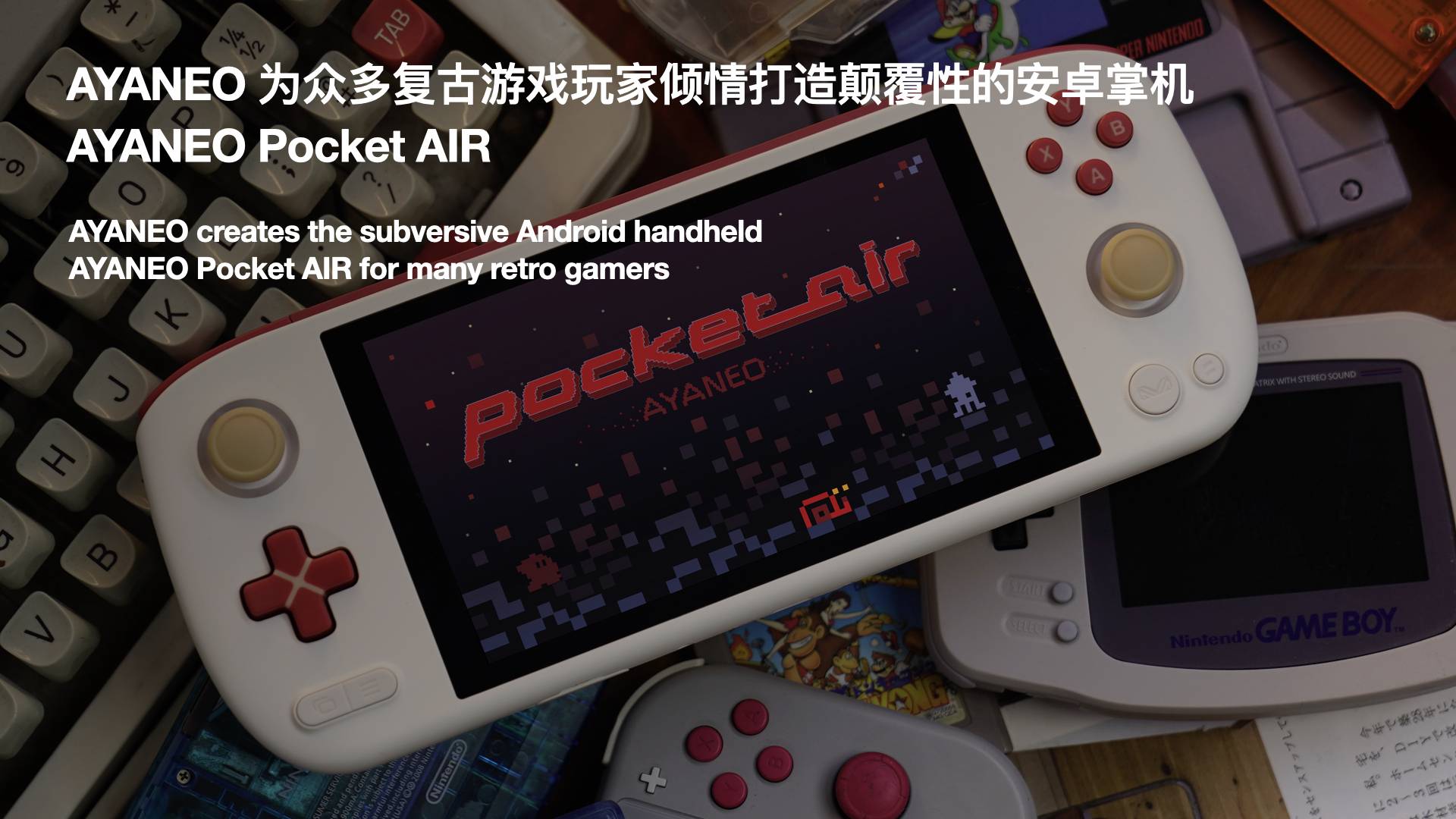 Many retro game lovers are also very concerned about the latest progress of AYANEO's first Android handheld, AYANEO Pocket AIR. Mr. Arthur also shared further information about it.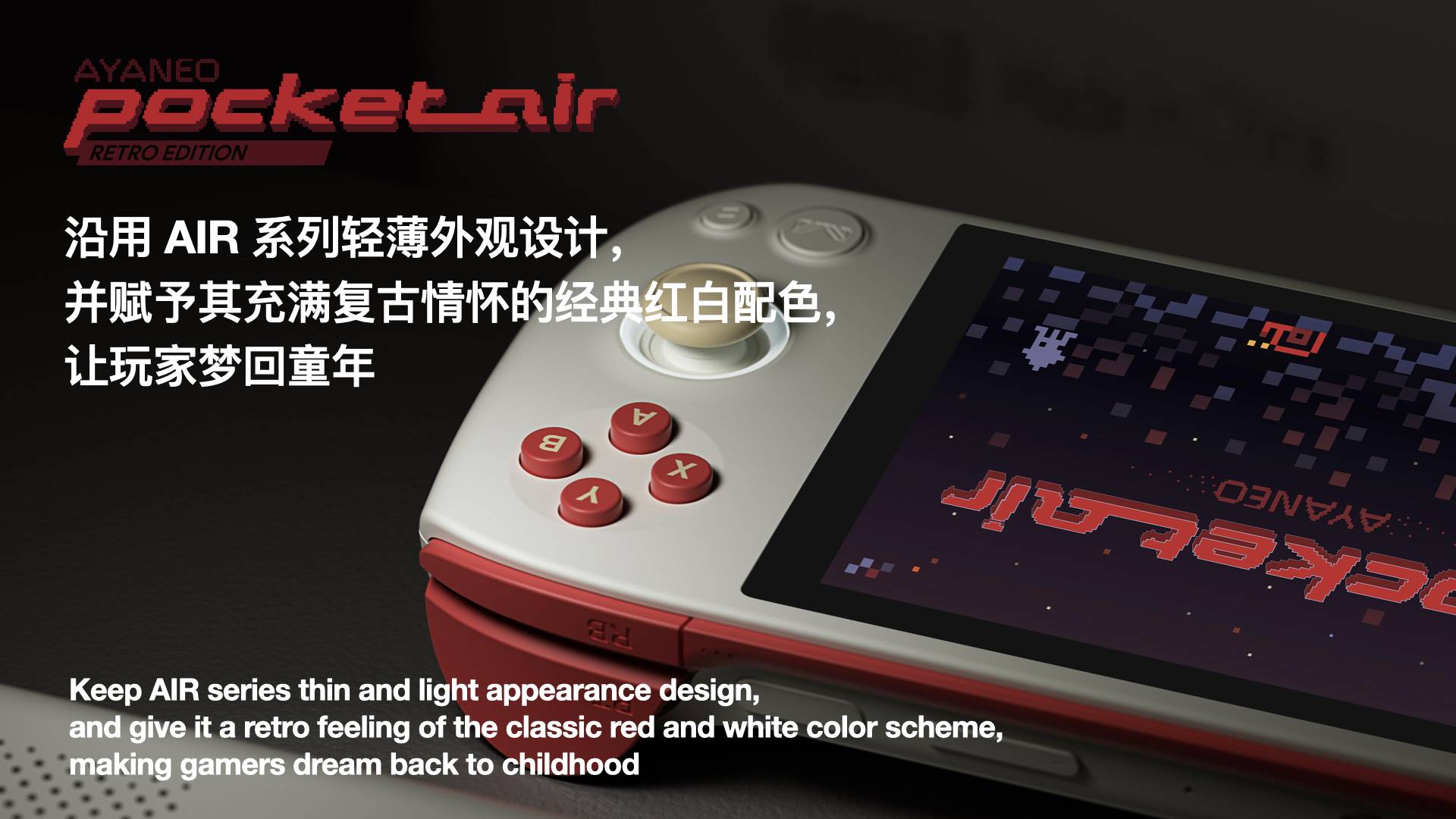 Pocket AIR is AYANEO's ultra-performance Android handheld for retro gamers. AYANEO hopes to provide gamers with an unparalleled Android handheld experience.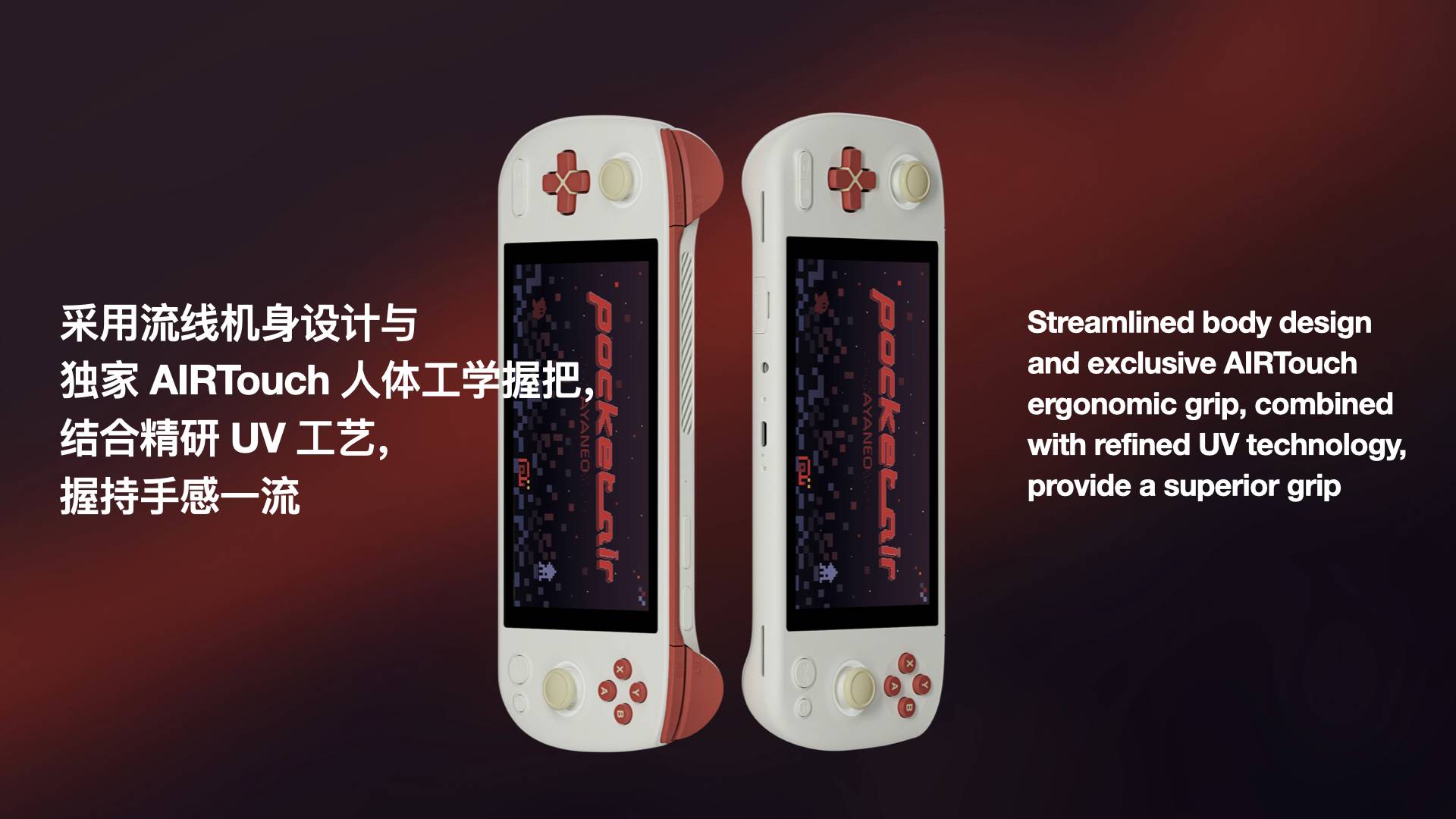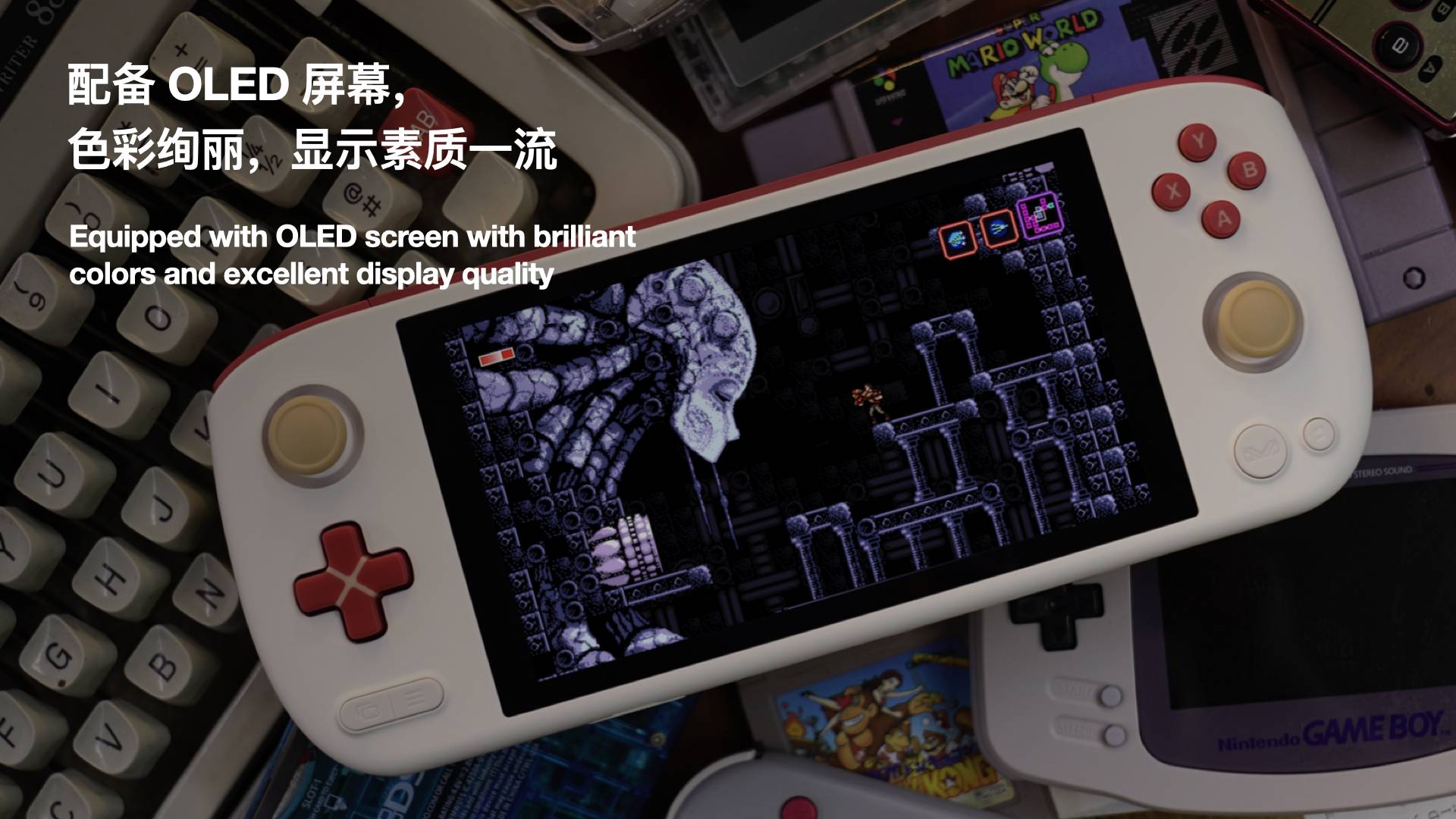 AYANEO Pocket AIR retains the lightweight design of the AIR series and gives it the classic red and white color scheme that brings gamers back to their childhood. For the sake of improving mass production yields, we have optimized the Pocket AIR's exterior design while retaining the classic red and white color scheme.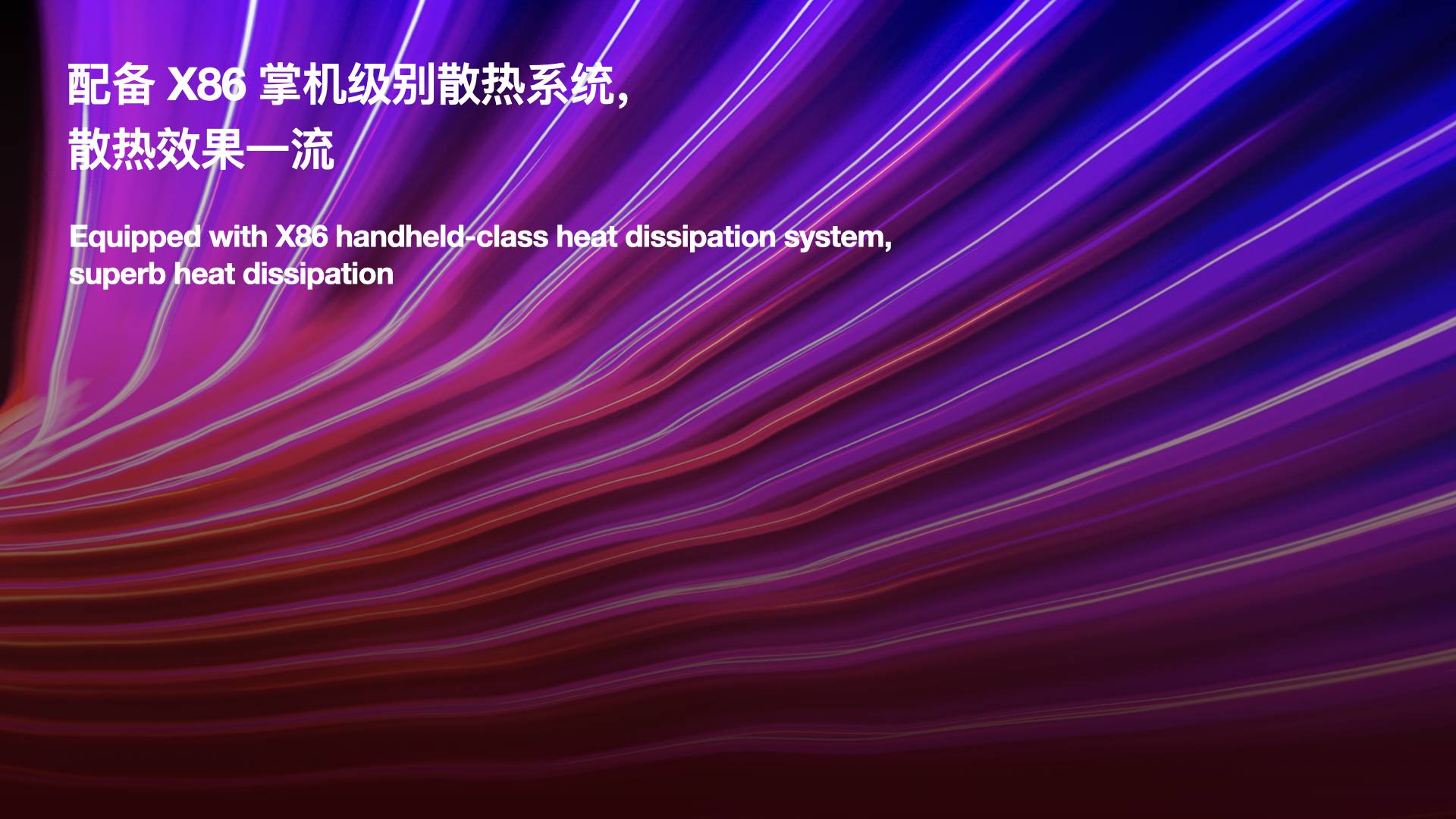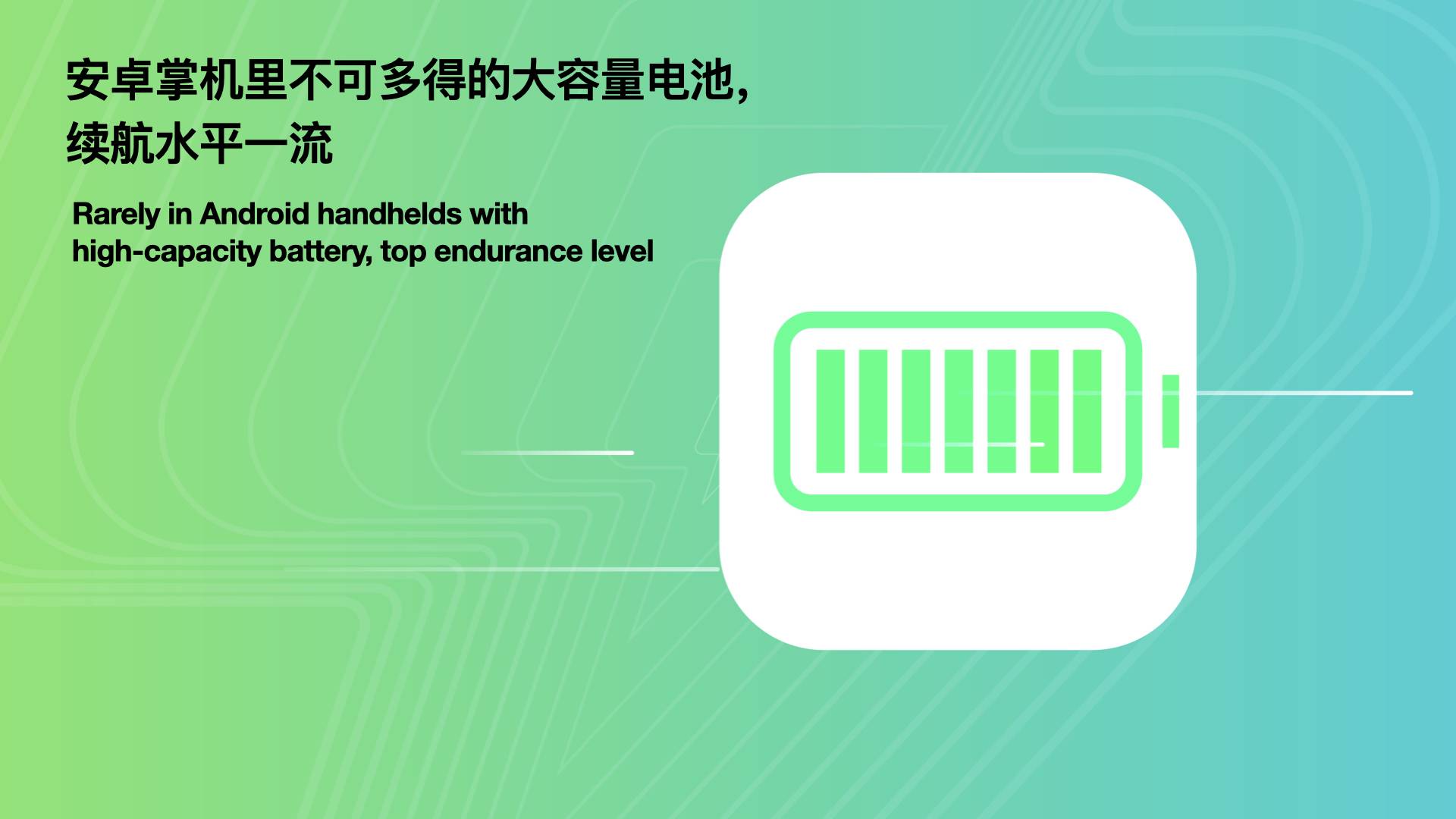 Continuing the highlights of the AYANEO handheld, Pocket AIR features a streamlined body design and exclusive AIRTouch ergonomic grip, combined with UV technology to create a first-class grip. It also features an OLED screen with brilliant colors and unparalleled display quality. Equipped with the same specification heat dissipation system of X86 handhelds, providing the best heat dissipation effect. Rarely in Android handhelds with high-capacity battery, top endurance level. Hall joystick + hall trigger + master controller, provide first-class control experience.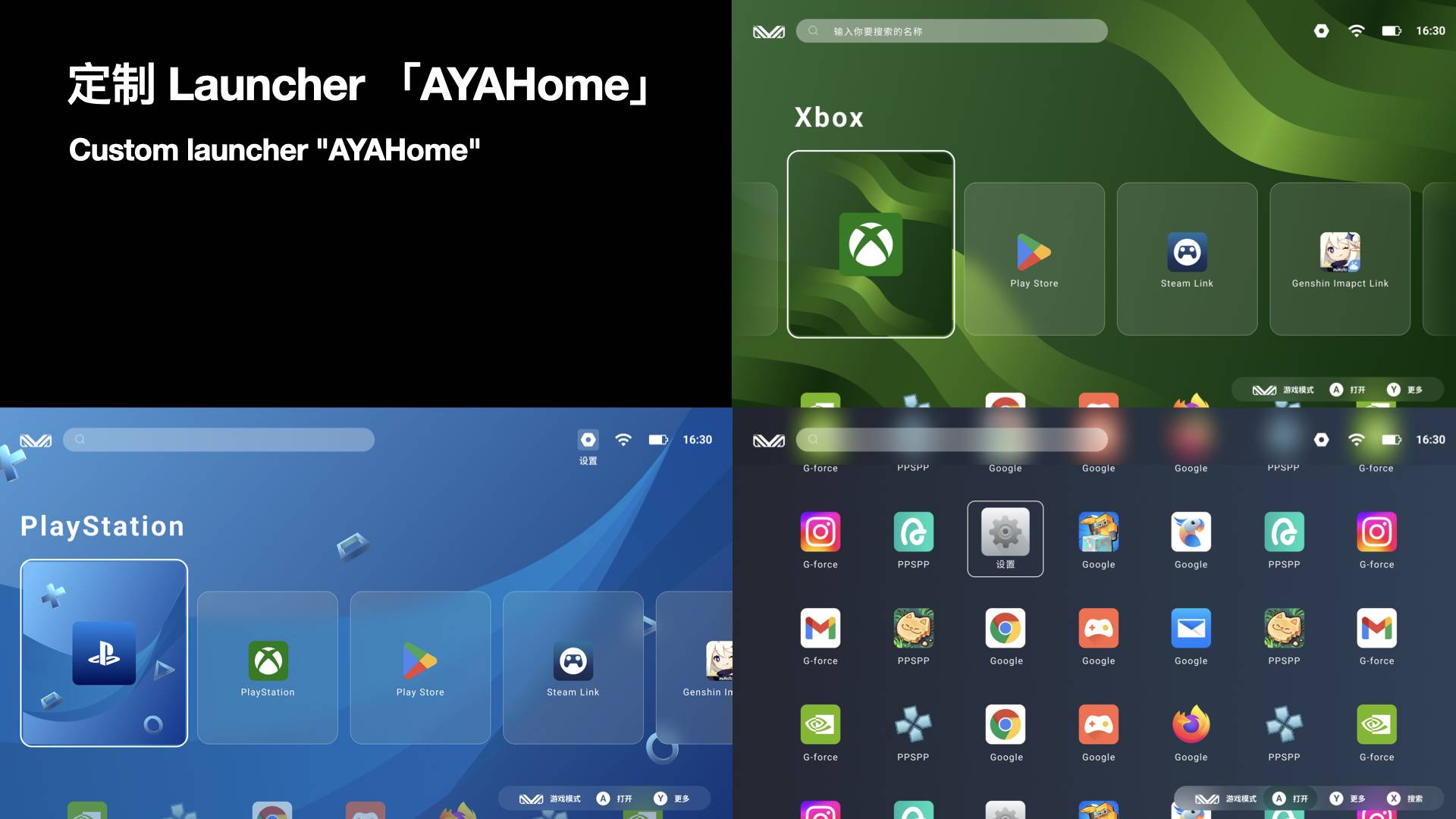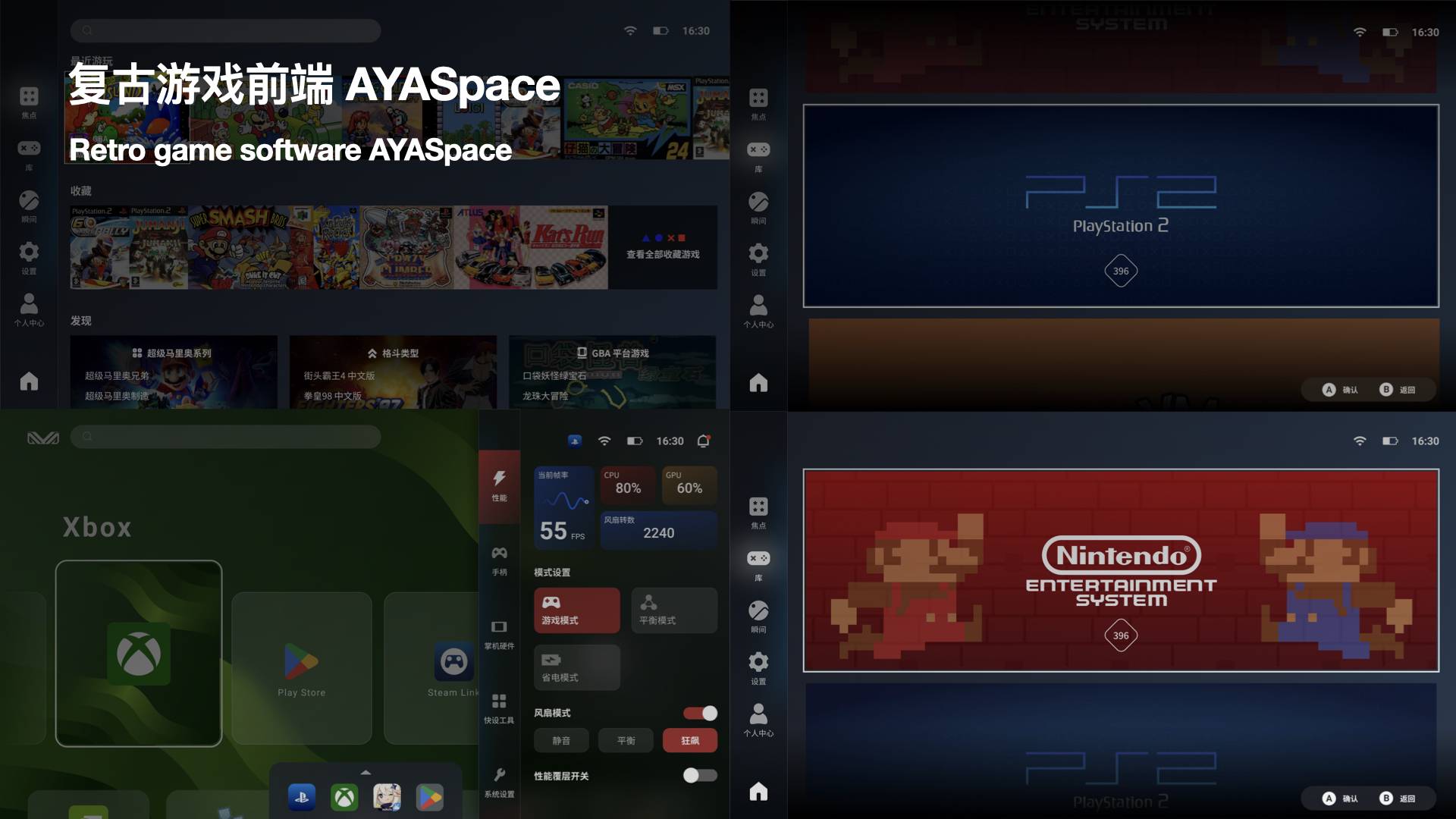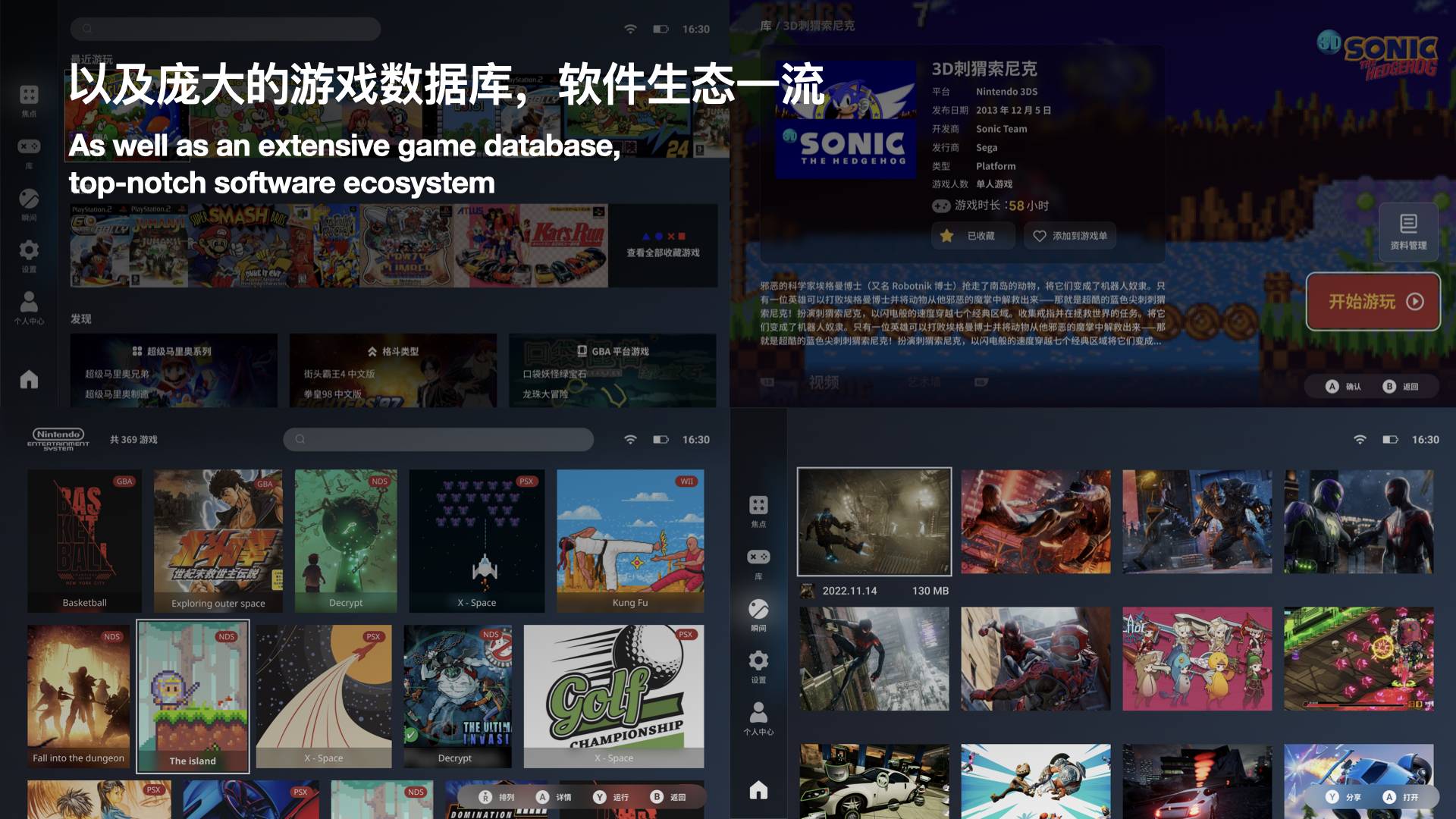 AYANEO team developed a custom launcher "AYANEO Home", with AYASpace handheld management software and exclusive huge retro game database, gamers can enjoy the most convenient and complete handheld software ecosystem experience.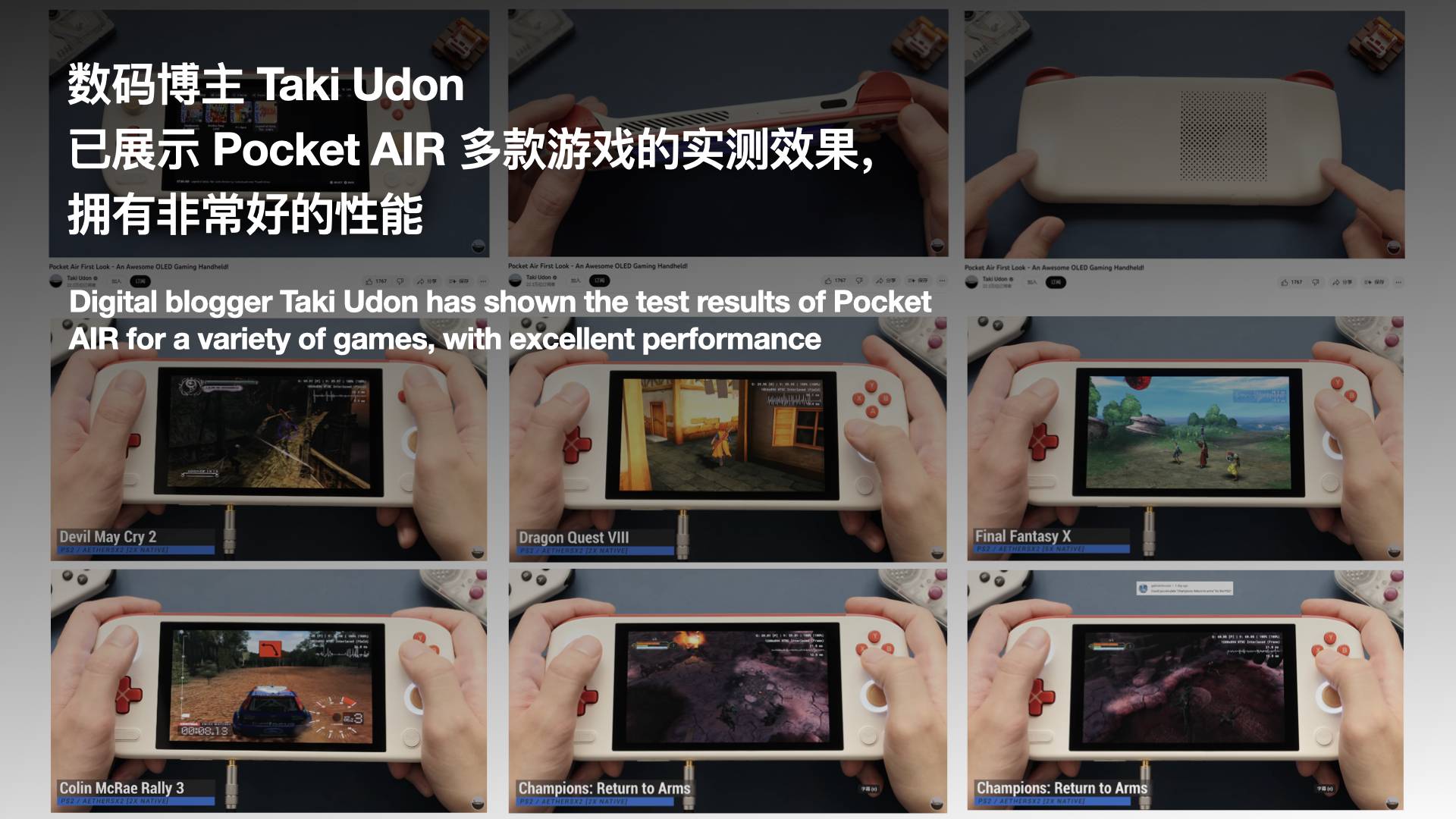 A while ago, YouTube digital blogger Taki Udon conducted a preliminary review of Pocket AIR and displayed a number of games with very good performance. Gamers who are interested can see it first.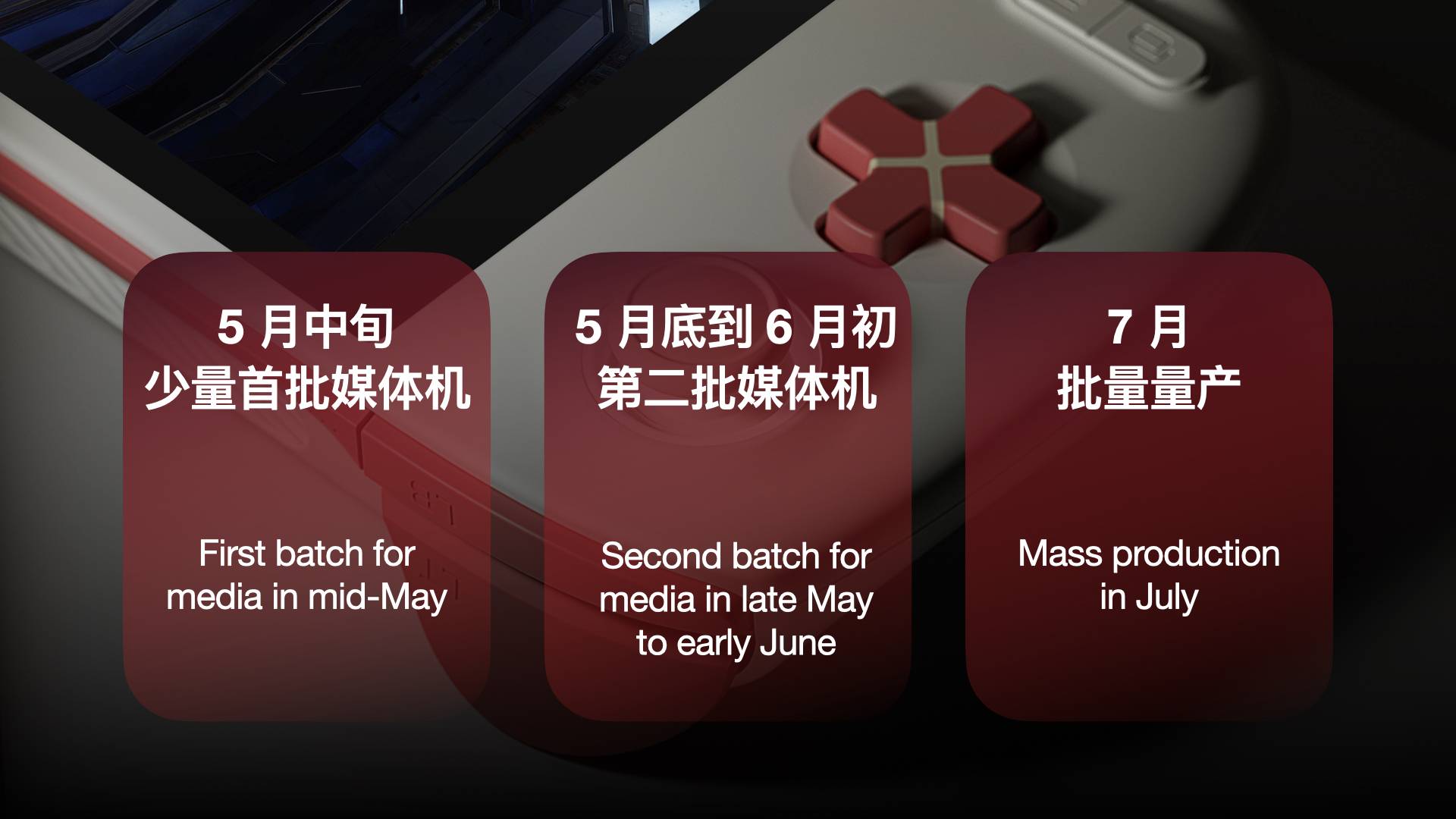 We will provide the first batch of Pocket AIR for media in Mid-May, the second batch for media in late May to early June, and mass production in July.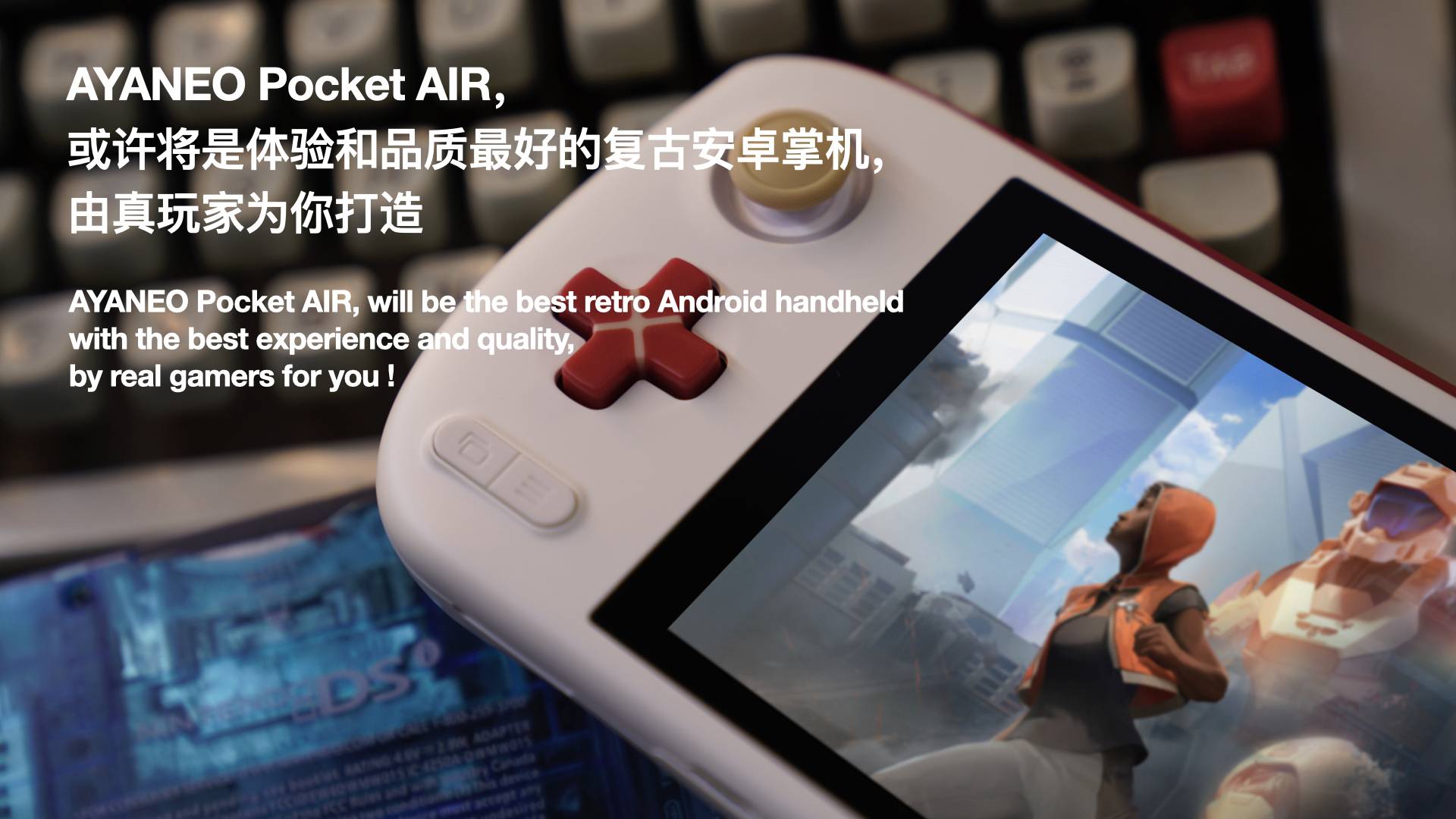 AYANEO Pocket AIR will be the best retro Android handheld in terms of experience and quality, a retro gaming masterpiece built by real gamers for you.
AYASpace 2 Development Progress Sharing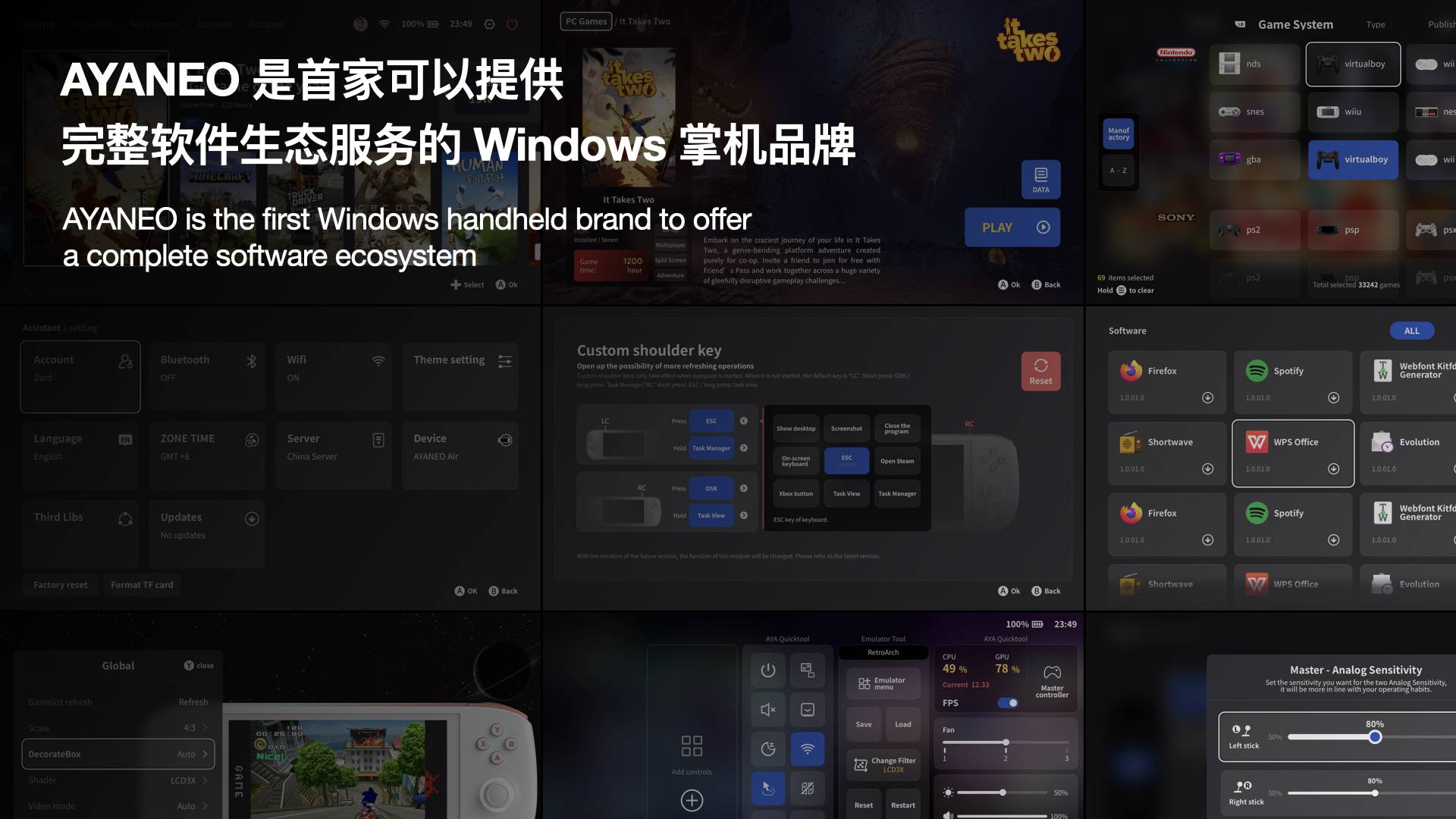 After introducing a series of hardware products, Mr. Arthur also shared in detail the development progress of AYASpace 2, which is of more concern to gamers.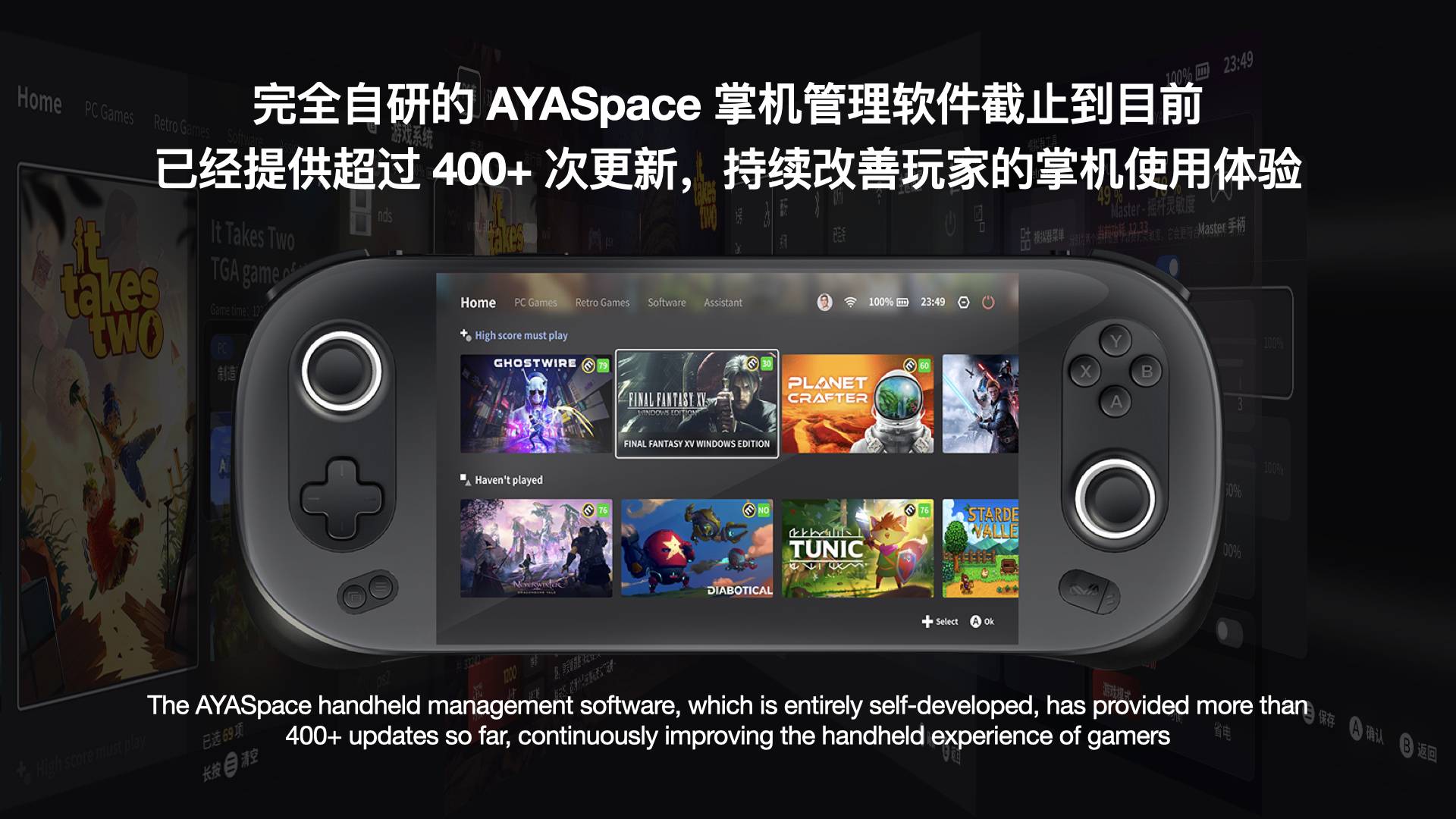 AYANEO is the first Windows handheld brand to offer a complete software ecosystem. The AYASpace handheld management software, which is entirely self-developed, has provided more than 400+ updates so far, continuously improving the handheld software experience of gamers.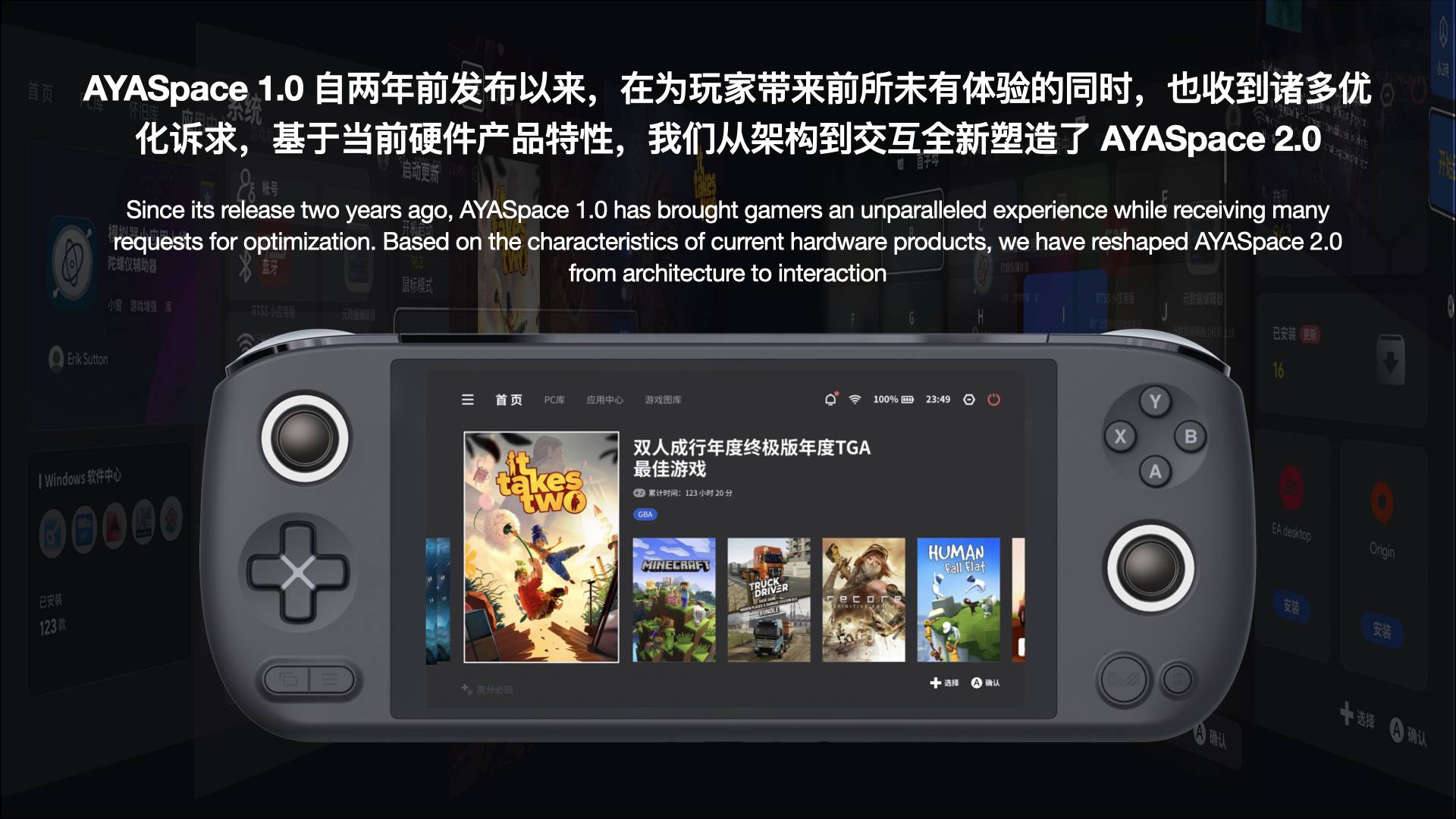 As the explorer of Windows handheld software ecosystem, AYANEO inevitably encountered many difficulties in the course of development. Since its release two years ago, AYASpace 1.0 has brought gamers an unparalleled experience while receiving many requests for optimization. Based on the characteristics of current hardware products, we have reshaped AYASpace 2.0 from architecture to interaction.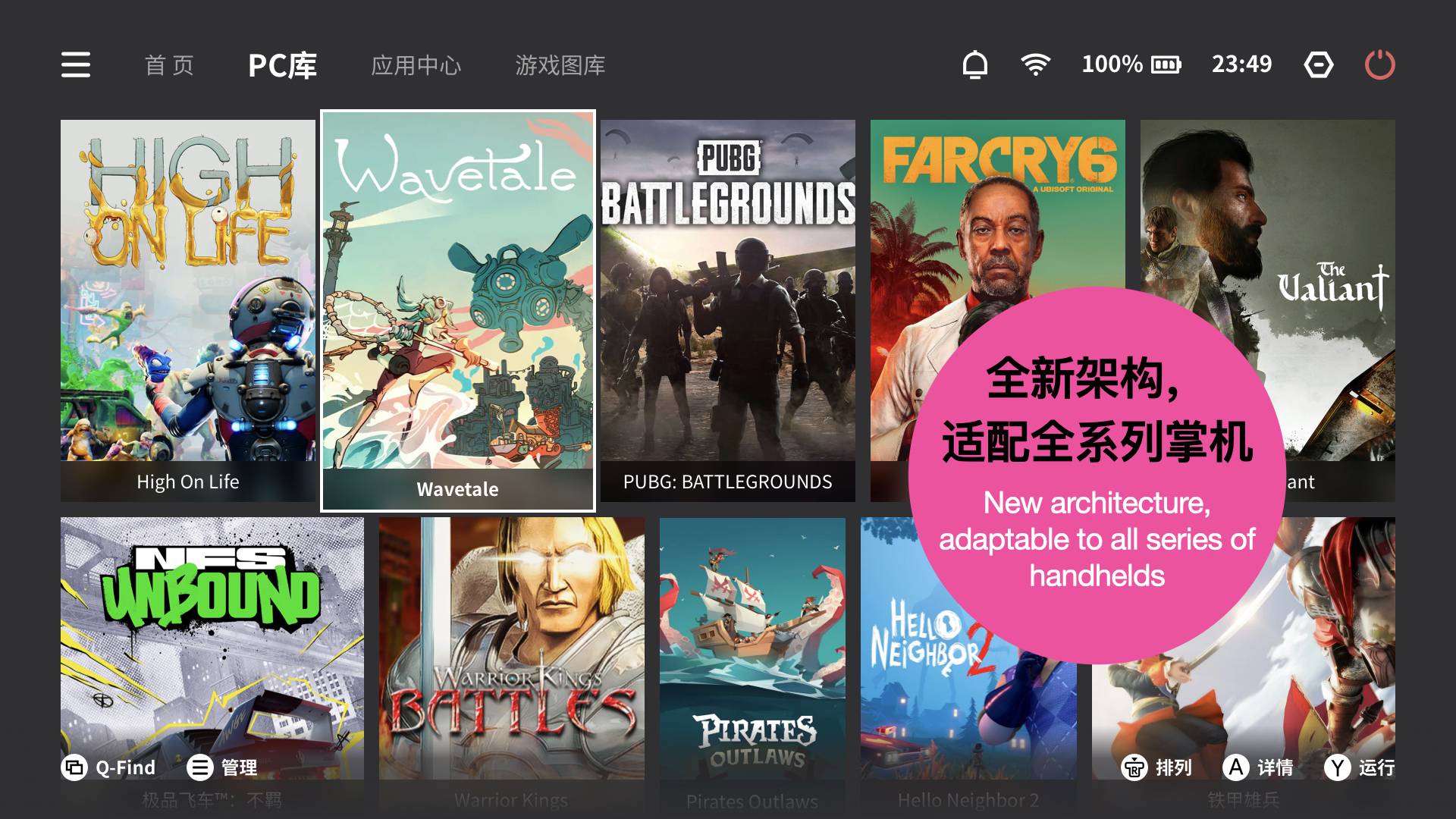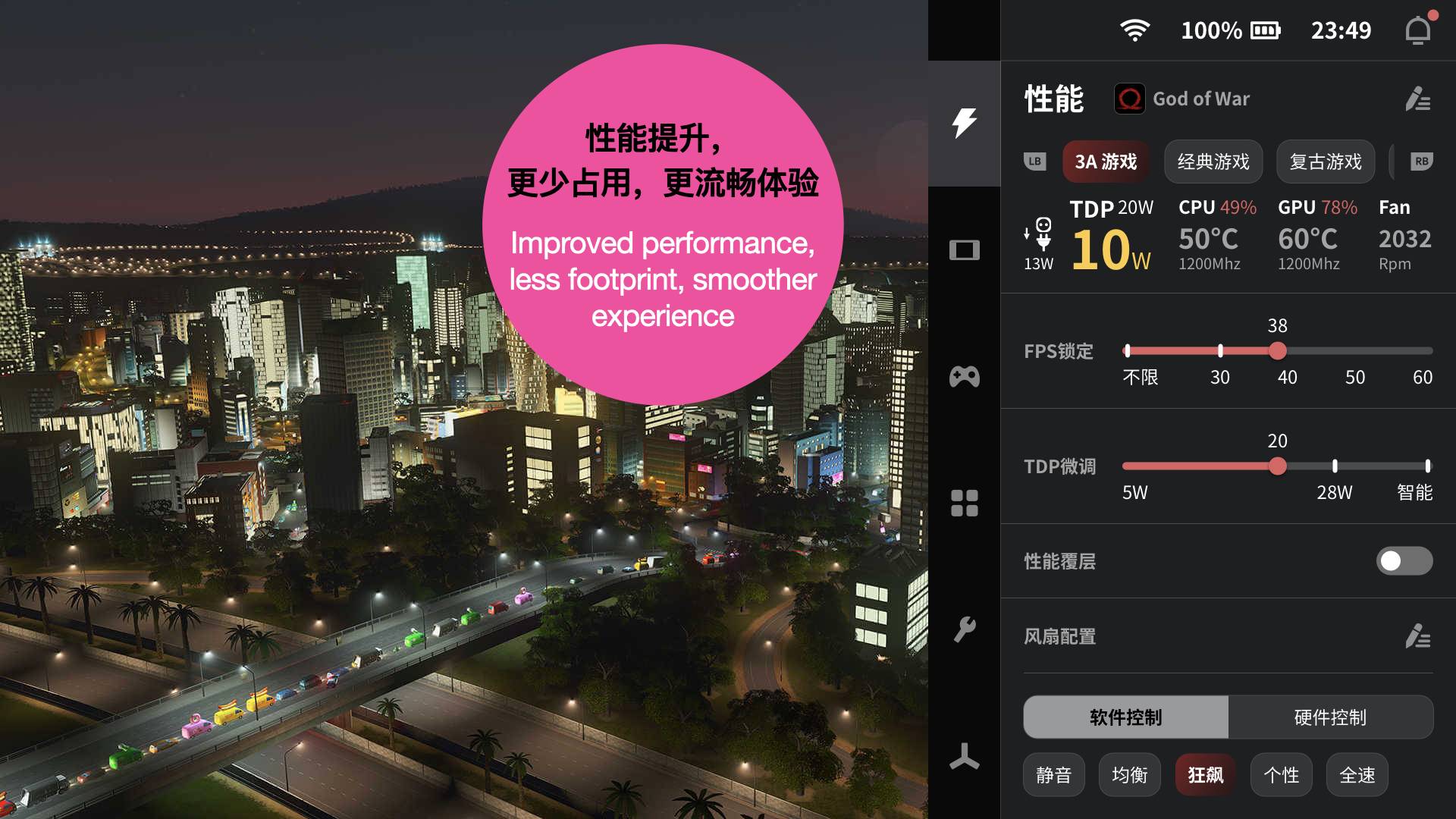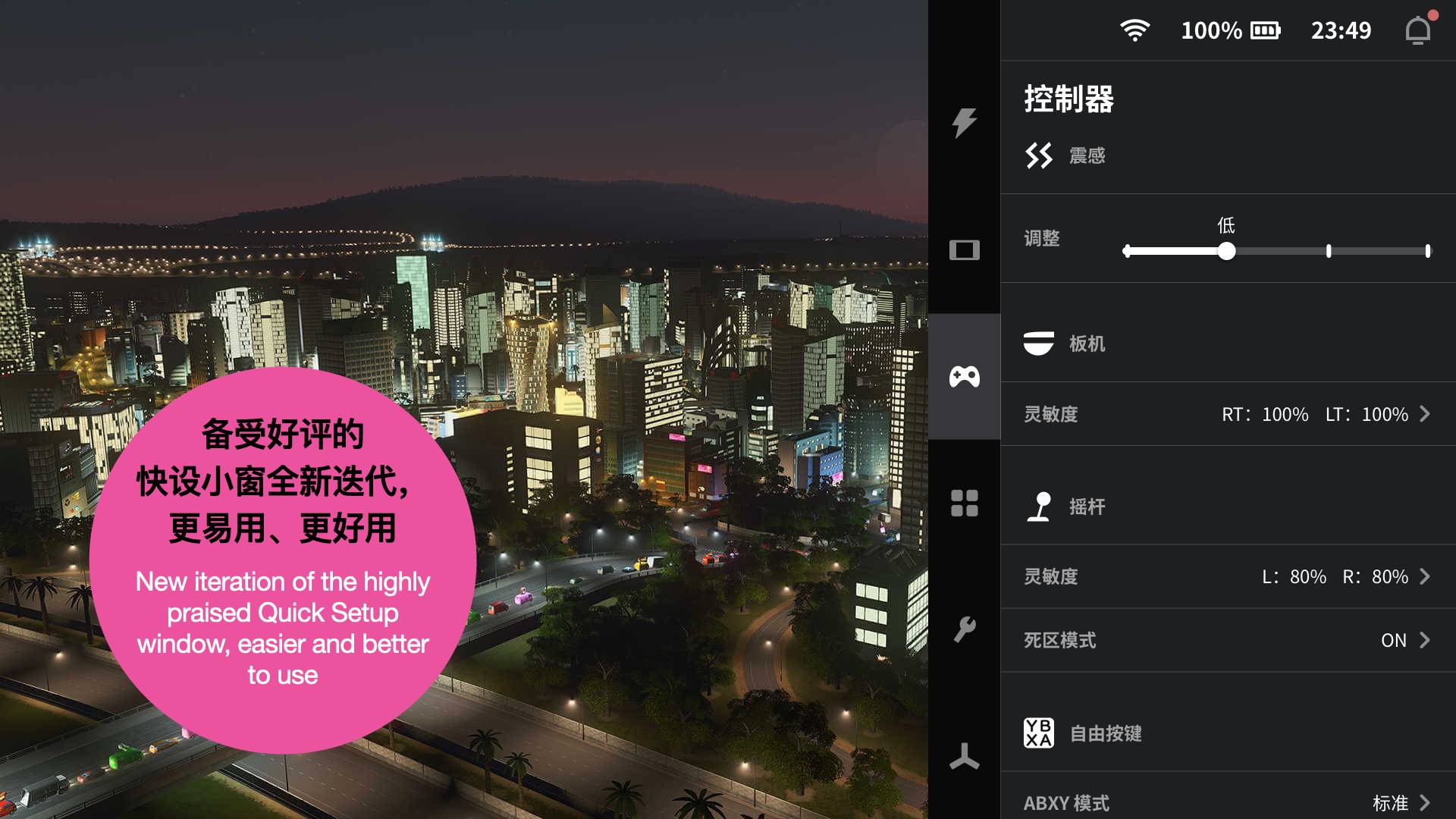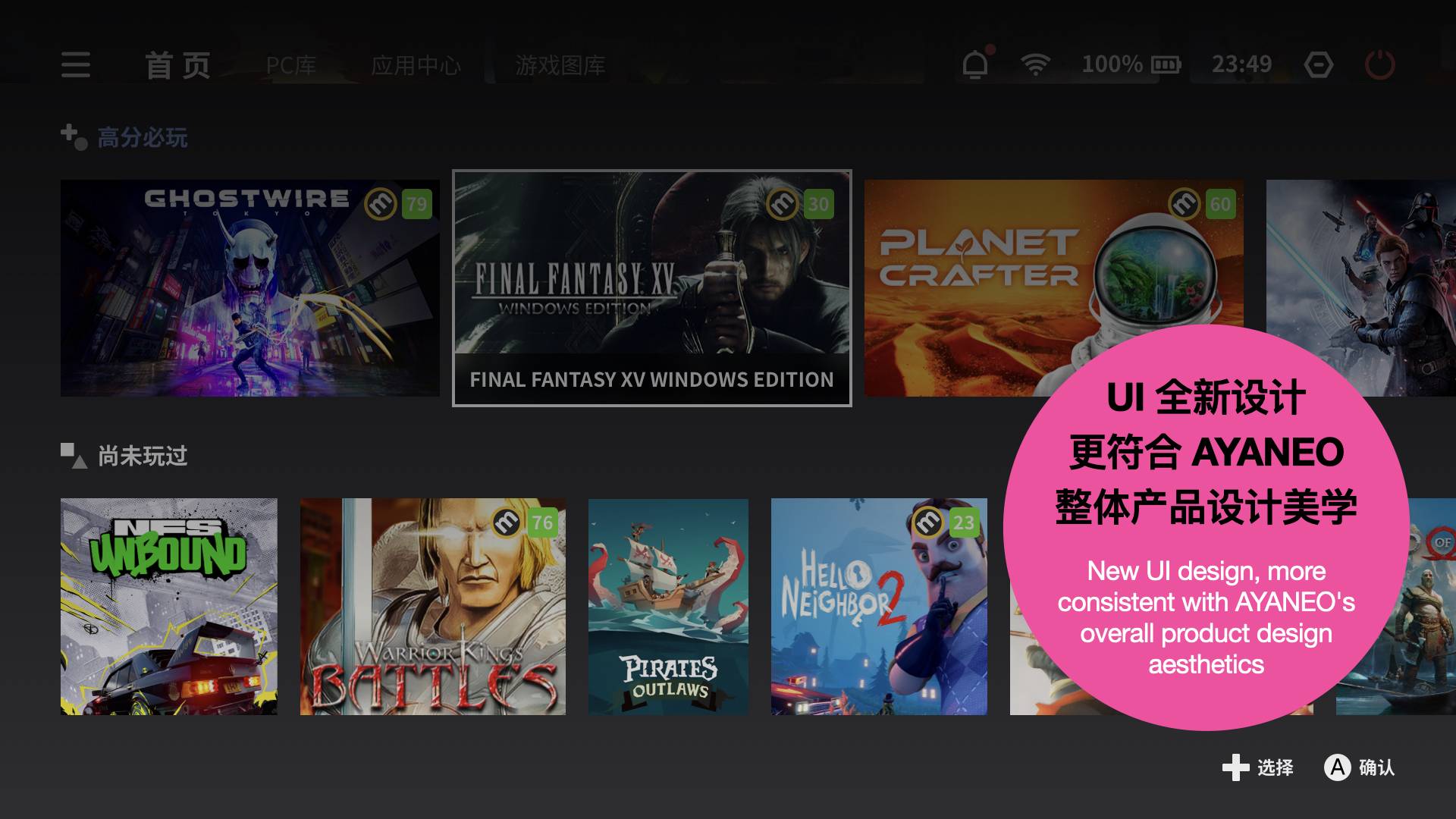 AYASpace 2 will adapt new architecture, adaptable to all series of handhelds. Improved performance, less footprint, smoother experience. New iteration of the highly praised Quick Setup window, easier and better to use. New UI design, more consistent with AYANEO's overall product design aesthetics.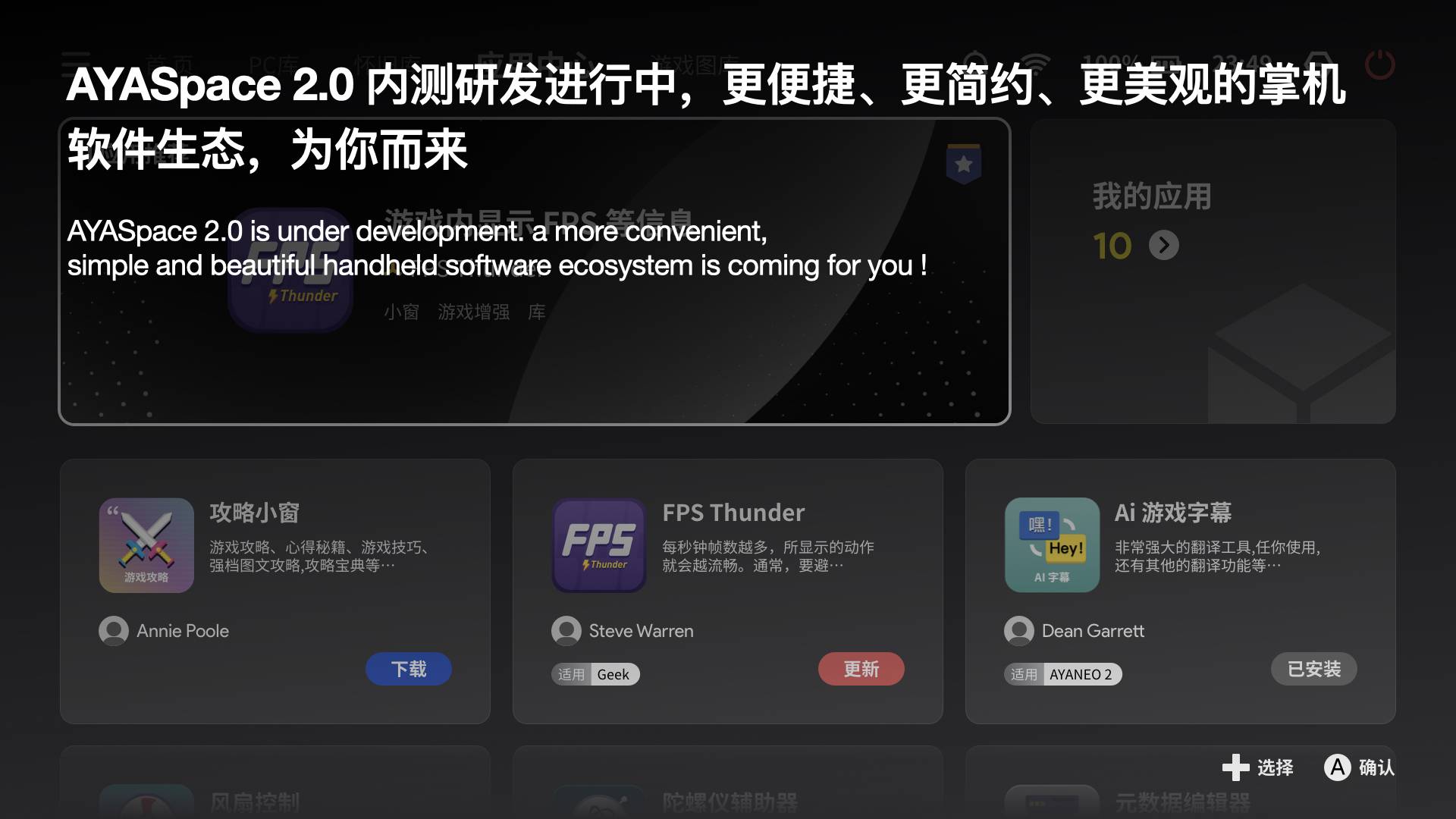 AYASpace 2 is under development and nearing the end of internal testing. A more convenient, simple and beautiful handheld software ecosystem is coming for you!
At last, Mr. Arthur interacted with the gamers online, answering their doubts and interested questions in detail, giving them a more comprehensive understanding of AYANEO's many new products and future product planning.
More surprises are coming for you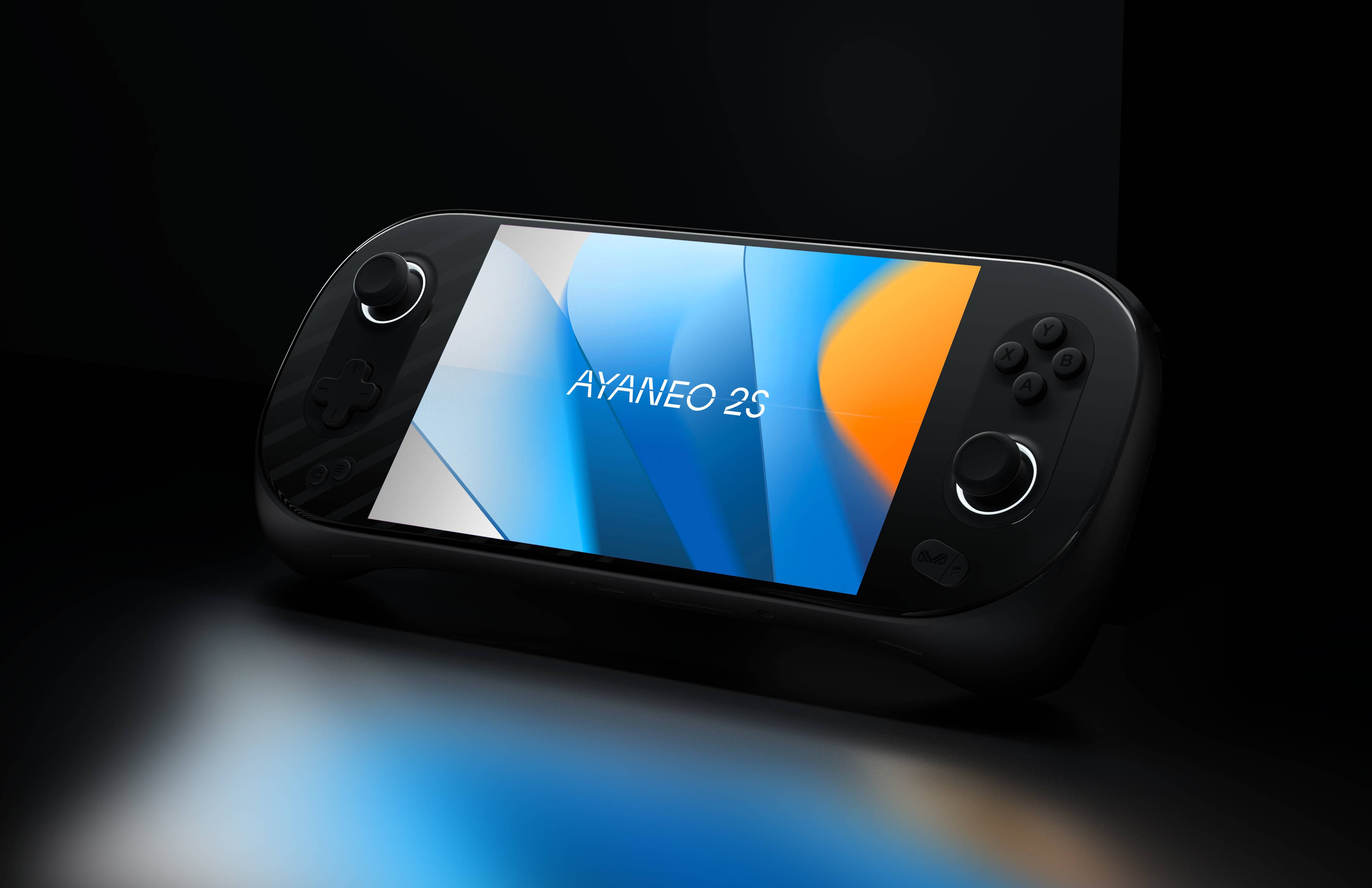 This time, Mr. Arthur shared several new products equipped with new AMD 7840U series processors for gamers, and the surprises were overwhelming. We believe that the innovative concept and mighty product power of these new AYANEO products will bring gamers a disruptive gaming experience.
We will keep adhering to the original intention of "true gamers for gamers" in the future. Through continuous innovation and technological innovation, we will create more pure and perfect gaming handhelds for gamers, provide better service experience, and realize handheld gaming dreams together with gamers.