On February 28, AYANEO officially released the new masterpiece AYANEO AIR Plus, a subversive ultra-thin handheld. AYANEO AIR Plus continues the classic ultra-thin design of AYANEO AIR, while bringing a fully upgraded Plus experience. It is an out-and-out Plus handheld.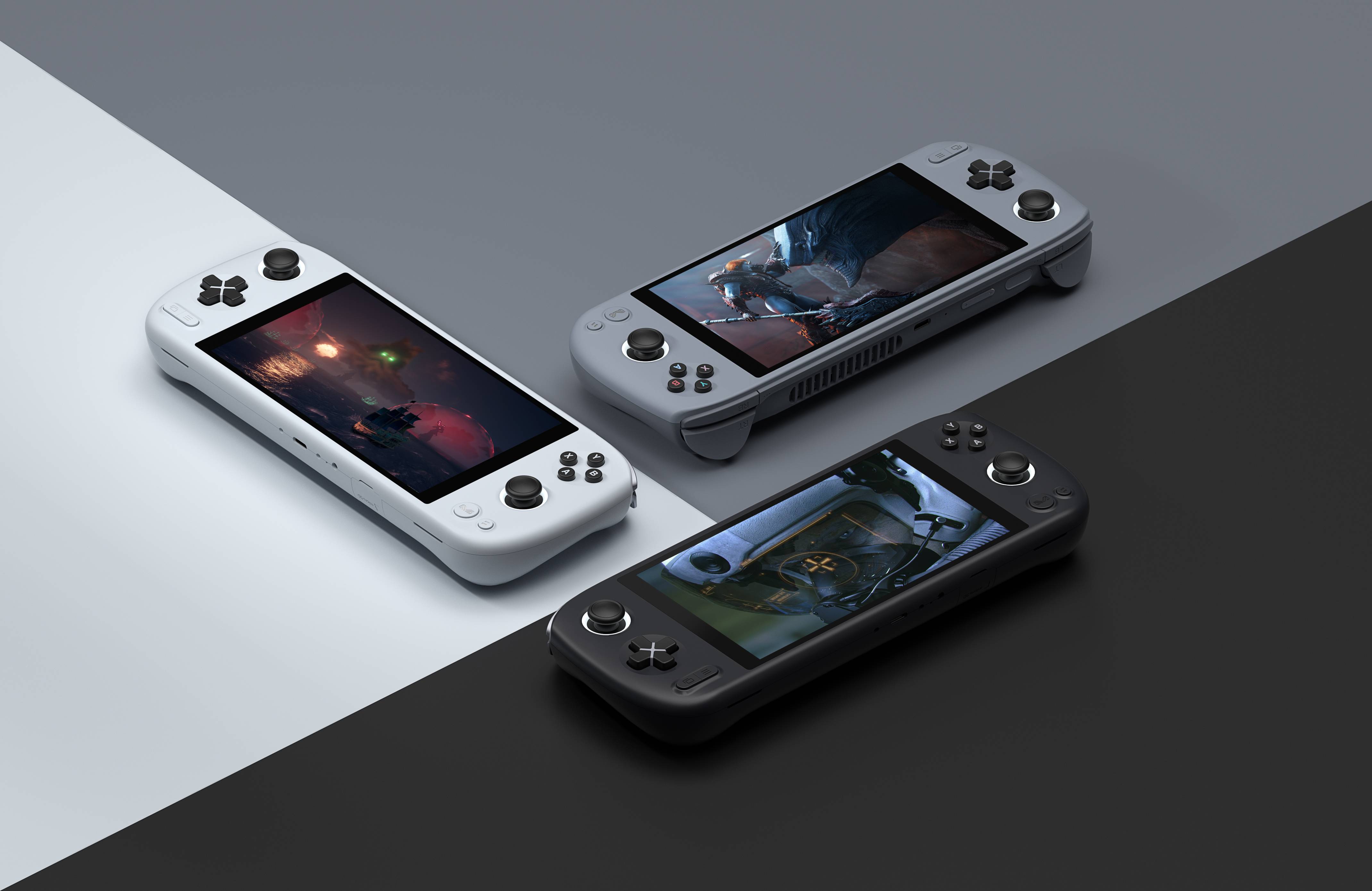 The event was hosted by Arthur Zhang, CEO of AYANEO. The brand new AYANEO AIR Plus is not only equipped with the peak performance AMD Ryzen 7 6800U processor.
At the same time, Intel and AMD Mendocino chip versions are available to meet the needs of different segments, bringing larger screen enjoyment, stronger heat dissipation, longer battery life and more stunning sound effects.
Probably The Best Screen Among 6-inch Windows handhelds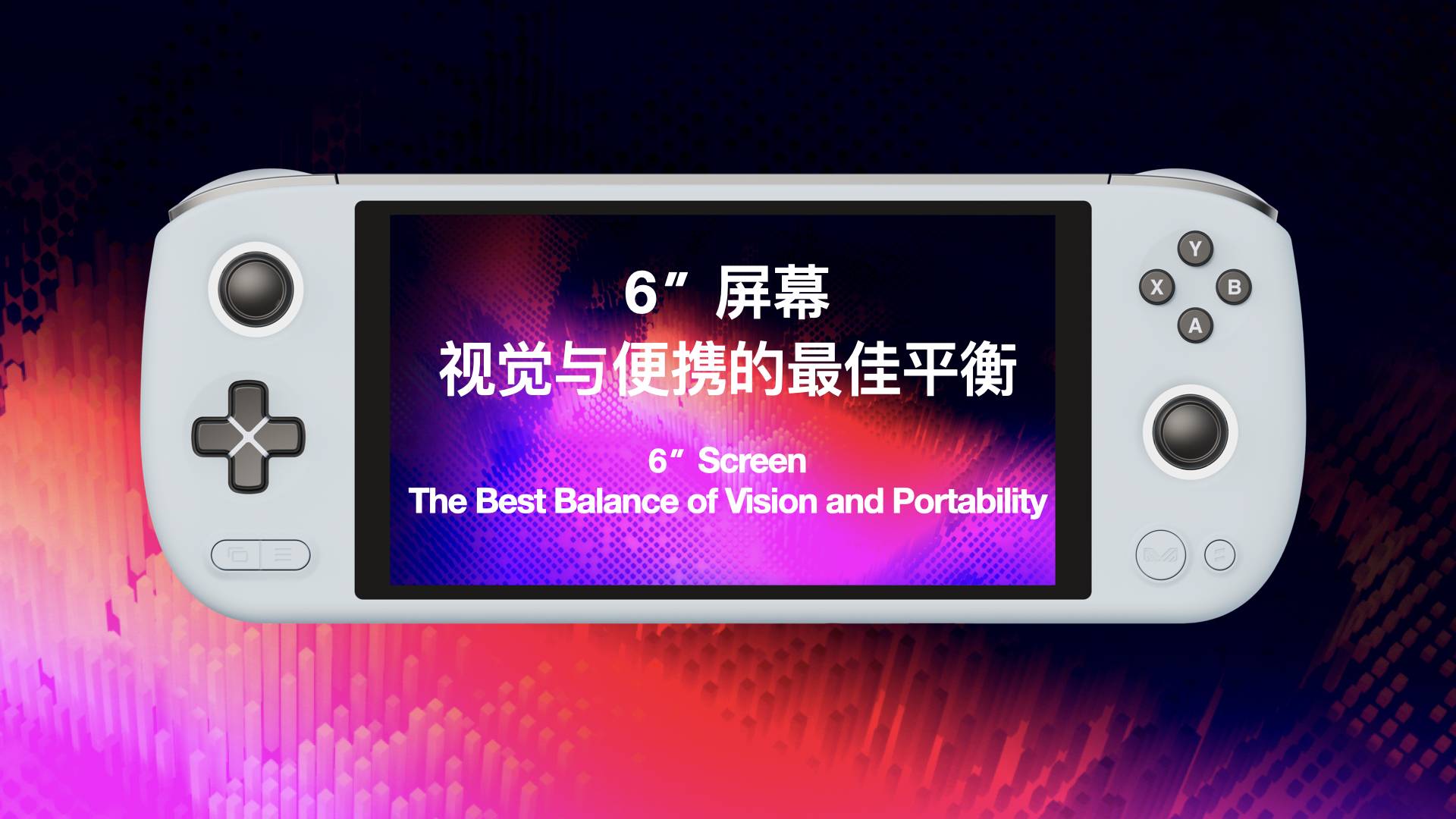 AYANEO AIR Plus begins with a disruptive ultra-thin handheld, AYANEO AIR. The Plus version was born from the needs and voices which we hear from gamers.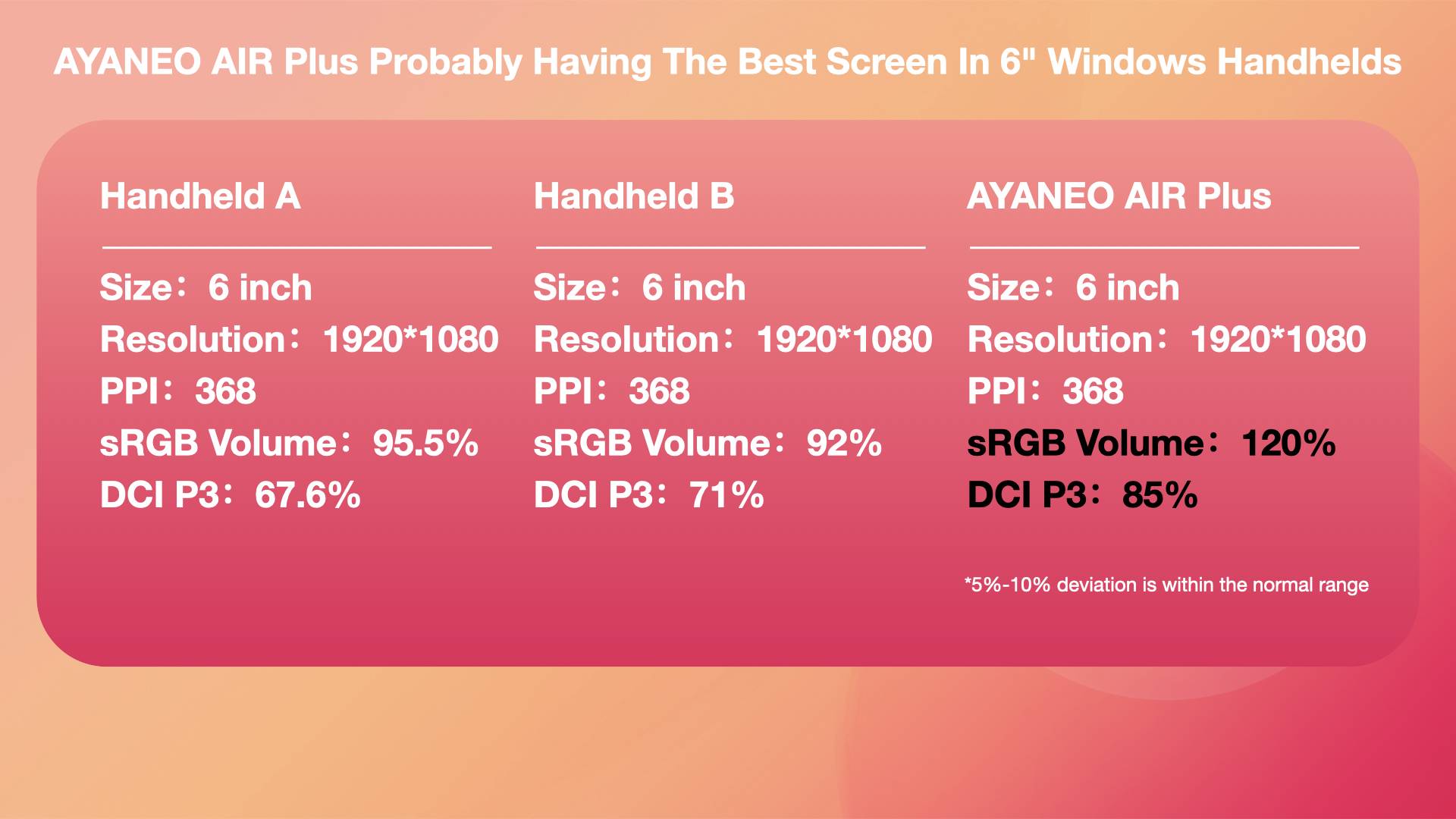 In order to meet the needs of players for both large screen and portability, AYANEO AIR Plus is equipped with a 6-inch IPS original color screen,1920*1080 resolution,368 PPI , sRGB volume 120%, DCI-P3 85%.
Screen quality is better competitors on the market, probably the best screen on 6-inch Windows handhelds.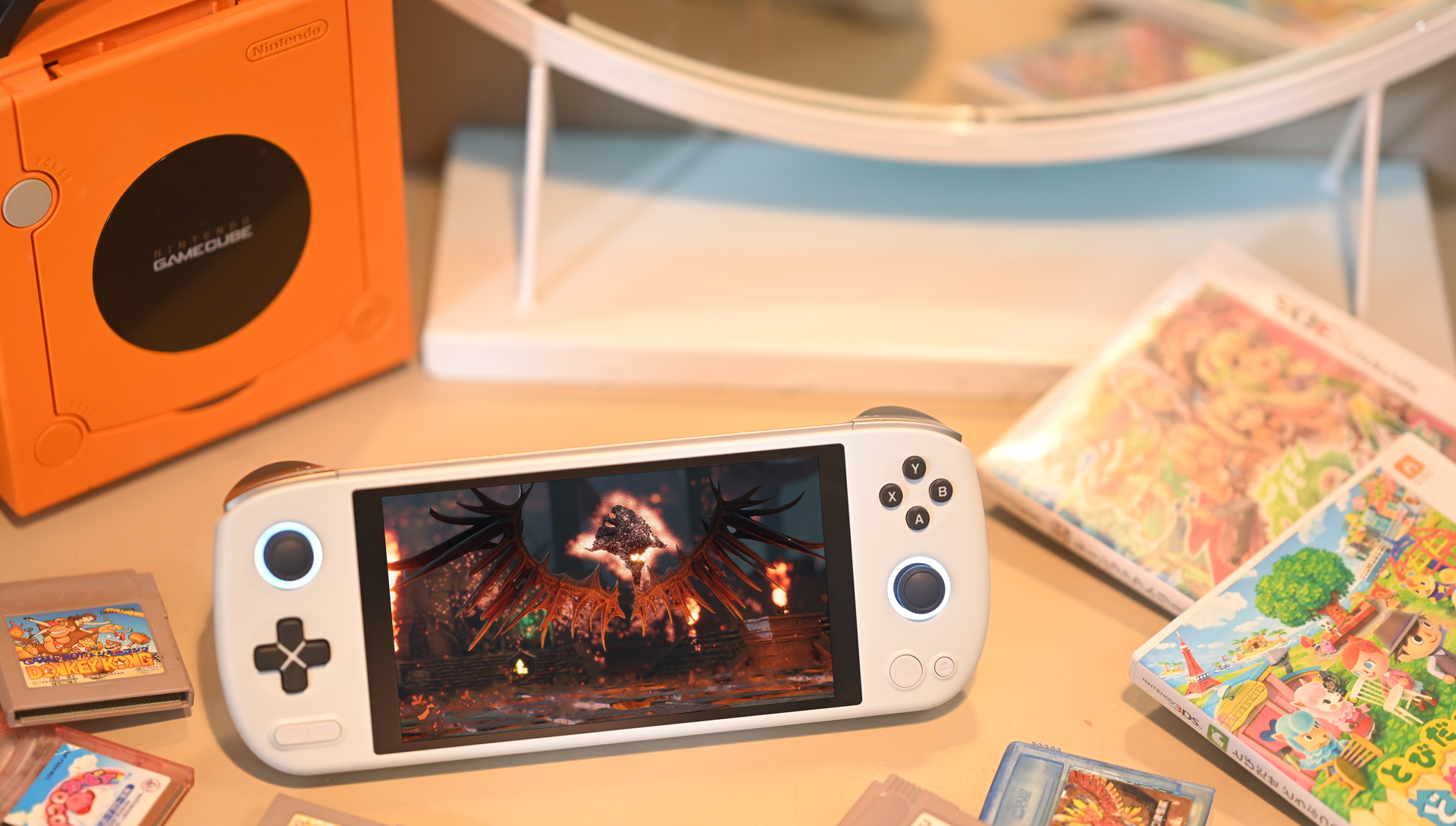 6 inches is the golden size that perfectly balances the visual experience and portability advantages. AYANEO AIR Plus can bring gamers a new handheld visual feast and immersive gaming experience with a super high-quality screen.
Inheriting the thin and light concept of AIR and reinterpreting the color aesthetics of AYANEO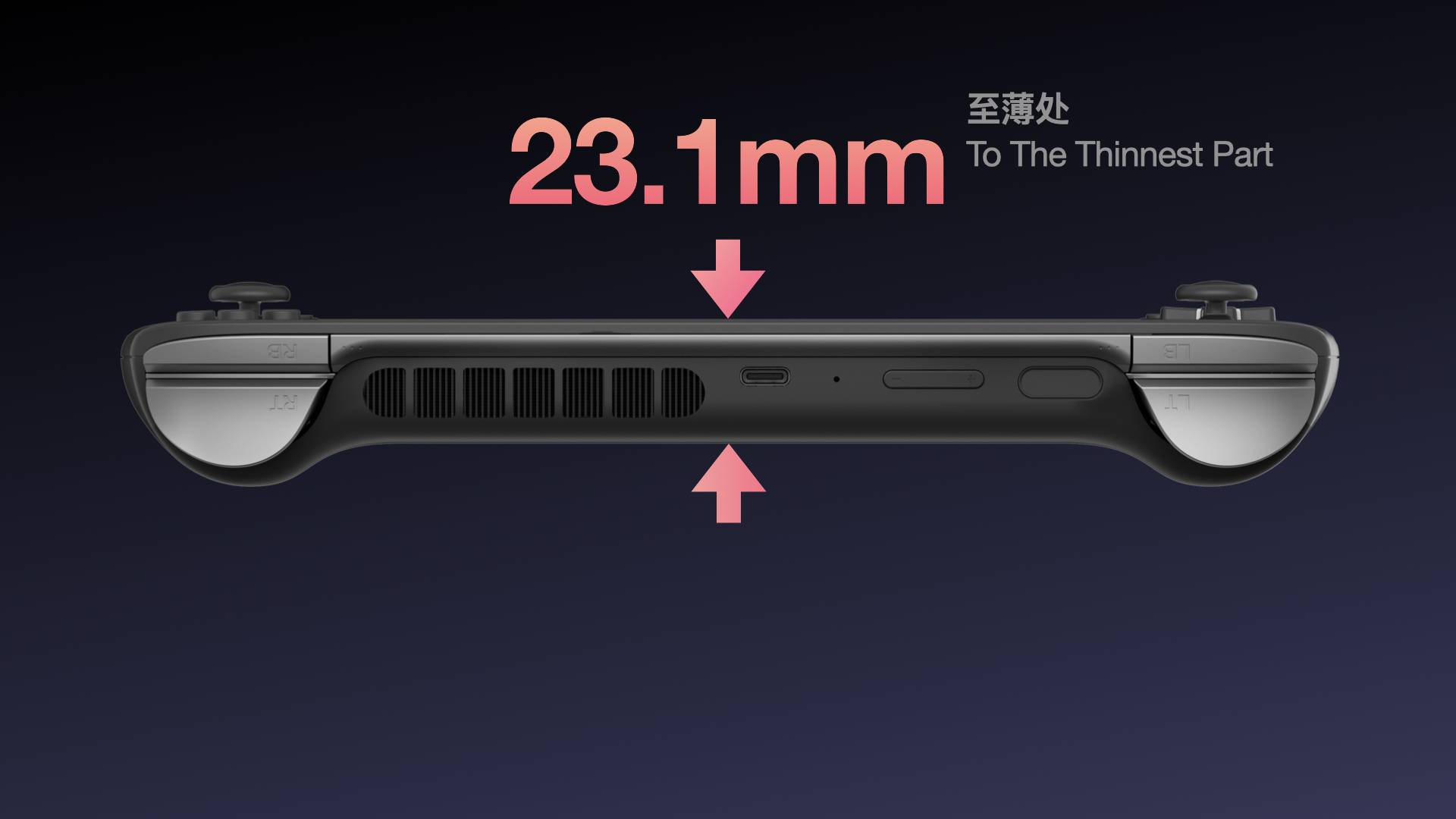 As a legacy of the AIR series, AYANEO AIR Plus, based on the original precision stack design, once again achieved the ultimate breakthrough in structural design, bringing a smaller body than NS. The measurements are only 237 x 91.4 x 23.1mm, achieving a balance between gaming and portability in the right size.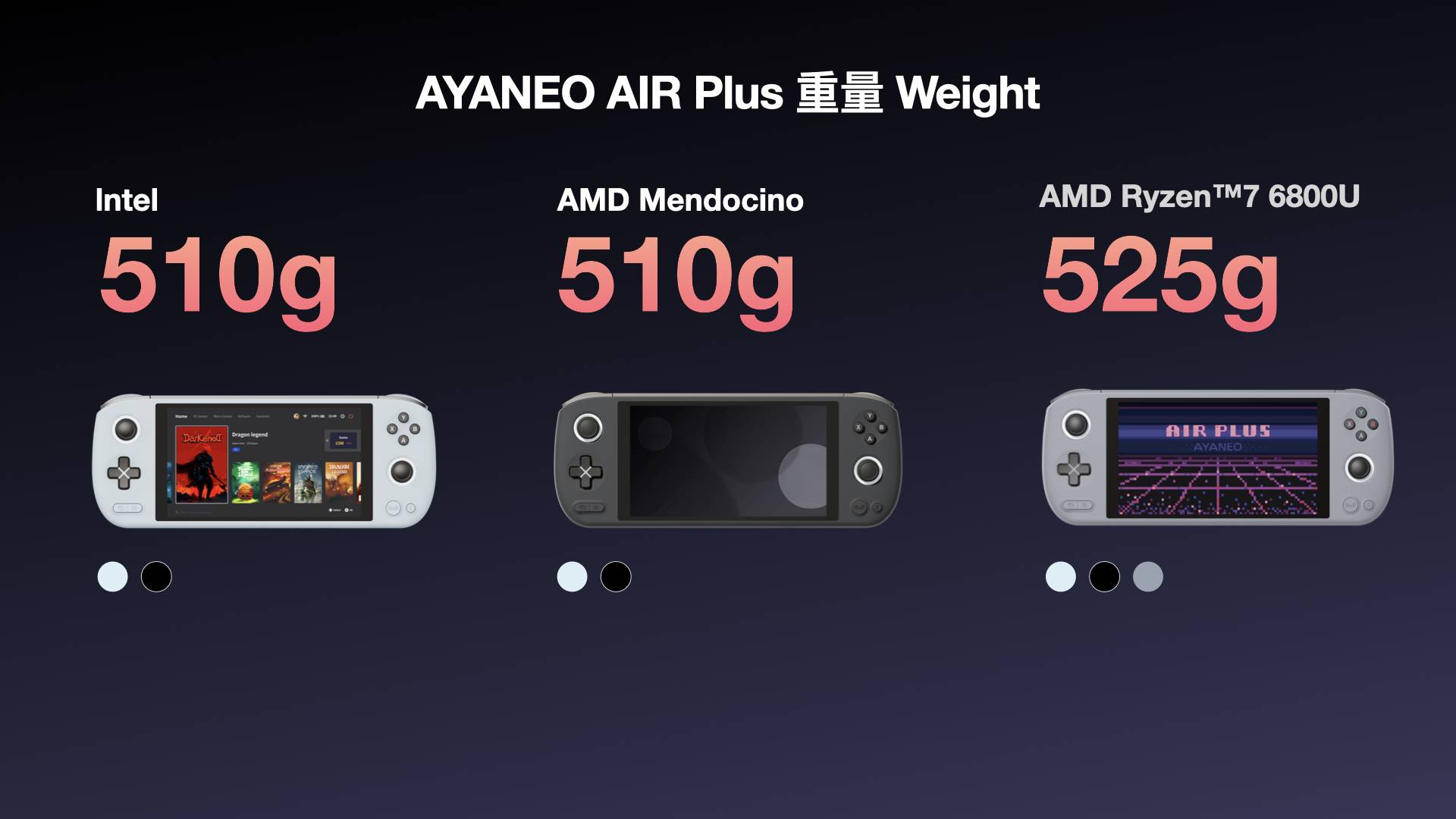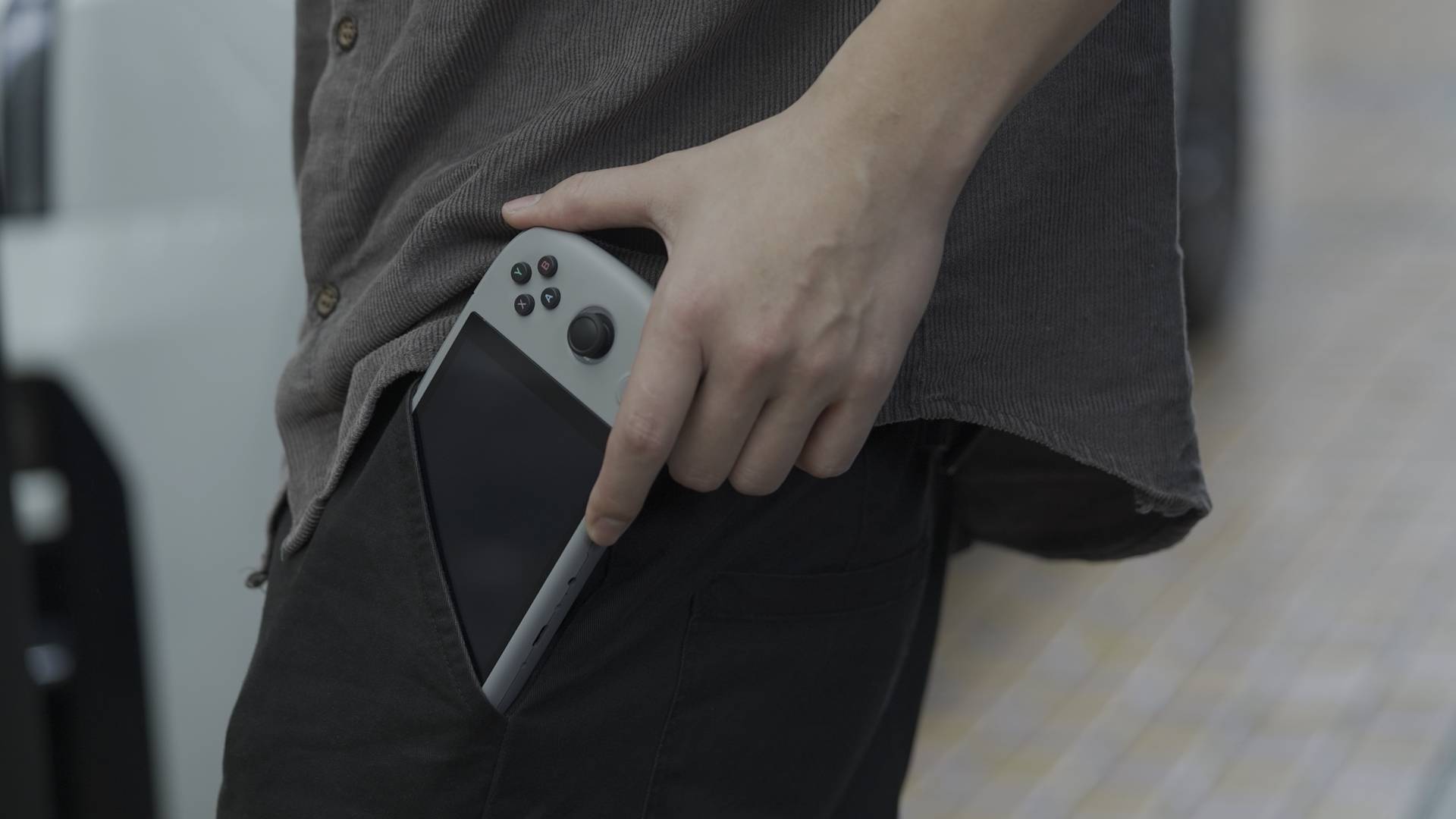 The extremely compact body achieves lighter weight, AYANEO AIR Plus 6800U version is currently the lightest 6-inch 6800U gaming console.The weight of the body is 525g,and can have both light body and strong performance. Intel and AMD Mendocino versions are even lighter at 510g. While decreasing the weight for gamers, can enjoy an extremely light holding feel and portability.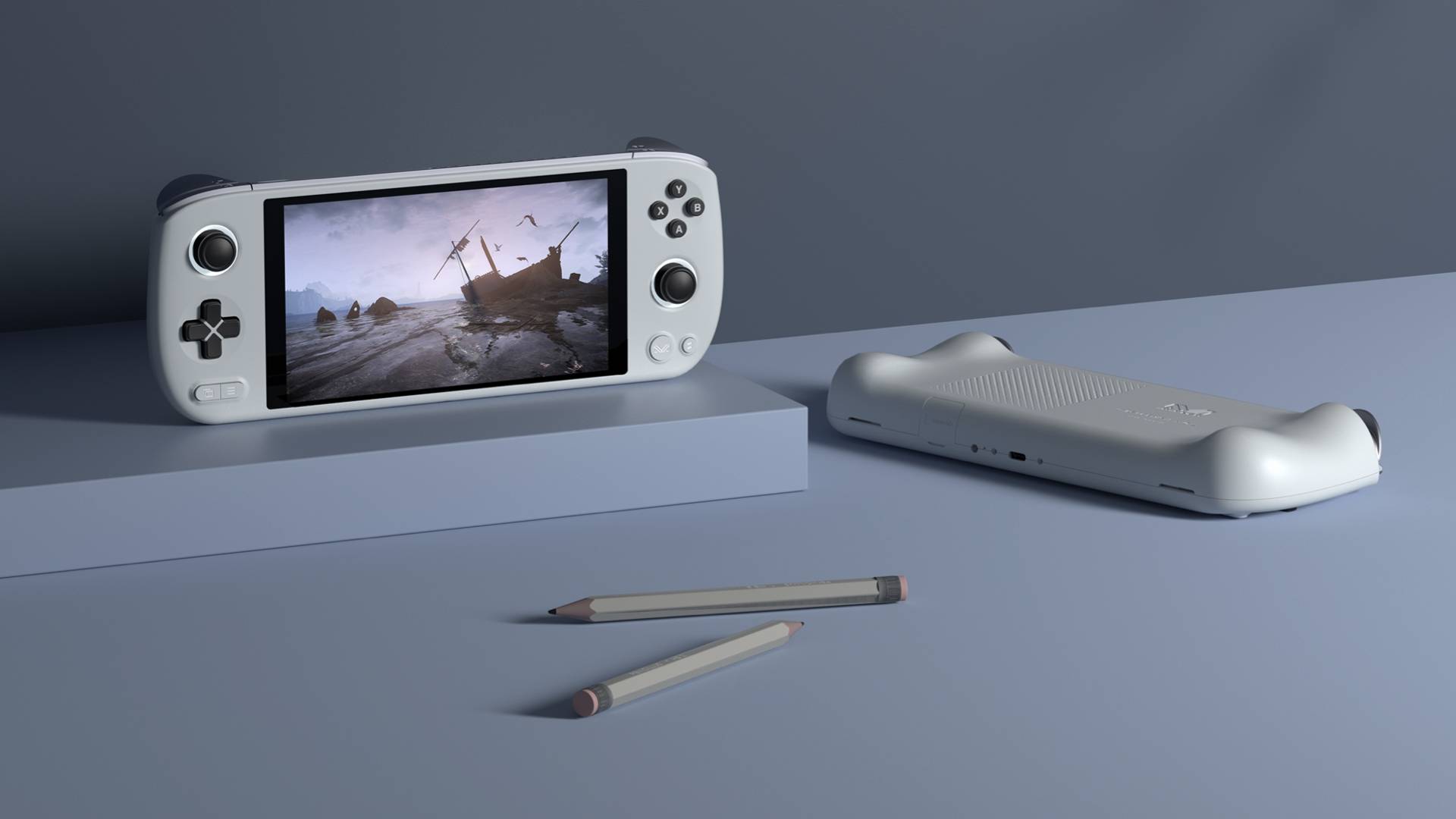 In addition, the AYANEO team has undergone several fine-tuning on the thickness of the grip to strive for every detail to be ergonomic. Combined with refined UV technology, it brings smooth skin touch experience. Dirty and scratch-resistant, not easy to leave fingerprints, perfect continuation of the unique texture of AIRTouch.
AYANEO's aesthetic pursuit of minimalism and precision integration runs through it all. There are no screws on the back of the AYANEO AIR Plus, and there are only two screws of the whole machine at the bottom within the visible range.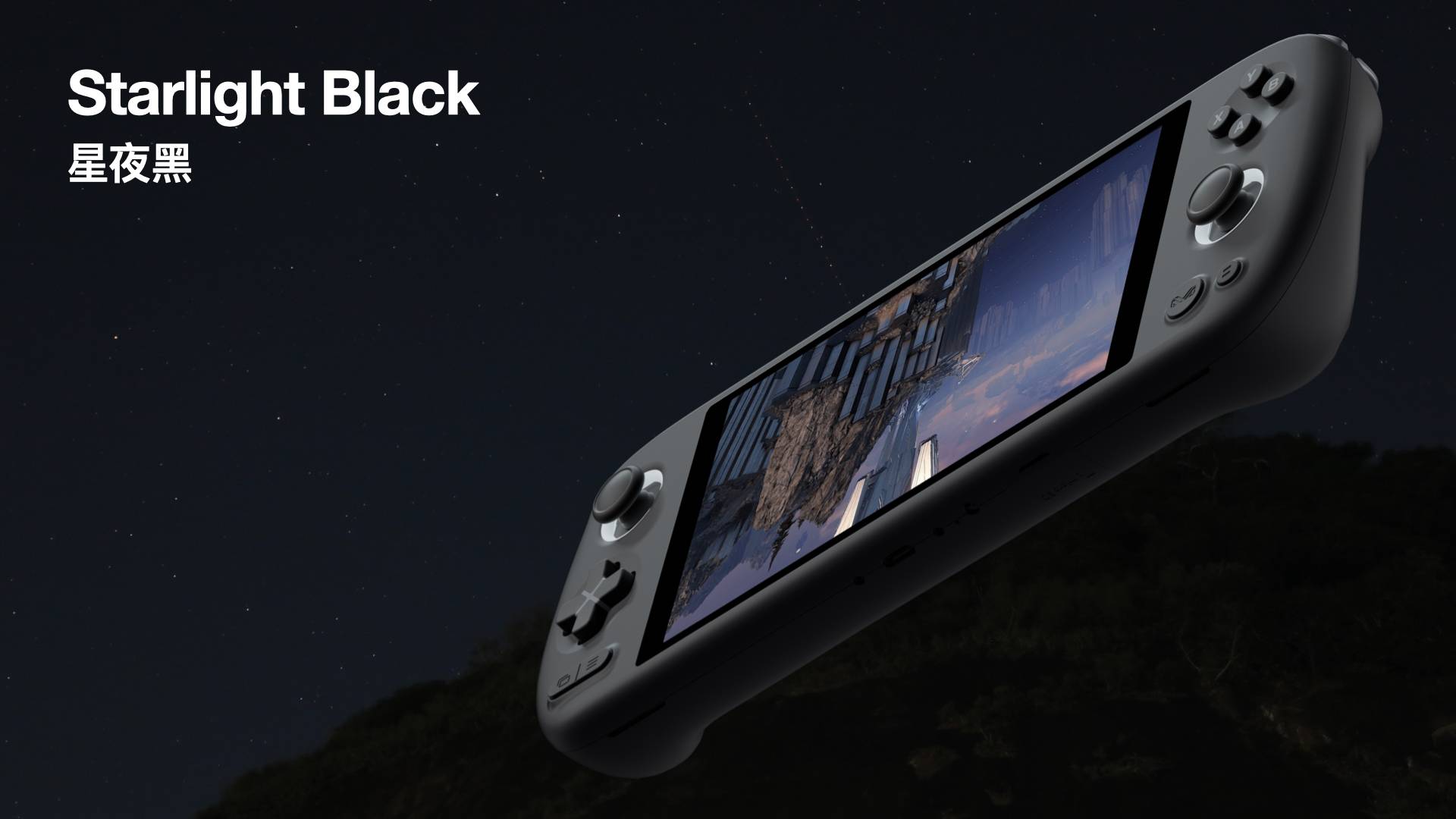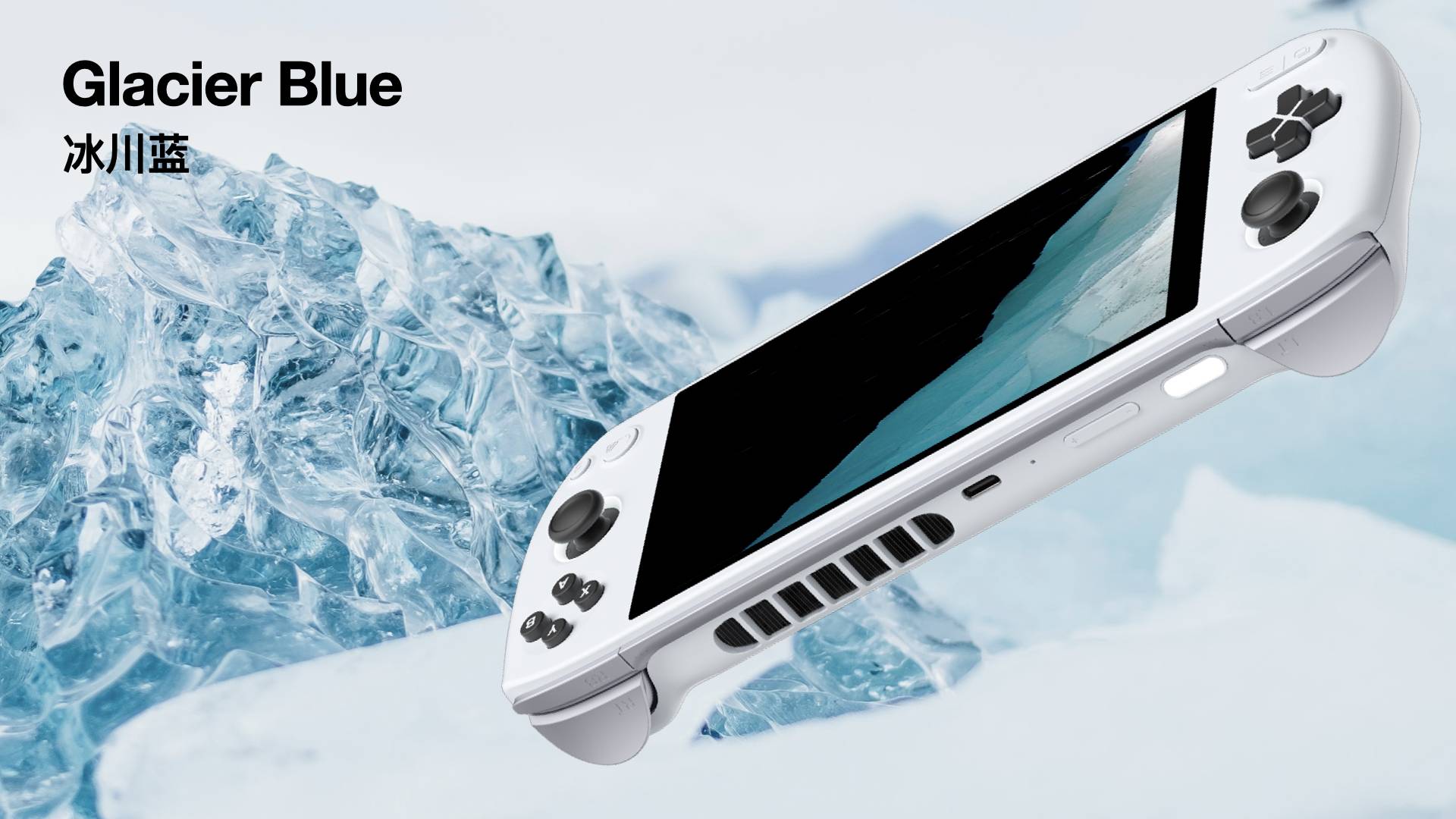 AYANEO AIR Plus is in the same appearance as AYANEO AIR, and draws design inspiration from nature to create a new "natural color matching".
The mountains, the rivers, the sky and the earth are all transformed into colours that are full of vitality. Bring the energy and passion of natural pulsation to the world of handheld gaming and redefine colour aesthetics.
「Starlight Black」and「Glacier Blue」as main colors, technological silver decoration runs through the top of the body.
Master controller, redefines game console control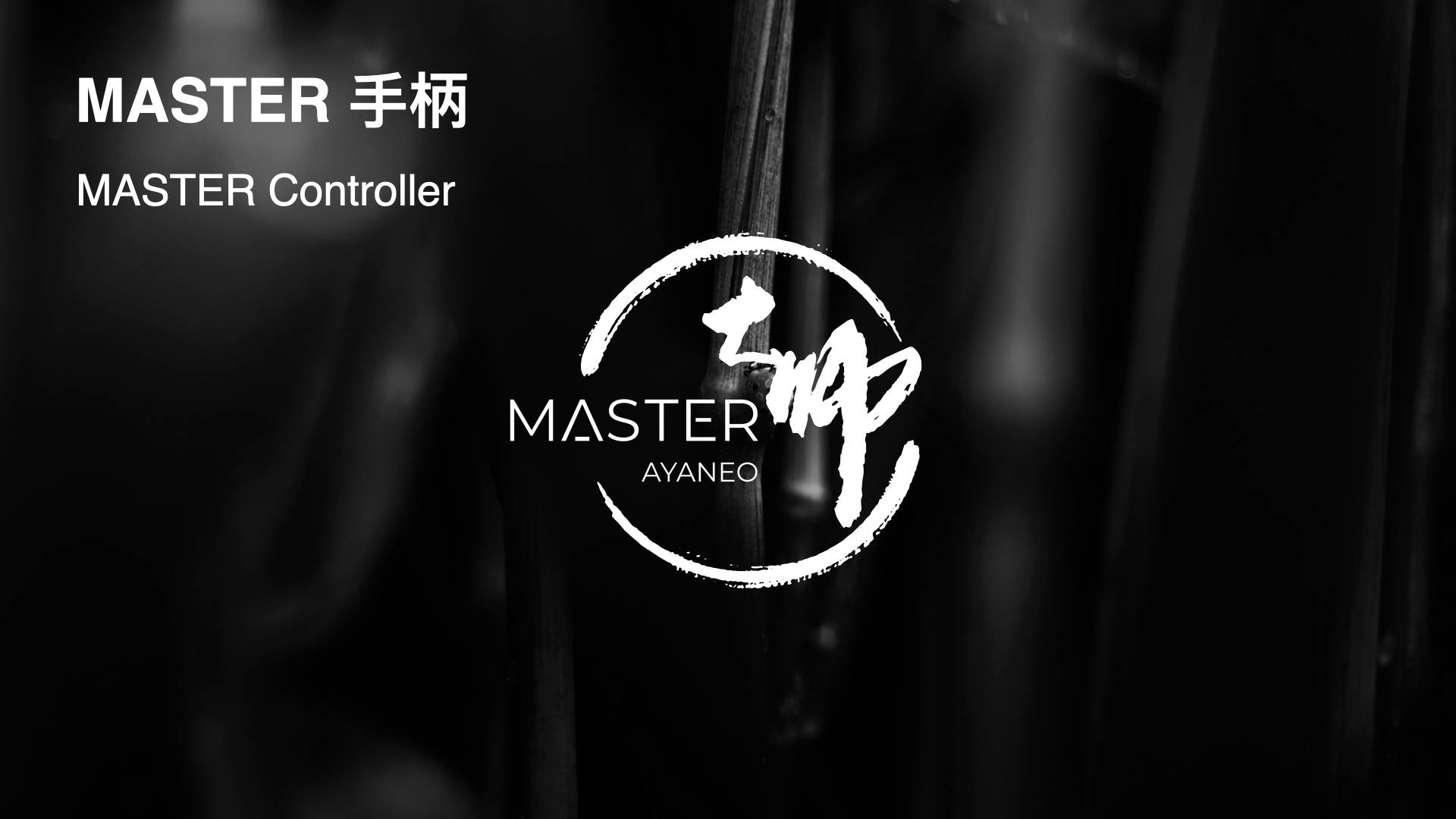 AYANEO AIR Plus, as always, is equipped with the masterpiece of the AYANEO team's deep integration of hardware and software - "Master Almighty Controller". This exclusive master-level handheld handle has eight functions and six patents, integrating the deep integration and innovation of the AYANEO team and Grain Technology in the field of software and hardware.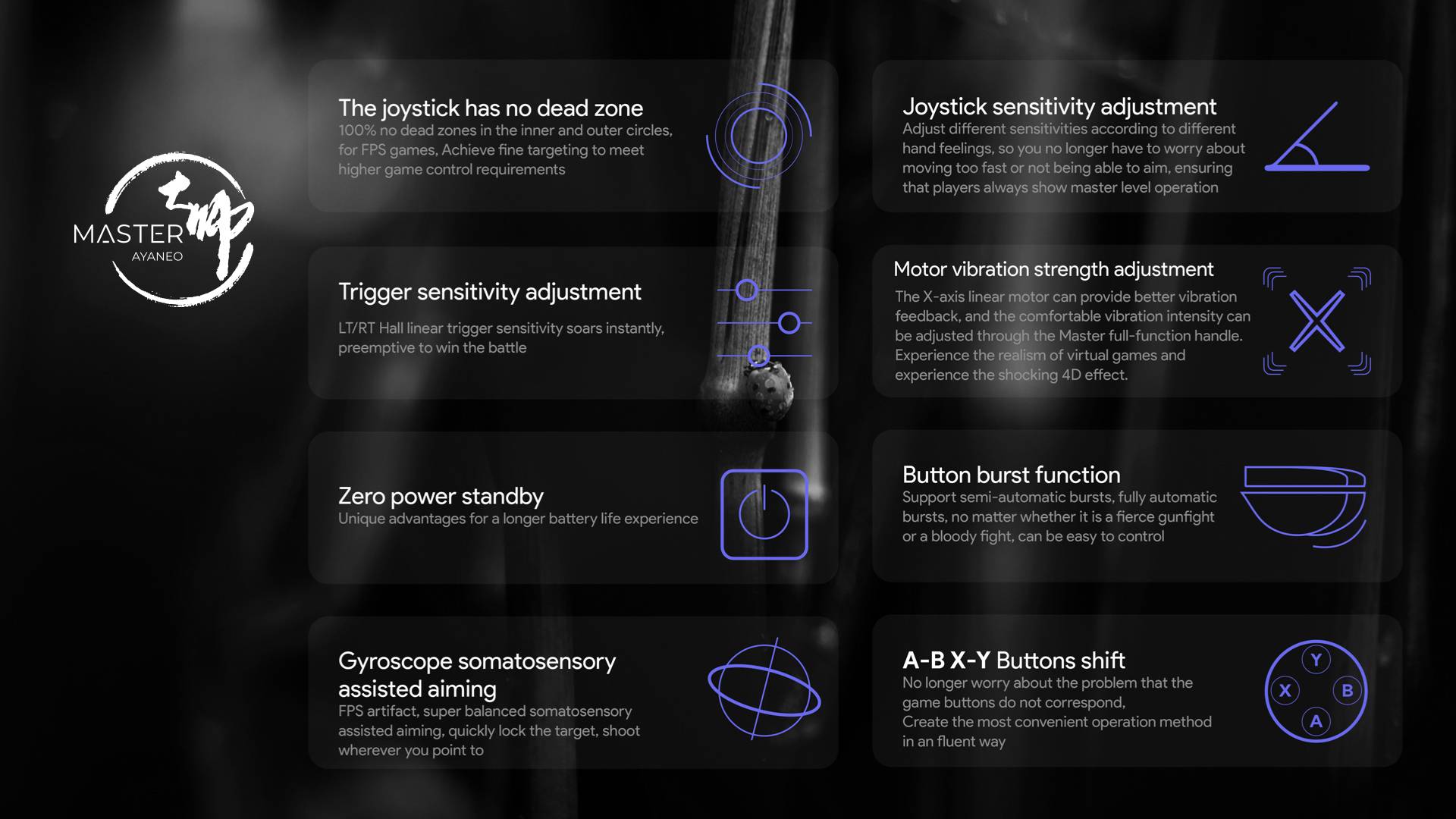 The Master Almighty handle realizes the eight major functions of a professional handle, including joystick dead zone adjustment, joystick and trigger sensitivity adjustment, motor vibration intensity adjustment, gyroscope somatosensory assisted aiming, A-B X-Y key exchange, key bursts, and the handle Zero power standby, etc.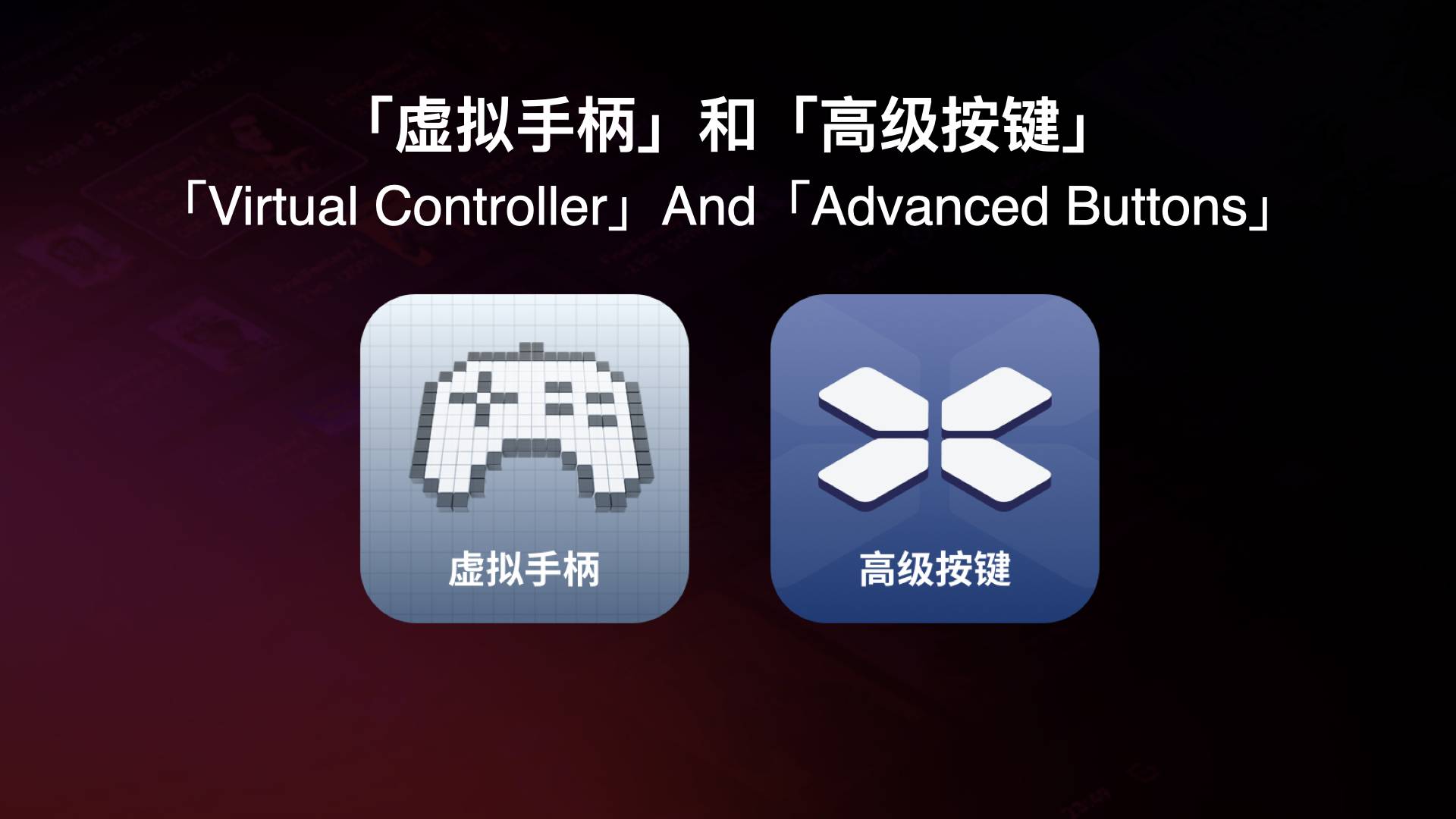 In addition to the Master universal handle, AYANEO AIR Plus will be equipped with two new small applications for the first time: "Virtual Controller" and "Advanced Buttons".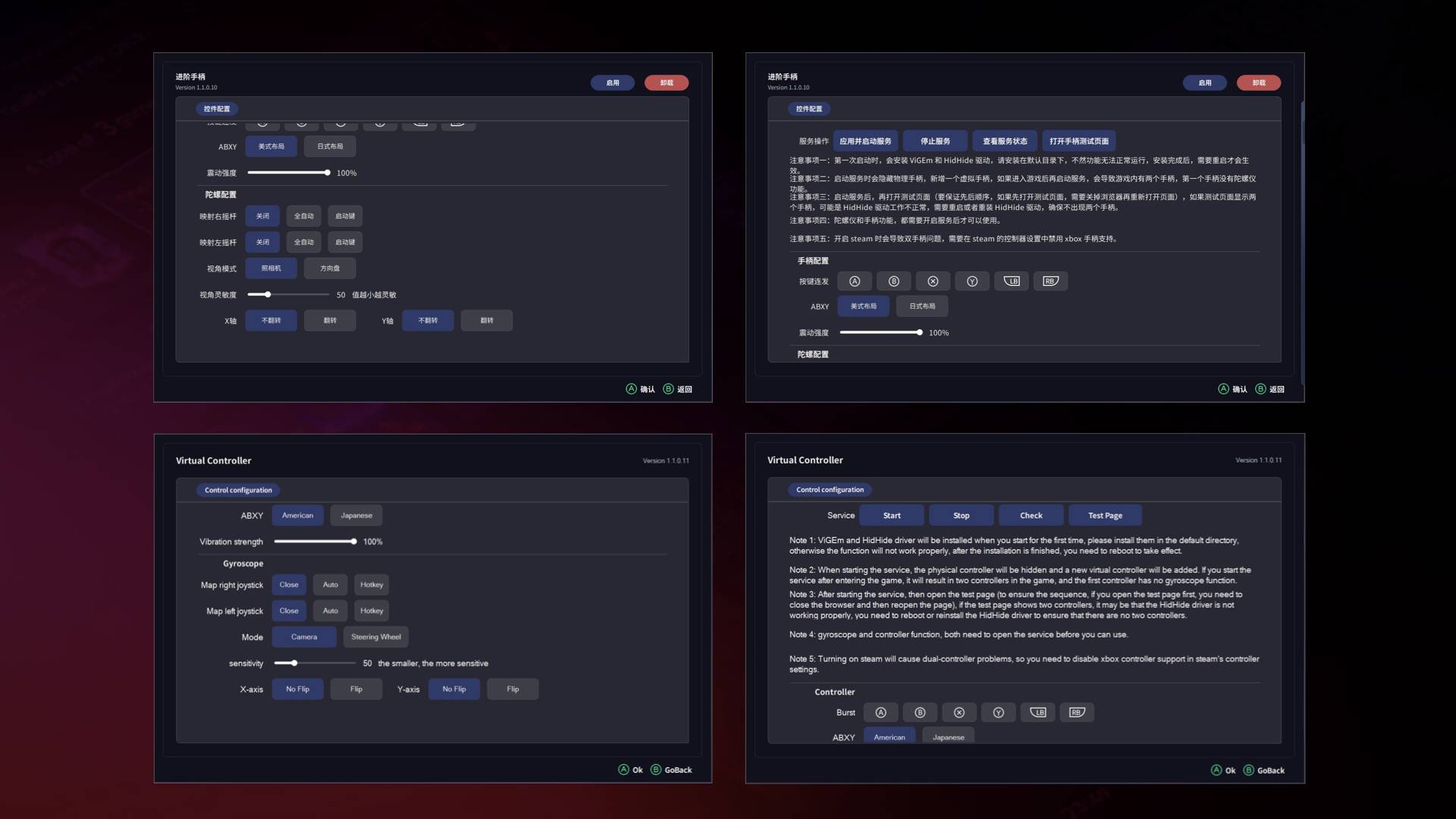 "Virtual Joystick" is based on the Master Joystick, adding the "Virtual Gyroscope" function, which can map the left/right joystick, automatically enable the gyroscope, "camera" and "steering wheel" perspective modes, finer perspective sensitivity and Flip X / Y axis and other functions, users can choose to use the Master handle or the "virtual handle" according to their own needs.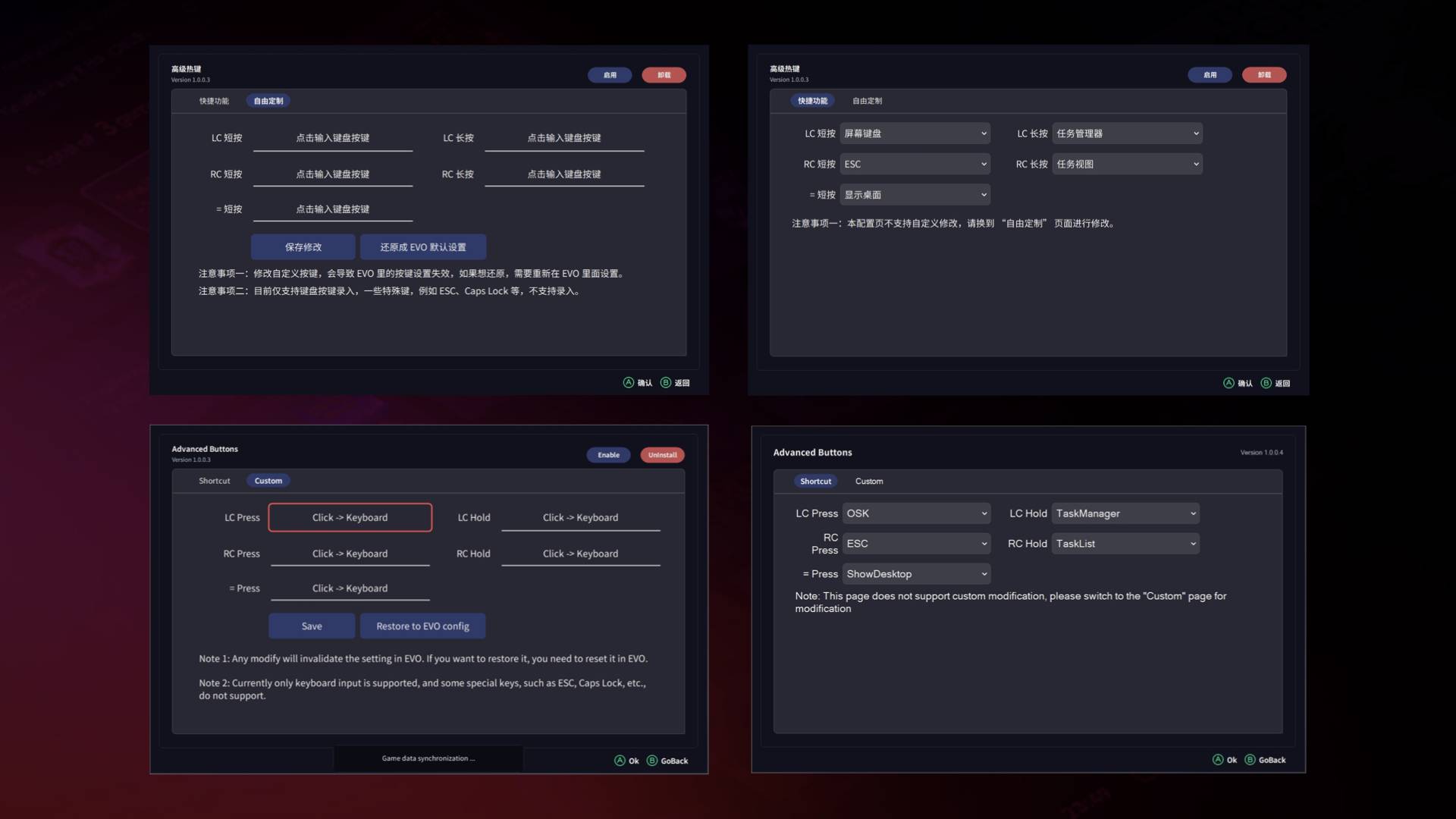 The advanced key is based on the custom function of the three keys of LC, RC and = key on the AYANEO handheld. On the basis of the preset key function, it is newly added to map the LC and RC keys through any key or combination on the screen keyboard. Long press and short press, and short press of = key, a total of five combinations of options.
In addition to the first supported AYANEO AIR Plus, the "virtual handle" will be open to all AYANEO handheld users, and the "advanced buttons" will also be open to all AYANEO handheld users with custom buttons.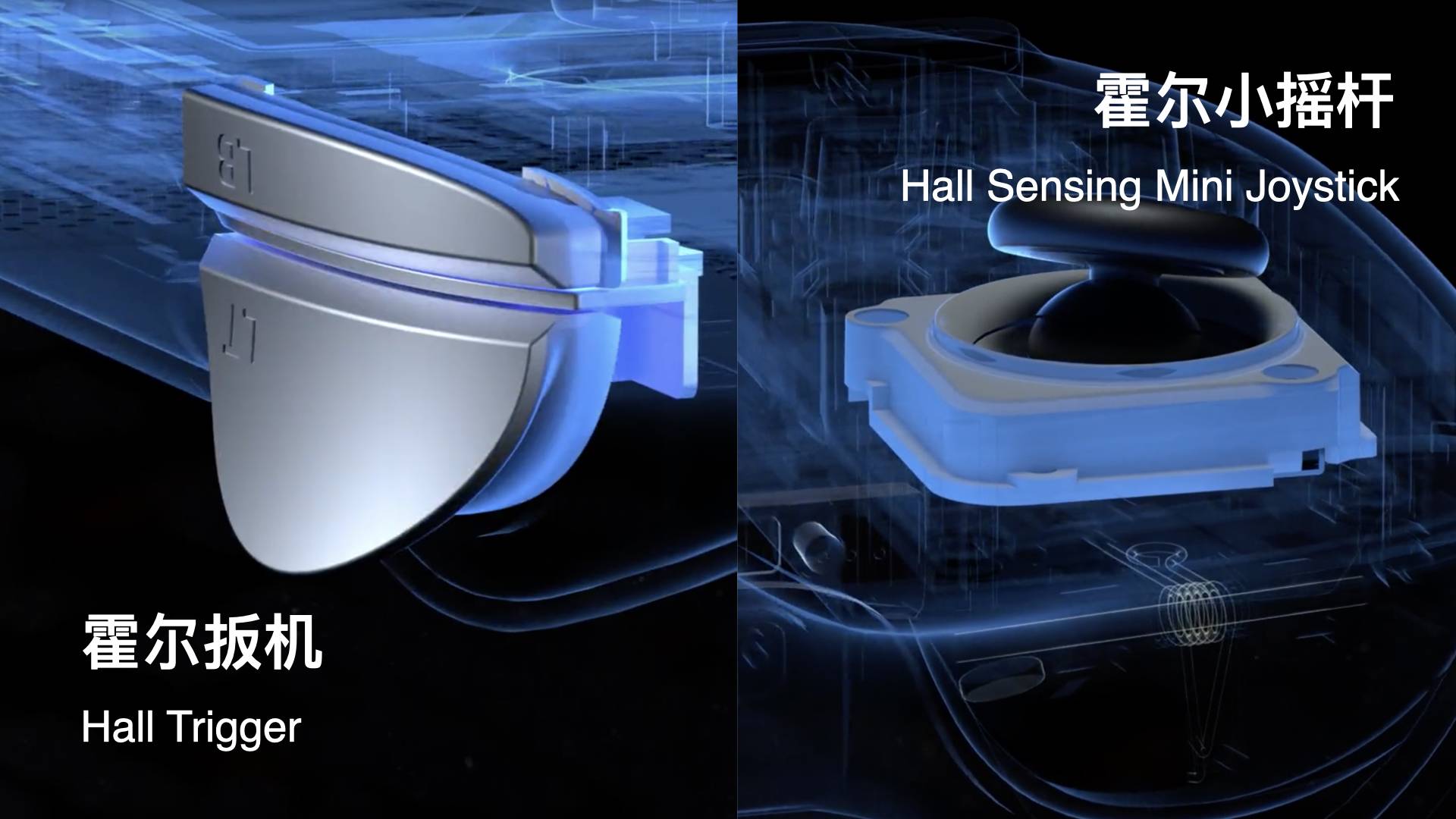 AYANEO AIR Plus is also equipped with the golden combination of grain Hall small joystick + Hall linear trigger, delicate and precise control feeling and millimeter-level precision feedback, providing players with an all-round leap in game precision control experience, colorful RGB lighting effect is more It is to inject the soul of e-sports into master-level control.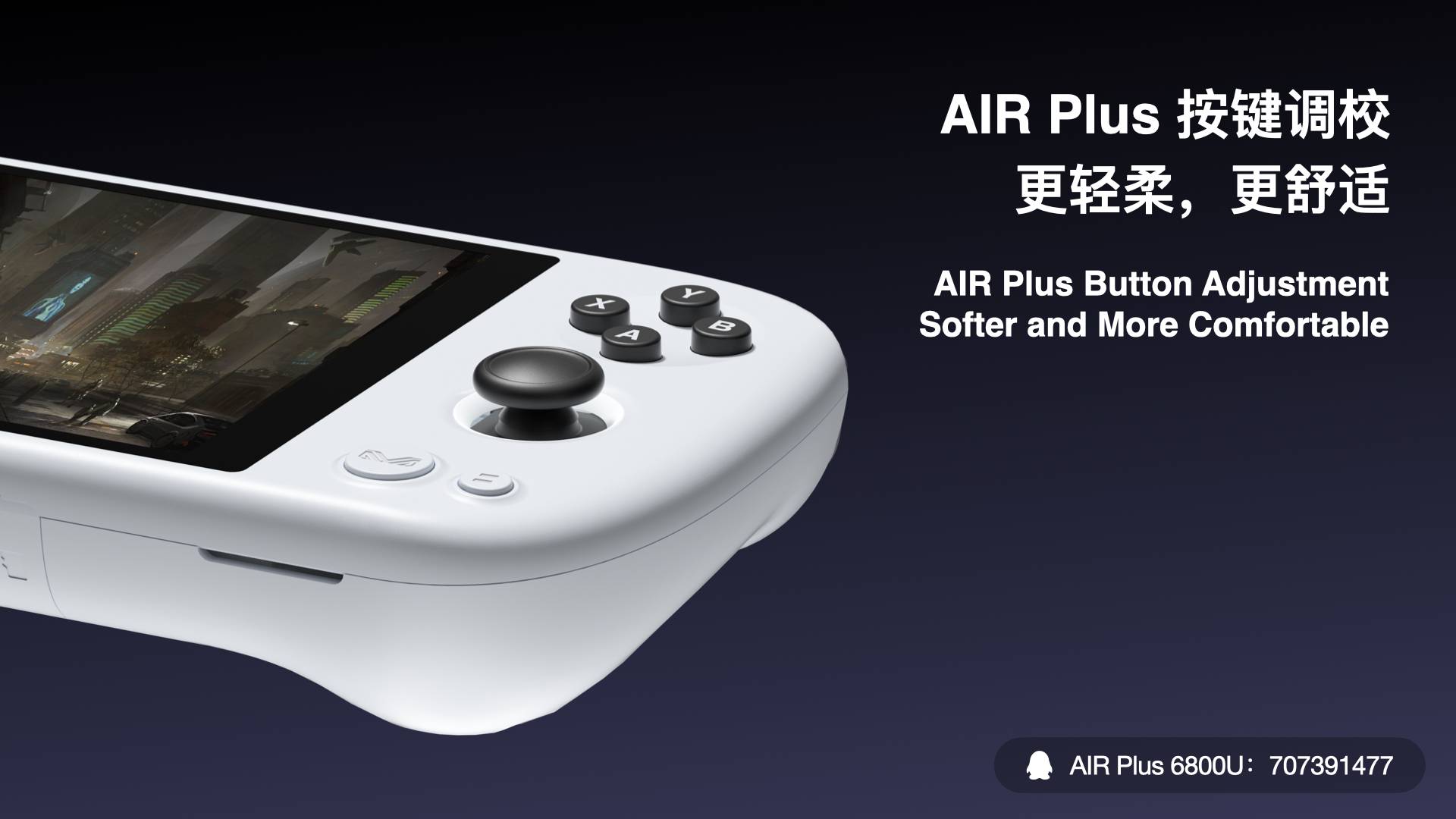 In terms of button feel, AYANEO AIR Plus has made a new adjustment. Compared with AYANEO AIR and AYANEO 2, the ABXY button feel is softer. The overall button feel is softer, and the trigger is more sensitive, which greatly reduces the fatigue of players.
Thin and light body with long battery life, the strongest in the history of AIR series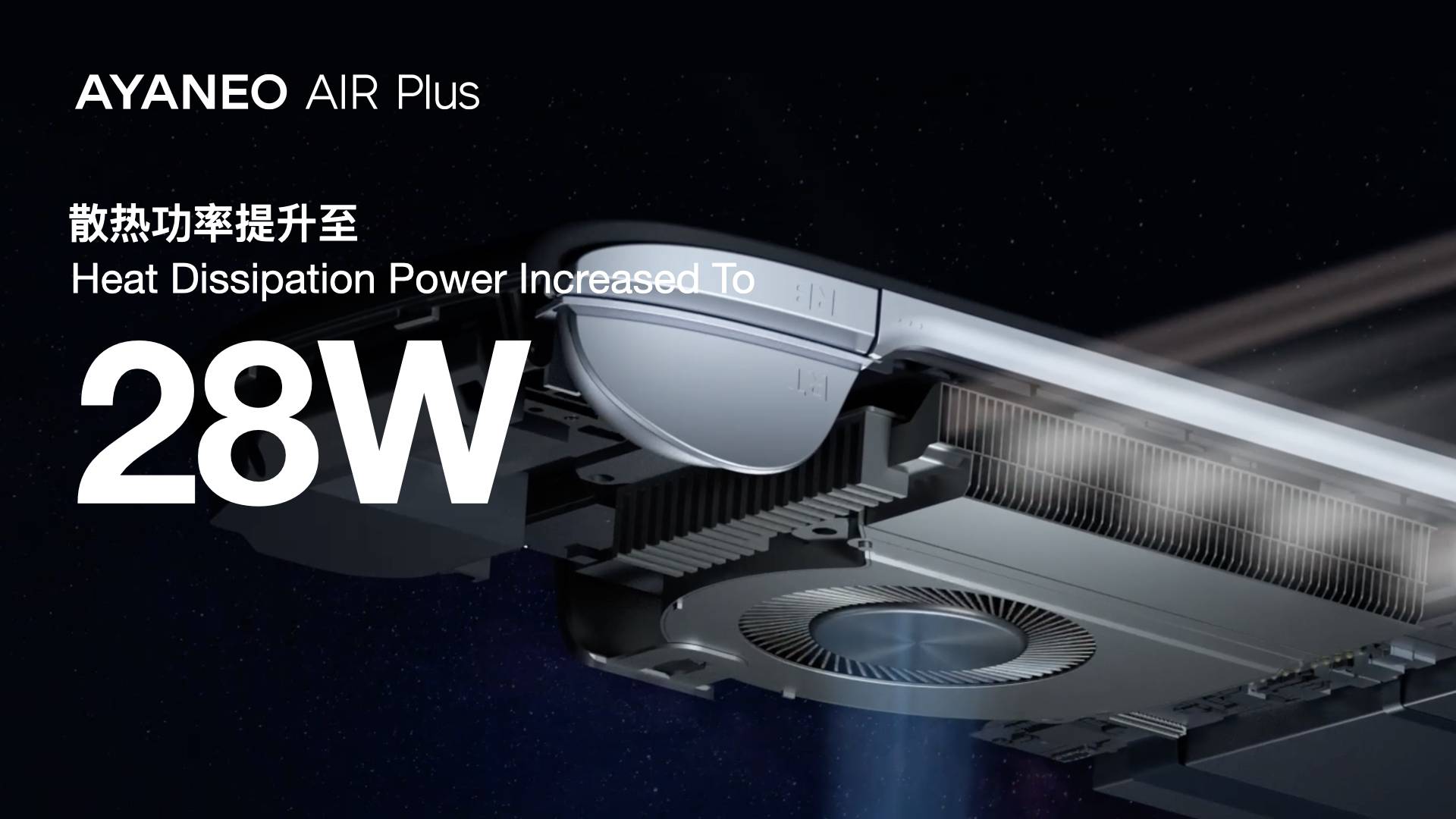 AYANEO AIR Plus has redesigned the heat dissipation structure while maintaining a thin and light body thickness of 23.1mm, and adopted a more powerful heat dissipation module. The heat dissipation power has been greatly increased from 18W of the previous generation AIR Pro to 28W, fully releasing the ultimate performance of 6800U. It has become a leapfrog experience benchmark that takes into account both lightness and long battery life.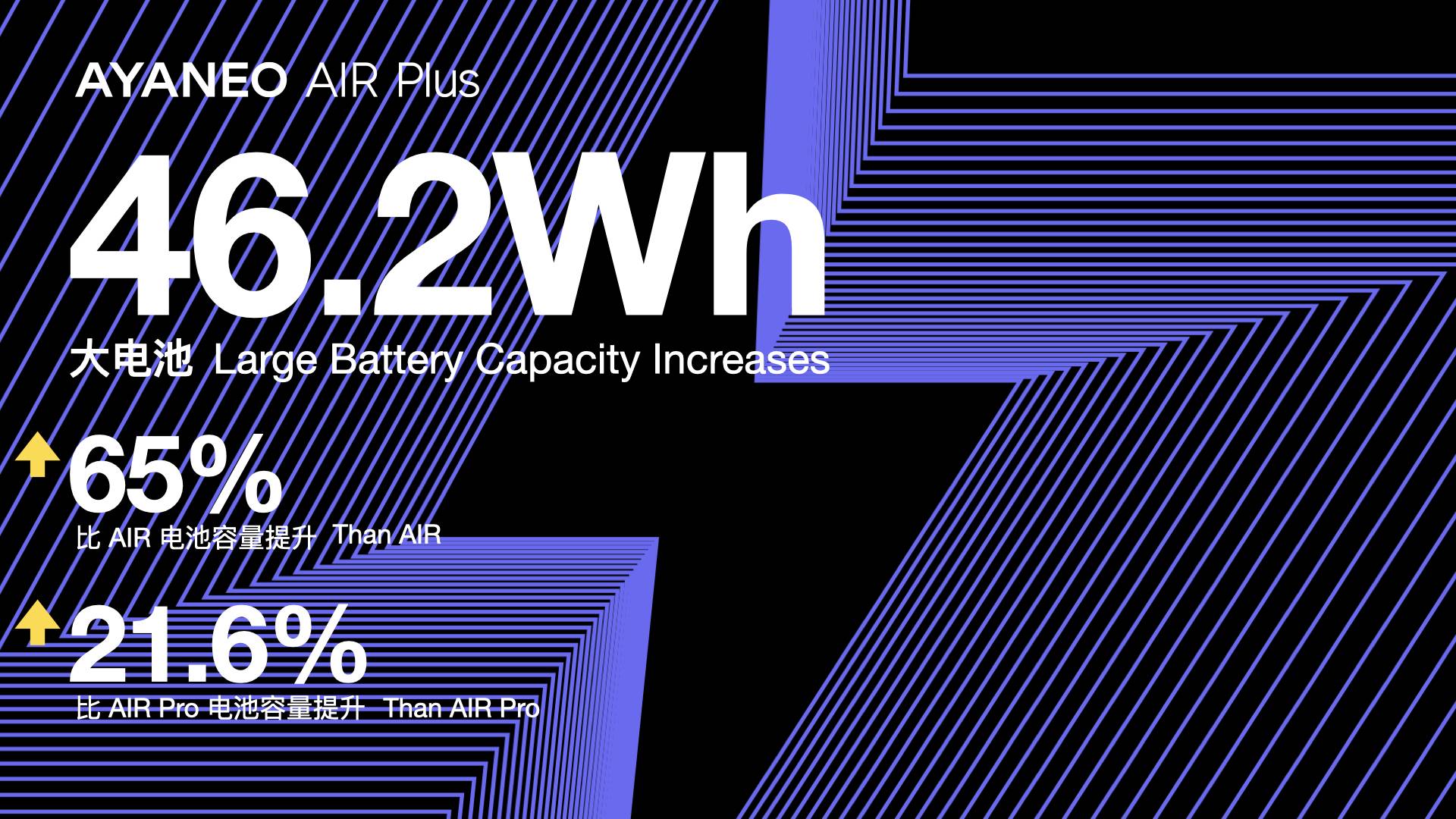 It can also have both a thin and light body and long battery life. AYANEO AIR Plus has a large 46.2Wh battery embedded in a light and compact body, which is up to 65% higher than AYANEO AIR, and 21.6% higher than AYANEO AIR Pro. It is the largest battery capacity in the AYANEO AIR series so far. . With stronger heat dissipation and better battery life, AYANEO AIR Plus brings players a more worry-free gaming experience.
Immersive sound quality makes people feel surrounded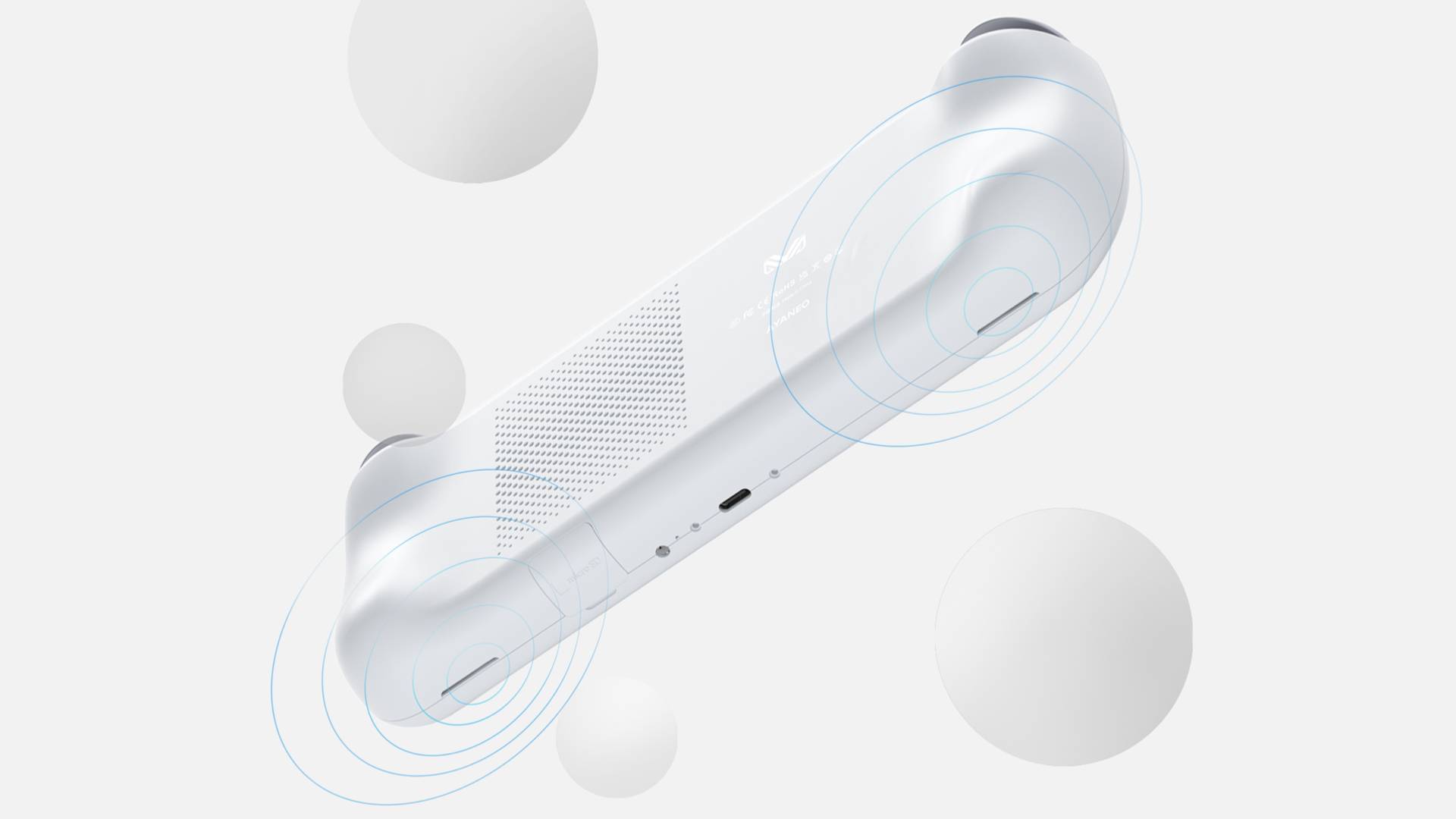 Sound Effects Sound quality is very important for handhelds. Immersive surround sound effects are undoubtedly the soul of the game experience. The loud battle sounds can bring extremely shocking audio-visual enjoyment, allowing players to be on the scene.
AYANEO AIR Plus adopts the software and hardware combination of two-channel cavity + intelligent power amplifier, and uses powerful power amplifier technology to create a more powerful and appealing sound field, satisfying the most discerning ears of players, and bringing players the immersion of excellent sound and picture gaming experience.
The body hardware is better, and the player experience is further upgraded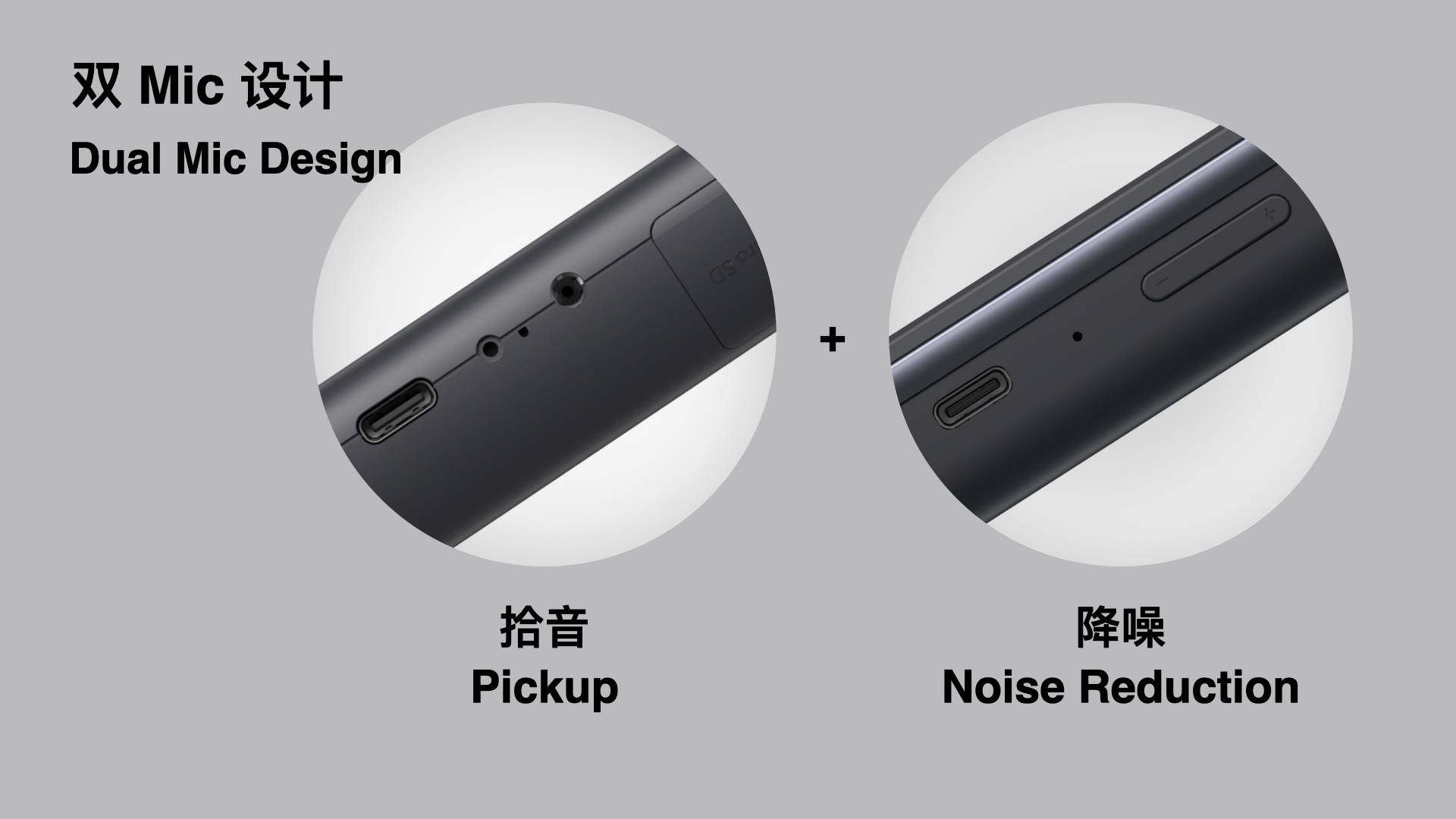 AYANEO AIR Plus continues the dual-mic design of AYANEO 2 pickup + noise reduction. With the support of noise reduction technology, even in outdoor or noisy environments, the voice call quality is still clear and smooth, which greatly improves the player's voice communication experience in the game .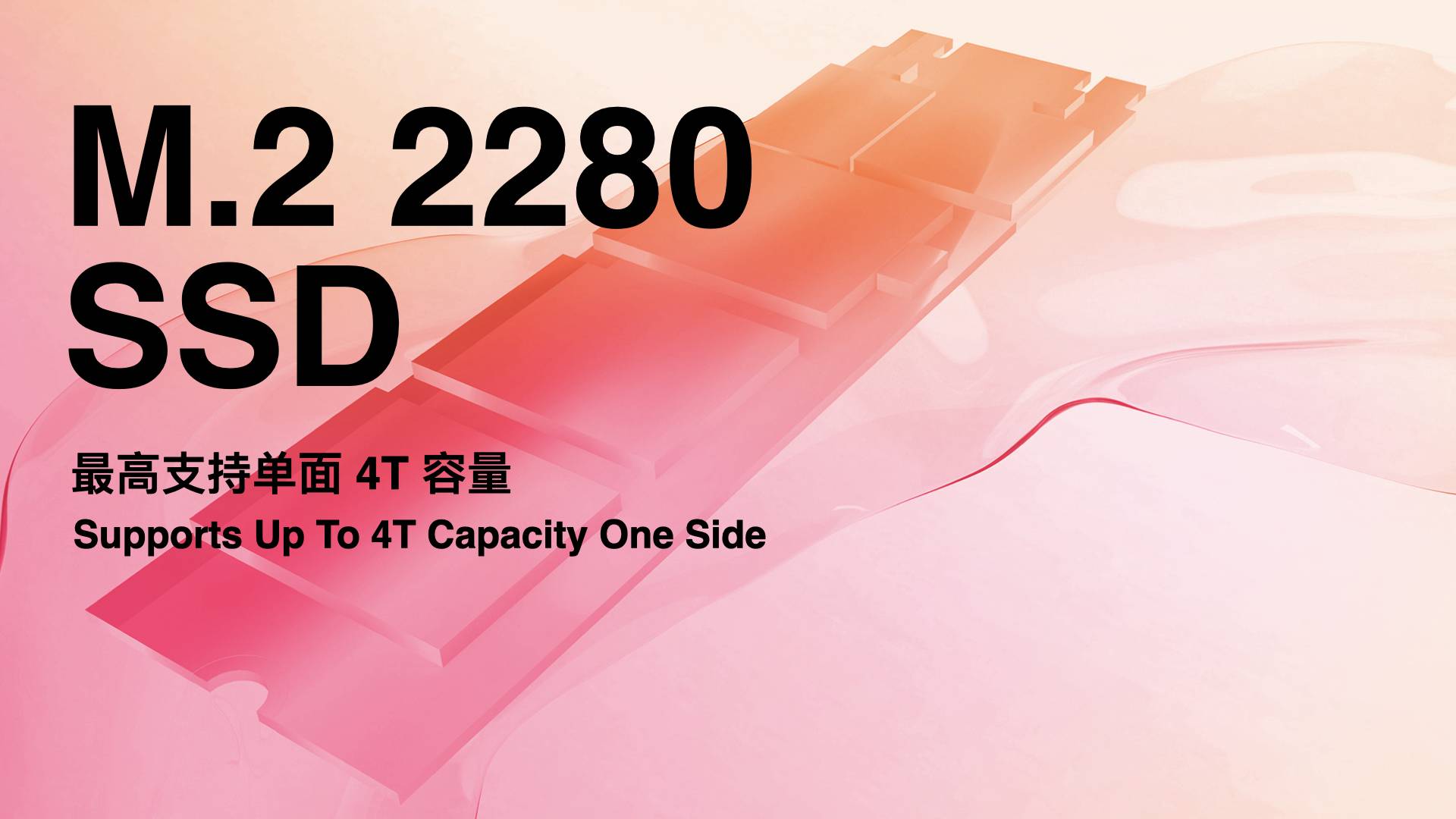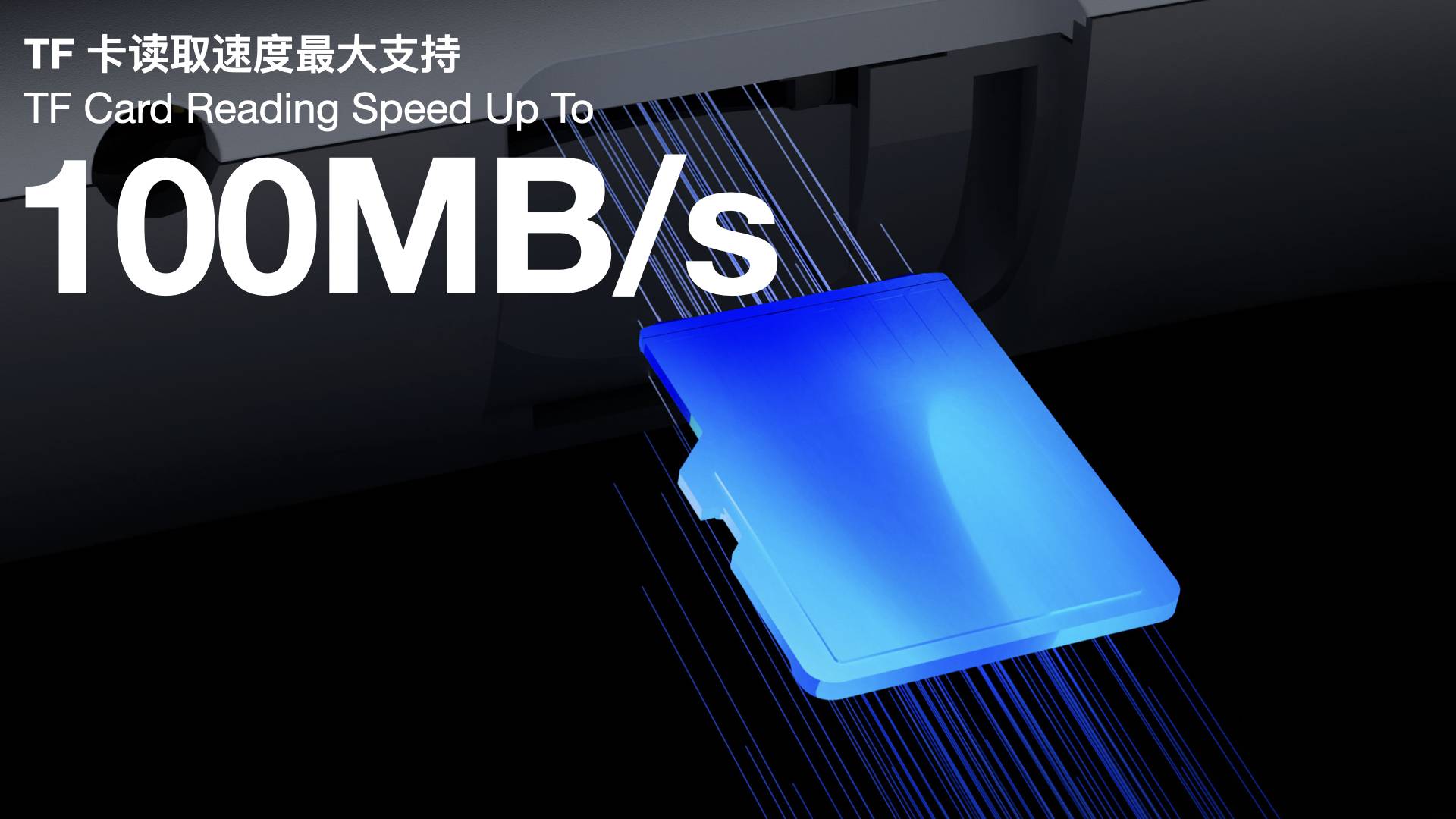 AYANEO AIR Plus is uncompromising in terms of capacity expansion. It adopts M.2 2280 SSD and supports up to 4T storage capacity on a single side, allowing you to install more game masterpieces as you like. In addition, the bottom of the AIR Plus fuselage is equipped with a TF card slot with USB 3.0-level transmission speed, and the theoretical speed can reach 100MB/s, which saves time and worry for high-speed transmission.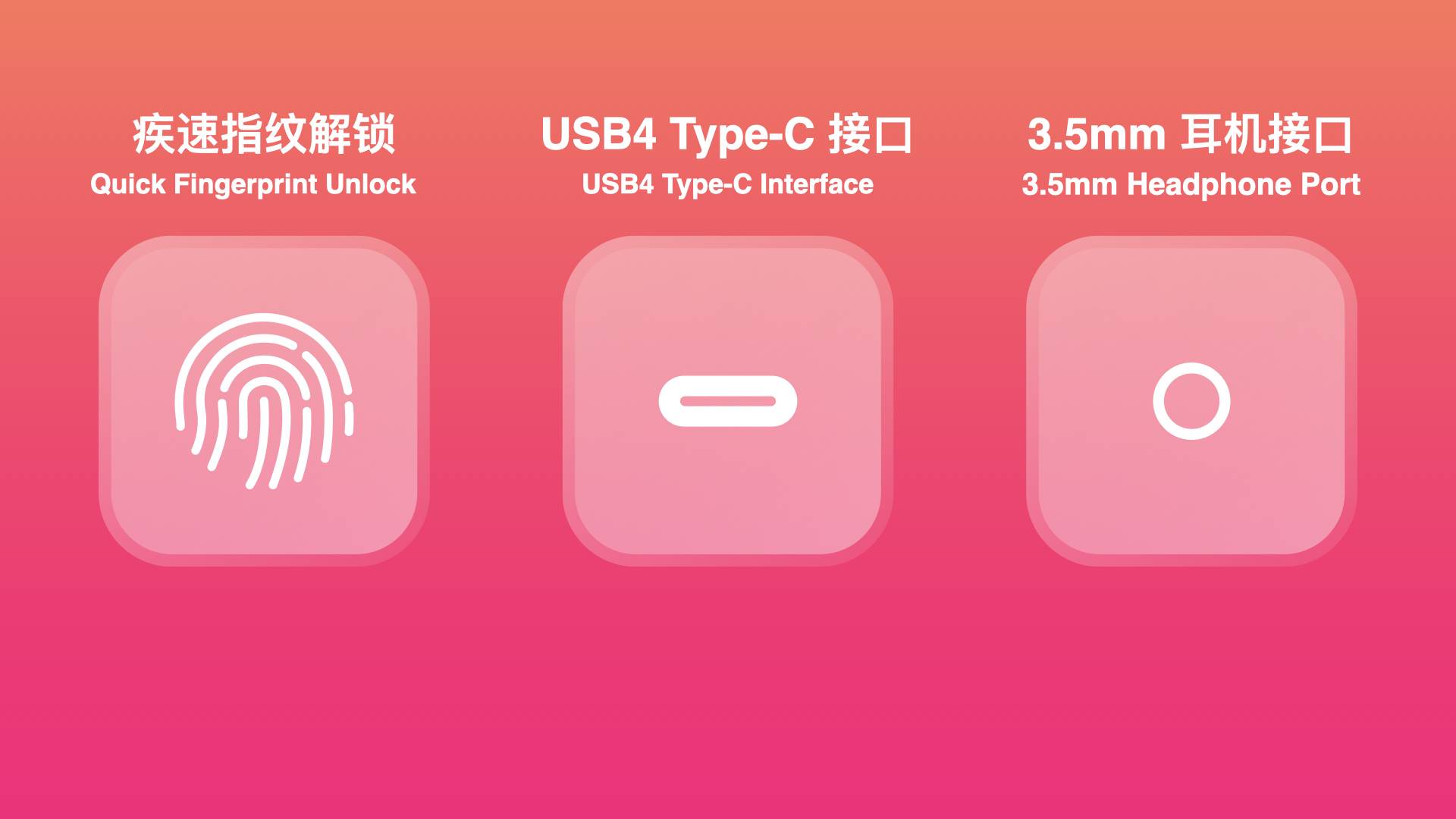 The compact body of AYANEO AIR Plus has a built-in fingerprint unlocking module. After pressing the power button to wake up the device, lightly touch the power button to complete fingerprint recognition to unlock the handheld. In addition, AIR Plus has a 3.5mm headphone jack and two full-featured USB4 Type-C ports, even if it is connected to an external graphics card expansion dock, the rich expandability makes it an all-round thin and light PC handheld.
AMD 6800U peak performance for 3A gaming freedom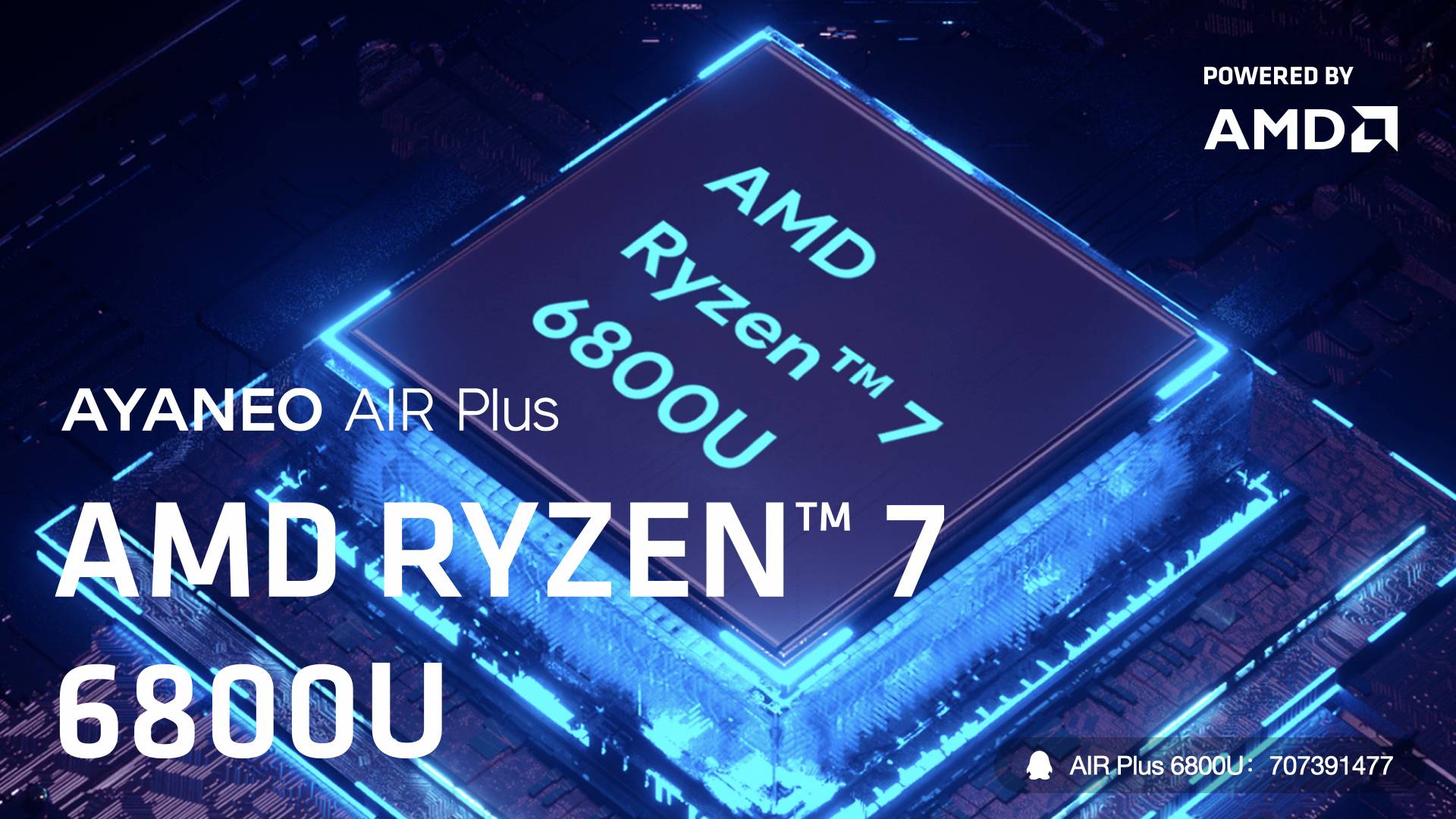 AMD Ryzen™7 6800U adopts a 6nm process and a new high-efficiency "Zen 3+" CPU core architecture, which improves performance per watt by up to 54%; it is equipped with the same RDNA 2 architecture as the game console PlayStation 5 and Xbox Series X. "The most powerful core display on the surface "Radeon 680M, which is nearly twice as high as the previous generation, provides an unprecedented level of built-in graphics performance, a flagship experience of powerful performance and long battery life.
As the flagship of the pinnacle of performance, AYANEO 2 is the first to be equipped with this cross-generation chip. With its strong graphics performance, it can run most PC games in full HD resolution smoothly. AYANEO AIR Plus goes a step further. With a compact size that fits in your pocket, with the help of 6800U and 28W heat dissipation structure, you can enjoy 3A games to your heart's content. It can be called the peak experience of the flagship of the new generation of game performance and realize the ultimate dream of many game lovers.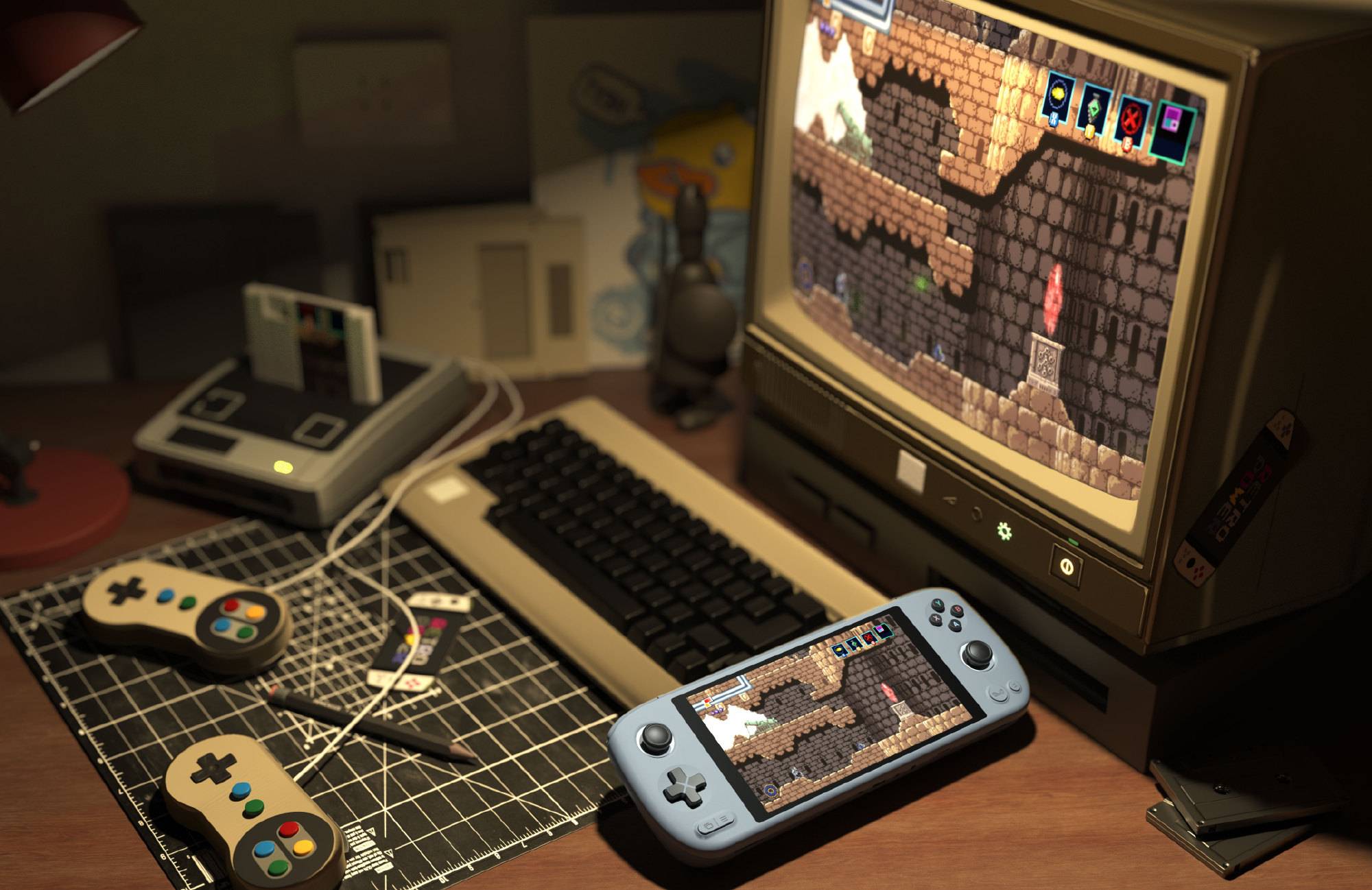 The pursuit of the ultimate journey is bound to be full of thorns. In order to commemorate those unforgettable memories in the process of developing the AIR Plus handheld, and also to respond to many sentimental players, the AYANEO team drew design inspiration from the classic PS game console and created a 6800U version. Exclusive retro color "Classic Gray".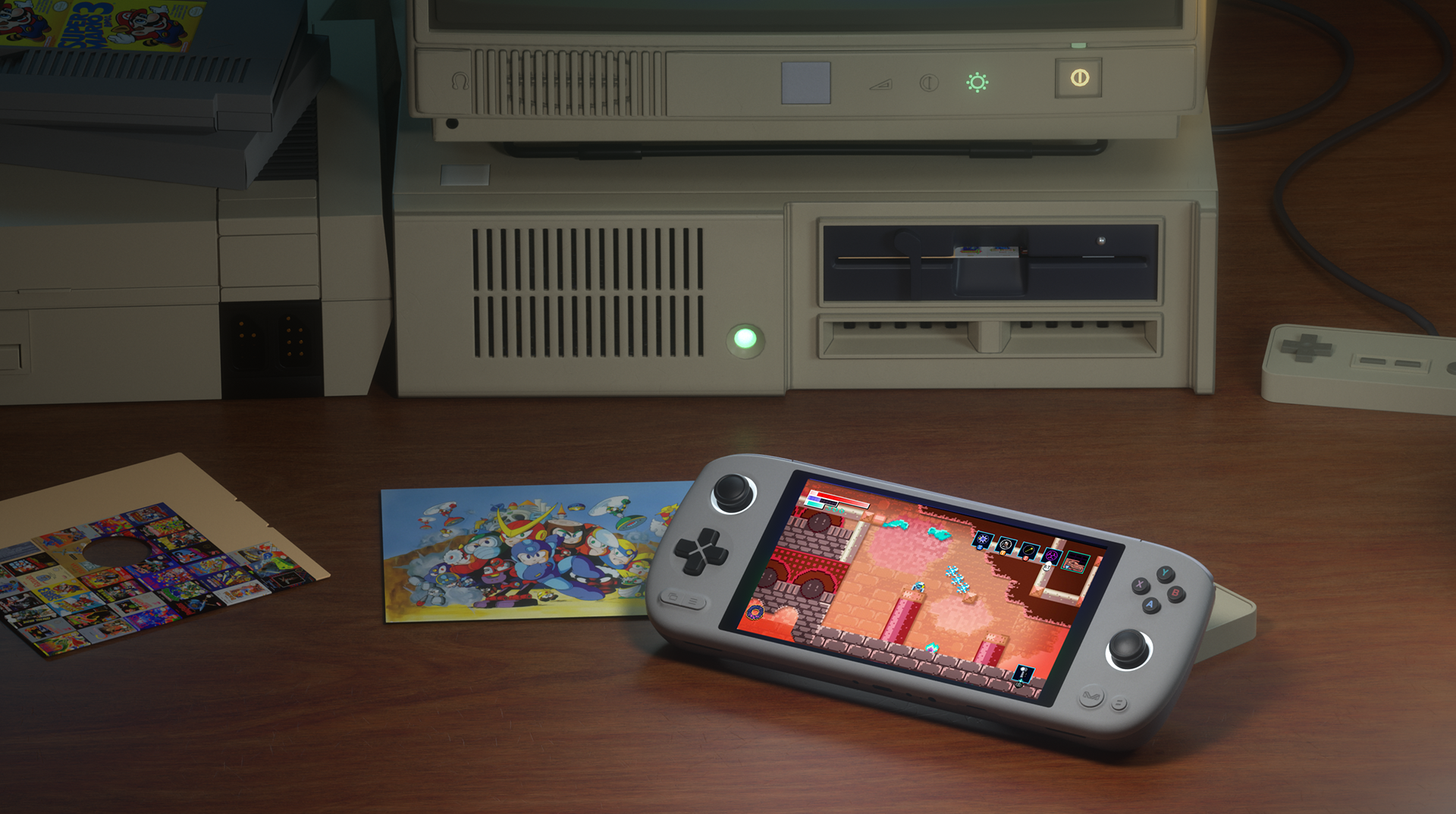 The decorative strips of AYANEO AIR Plus 6800U are embellished with silver-gray shades, where the Classic Gray and the future of technology meet, and the feelings and performance of handheld games are blended and stirred, accompanying players to indulge in the gaming battlefield.
Full "core" combination, battery life and performance upgrade a lot
In addition to the AMD 6800U chip with peak performance, AYANEO AIR Plus provides more chip options to meet the needs of different players. AYANEO AIR Plus offers the Intel Alder Lake i3 1215U version, which is also the first time that AYANEO handhelds are equipped with Intel chips.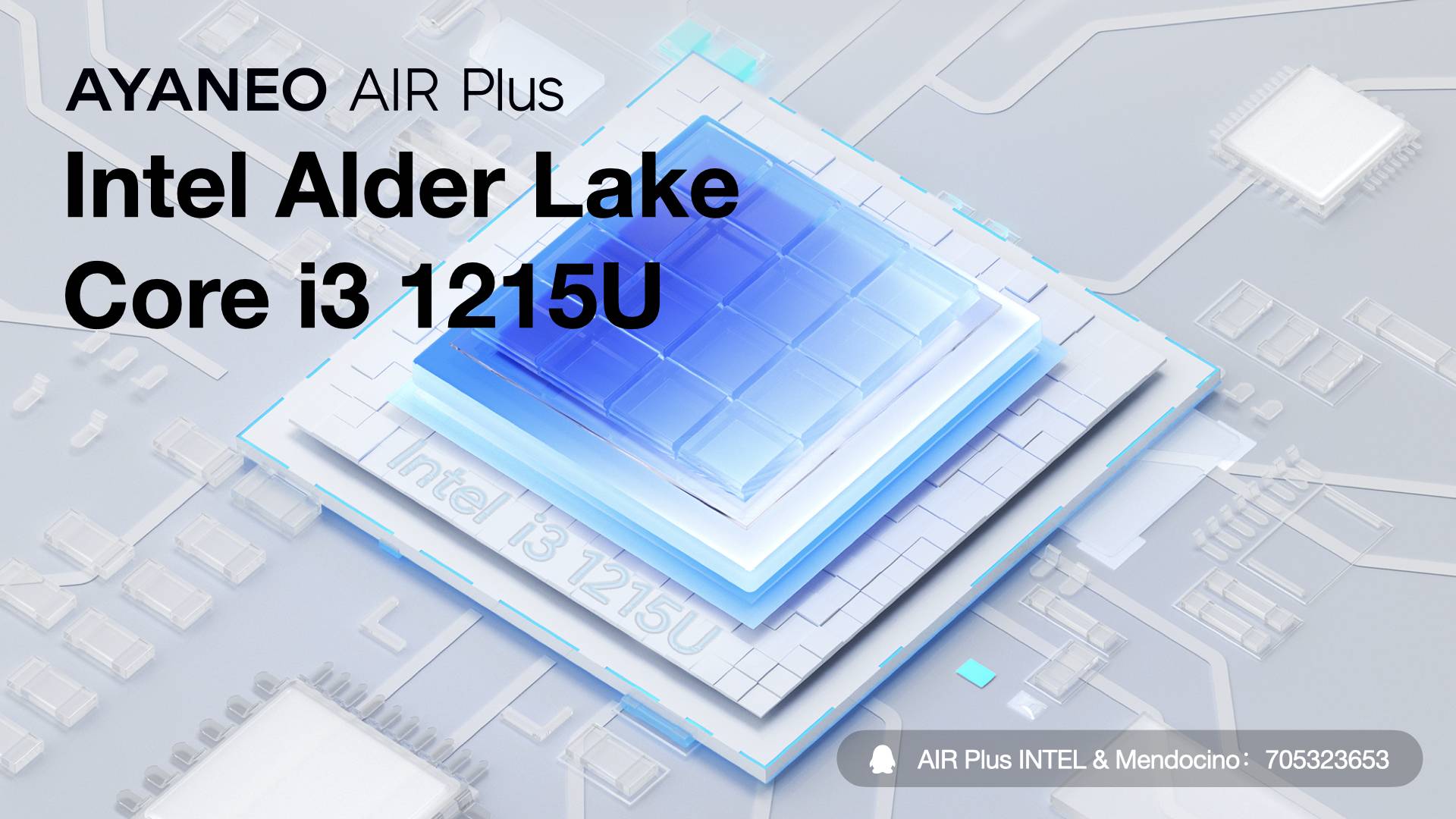 Intel Alder Lake i3 1215U adopts a highly disruptive hybrid architecture, organically combining performance cores and efficiency cores, heterogeneous strong cores, 15W basic power consumption can also meet diverse advanced performance requirements, and achieve a balance between power consumption and performance , allowing players to enjoy a smooth gaming experience on thin and light handhelds.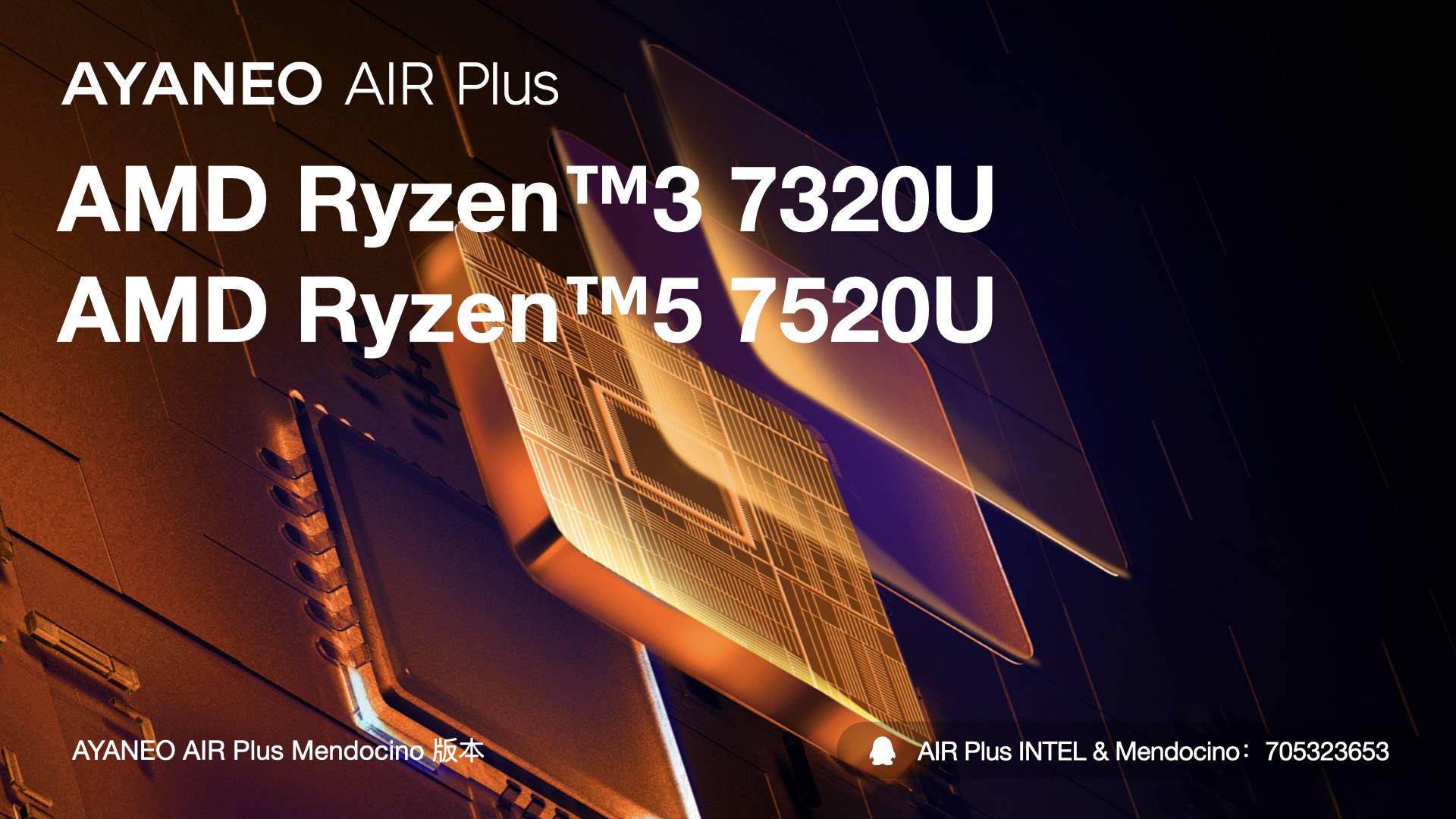 AYANEO AIR Plus Mendocino is equipped with AMD Ryzen™3 7320U CPU and AMD Ryzen™5 7520U CPU with improved performance. With the leading RDNA 2 graphics architecture, it brings players an upgraded game visual experience. The excellent energy consumption ratio is like a leap forward, helping the handheld battery life experience to leapfrog.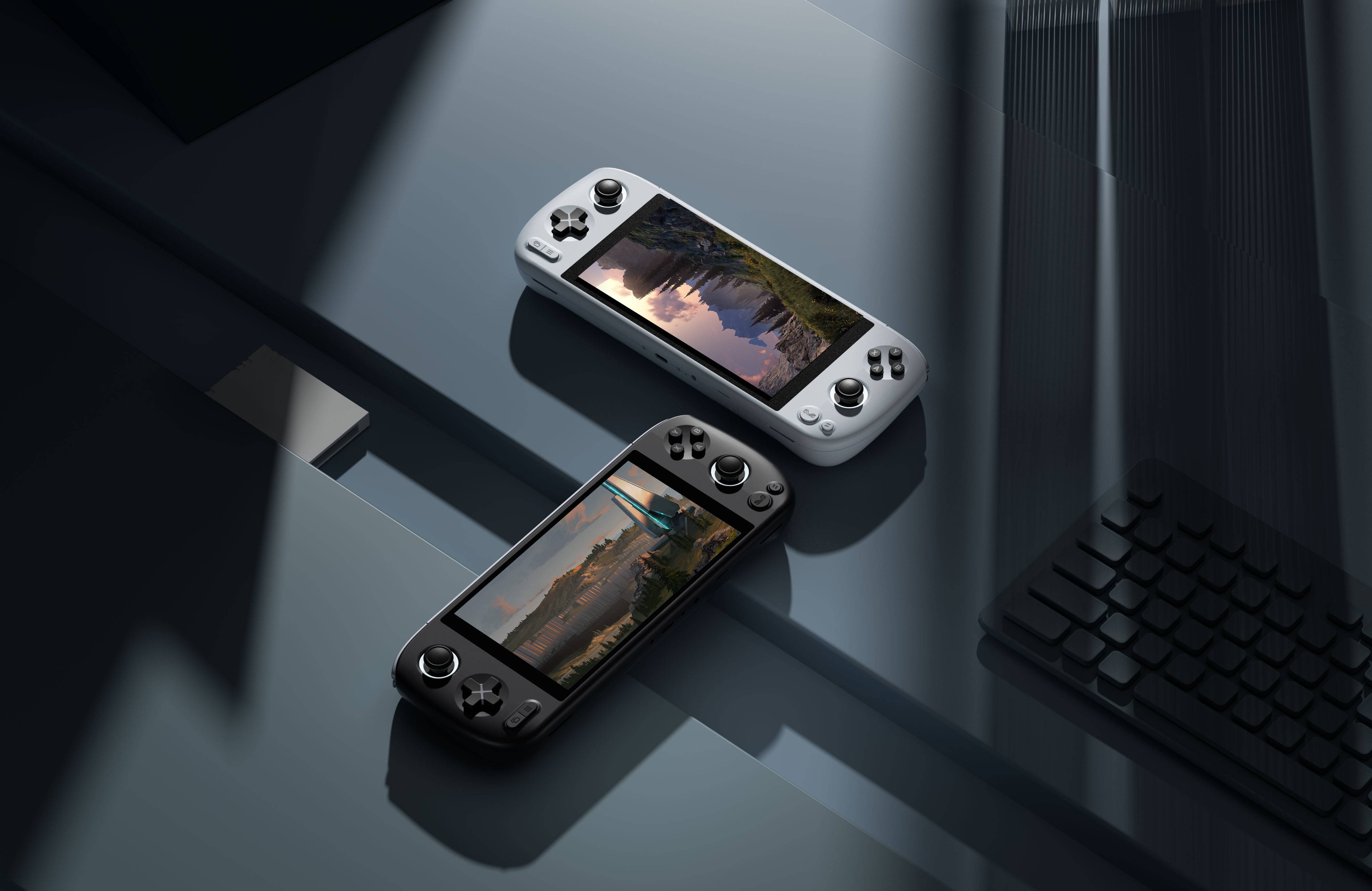 The balanced performance of AYANEO AIR Plus Intel & Mendocino can be switched freely between light 3A games, streaming games and cloud games. AYANEO is committed to making AIR Plus the first Windows handheld for the young people of Generation Z. It is cost-effective and meets the pursuit of balanced performance and battery life of Generation Z users.
Continue to improve AYASpace and reconstruct the handheld software ecosystem.
"AYASpace" is a user-friendly and convenient PC handheld management software independently developed by the AYANEO software team. It has functions such as game content management front-end, device driver hardware management, cloud game database, multi-terminal interactive APP, and quick setting of small windows. The barrier between the system and the handheld allows the small screen to be operated freely through buttons.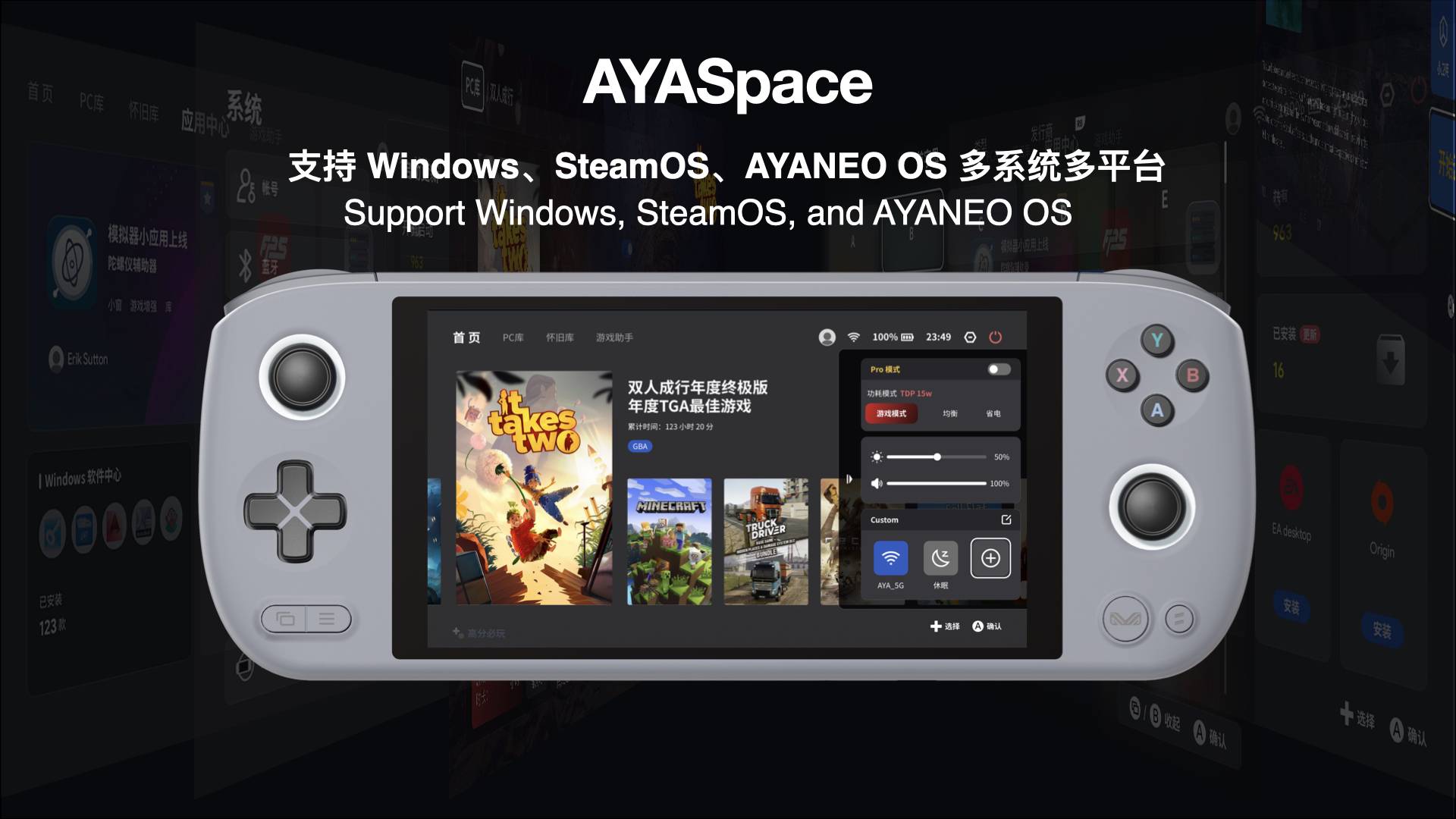 AYASpace's exclusive "Mini application" platform has been loved by a large number of users since its launch. "Small App" is a lightweight R&D and rapid release platform based on AYASpace, using "Small App" to quickly distribute and deploy high-level functions required by users to meet the needs of different players for equipment and experience.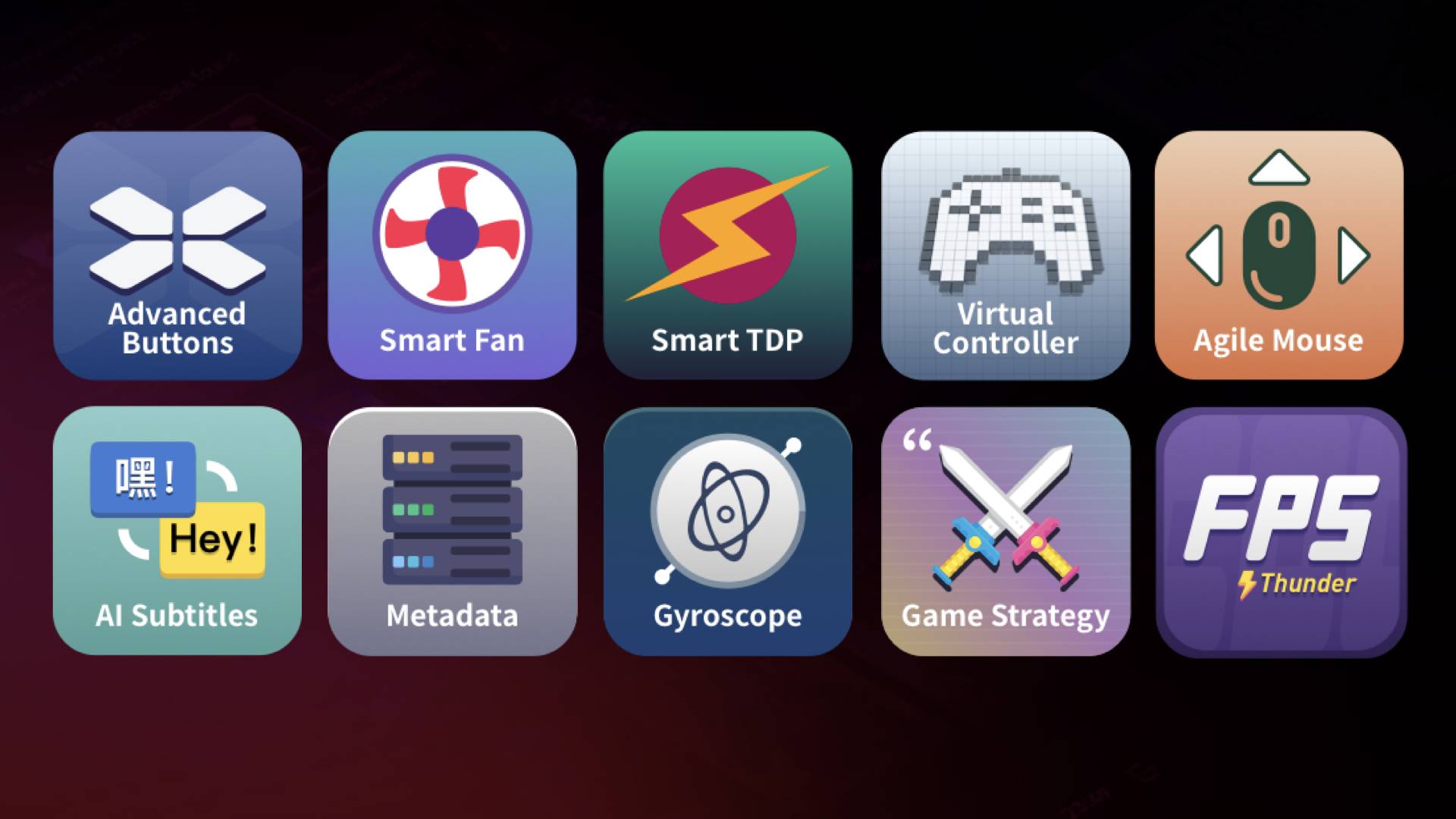 In addition to the "Virtual Controller" and "Advanced Buttons" first released on AYANEO AIR Plus, AYASpace has recently launched more practical small applications to further enhance the player's experience.
[Agile Mouse]
"Smart Mouse" is based on the simulated mouse function of AYASpace, and according to the AYANEO team's understanding of Windows operation and player feedback, it opens up more configurable detailed settings, so that players can operate the mouse more freely and smartly, further Solve the problem that the player is inconvenient to operate in the Windows system.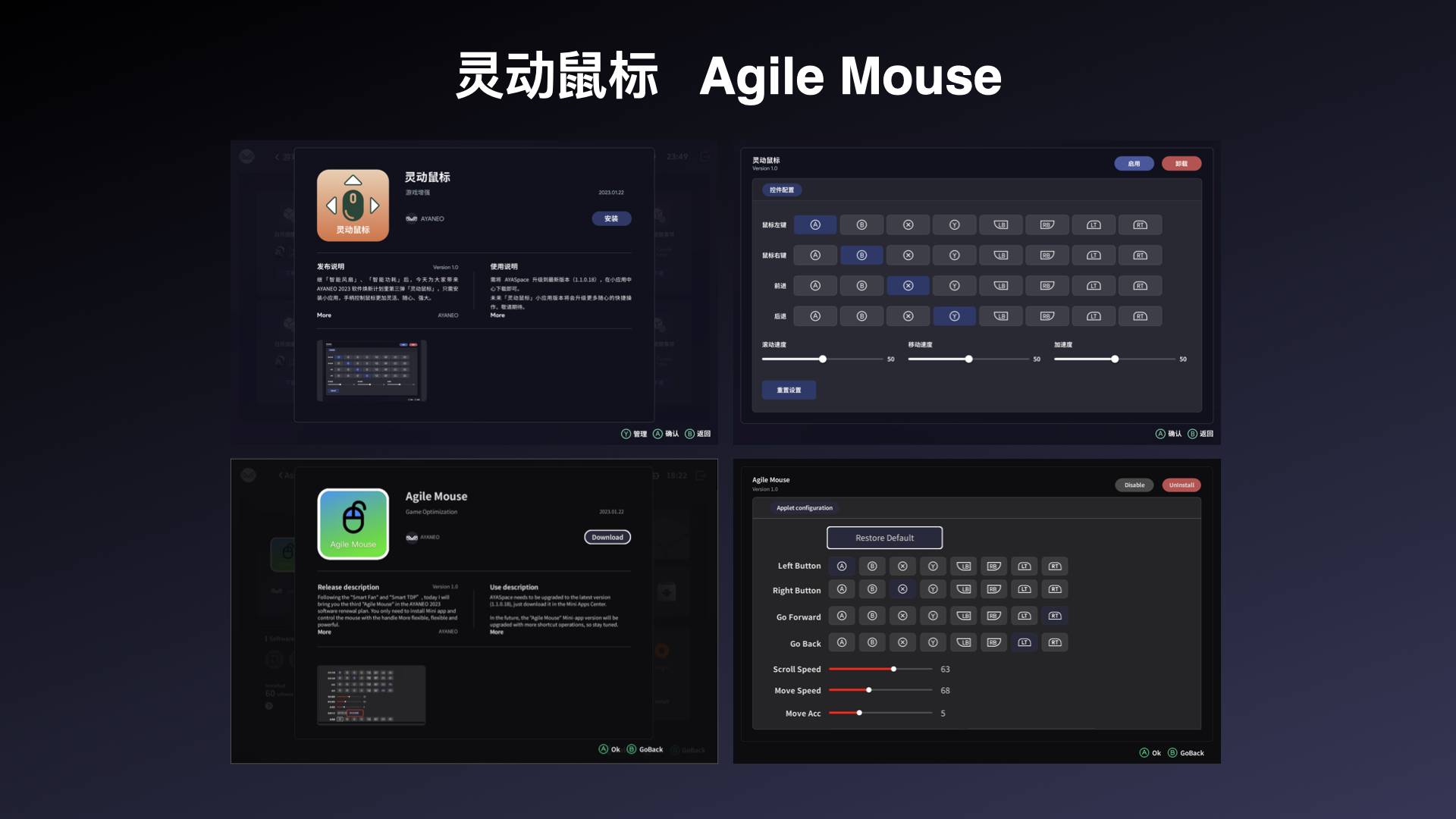 [Smart TDP]
In order to help Windows handhelds better balance performance release and battery life, the AYANEO team combined in-depth research and player communication feedback to launch the "Smart TDP" Mini application.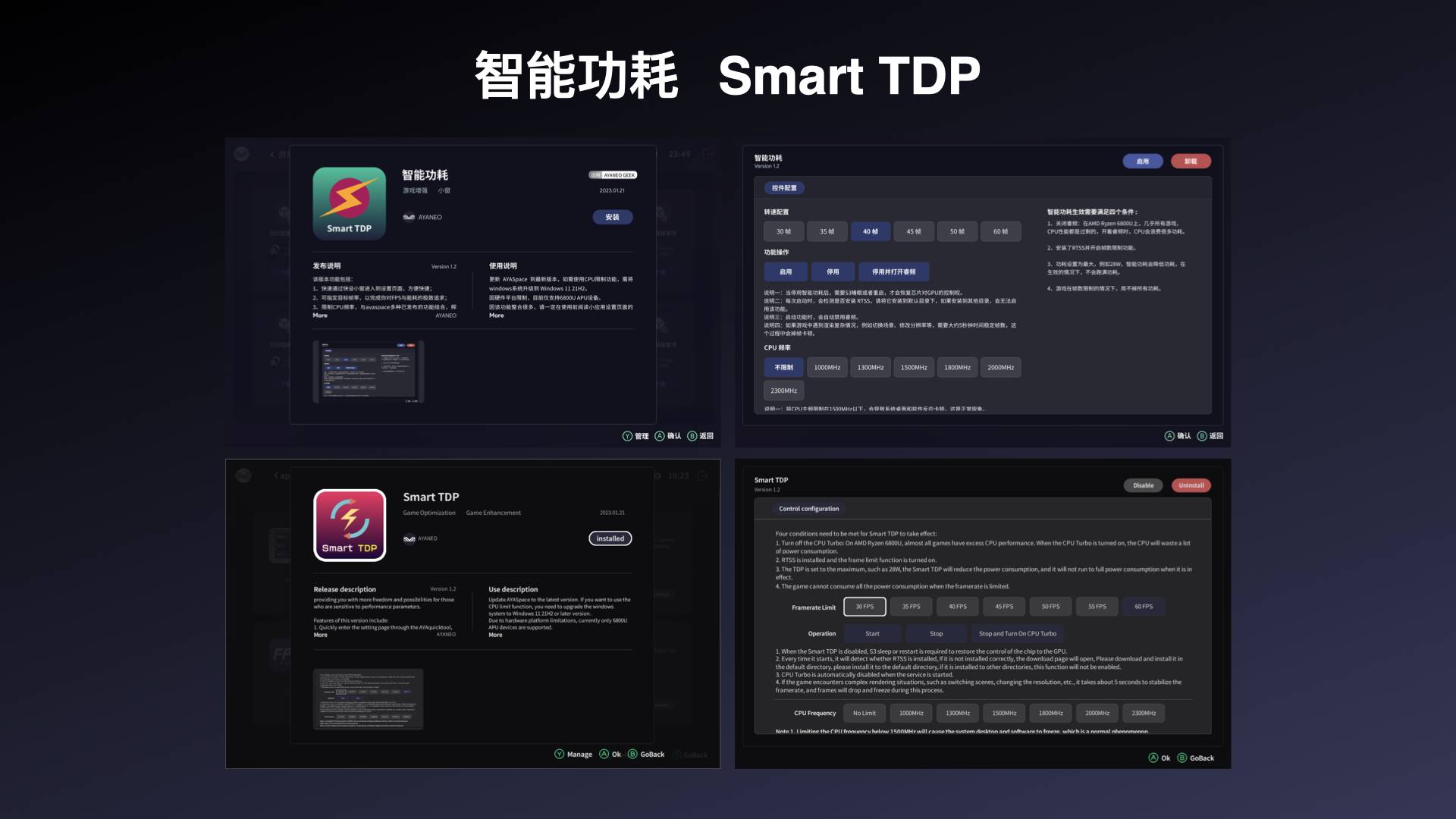 [Smart fan]
On the basis of ensuring the safe operation of the device, the AYANEO team launched the "Smart Fan" small application, and players can highly customize the fan scheduling method.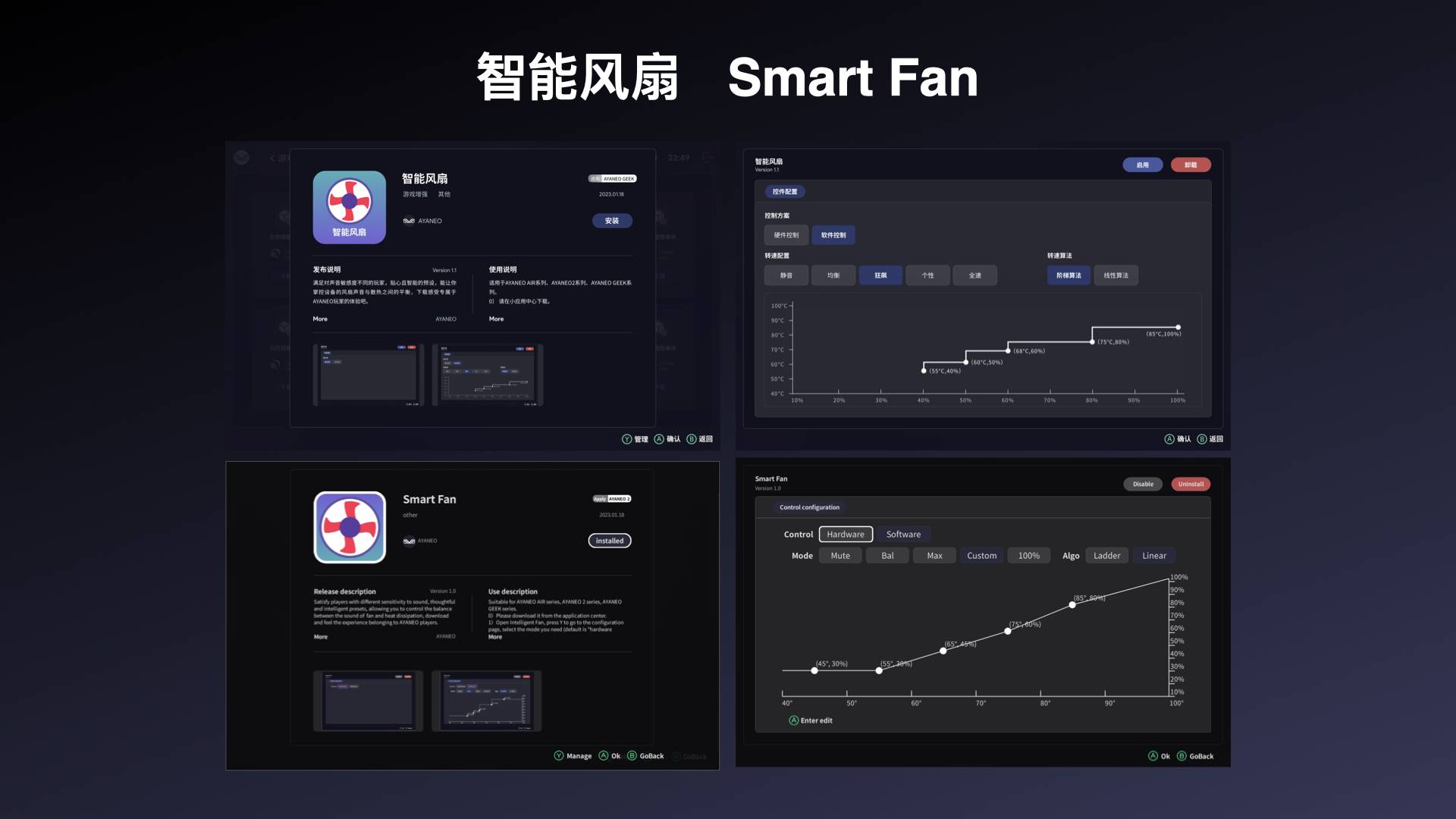 Players can choose hardware control in the "Smart Fan" and let the system intelligently dispatch the heat dissipation of the fan; or choose software control to enable preset gears such as mute, balance, hurricane, and full speed, or choose individual gears to match the ladder Algorithm and linear algorithm, manually adjust the scheduling strategy that suits you best.
It is AYANEO's consistent pursuit to pay attention to players' opinions and meet the highly customized needs of players. AYANEO will continue to develop more practical software functions, allowing players to enjoy continuous innovation and continuously improve the user experience. In the future, AYANEO will open development tools and documents to developers around the world, including component libraries, API documents, and exclusive AMD hardware interfaces, so that developers' infinite creativity can be delivered to every player more easily. A milestone step in history.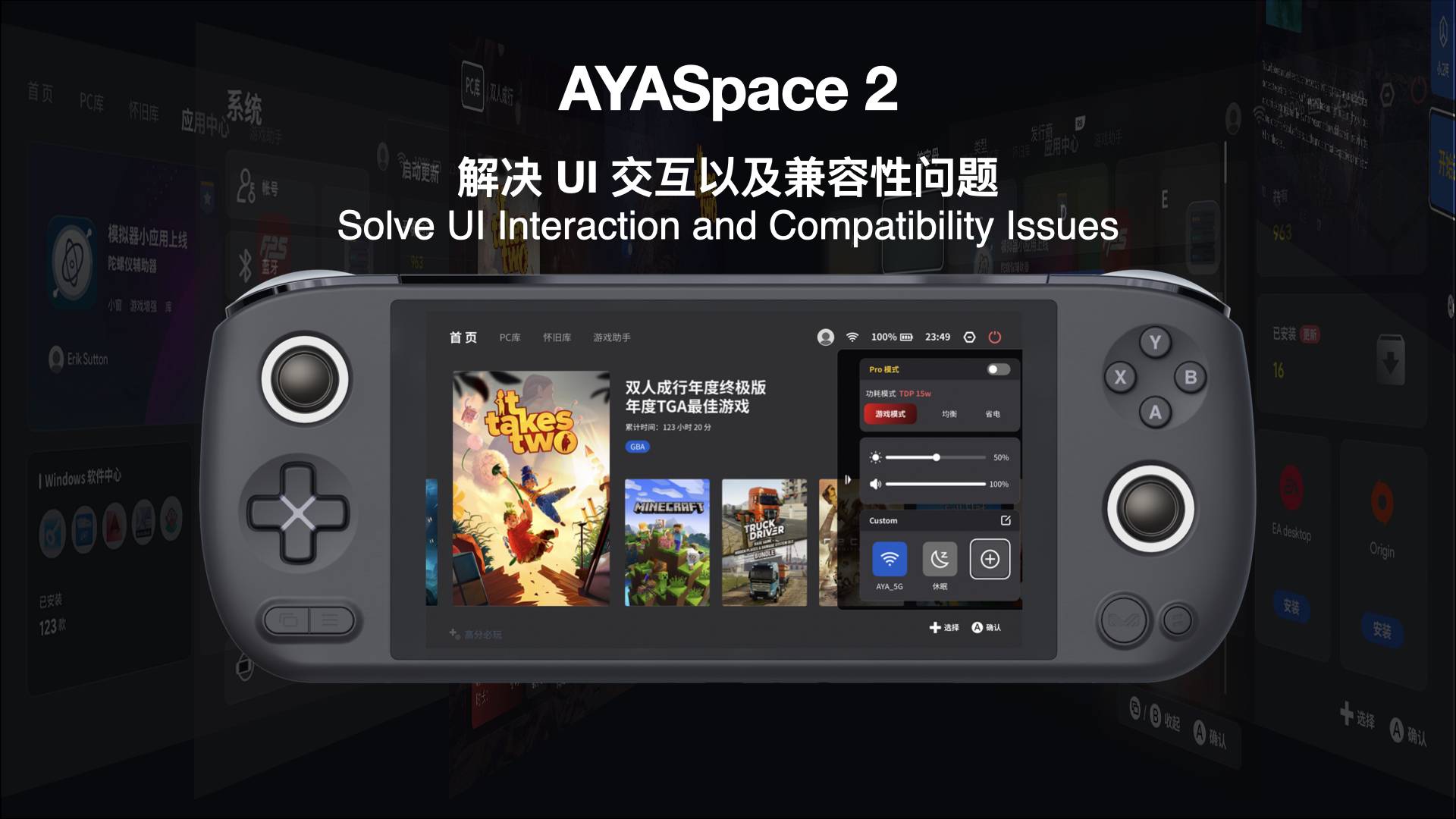 In addition, the AYANEO team is working on the development of AYASpace 2. AYASpace 2 will optimize and solve the existing UI interaction and compatibility issues of AYASpace. The interactive experience will be simpler and the functions will be more powerful. It is expected to meet players in a few months, so stay tuned.
In summary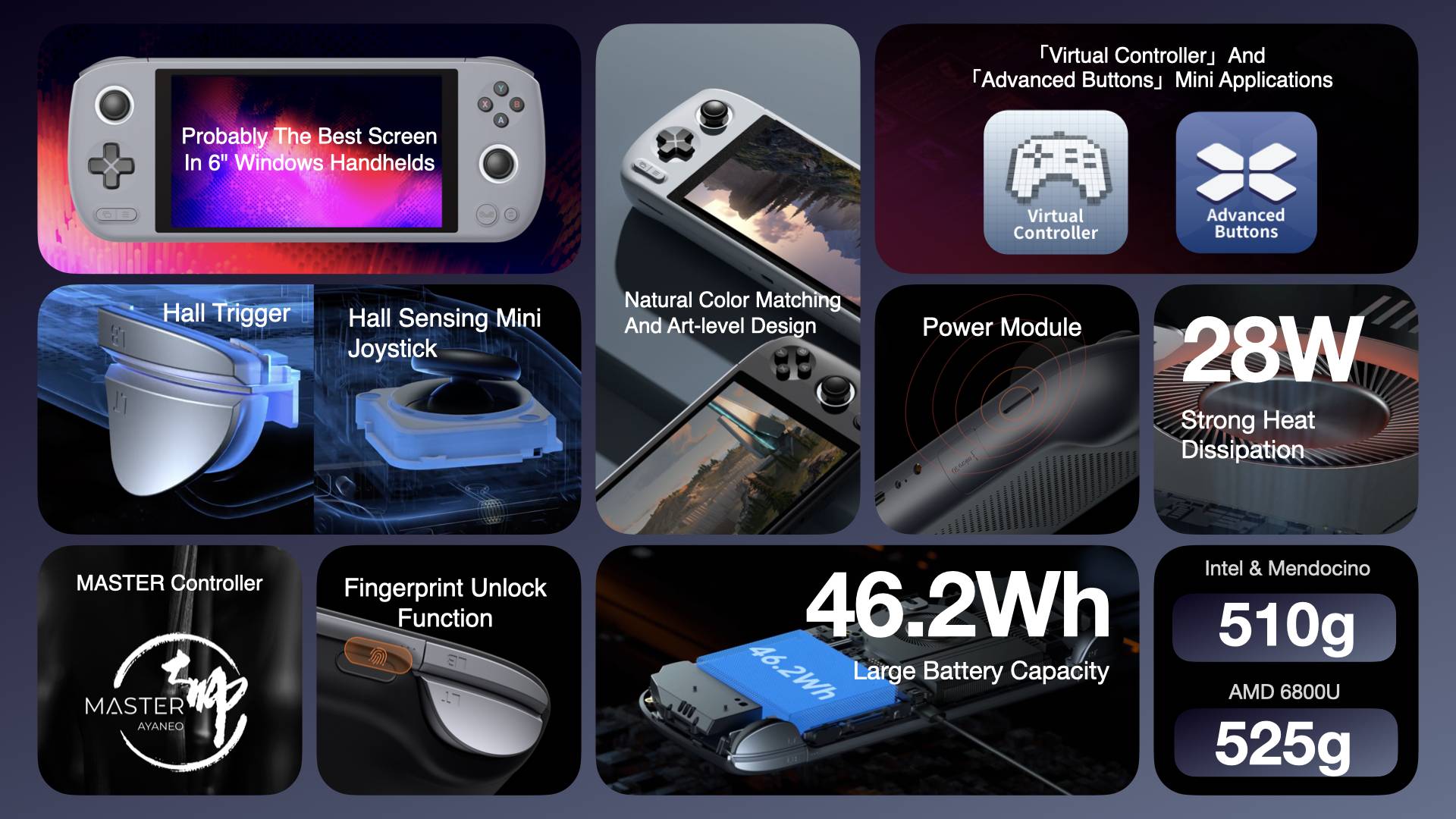 AYANEO AIR Plus has possibly the best screen for 6" handhelds, presenting exquisite game quality at all times; it adopts natural color matching and artistic appearance design, and even has 6800U exclusive retro classic gray color matching, continuing the exclusive AIRTouch feel, with smooth curves Ergonomic grip; full "core" combination, the Intel version provides a smooth experience of streaming games and cloud games, the AMD Mendocino version provides excellent energy consumption ratio, and the battery life experience is improved by leaps and bounds. There is also a true Plus AMD 6800U version, and the 3A gaming experience is soaring Breakthrough. Equipped with eight functions and six patents, the Master all-round handle brings many functions that are not available in professional handles to Windows handhelds; the small Hall joystick + Hall trigger, unprecedented sensitive and precise micro-operation; the first "virtual handle" and The "Advanced Button" small application makes the game control perfect; 46.2Wh large battery capacity, so you can say goodbye to power anxiety; it supports 28W powerful heat dissipation, and releases the violent performance to your heart's content; dual-channel cavity + smart power amplifier dual blessing, providing better performance Drunken sound quality. Fingerprint unlocking, dual Mic design, high-speed M.2 2280 SSD, rich interface configuration, and an exclusive software ecosystem, many features integrated into the compact body make AYANEO AIR Plus a well-deserved Plus handheld.
Accessories and Peripherals
AYANEO has carefully prepared a series of accessories for AYANEO AIR Plus for players.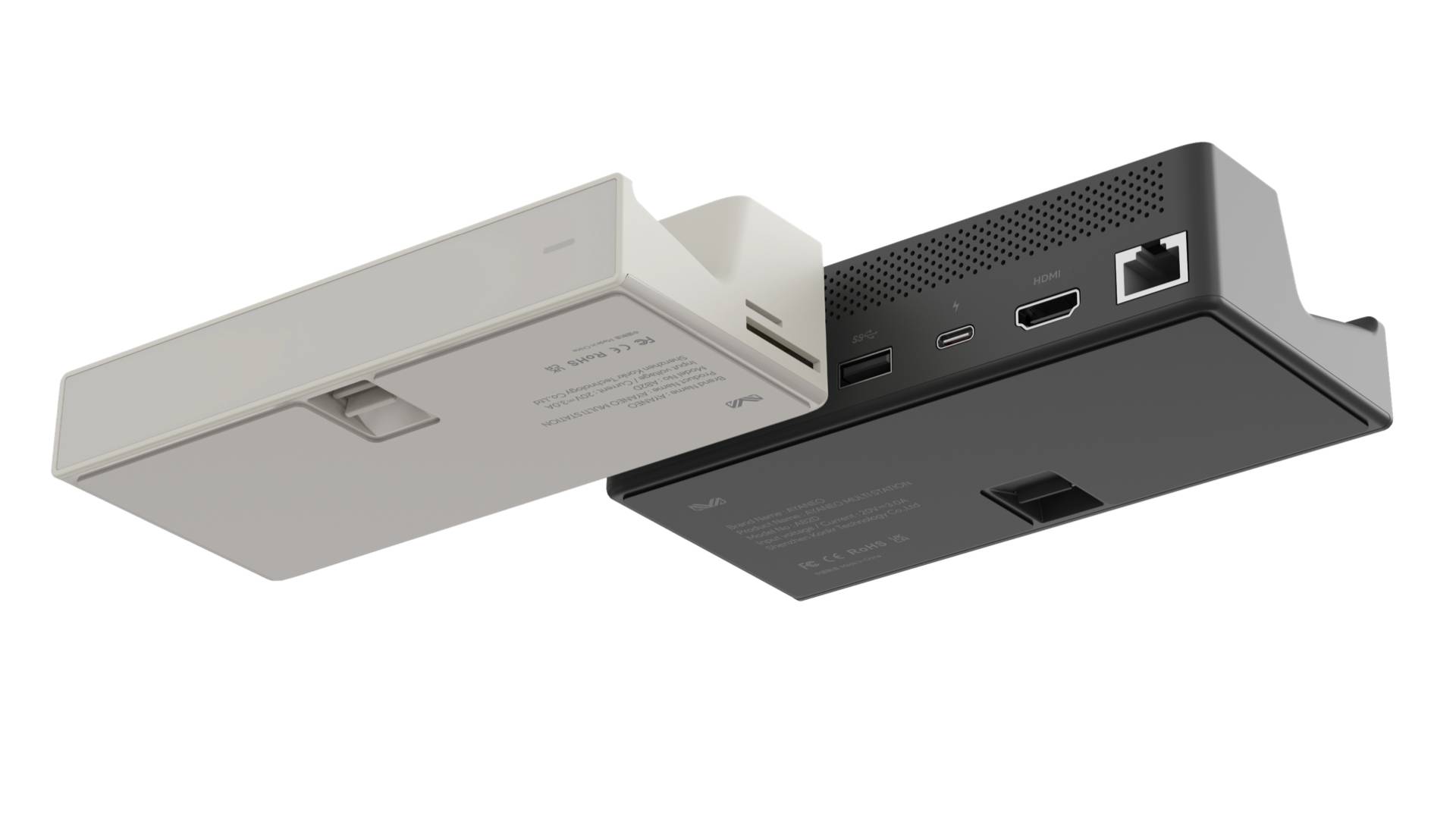 AYANEO's fully upgraded multi-functional docking station adopts a minimalist design and is available in almond gray and graphite black. The textured appearance perfectly matches all AYANEO products, enabling seamless switching of multiple scenes.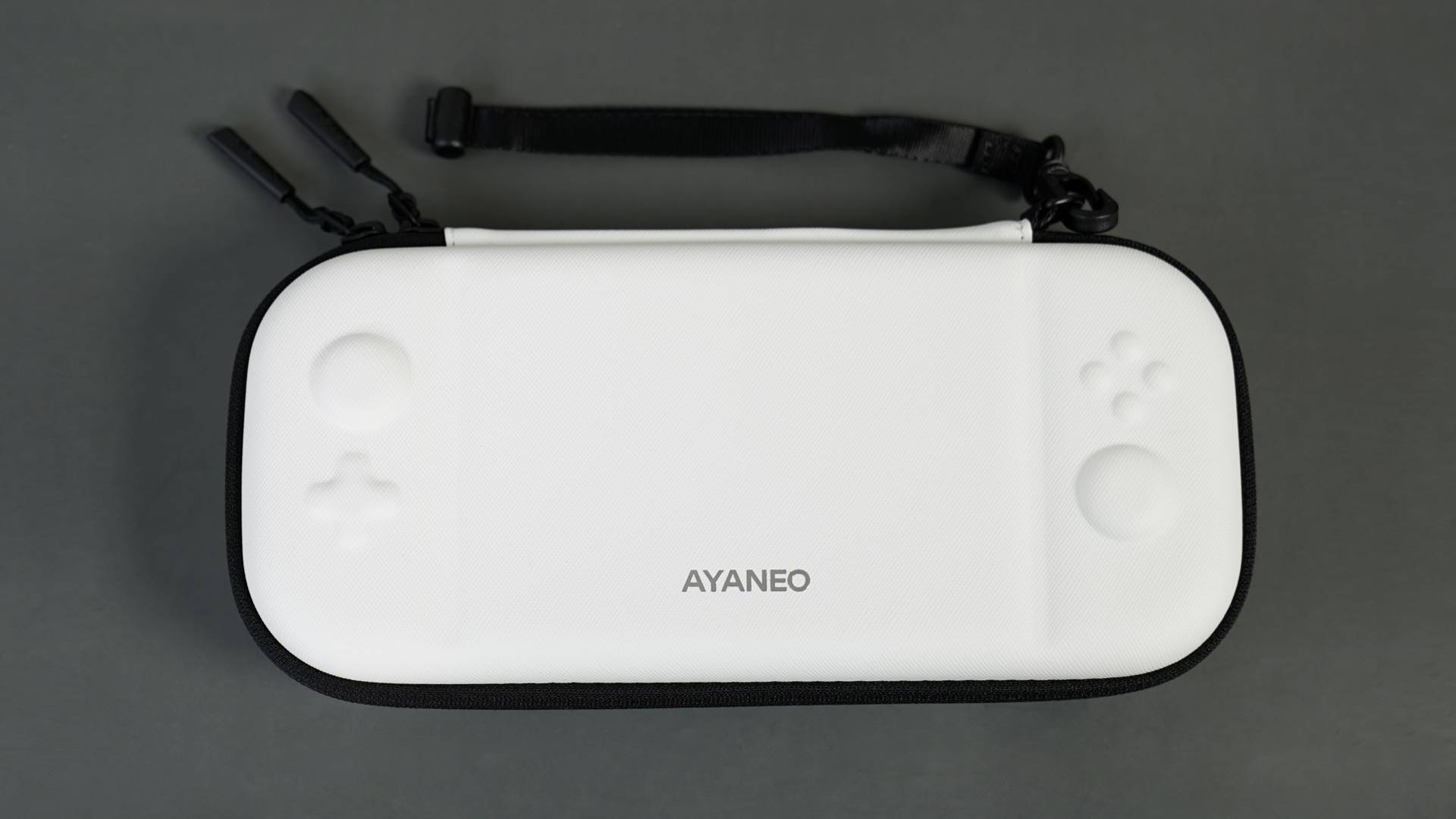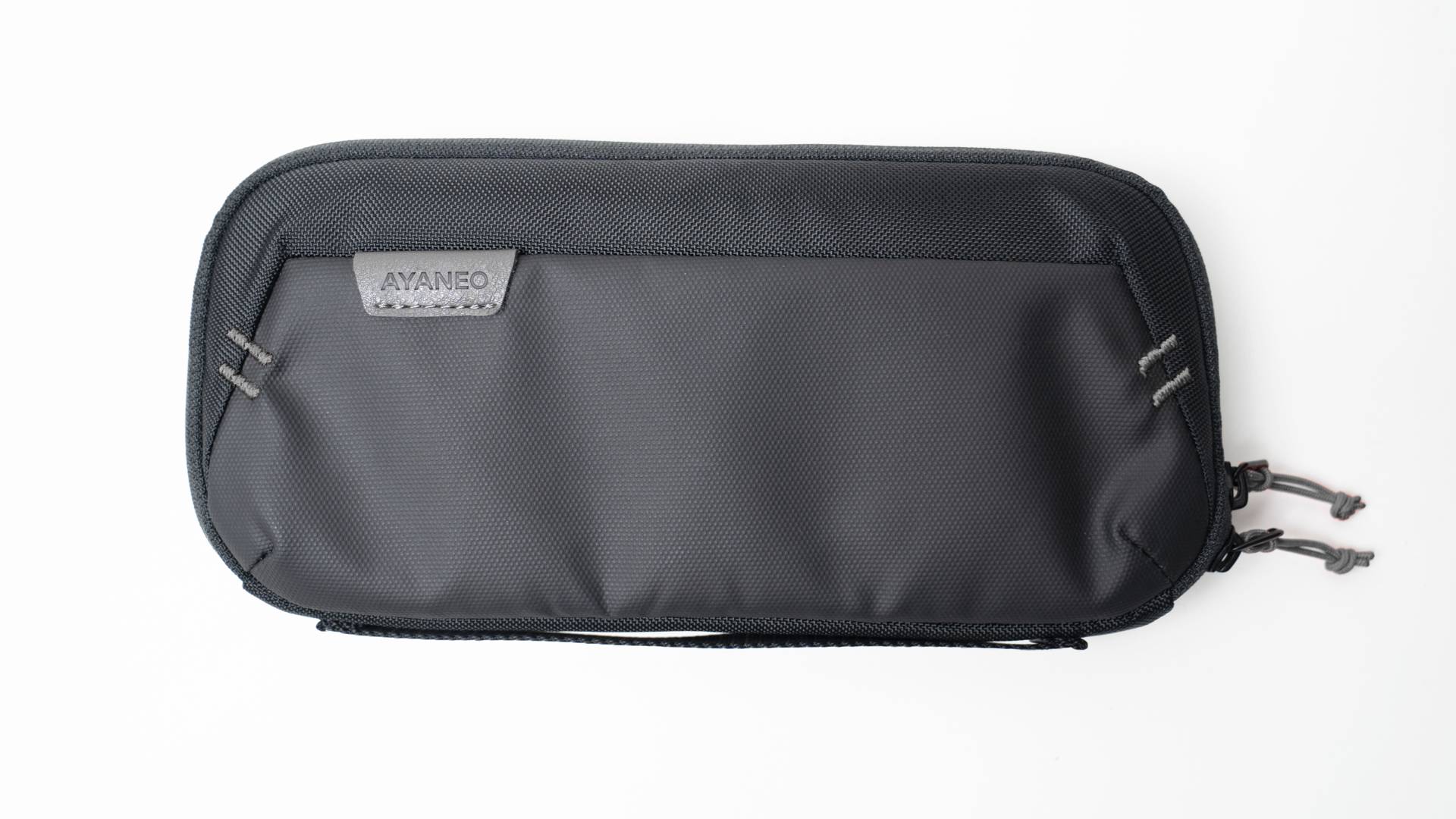 AYANEO AIR Plus hard storage bag and thin portable soft storage bag are jointly developed by AYANEO and the well-known storage product brand Tomtoc, which can protect the body well and make it more convenient to travel with the handheld every day.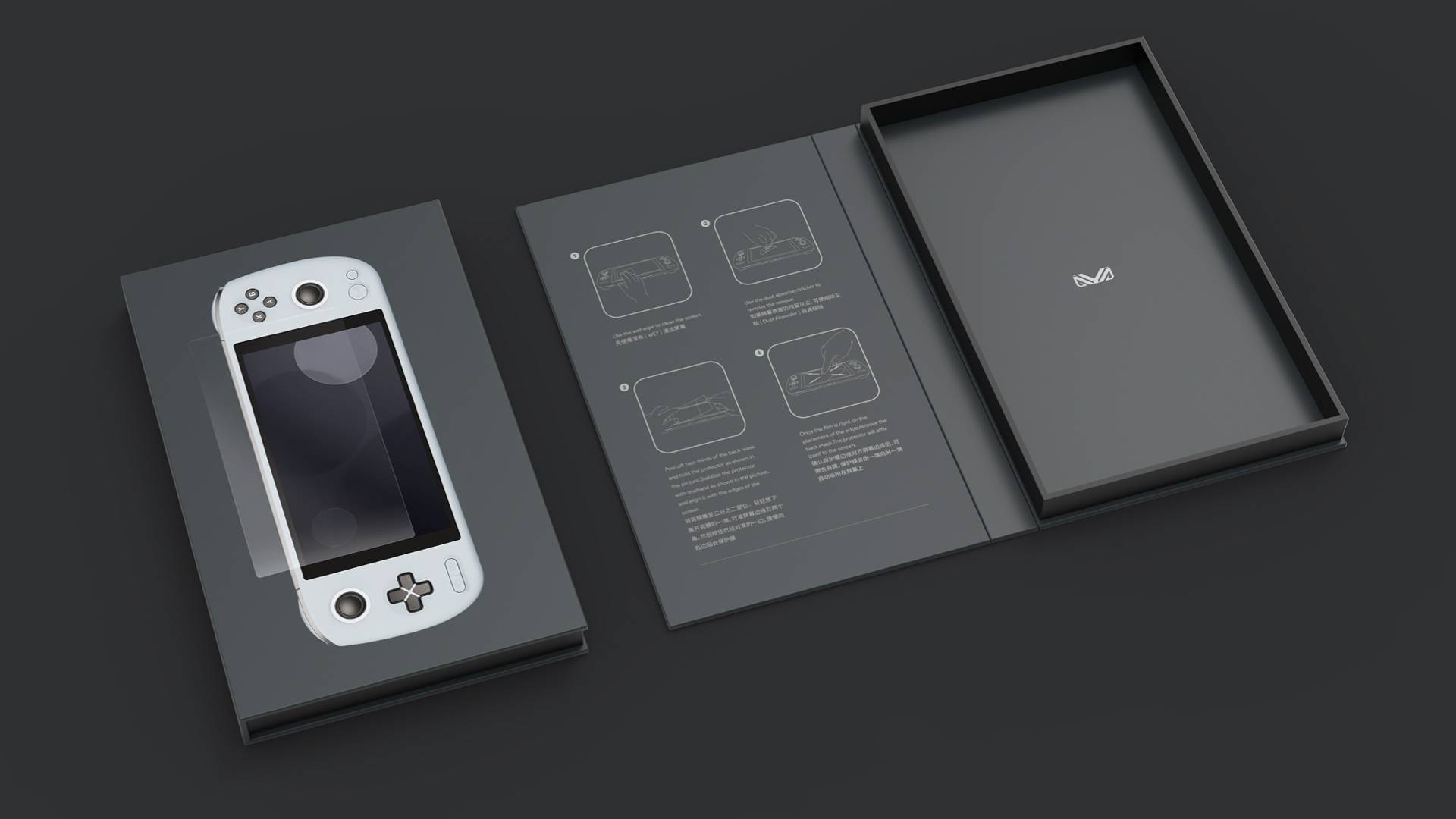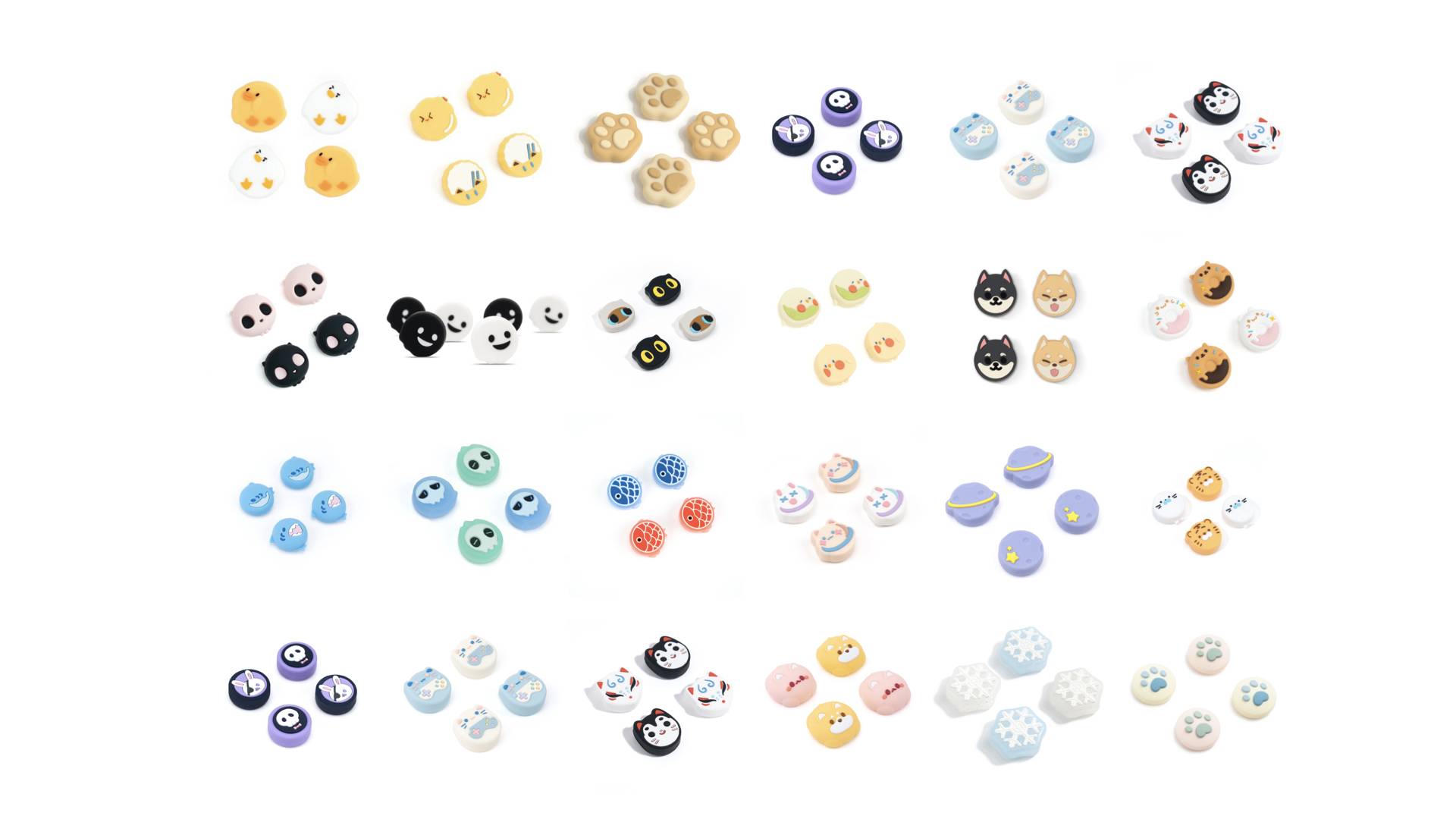 AYANEO has prepared a high-quality full-protection tempered glass film for AIR Plus to protect your phone at all times. For players who pursue individuality, AYANEO brings a wealth of trendy design rocker cap accessories, providing more personalized options and creating a private custom control experience.
Configuration combination, official price and delivery time
AYANEO AIR Plus inherits AYANEO's consistently high brand quality and continues AYANEO's ultimate pursuit of product power. The price and configuration of each version of AYANEO AIR Plus are as follows.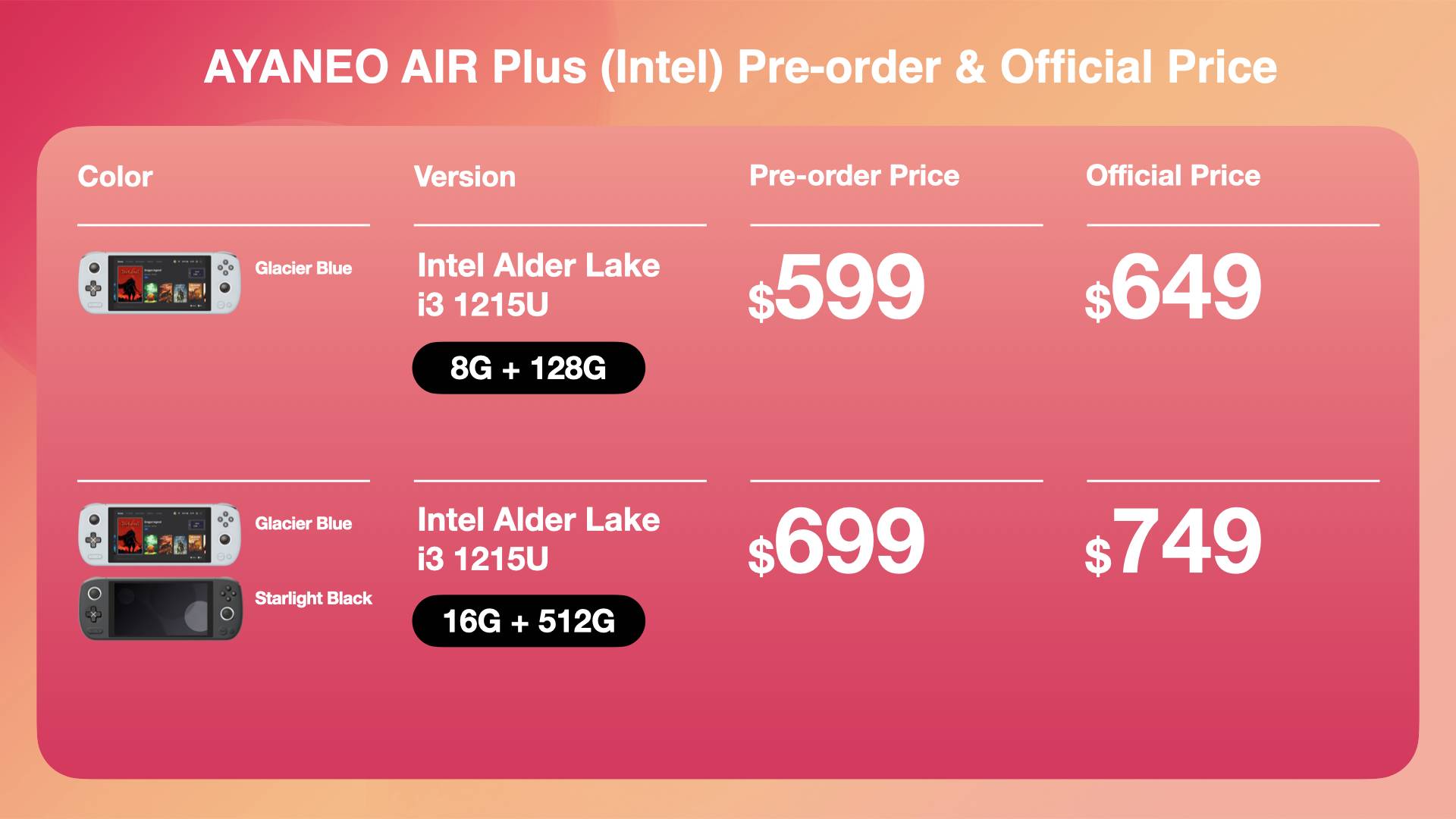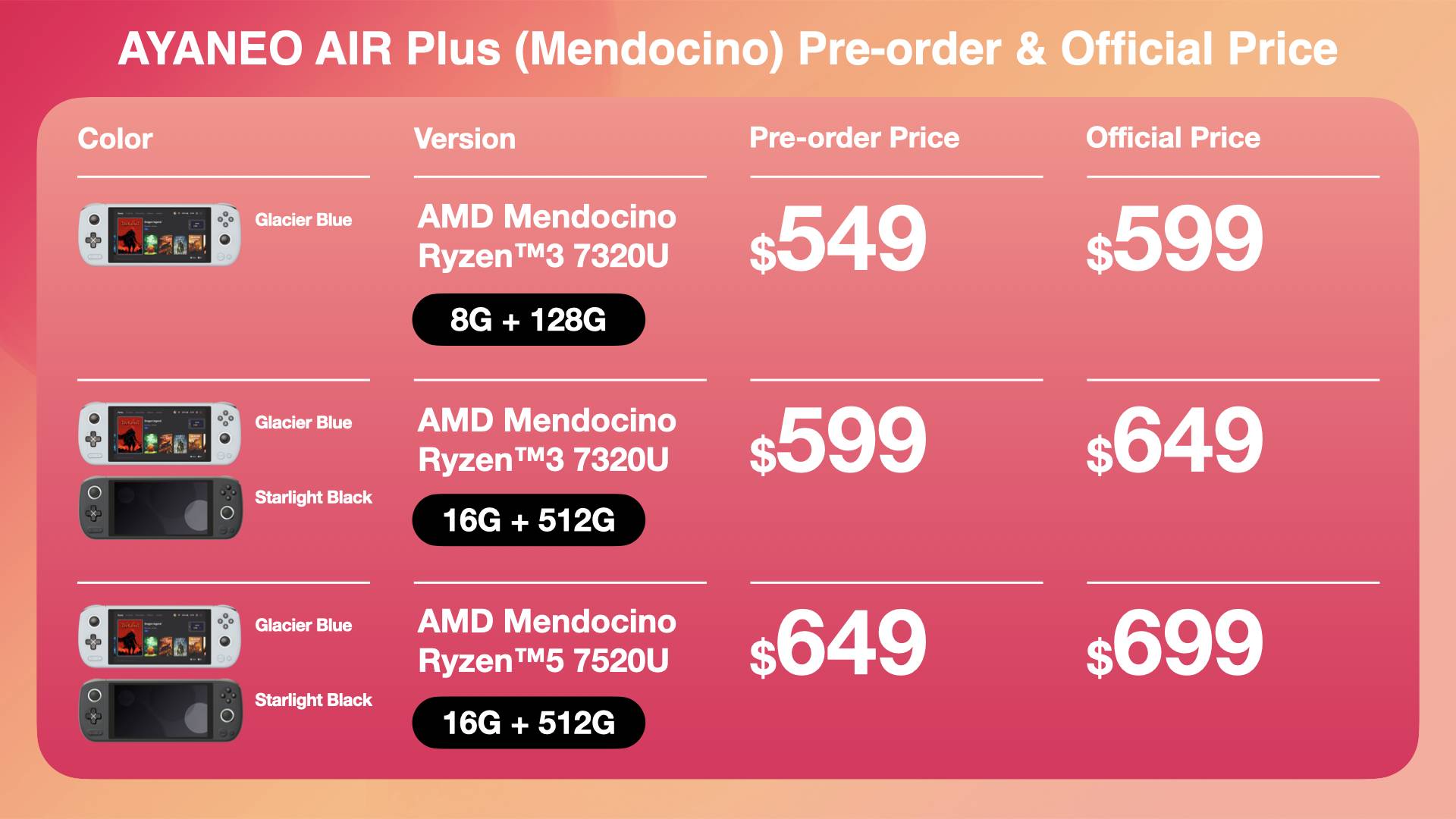 AYANEO AIR Plus Intel&Mendocino configuration, pre-order price and official price
At initial stage, the distribution channel of AYANEO AIR Plus Intel&Mendocino is IGG crowdfunding, which will be shipped in succession at the end of March, and we will announce it in succession.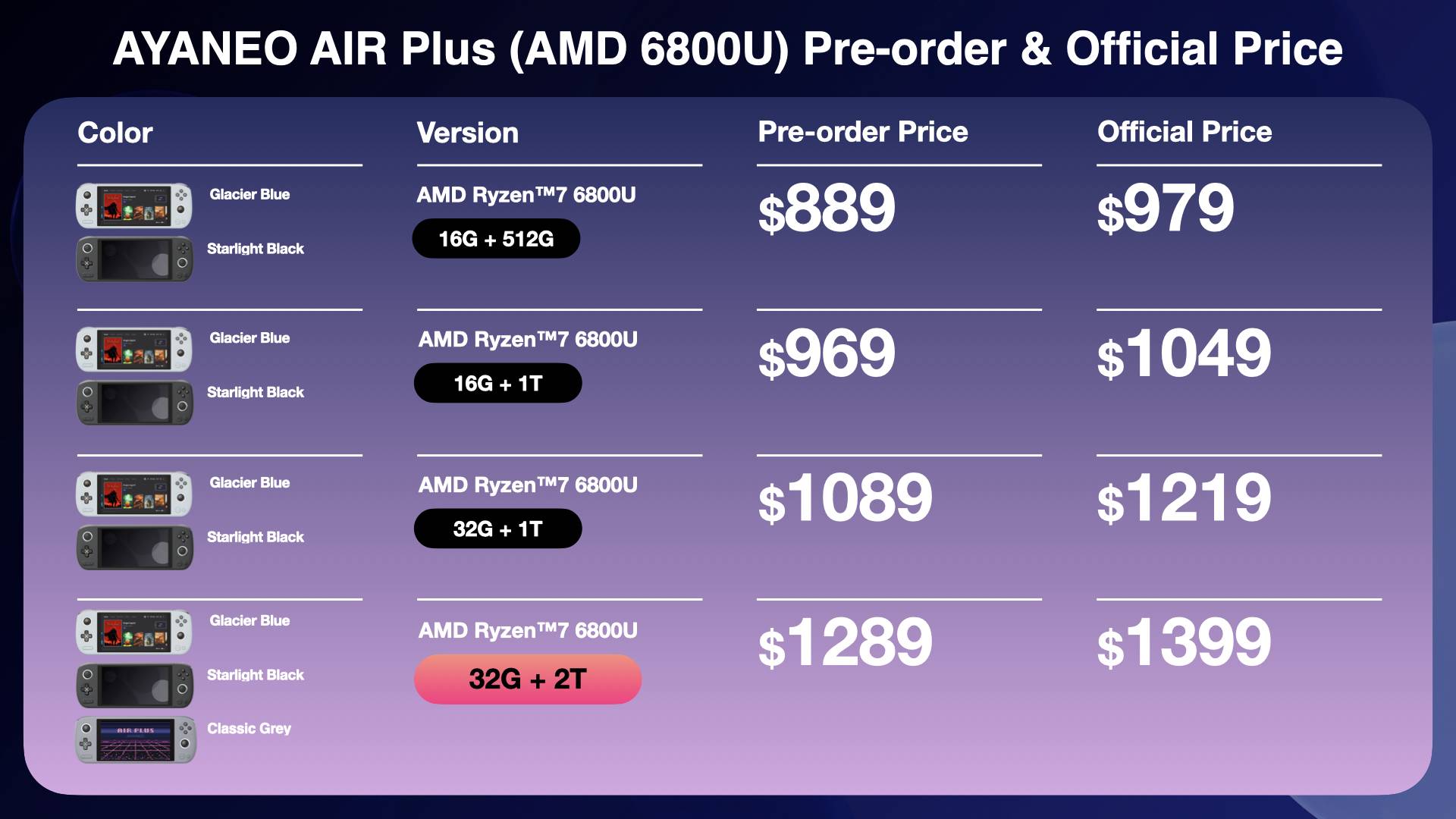 AYANEO AIR Plus AMD 6800U official configuration, pre-order price and official price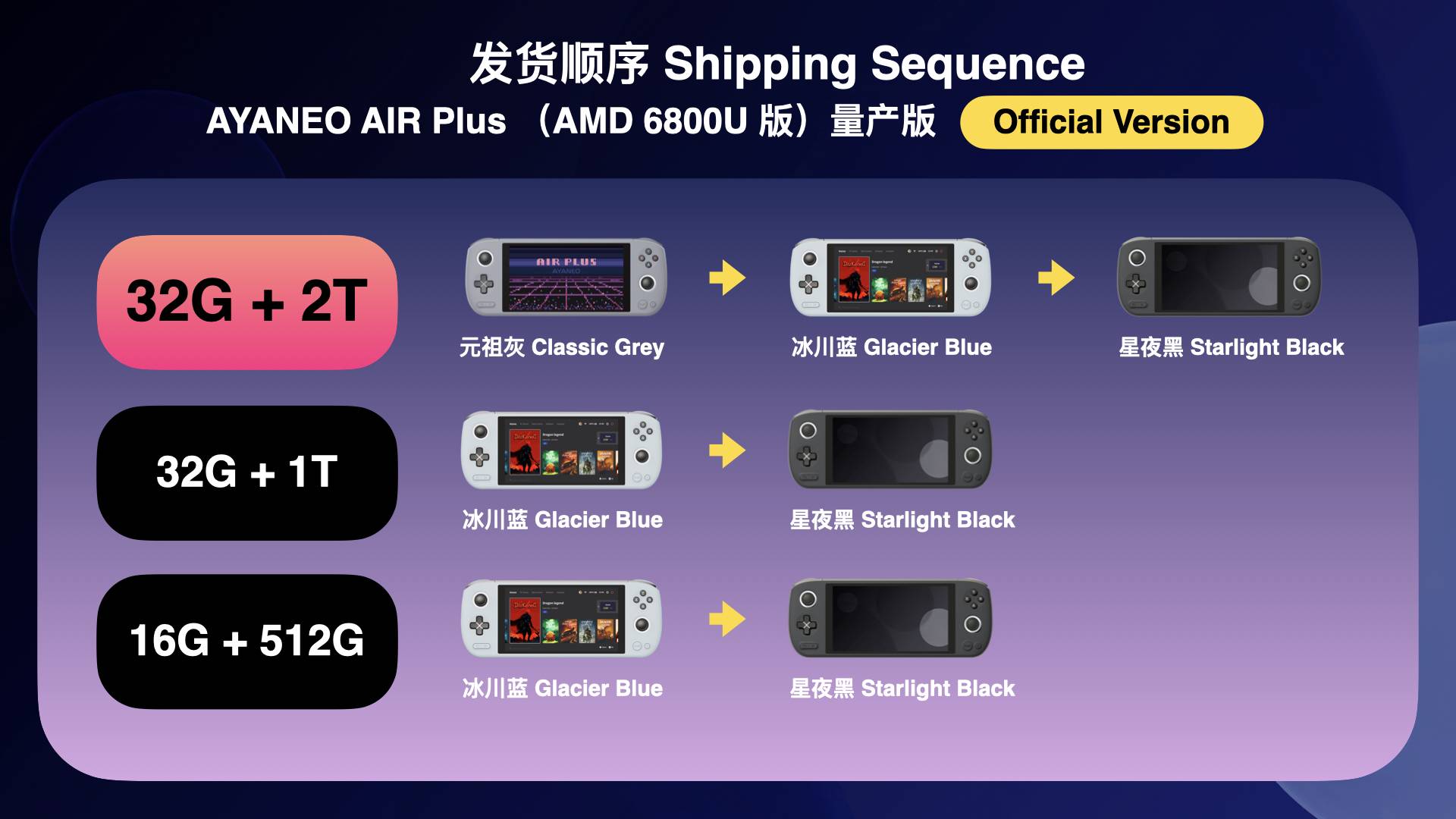 The distribution channel of AYANEO AIR Plus AMD 6800U is also IGG crowdfunding. The official version will be shipped successively at the end of April. The shipping sequence is shown in the figure above.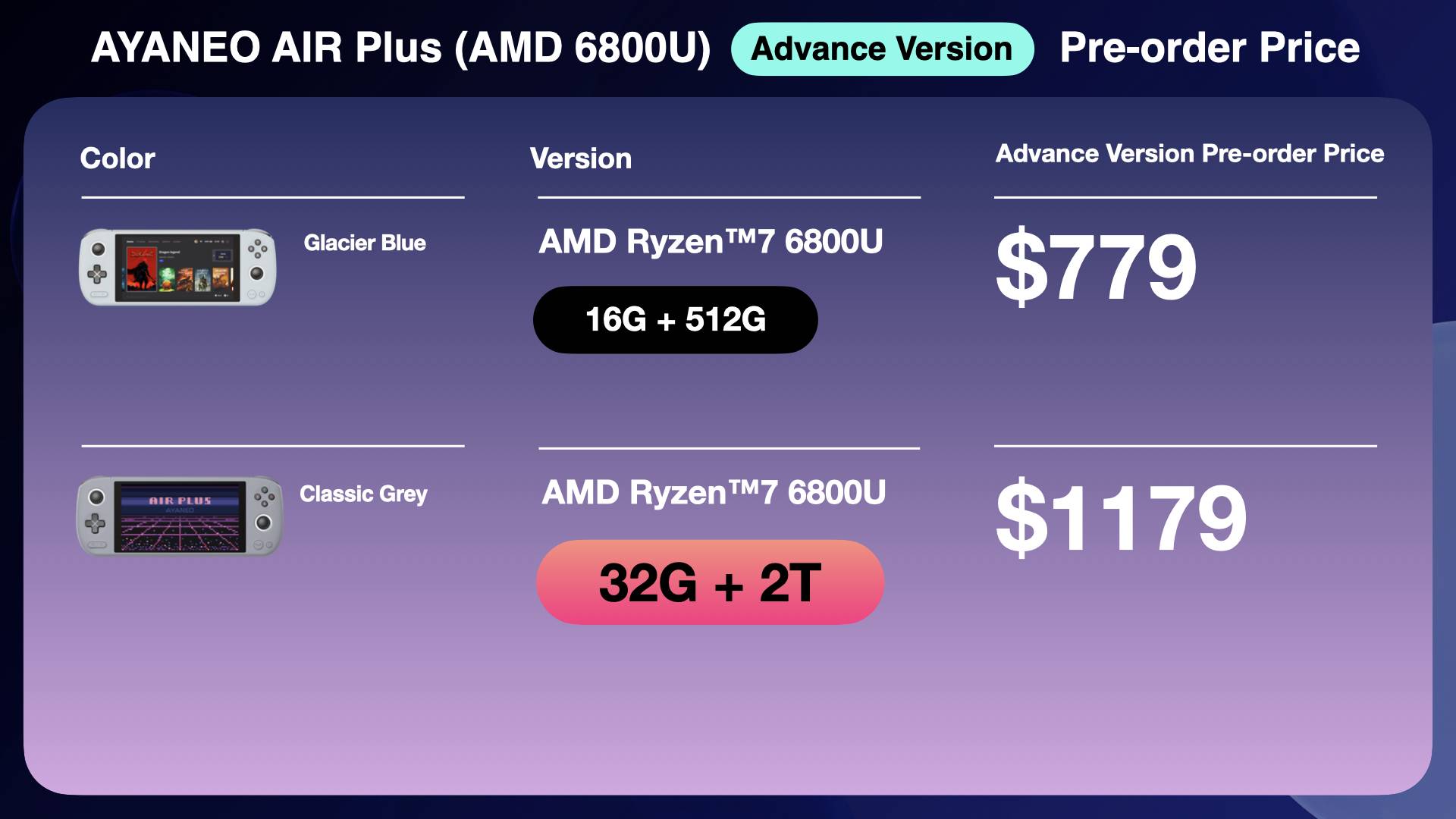 AYANEO AIR Plus AMD 6800U beta version configuration and price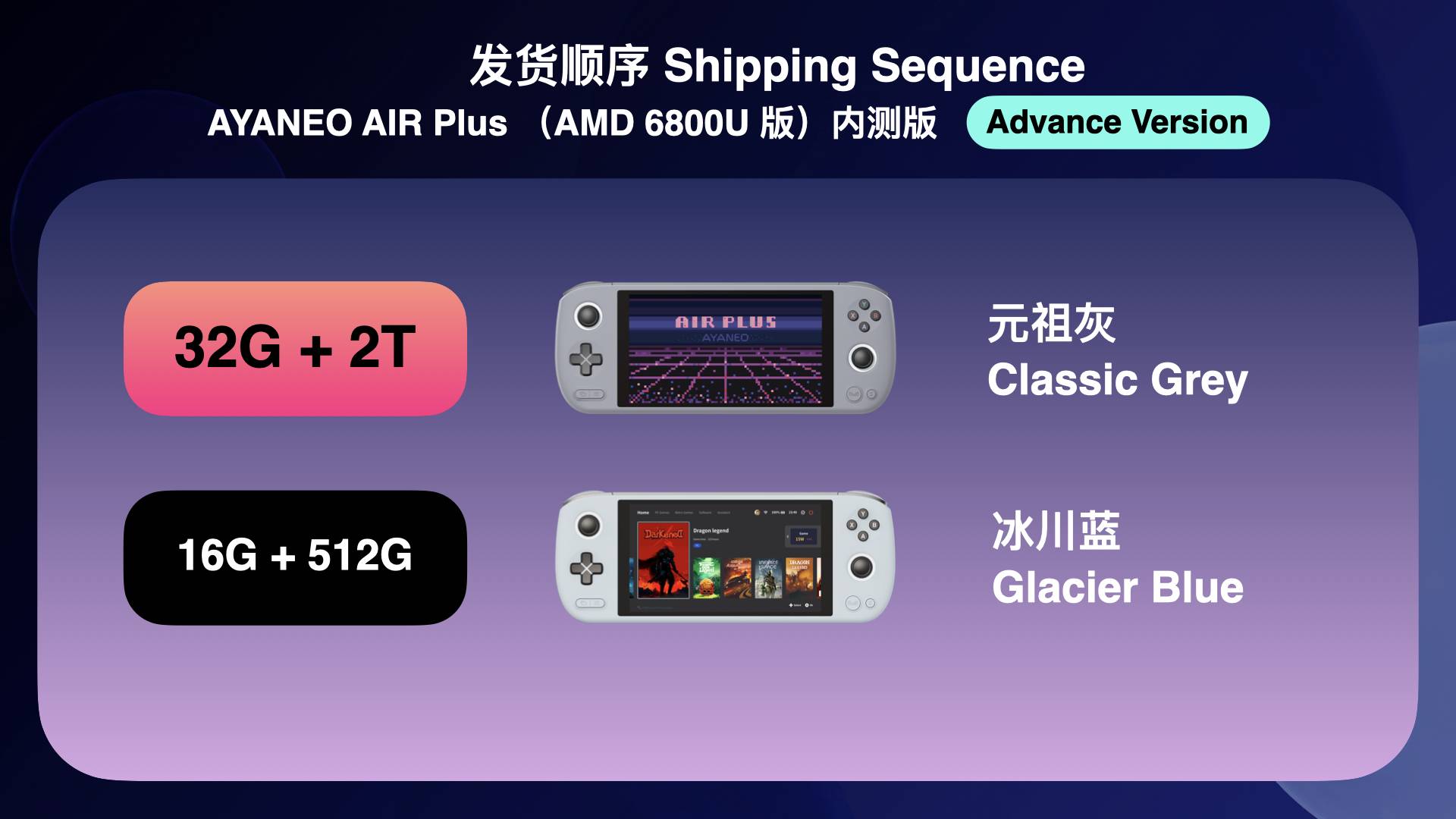 AYANEO AIR Plus AMD 6800U has a limited number of beta versions. The application for internal beta is open to AYANEO fans all over the network, and they can enjoy a more preferential price. They will start shipping in advance at the end of March. The shipping sequence is shown in the figure above.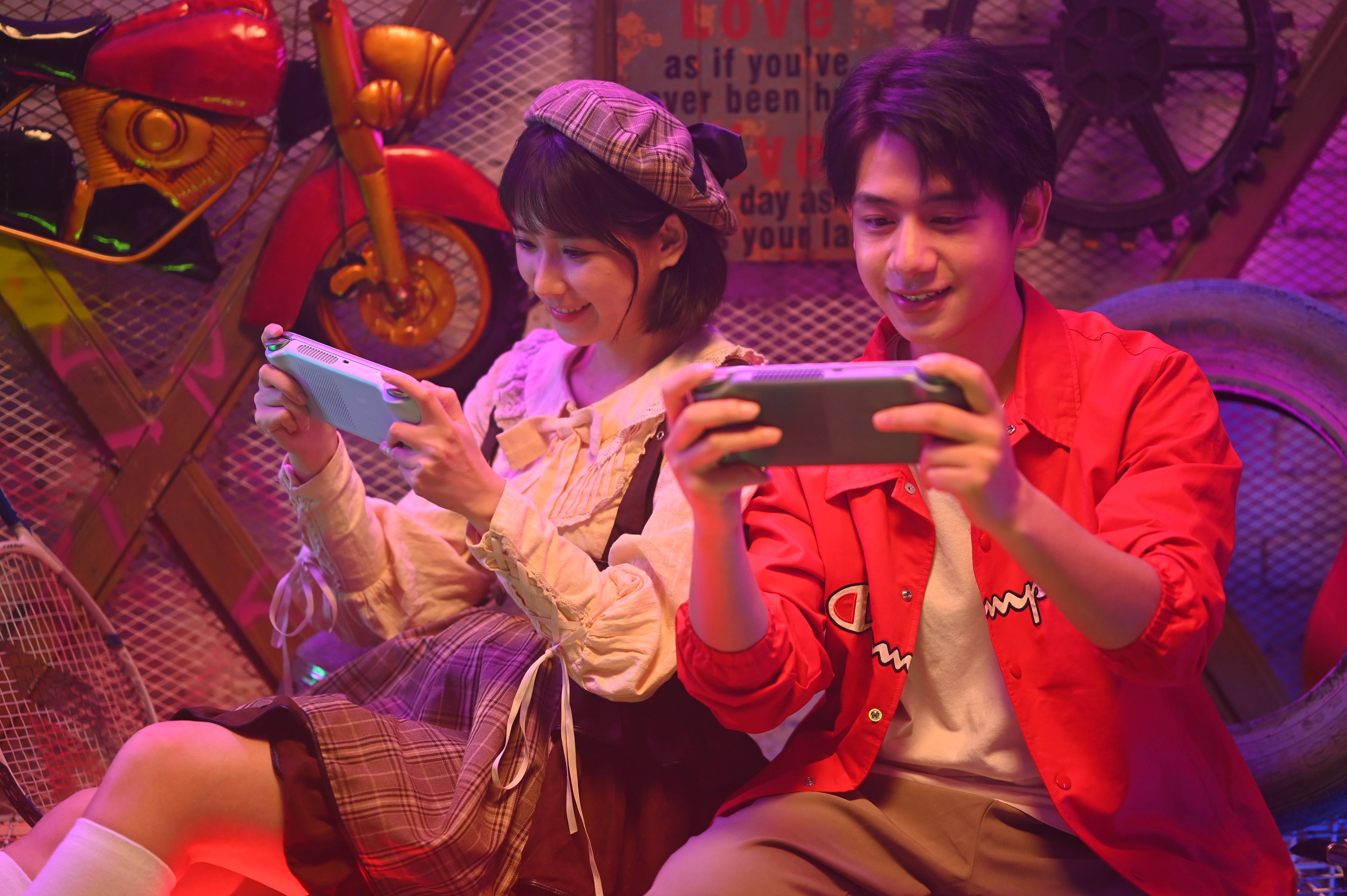 All in all
AYANEO AIR Plus is a pioneering work that is not only small but also strong, and it is also a work of Plus that inherits the concept of AIR series. AYANEO hopes to attract more players and friends to understand and experience the Windows handheld through its strong product power and friendly price, sense the persistence and sincerity of AYANEO brand, feel the charm of handheld games, and make AYANEO AIR Plus the first Windows handheld for the youth of Generation Z.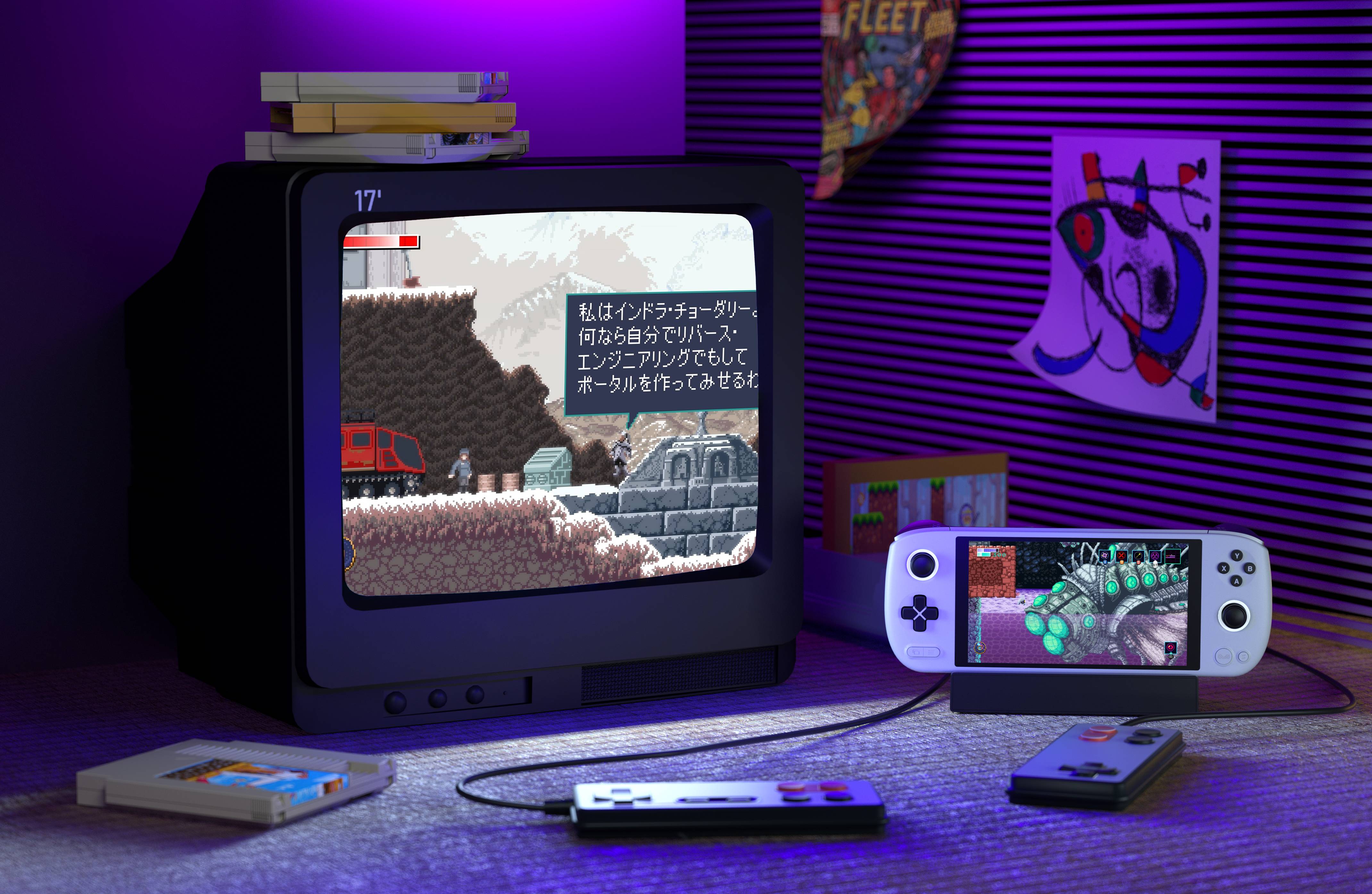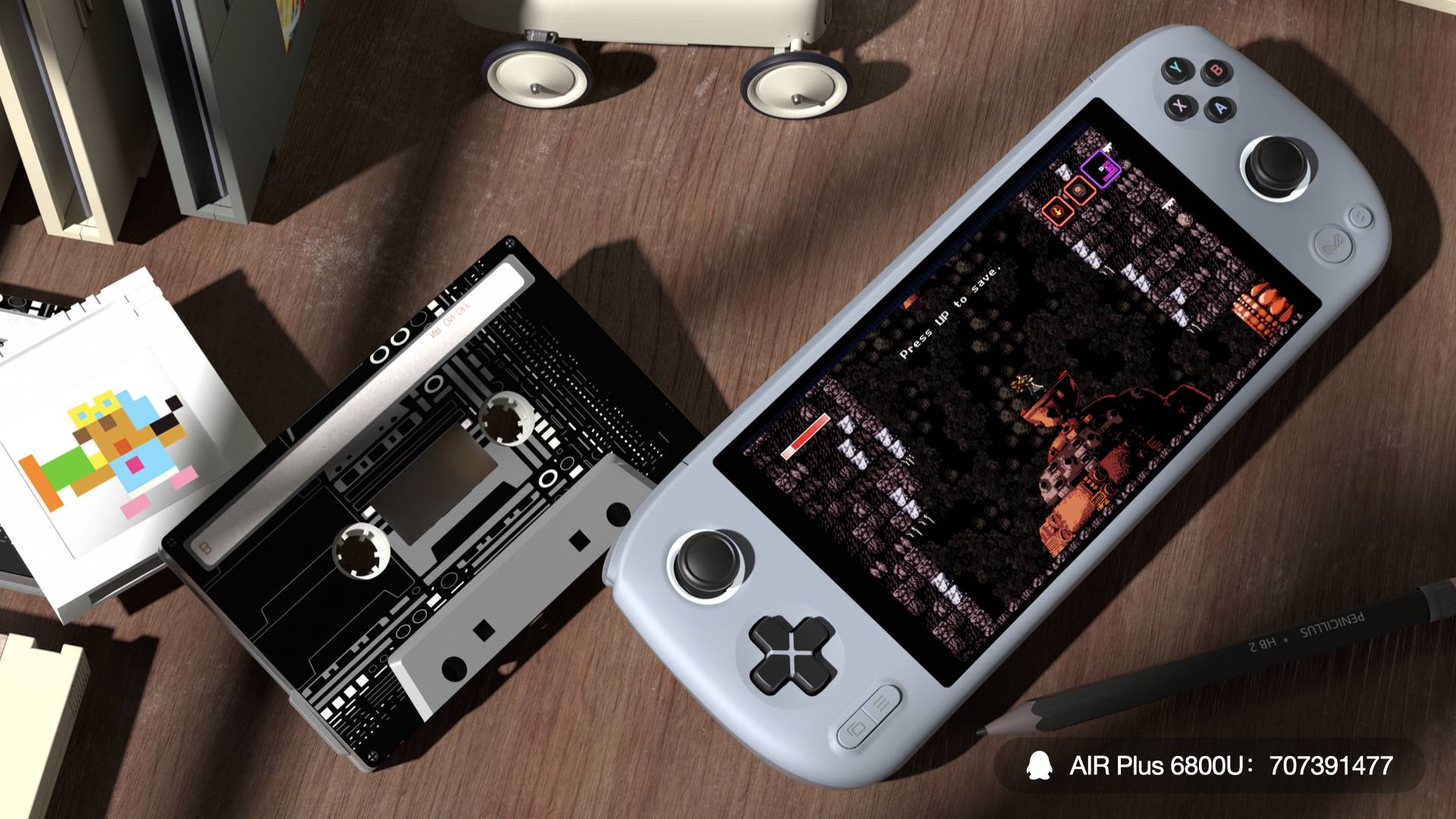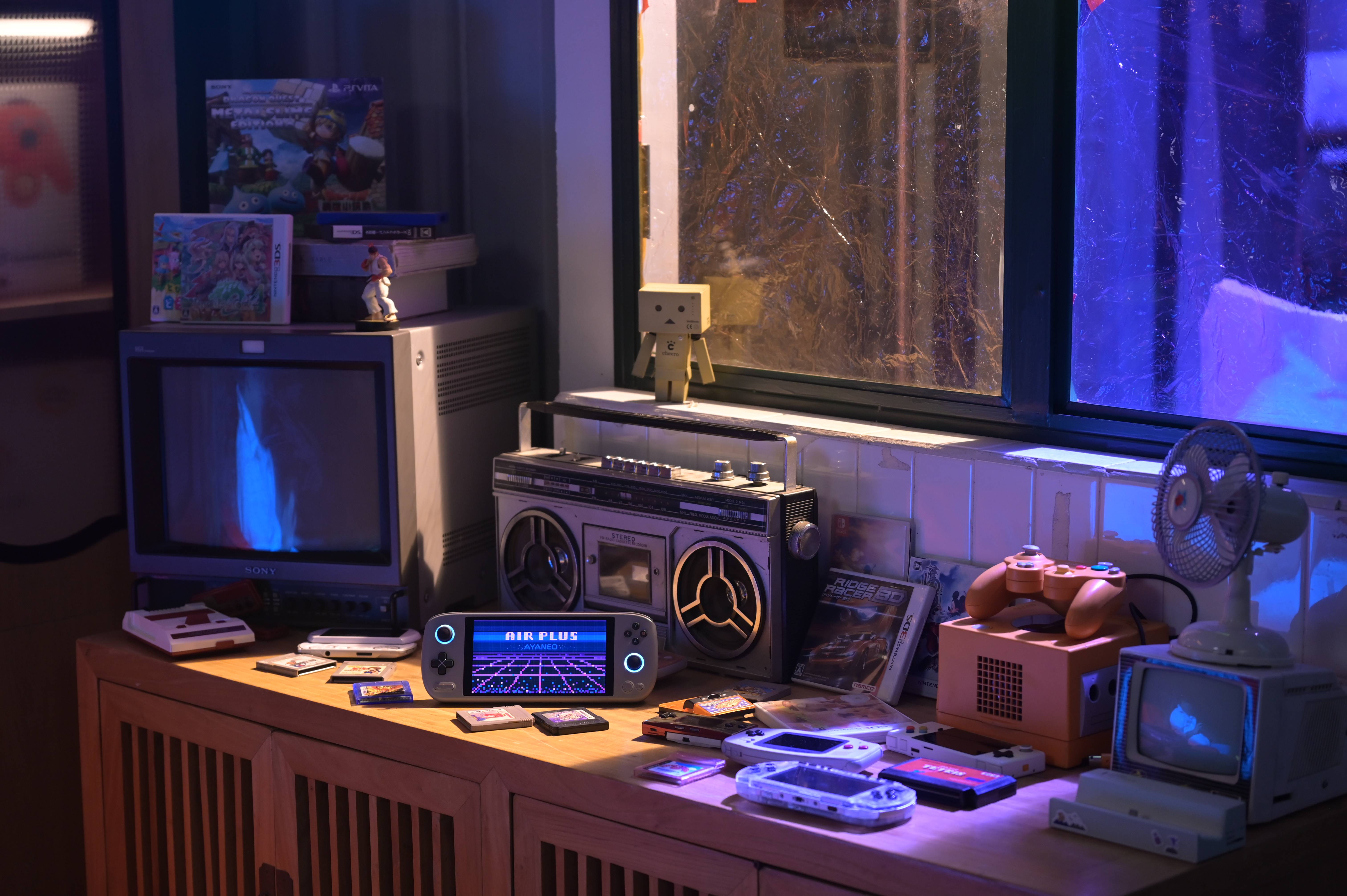 AYANEO is still on the way to build the best game console in the world, and the dream journey of "real player for player" has never stopped. In the future, AYANEO will continue to improve its product strength and explore its innovation potential, develop more new products and new functions, further improve the product matrix, and present players with a new and unique Windows handheld experience.